Our first ever healthcare report gives a data-driven look at global healthcare technology investment trends, top deals, active investors, and corporate activity in Q2 2019.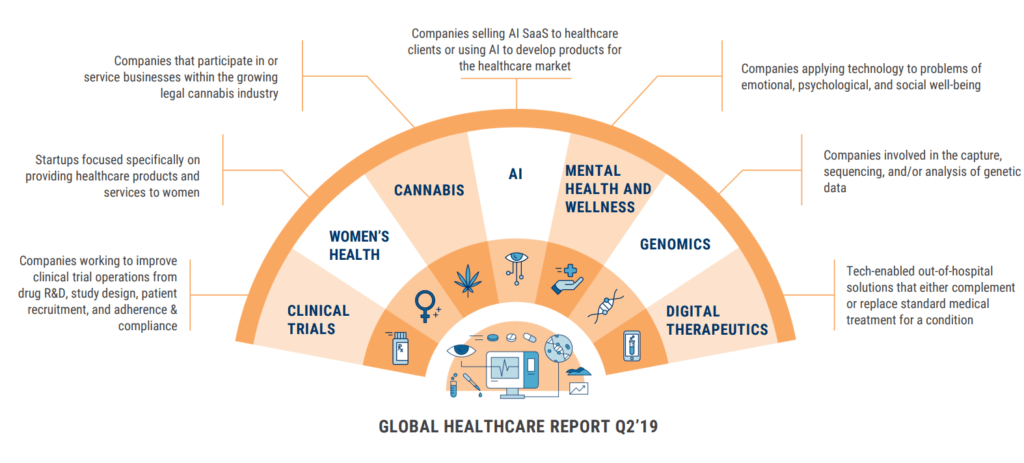 It's been a record first half of the year with the amount invested in healthcare companies globally rising to $26.9B in H1'19 compared to $26.5B in H1'18. In this report we cover macro trends across geographies in both the digital health and broader healthcare spaces, before shining a spotlight on seven sub-sectors within the healthcare landscape.
REPORT HIGHLIGHTS:
The global unicorn herd includes 38 VC-backed digital health startups, collectively worth $90.7B. The cohort's valuation continued to grow this year thanks to mega-rounds to existing unicorns.
Startups working on AI in healthcare reached funding highs in Q2'19. AI remains top-of-mind across industries, and the surge in funding shows that healthcare is no exception.
Women's health deals continue strong in 2019. women's health companies saw 246% funding increase and 25% deal increase in H1'19 compared to H1'18
The second quarter saw funding decline in Asia, North America, and Europe. Despite an overall rise compared to H1'18, funding to Asia-based startups dropped 39% in Q2, while funding levels to companies based in North America and Europe also declined.
If you aren't already a client, sign up for a free trial to learn more about our platform.