The pandemic has forced us to reimagine all aspects of healthcare delivery. Discover what's changed across telehealth, digital therapeutics, medical devices, and more.
In March 2020, our lives were upended in a way that we never thought possible. 
As the world around us shut down and hospitalization counts jumped up, healthcare providers turned to solutions to enhance clinical workflows and enable a wide range of remote care options — from consultations to therapeutics to mental health support. 
Nearly 2 years later, amid ongoing waves of the Covid-19 pandemic, global healthcare funding hit $97.8B in Q3'21, surpassing 2020's record-breaking total by 21% — and that figure is continuing to climb. This capital is advancing the products and services that patients and healthcare organizations have come to depend on in our increasingly digital world.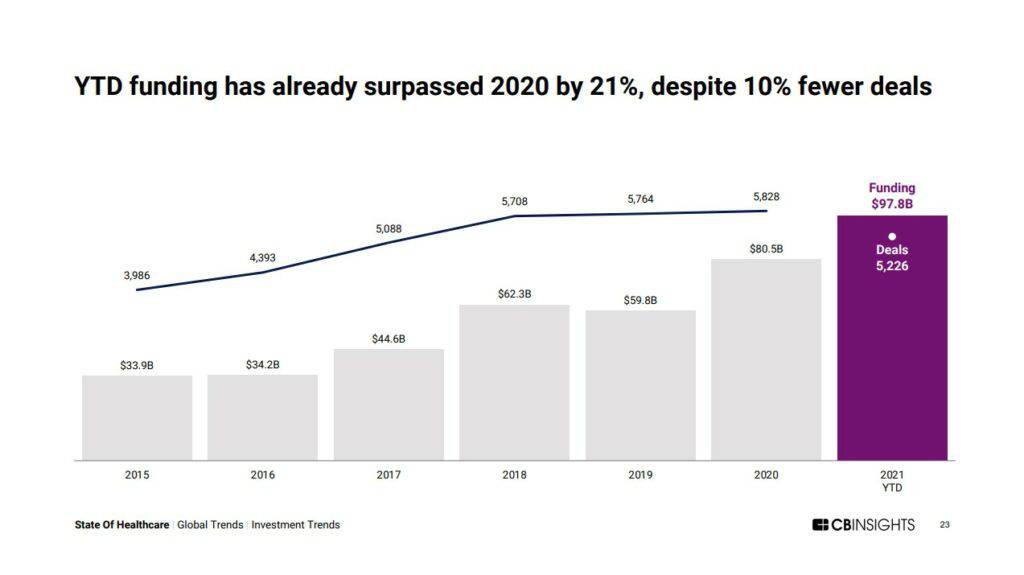 We've gathered 5 free reports to give you the inside scoop on the market forces, companies, and technologies involved in this shift and the role that each of them plays in transforming healthcare as we know it.
THE DIGITAL HEALTH 150: THE TOP DIGITAL HEALTH COMPANIES OF 2021:

From clinical trials and intelligence to and home health tech and virtual care, the Digital Health 150 are quickly transforming all areas of the healthcare industry. Discover who they are and what they're doing to help patients, providers, and payers alike.

THE BIG TECH IN HEALTHCARE REPORT: HOW FACEBOOK, APPLE, MICROSOFT, GOOGLE, &  AMAZON ARE BATTLING FOR THE $8.3T MARKET:

The healthcare industry is booming, and the tech giants have taken note. We dive into the strategic playbooks of Facebook, Apple, Microsoft, Google, and Amazon to determine how they plan to take hold in the space.

THE BIG TECH IN PHARMA REPORT: HOW AMAZON, MICROSOFT, APPLE, AND GOOGLE ARE CAPITALIZING ON THE DIGITAL TRANSFORMATION:

The pharmaceutical industry is digitizing at a rapid pace, and Amazon, Microsoft, Apple, and Google are leveraging their AI and data advantages to capitalize on opportunities in the space. From research & discovery to patient monitoring, discover what the tech giants are doing at all stages of the pharmaceutical value chain

THE HOSPITAL OF THE FUTURE: 100 COMPANIES REIMAGINING HOW HEALTHCARE IS DELIVERED:

We identified 100 digital health companies across 13 categories — from surgery to self-triage and navigation — that are transforming healthcare delivery for the better. Check out this report to learn more about these innovative players.

HEALTHCARE ANYWHERE: 170+ TELEHEALTH COMPANIES TRANSFORMING PATIENT CARE:

Following the outbreak of the pandemic, telehealth buzz and funding hit new highs as healthcare organizations and patients looked for ways to handle care from a distance. In this report, we highlight 170+ telehealth companies — from telepharmacies to teletherapy providers —  putting this fresh capital work to transform patient care while maintaining 6 feet of separation.
If you aren't already a client, sign up for a free trial to learn more about our platform.