The health IT sector saw another strong quarter amid a record-setting year. Q3'21 global funding to the industry came in at $1.9B, up 90% YoY.
Health IT investment activity rebounded 25% in Q3'21, driving 2021's YTD funding total past last year's full-year total.
In our State of Health IT Q3'21 Report, we dive into global investment trends to spotlight takeaways including:
Global health IT investment activity, up 90% YoY
Which region saw its fourth consecutive $1B+ funding quarter
The deal stage that makes up the majority of global deal share
Which exit type saw a 200% increase YoY
And much more
Below, check out just a few highlights from our 81-page, data-driven State Of Health IT Q3'21 Report. For deeper insights, all the record figures, and a ton of private market data, clients can download the full report.
GLOBAL HEALTH IT FUNDING has HIT RECORD LEVELS IN 2021 YTD, SEEING A 90% YoY INCREASE IN Q3'21
See who's leading the charge, from the startups seeing the largest deals to the regions with the biggest funding booms.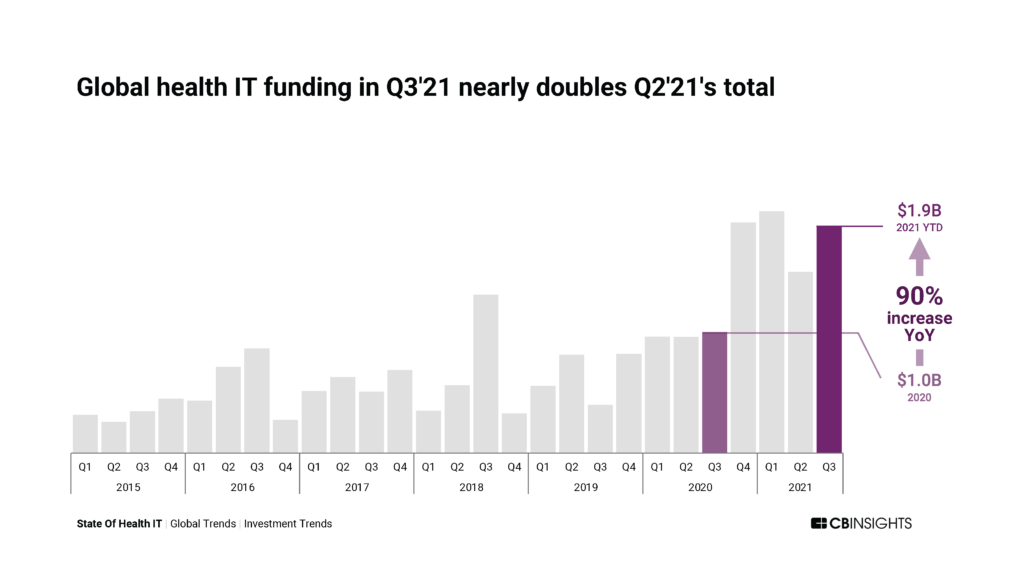 GLOBAL Average DEAL SIZE EXPLODES IN 2021
Explore the record-breaking deals in greater detail, including deal size, investor type, breakdowns by region, deal share, and more.