Hardware businesses are brutal. Here's what consumer hardware startups can learn from failures like Jawbone, Juicero, Pebble and others. Using intelligence on financing trends, failure rates, and exit activity, we analyzed why so many hardware startups fail (and some succeed).
In July 2017, device maker Jawbone became one of the most spectacular failures in the history of startups.
The company's announcement that it was selling off its assets was long coming: Despite grabbing $930M in funding during its 10-year lifespan, Jawbone failed to hold on to significant market share for its line of headsets, fitness trackers, and wireless speakers.
Jawbone became the second-costliest VC-backed startup failure of all time.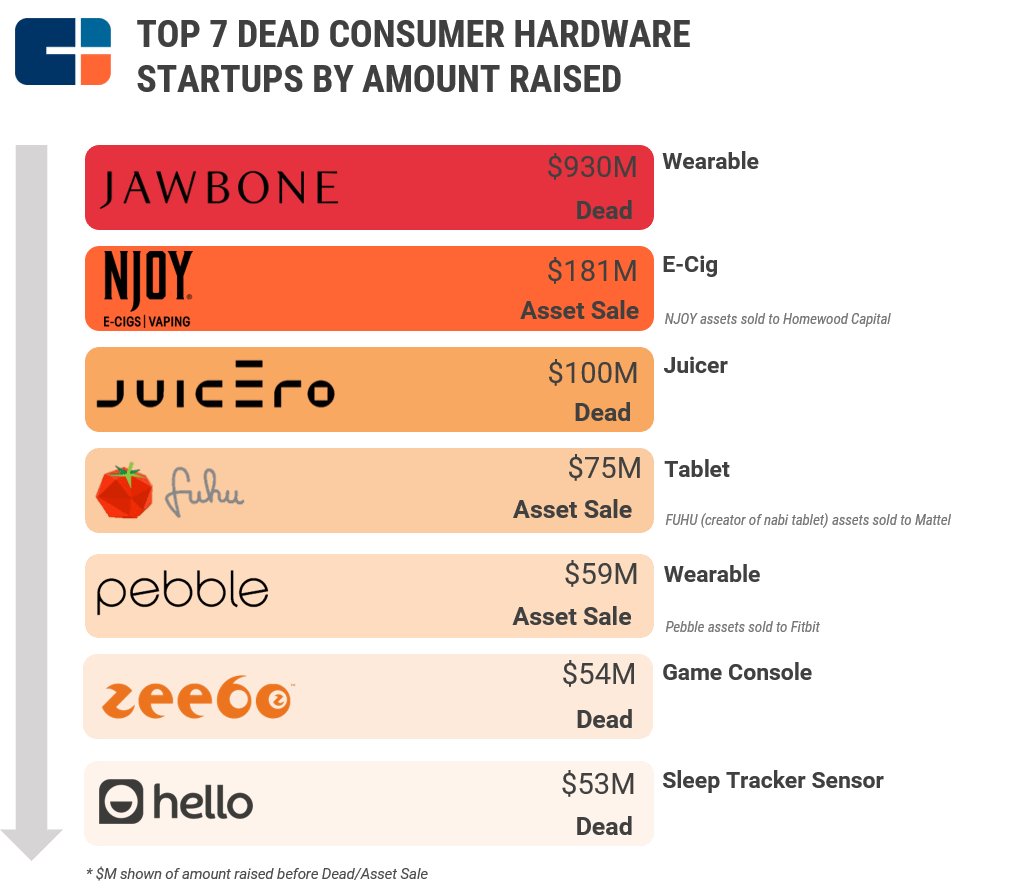 This was just months after well-funded consumer hardware startups Electric Objects, Hello, and Lily Robotics also kicked the bucket.
Why did they fail? Many reasons typically come together to lead to a startup's death.
But it is possible to tease apart some common drivers if you look closely. We sifted through nearly 400 failed consumer hardware startups from our database and identified the reasons for failure among a subset of them, and found some of the main reasons include:
1.   Lack of consumer demand
2.   High burn rate,
3.   Lack of interest after initial crowdfund
4.   Product strategy mistakes
The list of well-funded flameouts we looked at includes companies like NJOY, Pearl Automation, Coin, Plastc, and Jawbone, as well as lesser-funded startups like Inq Mobile, Bia Sport, Electroloom, and others. (We take a deep-dive look at Jawbone's failure toward the end of this piece.)
For a full list of the top 9 reasons for consumer hardware failures and the relative frequency of each in causing startups' demise download the whitepaper below.
It's notable though, that while failure may be common among hardware startups, there always seems to be a second act.
After the asset sale in July 2017, Jawbone co-founder/CEO Hosain Rahman found investors to keep the company's pulse alive in a related venture: According to reports, former Jawbone financier BlackRock has a stake in Rahman's new effort, Jawbone Health Hub, which will sell health-related software and hardware.
So it seems to go in consumer hardware: Despite the huge challenges of building a successful business in this space (even with massive funding), investors and entrepreneurs never stop chasing the dream of creating the next mass-market product.
Ignoring the tired-but-true cliche that "hardware is hard," they look past the graveyard of once-praised failed startups, including Jawbone, Juicero, Flip, Pebble, and others.
And they try again … and again.
TABLE OF CONTENTS
Investors continue to pile into consumer hardware
Part of the reason they do so is that investors and crowdfunding sites keep putting cash in their pockets. Entrepreneurs continue to raise funds through Kickstarter or the early-stage markets based on their aspirations to build a future consumer hardware empire.
The second quarter of 2017 saw nearly 140 deals and $1.2B in funding to consumer hardware startups. And last year was a record year for deals and dollars. Some $4.4B went into consumer hardware across 624 separate deals. Half of the activity went to early-stage opportunities, including nascent companies in emerging areas like robotics, smart-home solutions, and AR/VR. Three early-stage upstarts to raise last year included robotics startup ROOBO, "intelligent oven" maker June, and VR-headset developer Fove.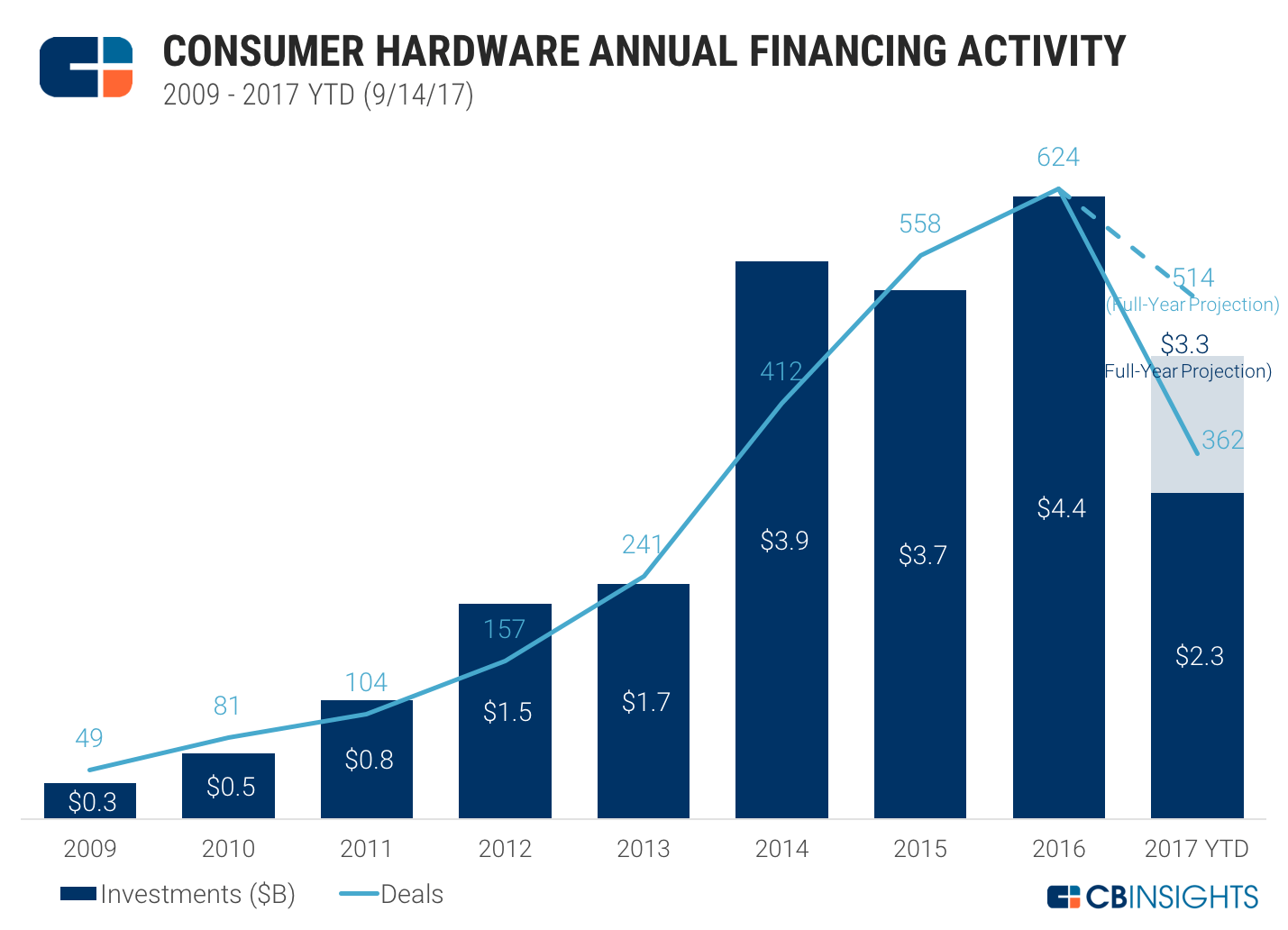 Consumer hardware startups continue emerging at a fast clip.
When we look at data on how many companies in this category receive their first round of outside funding in each year, the number keeps going up.
That means entrepreneurs and investors continue to believe in consumer hardware innovation, despite the odds being stacked against them.
The number of new consumer hardware startups hit an all-time high last year with 450+ first-time financings, including rounds to connected-home company Latch (maker of a smart door lock) and Rythm (maker of the Dreem, a wearable device designed to improve sleep quality).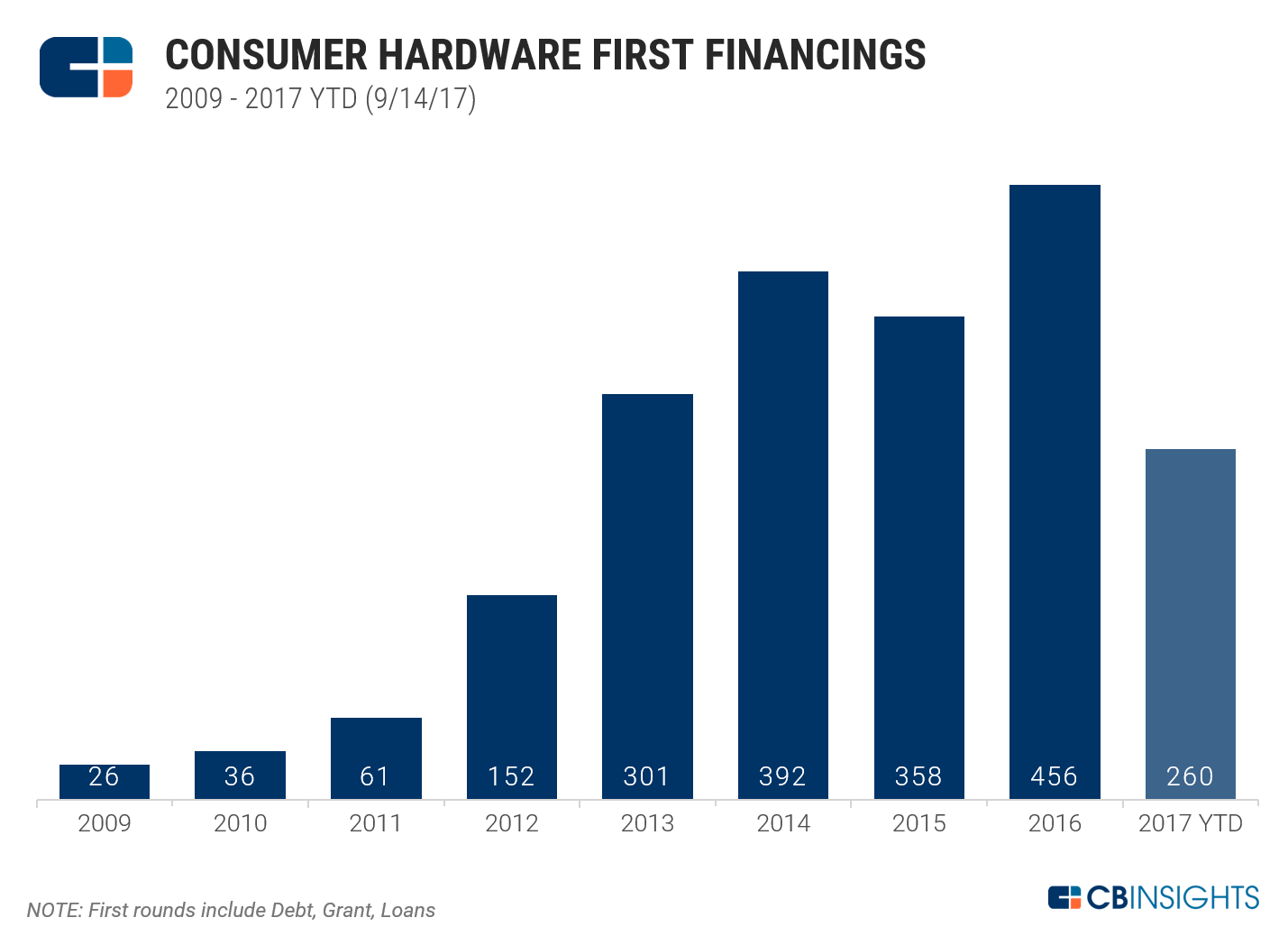 "Investors have a deep-seated bias against hardware," said Paul Graham, co-founder of Y Combinator
"Investors have a deep-seated bias against hardware," Paul Graham wrote in 2012, citing the conventional wisdom that software businesses can scale up faster and more cheaply than hardware businesses.
However, the data stretching back to that year tells a different story — as long as crowdfunding sites are included in a stretched definition of "investors."
Crowdfunding actually plays a big role in the consumer hardware ecosystem and the proliferation of problematic startups: Sites like Kickstarter and IndieGogo make it possible for hardware entrepreneurs to raise money (or even take pre-orders) for concept designs or poorly functioning prototypes that would never pass VC muster.
Entrepreneurs often believe the exposure will help them land the VC funding that will bring their wares to life, but as our funnel data shows, that doesn't happen often.
Another notable trend emerges from the funding data: There's been a significant run-up in the size of late-stage rounds.
The median late-stage round size peaked at $45.5M in 2016, after three consecutive years of deal size increases.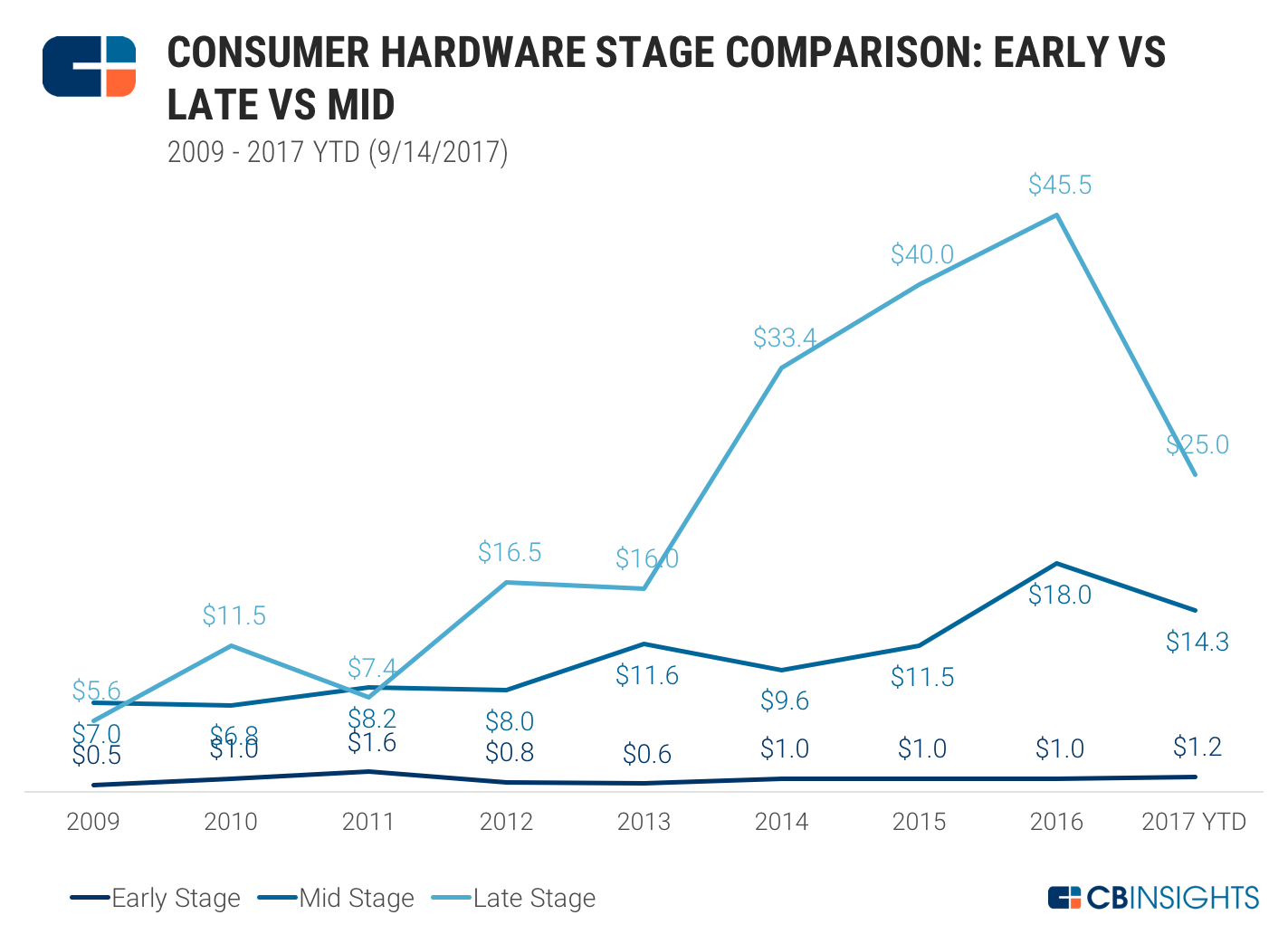 Chasing the big exit
Is investor's confidence in consumer hardware warranted? IPOs in the consumer hardware space are rare, and for every multibillion dollar acquisition achieved by makers of Beats headphones, Nest thermostat, or Oculus Rift headset, there's a trail of postmortems by the creators of the Pebble smartwatch, Narrative Clip camera, Angel Sensor wristband, and so many others.
Only 17 consumer hardware startups have gone public since the start of 2012, and the category has averaged less than 50 total exits per year over the last five years. However, there have been over 55 exits per year in each of the last 3 years.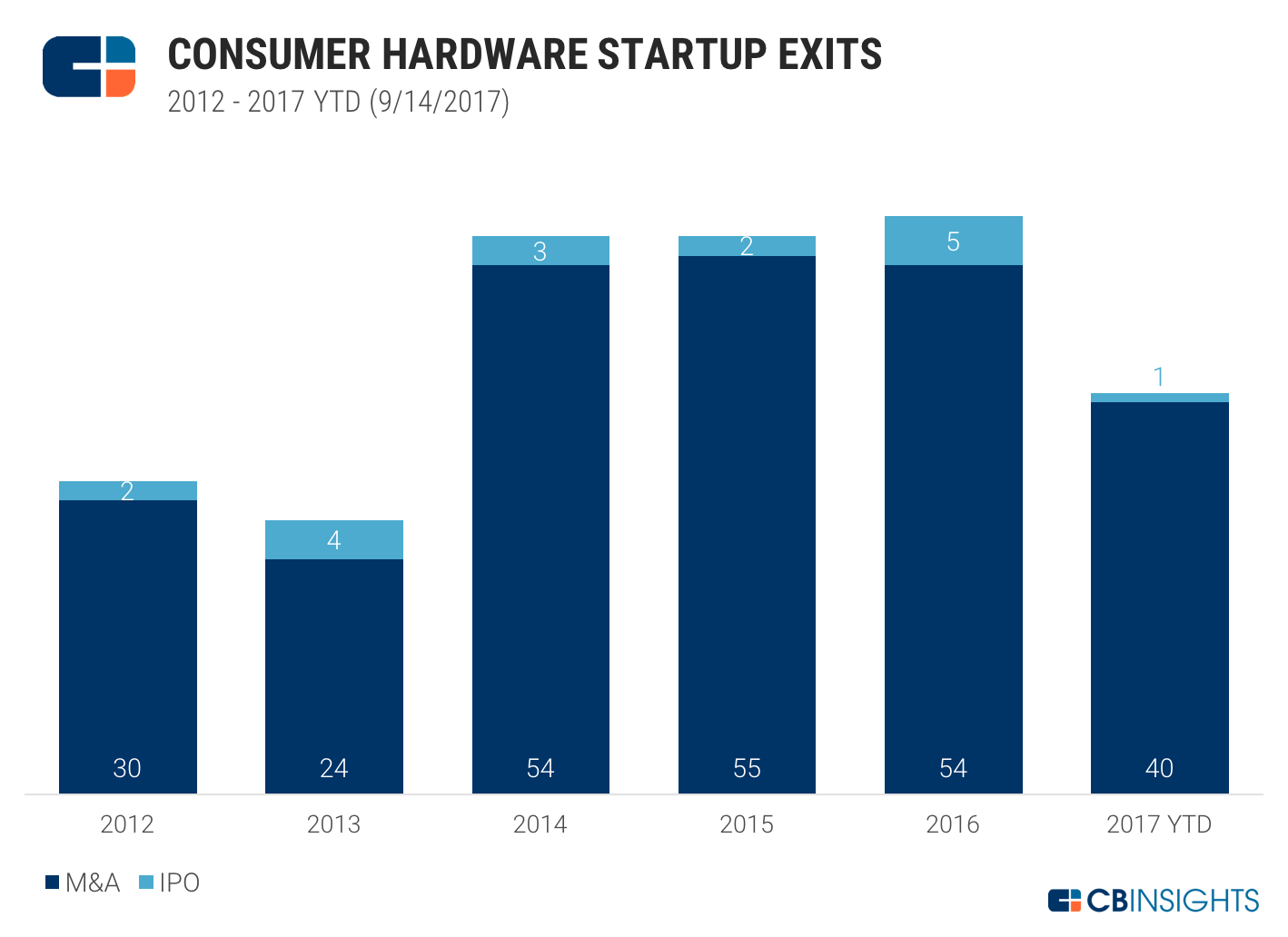 The brutal statistics on consumer hardware failure
For any startup, the path toward success is brutally difficult.
We've tracked a tech startup's chances of success after raising an initial seed round, including both hardware and software companies. Only 46% of them will succeed in raising even just one additional round of funding.
We also found that 70% of them will die or become "zombies," i.e. self-sustaining.
These are the walking dead of the venture ecosystem which may be earning revenue but aren't successful enough to IPO or be the next billion-dollar M&A.
As hard as it is for all tech startups, it's even more difficult for consumer hardware companies. See the data below.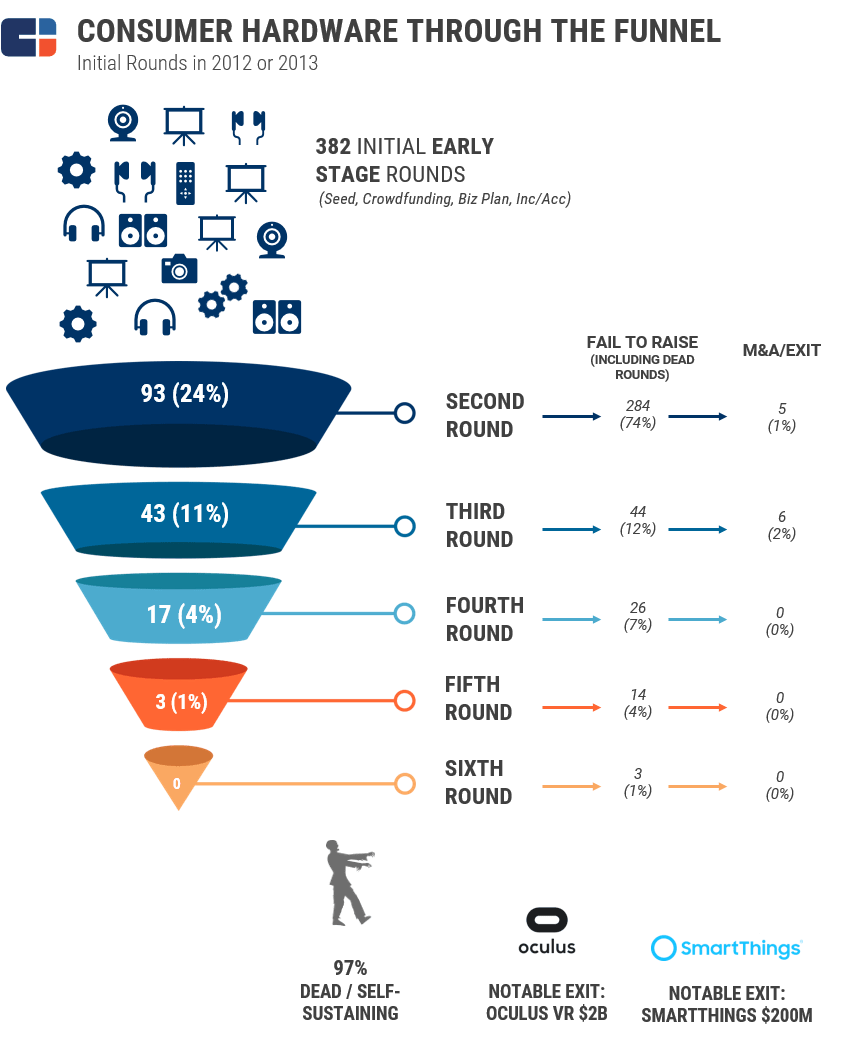 As the graphic shows, they have a very small chance of survival.
Only 24% raised a second round compared to 46% for tech companies generally. A full 97% of the consumer hardware companies we tracked died or became zombie companies. Although we did include business plan competitions and crowdfunding in our hardware funnel, the stark difference cannot be explained away fully.
In all, 56% of the 382 consumer hardware startups analyzed raised their first funds on a site like Kickstarter or IndieGogo.
The median size of those crowdfunding raises was just $210,000 – providing very little runway to support hardware manufacturing, marketing, or sales costs.
Intuitively, it makes sense that many hardware startups fail after one round of financing.
For hardware startups – which face the added need to build consumer-ready physical items before going to market – a small seed round, incubator/accelerator deal, or crowdfunding raise can rarely take a startup's product beyond the prototyping phase.
Startups are likely raising money to get to a limited release stage, and then finding that there is not a large enough market for their product to justify a larger raise and production at scale. Indeed, as we saw above, lack of consumer demand was the No. 1 reason for product failure. 
We also dug into consumer hardware zombie companies to see roughly how many of them were likely to be active at all.
Since startups don't typically publicize their failure, and maintain their websites and even social media accounts even after operations have ceased, we used web traffic data as a gauge to get a rough idea of how many of the zombie companies are likely dead outright.
We found that among the consumer hardware startups in the CBI database that haven't raised funding since 2014, 57% see negligible levels of website traffic, almost certainly indicating a defunct operation.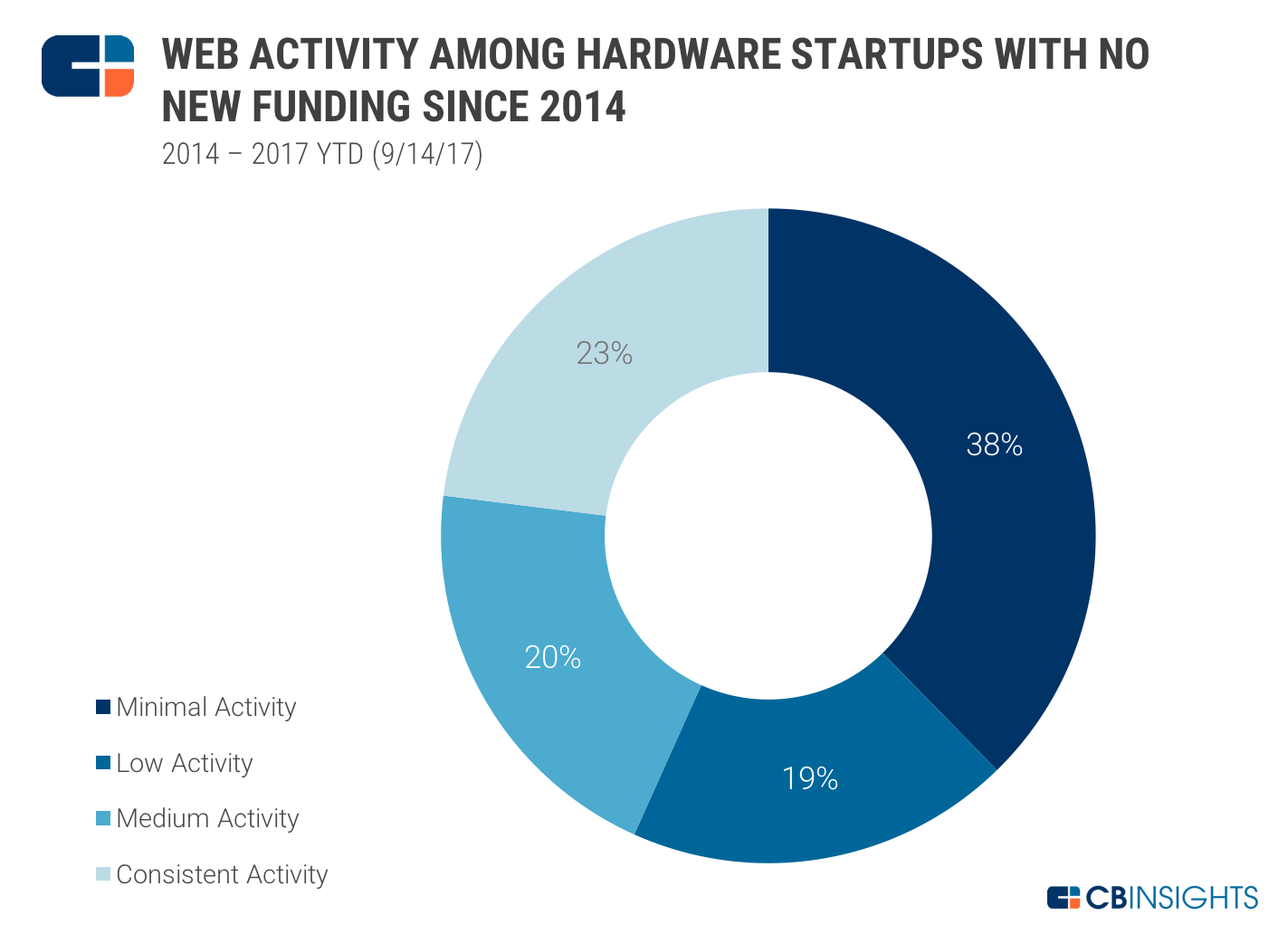 As we mentioned the other side of the coin is the occasional big exit for hardware startups, including Facebook's acquisition of Oculus VR for $2B in March 2014.
Below are profiles of startups still in contention for a significant exit, followed by an analysis of two of the most prominent and well-funded hardware startup failures of recent times: Juicero and Jawbone.
Startup spotlights: contenders and failures
The consumer hardware sector has a clear cohort of leaders as well as its fair share of troubled companies. We looked at the funding histories and business momentum of six noteworthy startups in the space to highlight how some of them have won with investors and customers, and how others failed after early signs that they were bound for success.
JUMP TO:
Contenders
RAZER: THE GAMING COMPANY WITH MANY DIFFERENT REVENUE STREAMS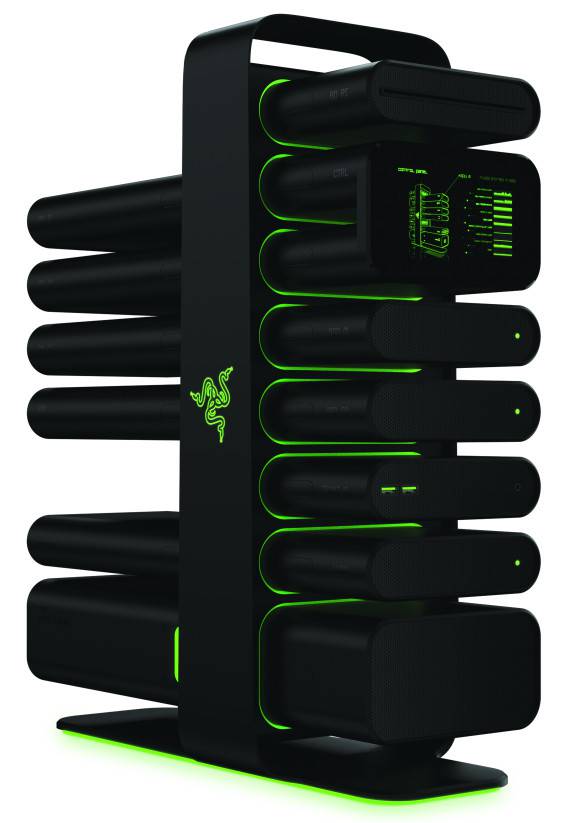 Total Funding: $175M
Select Investors: Horizons Ventures,  Hangzhou Liaison Interactive,  IDG-Accel Capital

Razer, a leading computer peripherals manufacturer and online retailer, has built the world's largest gamer-focused ecosystem of hardware, software, and services (with over 35 million users globally).
Active gamers represent an estimated 29% of the global population, and Razer's sales network already reaches 76 countries (according to its recent filing to go public on the Hong Kong Stock Exchange). Yet the diversity of Razer's product line enables the company to seize revenue from a broad variety of B2C and B2B sources around the world – spanning both gamers and gaming-related businesses. The company's offerings include hardware such as high-performance peripherals, consoles, and laptops; software for "game optimization"; and a virtual credit service and payment engine (Razer zGold).
Razer is an active innovator in the gaming space — from developing concept devices to live-streaming eSports events to opening retail stores in the US and Asia starting in 2015. The company's broader strategy also extends beyond gaming into other areas of entertainment, media, and hardware: For example, through its subsidiary THX (the audio company George Lucas founded in 1983, and which Razer acquired in 2016), Razer manages the THX certification, which certifies audio-visual specs for movie theaters, video display systems, speakers, and many other electronics.
Razer is based in California, but plans to use a Hong Kong IPO to further its penetration in the China market: Razer generated 22.9% of its revenue from Asia in 2016, including 12.7% in China. The company has only four disclosed investors: IDG-Accel Capital, Intel Capital, Hangzhou Liaison Interactive, and Horizons Ventures.
RING: THE STARTUP SOLVING AN EVERYDAY PROBLEM
Total Funding: $203.7M
Select Investors: Shea Ventures, True Ventures, Upfront Ventures

Ring, currently valued over $430M, is the maker of a Wi-Fi enabled doorbell that streams live video of a home's front door directly to a smartphone or tablet. Founded in 2011, Ring's product sits at the intersection of several trending sectors: smart home solutions, physical security, and the internet of things, or IoT.
That timeliness has been key to the company's success. A failed Shark Tank pitch in September 2013 (when the company was called DoorBot) led to the startup securing $1M in seed VC just three months later. One investor in that round was First Round Capital, which made Ring its sixth early-stage IoT investment that year.
A series of escalating capital raises has helped the company grow to more than 1,000 employees and achieve a product presence in more than 100 countries. Prominent investors include Sir Richard Branson, Upfront Ventures, and True Ventures. They have all made multiple investments in the company.
The company provides a new solution to an age-old problem: Home burglaries. On a Ring-equipped home, criminals would be ill-advised to buzz the doorbell to check if the owners aren't home, since Wi-Fi connectivity allows residents to monitor the door via app (or notify police in the event of emergency).

That straightforward usefulness sets Ring apart from other consumer hardware startups — many of which operate in entertainment or lifestyle markets, or fail to serve a need-driven purpose. Ring's clear-cut value proposition and tiered pricing model — with products starting at $179 and scaling up to $499 – make its products just as accessible to sophisticated, IoT-savvy online shoppers as they are to retail customers at Home Depot or Best Buy (both of which carry the company's products).
As the company – which recently added Goldman Sachs to its investor list – heads toward a likely IPO, insurance and public sector partnerships may fuel further market adoption and data-sharing opportunities: The company partnered with the LA Police Department in 2016 to install Ring video doorbells in 10% of homes in the Wilshire Park neighborhood, and announced a partnership with American Family Insurance (which is among the corporate investors in its cap table) in early 2017.
Through the partnership, American Family Insurance customers get a discount on the Ring as well as a promise that Ring will reimburse insurance deductibles if their Ring-equipped home is burglarized. (IoT partnerhships are a growing area of interest for insurance companies, as CB Insights details here.)
XIAOMI: 
THE TROUBLED COPYCAT TRYING FOR A COMEBACK
Total Funding: $3.45B
Select Investors: Breyer Capital, IDG Capital, Morgan Stanley

China-based Xiaomi — a device maker that sells low-cost smartphones as well as laptops, home appliances, and electronic product accessories— toppled Samsung to become China's No. 1 smartphone seller back in 2014. Did they maintain this position?
Since closing a Series E for $1.1B in Q4'14, Xiaomi has held on to a $46B valuation (keeping it near the top of CB Insights' list of the world's highest valued unicorns).
Since then, the company has also closed a $1B loan from the Bank of China and others. Neither raise changed its valuation, i.e. they raised at a "flat valuation." Thanks to headwinds over the last two years, however, Xiaomi's $46B valuation belies the company's diminished standing in the market. After riding a wave of publicity as the "Apple of China" throughout its high-growth expansion years from 2010-2014, Xiaomi came up 30% short of its goal to sell 100 million smartphones in 2015. The next year, it saw its Q2'16 sales drop 38% year-over-year compared to Q2'15.
One reason for the sales decrease was a broader slowdown in the Chinese smartphone market, which contracted in Q1'15 (for the first time in six years). Yet Xiaomi competitors Huawei, Oppo, and Vivo have thrived over the last two years – in part by crafting customer acquisition strategies in opposition to those of Xiaomi: For example, whereas until very recently Xiaomi largely relied on e-commerce and word of mouth to spur viral interest in its products, Vivo and Oppo use traditional marketing and brick-and-mortar distribution.
Innovation also hasn't been Xiaomi's strong suit: Apple's head of design has publicly derided Xiaomi's imitation of Apple products as "theft" (not flattery). Without ways to differentiate its low-cost products from those of competitors, Xiaomi is attempting to rebound in other ways. Like Razer, Xiaomi is experimenting with an online-meets-retail strategy: The company has opened at least eight "offline experience" stores in collaboration with the Wangfujing Group, an operator of Chinese department stores. (Formerly, Xiaomi only sold phones online.)
Xiaomi is also poised to outperform Samsung in India this year and recently became the world's leading seller of wearable fitness trackers. Despite their dropping popularity in the US, new research from Canalys found that the global wearables market grew 8% YoY in Q2'17 – led by Xiaomi with 3.5 million units shipped, closely followed by Fitbit with 3.3 million units shipped (a 34% decline compared to the same quarter a year earlier). Xiaomi also recently launched a smart speaker to rival the Amazon Echo, with the smart home being one of the company's clear bets to fuel its comeback.
MAGIC LEAP: 
THE QUESTION MARK BILLED AS THE 'NEXT BIG THING'
Total Funding: $1.39B
Select Investors: Andreessen Horowitz, Google, Qualcomm Ventures

Magic Leap is basically a question mark labeled as the "next big thing." It has a moonshot ambition and a mysterious augmented reality product that is able to superimpose vivid images onto any scene. For example, in one promotional video, a whale breaches from the floor of a school gymnasium. But six years from its founding date, there is still no product and the once-patient tech press has begun to get antsy.
Magic Leap, based in South Florida, bills itself as the developer of human computing interfaces and software. Since announcing its $542M Series B capital raise in Q3'14 – financed by investors like Google, Andreessen Horowitz, Kleiner Perkins, Vulcan Capital, and many others – the company has captivated investors and the general public with glimpses into its work.
But beyond releasing concept videos and crafting messaging around its vision to "rethink the relationship technology has with people," Magic Leap has stayed mum about most everything else.
We know, thanks to multiple investigative news pieces, that Magic Leap is working in the field of mixed reality (MR) – a subset of virtual reality in which semitransparent goggles allow you to see your actual surroundings, but still interact in a virtual environment; reporters have called it a next-gen form of augmented reality. We also know that Magic Leap has demoed an impressive, working prototype of its hardware since at least early 2016 (and that the demos received fawning praise from the small number of tech journalists fortunate enough to experience them).
But we also know that the company, which was founded in 2011, has yet to release a saleable product. We know there's been a lawsuit (filed February 2017) alleging Magic Leap is a hostile work environment for women.
Ultimately, Magic Leap is funded as if it is destined to be the next blockbuster consumer hardware exit. But will we be as underwhelmed by the company's products as Beyonce reportedly was with her personalized demo in February 2017? (She thought it was boring.)
Following Jawbone's death this year, the pressure is on for Magic Leap to deliver on the hyped expectations of investors and observers across the tech echo chamber. (One might say it's enough pressure to lift two Teslas.) Further below we looked into how Jawbone became the costliest consumer hardware death in startup history.
Failures
JUICERO: THE 

OVERHYPED HARDWARE/SUBSCRIPTION PLAY THAT RAN OUT OF JUICE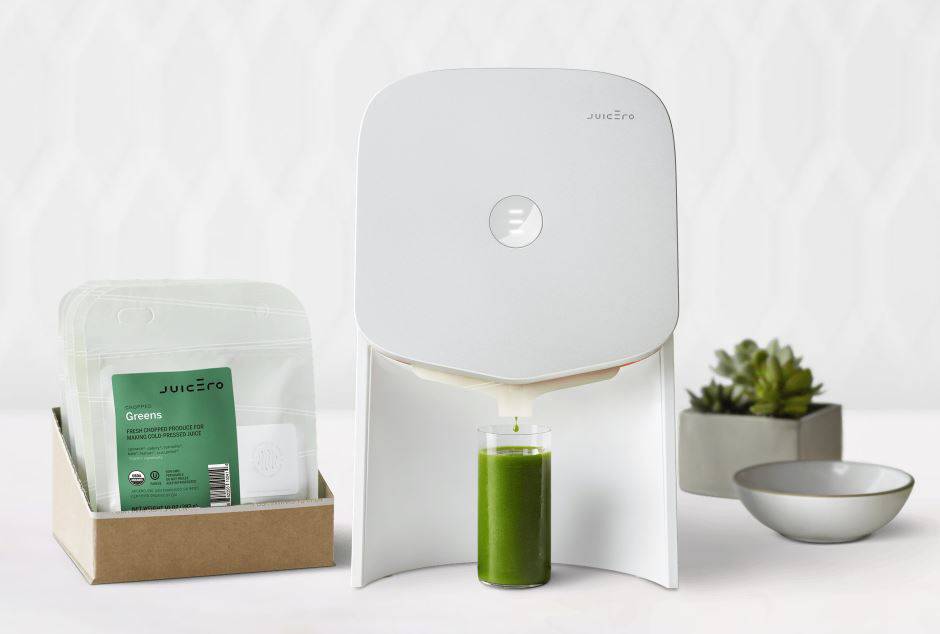 Total Funding: $99.9M
Select Investors: Google Ventures, Kleiner Perkins Caufield & Byers, and Thrive Capital

With its shutdown on September 1, 2017, Juicero earned a spot in Silicon Valley lore as one of the most overhyped, misguided startups in the history of tech.
Now that it's been laid to rest, Juicero's demise seems inevitable. The company had an overpriced product that virtually no consumer needed and its leadership had ambitions far too grand for your typical kitchen-hardware company.
Yet as recently as March 2016, top investors like Google Ventures, Kleiner Perkins, Thrive Capital and others were investing (all three participated in the company's $70M Series B in Q1'16). Around the same time folks like Ivanka Trump and Gwyneth Paltrow were eagerly professing their fandom for what the company billed as "the world's first at-home cold-press juicer."
Founded in 2013, Juicero developed its hardware in stealth mode for three years – creating 12 different prototypes of its cold-press juice maker before publicly releasing the product in March 2016. Media dubbed it a "Keurig for Juicers." The Wi-Fi connected machine was priced at $699 (prior to a late-2016 price reduction to $400).
The pre-packaged, single-use pouches of fruits and vegetables needed to make the juice were sold separately.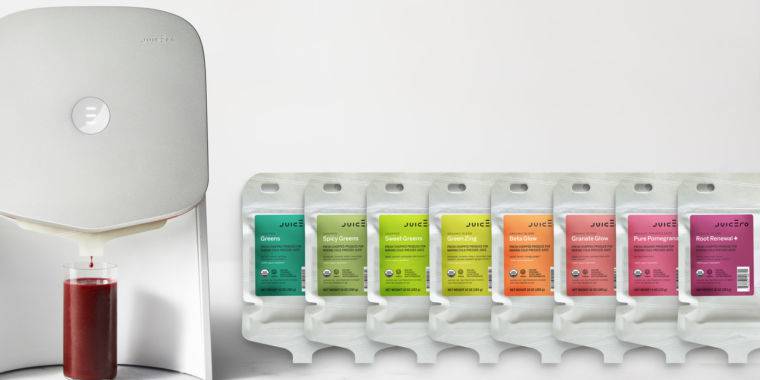 The pouches, which were made available in subscription-delivery bundles on the company's website, were the key component of the company's business model: "Hardware plus subscription" revenue models remain in vogue in the hardware space. Investors were enticed with the prospect of recurring revenue.
Founder Doug Evans – who came from a juice-business (not tech) background – also won investors' attention with his grand visions for the company. Evans saw the Juicero machine not as a juicer, but as a platform for the delivery and consumption of healthful juices in the home.
The machine itself was an engineering marvel; a reported 12 PhDs, 50 engineers, and seven food scientists worked on the prototypes, and the design was influenced by design legends Jony Ive, of Apple, and Yves Behar (who would go on to work with Jawbone, as we discuss below).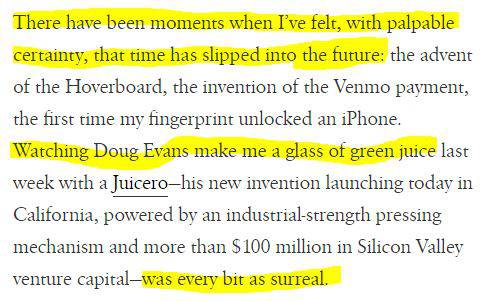 The design and concept won raves from a certain set of juicing fans. (A Vogue feature breathlessly billed it as the "Mess-Proof Juicer That Will Change Your Life.")
But the beautiful Behar-designed device was complex and expensive to build, with ~400 custom parts and dozens of components and subsystems inside the device that would make it difficult to manufacture, assemble, and sell at any mass-market scale.
By reeling in investors with its big-picture vision and recurring revenue potential, Juicero nonetheless scored nearly $100M in funding.
A few months before being ousted in favor of former Coca-Cola executive Jeff Dunn in October 2016, Doug Evans compared Juicero to Apple in a blog post and wrote that the Juicero device creates three to four tons of pressure ("enough to lift two Teslas," he added) to open the sealed juice pouches.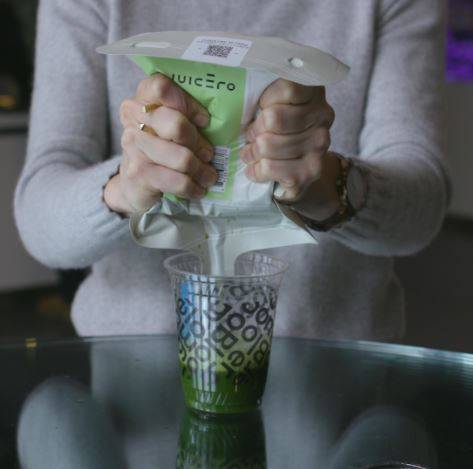 But as a Bloomberg report in April 2017 would show, humans can actually open the sealed pouches without much force … using their hands.
The revelation that the pouches were hand-squeezable decimated the use case behind "juicer as a platform," and instantly rendered the beautiful Juicero device a white elephant.
A maelstrom of criticism (and social-media mockery) would follow the report.
Juicero initally took a defiant stance. As the company offered refunds to all customers in the wake of PouchGate, CEO Jeff Dunn took to Medium to claim that hand-squeezing the juice was unwise due to food safety concerns, that "hacking consumer products is nothing new," and that the value of Juicero "is more than a glass of cold-pressed juice. Much more."

But the frazzled dads and busy professionals didn't perceive the same level of value Dunn espoused. Neither did investors: The existing Juicero investors who were considering following on in a planned April 2017 round never agreed to re-up; according to reports, the company's funding dried up by May.
Staffing cuts over the summer did little to stall the company's demise, and an offer from investors to buy up $60M of Juicero's stock at a 30% discount to their last valuation fell through. Juicero's board decided to seek a buyer at the end of August. They never found one.
Ultimately, Juicero's was a story of too-grand ambitions misaligned with reality. It was also a perfect encapsulation of the potential for hardware to go haywire when hardware founders forget the problem they're trying to solve and become wrapped up in their own vision.
JAWBONE: THE HIGH-DESIGN, LOW-VALUE LEADER THAT PUT VISION OVER EXECUTION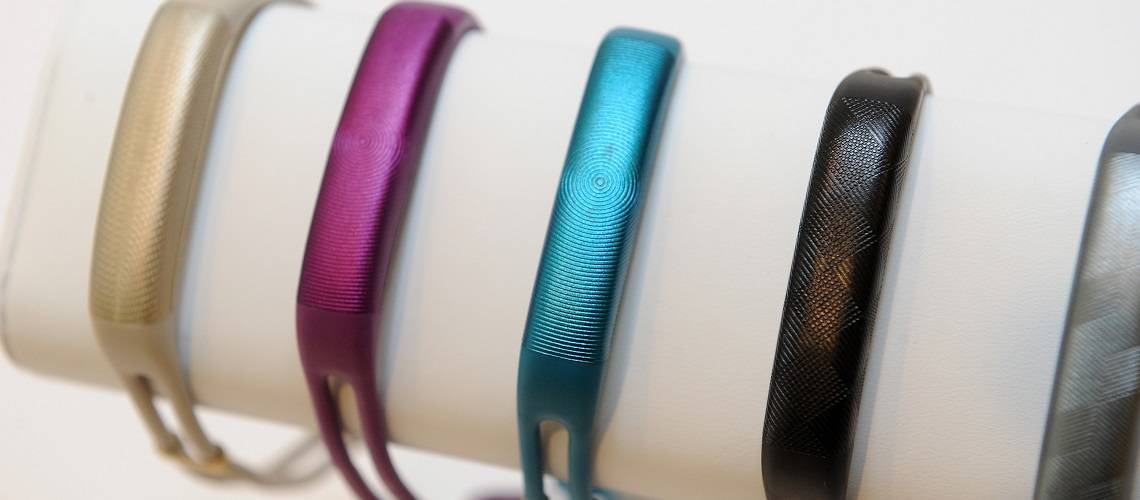 Total Funding: $929.9M
Select Investors: Andreessen Horowitz, Kleiner Perkins Caufield & Byers, Sequoia Capital

Jawbone's slow slide to becoming the costliest consumer hardware death ever is a case study of how even the most promising leaders in consumer hardware can ultimately lose the long game.
Now that it's dead, Jawbone will clearly be remembered as a consumer electronics startup. More specifically, many will remember it as a wearable device maker: The Jawbone UP wristband, first launched in 2011, remains the flagship item on the company's website.
Others will remember Jawbone for its highly popular Jambox speaker, which was among the first portable Bluetooth speakers to hit the market when it debuted in 2010. It was definitely the coolest device of its kind: With a textured wraparound grill and geometric pattern, tech journalists and consumers alike loved its design and praised its audio quality.
Fast Company called Jawbone an "industrial design firm" in a 2013 article – a reference that likely thrilled its founder/CEO Hosain Rahman, who prioritized aesthetics over functionality throughout the company's history. On a June 2012 Mashable podcast, Rahman said that Jawbone "didn't start as [a] consumer electronics company," but had rather "started doing something and ended up doing something else" – boasting even then that the company had "almost died five times."
At the time, Rahman's bluster aligned with the public's perception of Jawbone as an innovative leader in the consumer hardware space. Jawbone had secured over $200M in funding and was valued by investors at more than $1B; with the Jambox blaring on beaches all over the US, the company's success seemed inevitable.
In reality, Jawbone was already on the path to failure in June 2012. The first version of the UP product had been so plagued with problems that within a month of its November 2011 release Jawbone was offering customers complete refunds, no questions asked, even if they chose to keep their $99 device.
Product delays were common among earlier releases of Jawbone's products, too, but those products weren't fitness trackers. In fact, none of Jawbone's development efforts prior to the UP had anything to do with health tech, wellness, nutrition, or fitness. They were all about audio.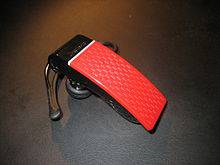 Audio was deep in Jawbone's DNA. Rahman and his co-founder Alexander Asseily (who was originally CEO) had launched the startup in 1999 to pursue ideas that grew out of Asseily's graduate work in verbal communications and noise suppression. Two early capital raises, a $1M Series A and $1.8M Series B, then led to a 2002 DARPA contract related to combat communications solutions for soldiers. The DARPA research kicked off development efforts for a background noise-canceling headset, which would go to market in 2004 as the first device to bear the name Jawbone.
From the very get-go, the company's decisions raised eyebrows. Tech pundits didn't see the headset's usefulness beyond military applications. The $150 headset was praised for its sleek design (and was featured in an industrial design exhibition at the San Francisco Museum of Modern Art), but it lacked features to justify its price point.
Questions around price, purpose, and perceived value would plague the company for the next 13 years. But Rahman clearly saw aesthetics as his company's clearest differentiator. In 2006, he brought award-winning product designer Yves Behar into the business as creative director.
The move cemented Jawbone's reputation as a leader in industrial design, but also shifted the business further away from Asseily's hard science background. (Rahman would take over the CEO role from Asseily in 2007.) Investors likewise believed design to be the company's key advantage: Kevin Fong of the Mayfield Fund – which financed the startup's $5.1M Series C in 2003 – praised Jawbone in 2005 when speaking to how "absolutely important" design was to his firm's investment decisions.
Behar's influence further elevated the aesthetics of Jawbone's products, if not their functionality. The second-iteration Jawbone headset was released in 2006 to mostly positive reviews, with TechCrunch calling the $119 device "the fanciest Bluetooth headset" on the market but remarking it was clunky to use. A 2008 device priced at $130 was a smaller, sleeker improvement that the company promoted in high-end publications like GQ (Wired called it "a little bit Gucci for some wearers").
But the headset sold well. Aliph racked up millions in sales and recorded sizable profits in 2007 and 2008.
In 2010, the company launched the higher-end Jawbone Icon headset and Jambox wireless speaker. By late 2011, Rahman claimed the Jambox was the No. 1 selling portable speaker system in the US by revenue and unit sales.
The Jambox itself was a lifeline for the business. Sales of Jawbone headsets had begun drying up during the financial crisis and never really picked back up. By 2011, the market for hands-free headsets had shrunk significantly, since carmakers had started equipping vehicles with in-car Bluetooth.
The success of the Jambox, however, seemed to push Rahman toward grander ambitions. And after closing four $30M+ funding rounds between 2008 and 2011, he likely also realized he needed to go after a vastly larger market to justify Jawbone's $1.4B valuation and continue raising capital.
The burgeoning fitness-tracker opportunity seemed ripe. With the speaker market in hand, why not go after wearables?
At the time of its release in November 2011, few paid heed to what a vast departure the Jawbone UP was from Aliph's audio-first identity, but the pivot arguably ultimately led to the company's undoing.
Competitors were already testing the wearables market. Fitbit had launched several connected-health wearables by 2011, and the Nike+ FuelBand would be released in 2012.
But Jawbone was first to make a wristband device. Early on, Rahman spoke publicly about the UP device's relevance for resolving systemic health issues like obesity and disease, but he quickly shifted the message – calling the UP device a lifestyle tracker, and marketing it (once again) entirely on the high-design "cool factor."
But even "cool" products are supposed to work, and the Jawbone UP didn't. As consumers complained of it bricking and failing to recharge, Jawbone responded swiftly – claiming right away that it had determined the source of the issue – and offered refunds, replacements, or $150 credits.
The refunds briefly kept Jawbone in customers' good graces, but it took a full year for Jawbone to re-release the UP in late 2012 – plenty of time for FitBit and FuelBand to enter and seize market share. Once the product was back out for sale, there were still reports of bugginess and technical issues.
With the UP product floundering, the company made three acquisitions in the year's first half: small acquisitions of the teams behind Visere and MassiveHealth. It also brought fresh UX design/development talent onto the team. Meanwhile, the $100M purchase of BodyMedia, a maker of health-monitoring armbands, won them the company's 80 patents (many for multi-sensor technology).
As rumors swirled that Apple, Google, and Samsung were developing wearables of their own, the company beefed up by appointing Yahoo CEO Marissa Mayer to the board in April 2013 and naming Mindy Mount, a top VP at Microsoft, as president in May 2013.
Meanwhile, the company's media profile kept getting bigger. Fast Company highlighted the company's international expansion plans in March 2013, and called Rahman a "mastermind" two months later. Vanity Fair compared Rahman and Behar's relationship to that of Steve Jobs and Jonathan Ive when naming them to the 2013 New Establishment list.
The notoriety bolstered Rahman's reputation and doubtlessly helped the company raise funding, even as sales of the UP paled in comparison to competitors. In September 2013, Jawbone raised $93M in debt financing from Silver Lake, Fortress Investment Group, J.P. Morgan, and others, plus $20M in equity funding from previous investors.
The equity landed Jawbone a $1.81B valuation; another $147M in equity financing from SevenVentures the following year would make Jawbone a unicorn with a $3.03B valuation.
In the meantime, Mindy Mount vacated the President role in February 2014 – less than a year after being appointed – without publicly saying why.
Yet Rahman's stature continued to rise. Rahman was on TIME's 100 Most Influential People List in April 2014; the UP and Jambox won ten separate product awards over calendar year 2014.
When Jawbone announced new versions of the UP in November and began taking pre-orders, the company launched with a confused narrative around the UP3. In Behar's words, the UP3 would "eventually" measure heart-rate, respiration rate, and fatigue level, but its first iteration was all about "discretion" – designed "not to "disrupt [users'] lives or create more distractions."
As the UP3 saw manufacturing issues and production delays in early 2015, Jawbone lost more trust with consumers and the media – which noticed the company's precarious financial situation after it was hit by a breach-of-contract lawsuit for failing to pay a manufacturing partner.
The company somehow needed more money (despite over $470M raised by year-end 2014), but to close a $300M loan from BlackRock and Rizvi Traverse Management in April 2015, Jawbone had to offer them preferential terms. That lifeline knocked Jawbone's valuation below $2B, but when the company sought its next capital raise less than a year later it again raised at a down valuation, closing a $165M round in January 2016 at a $1.2B valuation.
Did the money go straight to legal fees? From 2015 through to today, Jawbone has spent plenty of time in court: A patent attorney filed suit in April 2015 alleging the company fired her for complaining about an executive's demeaning treatment of women. A multi-pronged legal battle between Jawbone and FitBit also kicked off in 2015 with allegations Jawbone had infringed on FitBit patents; Jawbone has since countered with claims FitBit poached employees (and thus important intellectual property assets).
While some litigation is still pending, the fervor of the battle was largely a signal of both companies' perilous position in the wearables market; once the Apple Watch debuted in early 2015, it quickly won over consumers. FitBit has seen its stock price decline significantly – and then flatline – since it went public in mid-2015. Jawbone, which had strategically gone all-in on wearables years earlier, attempted to sell its only revenue-rich business arm – its speaker business – in 2016.
Reports in early 2017 claimed FitBit nearly acquired Jawbone in 2016, likely for the 2,800 patents Rahman says he still has in his arsenal. The patents are likely another reason Rahman intends to launch his "Jawbone Health Hub" venture, as mentioned in the introduction. The new venture will continue to service customers' UP devices, and remarks made by Rahman as recently as January 2016 show that he has yet to abandon his grand visions: Speaking to the "many millions" of users he claimed still actively used the device, he compared the business' data-sharing opportunity to that of Facebook's.
Jawbone's failure is very much also a failure of its investors to recognize that Rahman's vision ran ahead of the company's ability to execute.
In conclusion: new business models keep the hardware dream alive

A key truism of consumer hardware is that timing is everything. Consider how Ring emerged when connected homes needed to protect their front stoops, or how Jawbone pivoted to fitness bands at what seems in retrospect to be the wrong time.
Regardless of the hardware product at hand, success is a matter of opportunity, timing, and strategy. Lately, investors are betting that the new "secret sauce" for hardware success is a  version of the traditional "razor/razor blades" or K-cup business model: Sell the hardware device as a platform, and secure recurring revenue by selling connected services or subscription goods unique to the product.
The key, however, is staying mindful of real-world product-market fit and margins. Juicero wasn't the first to stretch the definition of a reasonable price point for a smart appliance: The makers of the June Intelligent Oven (which secured $22.5M from investors) have been derided for selling a countertop oven for $1,500. Will the $399 Tovala smart oven succeed with $12 per-meal subscriptions? Or the Wim yogurt maker, with $3-$4 yogurt bowls?
What's certain is that for every smart oven that fails another will rise to try to find success in the same niche. And who knows, maybe the smart kitchen appliance giant of the future is launching its first Kickstarter campaign right now.
If you aren't already a client, sign up for a free trial to learn more about our platform.