From shopper emotion detection to in-store robotic warehouses, we highlight the technologies and trends bringing retail stores into the future.
The year is 2030, and you're going to the store. What do you see?
Before you enter, you receive a text message from a store employee: the shirt you reserved is waiting for you.
Once you get inside, maybe you spot a robot ferrying around candy bars, or you walk under a flying in-store drone. Or maybe what stands out to you is what you don't see: cashiers and checkout lines.
Whatever retail future you imagine — across apparel, grocery, or consumer goods — it will likely build upon the technology being tested today.
The "store of the future" — a mass merchandise store set in roughly 2030 — combines emerging trends across retail, including in-store robotic fulfillment, contactless checkout, live personalized pricing, and more.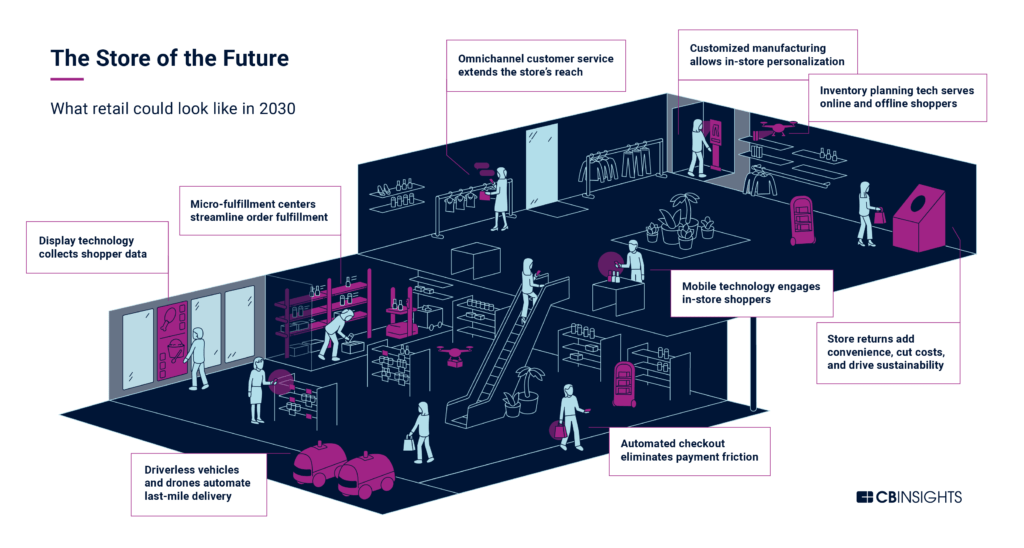 With new tech-enabled features, the store of the future will be able to provide a more frictionless and dynamic experience that meaningfully engages shoppers.
Download the report to dive into the emerging technologies and trends that will shape the future of retail.
TABLE OF CONTENTS
Omnichannel customer service extends the store's reach
Store returns add convenience, cut costs, and drive sustainability
Inventory planning tech serves online and offline shoppers
Display technology collects shopper data
Mobile technology engages in-store shoppers
Customized manufacturing allows in-store personalization
Automated checkout eliminates payment friction
Micro-fulfillment and tiny robotic warehouses make filling orders faster and cheaper
Driverless vehicles and drones automate last-mile delivery
If you aren't already a client, sign up for a free trial to learn more about our platform.