From shopper emotion detection to in-store robotic warehouses, we highlight the technologies and trends bringing retail stores into the future.
The year is 2030, and you're going to the store. What do you see?
Before you enter, you receive a text message from a store employee: the shirt you reserved is waiting for you.
Once you get inside, maybe you spot a robot ferrying around candy bars, or you walk under a flying in-store drone. Or maybe what stands out to you is what you don't see: cashiers and checkout lines.
Whatever retail future you imagine — across apparel, grocery, or consumer goods — it will likely build upon the technology being tested today.
Retail AI Trends To Watch In 2021
As restrictions lift and stores reopen, here are the AI trends and technologies that will reshape the retail industry. Download the full report to learn more.
The rise of 5G connectivity and demands for digital flexibility and access have been transforming the store experience for years. The Covid-19 pandemic only heightened the need to create new experiences at the store and find new efficiencies. In this report on the store of the future, we explore how these trends and others will impact store innovation in the years to come.
The store of the future
The "store of the future" — a mass merchandise store set in roughly 2030 — combines emerging trends across retail, including in-store robotic fulfillment, contactless checkout, live personalized pricing, and more.
Products on shelves have a smaller footprint, as retailers shift more space and resources to online fulfillment, digital engagement, and even recycling. Meanwhile, real-time customer analytics and automation will become essential to store operations.
Broadly, this report explores the ongoing evolution of convenience, personalization, and digital connection. Increasing investment into these fundamental retail pillars will impact store operations, shopper marketing, and merchandising going forward.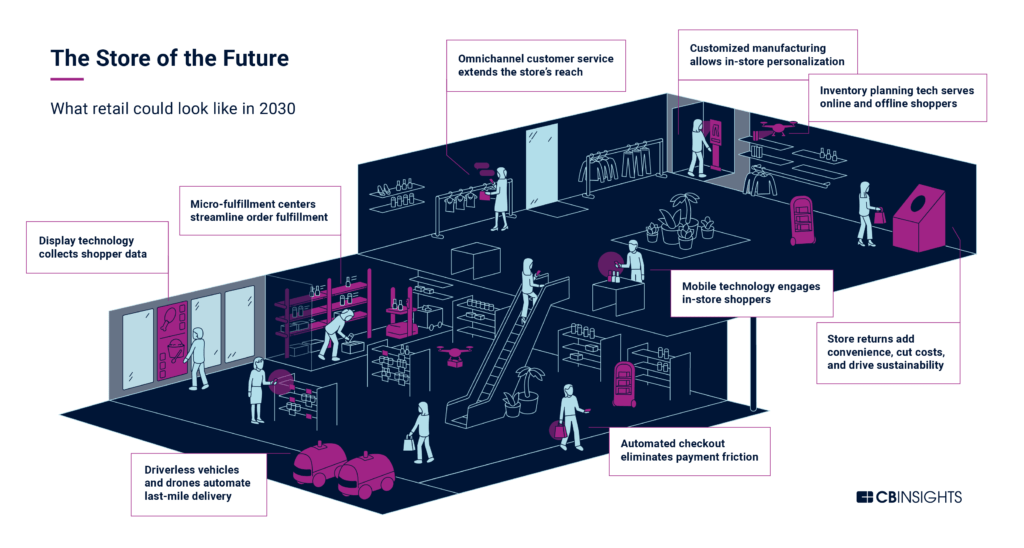 With new tech-enabled features, the store of the future will be able to provide a more frictionless and personalized experience that meaningfully engages shoppers.
The following infographic visualizes the expected 2030 in-store journey for a customer named Rachel. Here are some of the technologies and innovations that will impact each step of her shopping experience.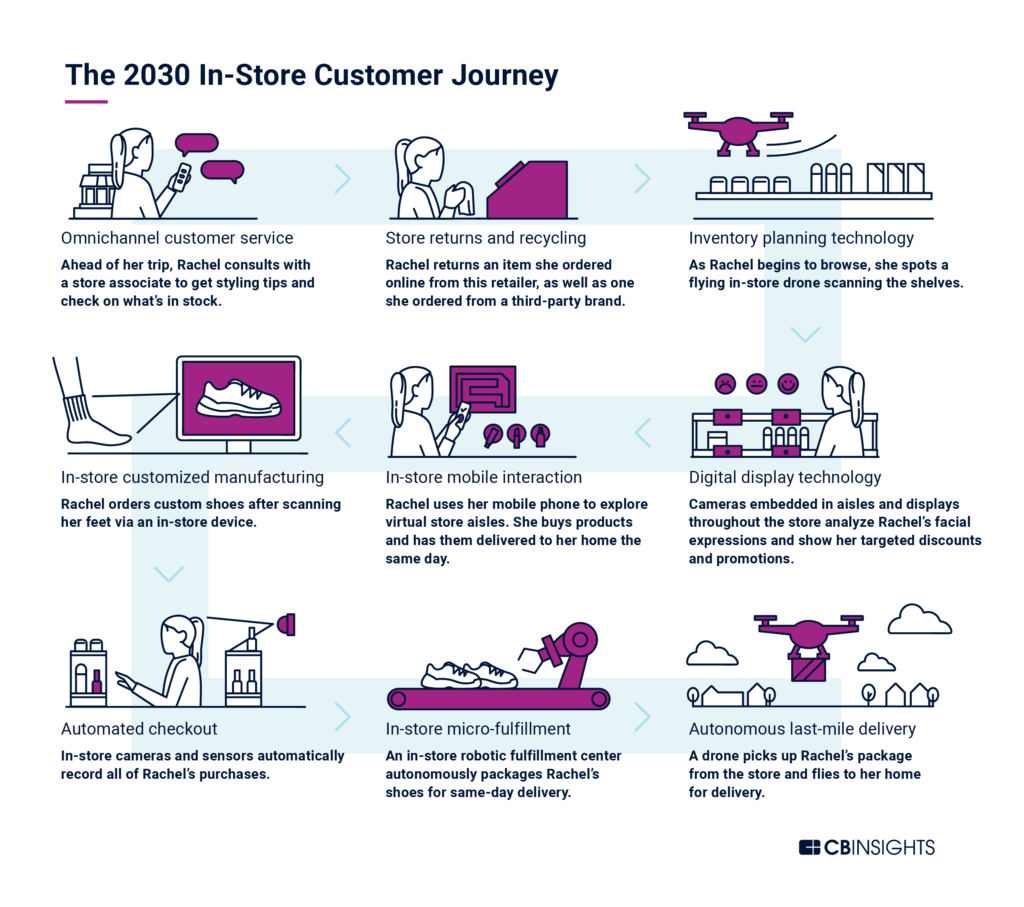 Below, we dive into the emerging technologies and trends that comprise each of these steps.
TABLE OF CONTENTS
Omnichannel customer service extends the store's reach
Store returns add convenience, cut costs, and drive sustainability
Inventory planning tech serves online and offline shoppers
Display technology collects shopper data
Mobile technology engages in-store shoppers
Customized manufacturing allows in-store personalization
Automated checkout eliminates payment friction
Micro-fulfillment and tiny robotic warehouses make filling orders faster and cheaper
Driverless vehicles and drones automate last-mile delivery
Omnichannel customer service extends the store's reach 
A text from a store associate appears on Rachel's phone. The associate sees Rachel's shopping history and lets her know that some new items from a favorite brand are back in stock. The associate recommends an in-store styling appointment to check them out. 
An omnichannel approach incorporates text, chat, and other mobile customer service platforms to extend customer service beyond store walls, helping retailers make personal connections with shoppers before they even arrive at the store. These platforms can also expand associates' expertise, so they can direct shoppers toward purchases and make their time in stores more efficient. 
One example of this omnichannel approach comes from JRNI, which offers the ability to schedule shopping appointments and also pairs customers with the best associate for their needs.
Urban Outfitters started using JRNI's technology across its brands in April 2020. Since then, 25,000 shoppers have used the customer service platform to talk in person or virtually with a store associate. Overall, the retailer reportedly increased customer transactions by 25%.