We dive into the evolution of the grocery store and where technology is taking it next, from AI nutritionist bots to 3D meat-printing butchers.
Labor shortages and supply chain disruptions are changing how consumers grocery shop, from channels to places to products. In response, grocery retailers are racing to adopt tech solutions and rethinking how to optimize store square footage.
With consumers meeting their shopping needs both in stores and online, grocers need to prioritize investments that will drive store traffic and conversion while maximizing profitability. The opportunity has caught investors' attention — grocery retail tech raised a record-setting $19B in 2021, up 115% from the year prior.
Solutions like smart packaging, vertical farming, and automated microfulfillment are gaining momentum and will affect how we shop for groceries over the next decade.
Download the full report to discover the key areas grocery stores will expand next, including: 
AI nutritionists and recommendation engines balance personalization and discovery
Smart carts provide valuable data for store planning
Smart and refillable packaging boosts loyalty and store trips
Automated food service makes prepared meals more profitable and personalized
Fresh services like in-store vertical farms reduce food waste and improve year-round assortment
Unattended checkout brings loyalty and convenience to the in-store experience
Automated microfulfillment enables faster, less labor-intensive fulfillment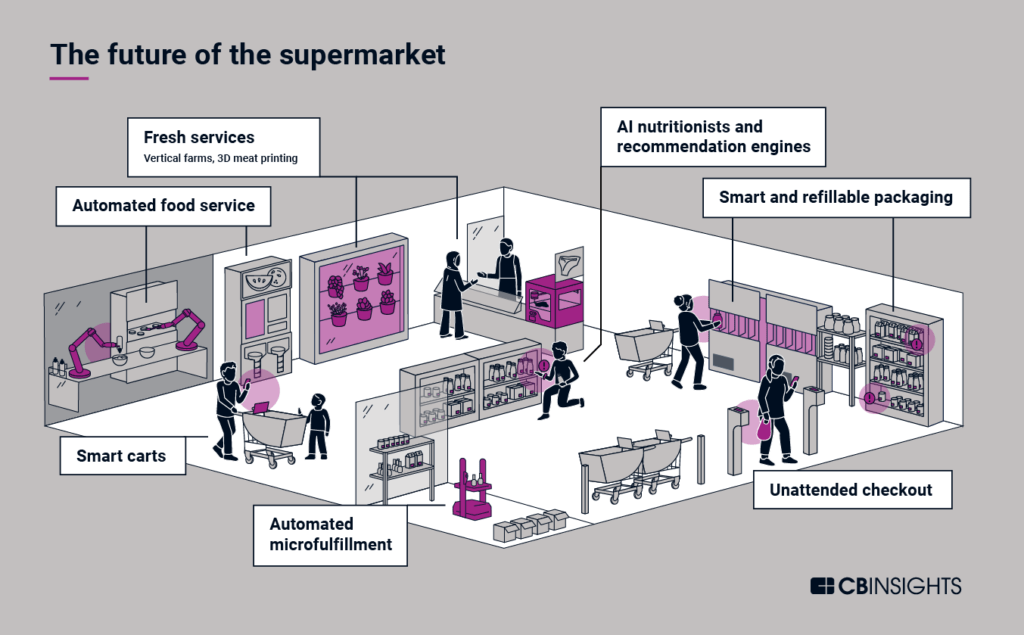 If you aren't already a client, sign up for a free trial to learn more about our platform.