A comprehensive, data-driven look at emerging trends, investments, and active investors in France.
REPORT HIGHLIGHTS:
DEALS ON PACE FOR RECORD HIGH IN 2017 
2017 is set to outpace 2016 based on the run rate for the first three quarters of 2017. At the current pace of activity, 2017 is on track to reach 699 deals by the end of the year, which would mark a growth rate of more than 36%.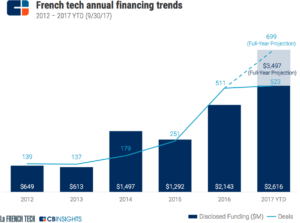 EARLY STAGE DEALS REBOUND IN Q3'17
While seed / angel deals declined from 62% to 47% of deal share between Q1'17 and Q2'17, they increased once again to 56% of deal share in Q3'17. Additionally, Series A deal share increased to 14% of deal share in Q3'17, putting total early stage deal share at 70%. The median early-stage deal size increased from $0.8M in Q2'17 to $1.2M in Q3'17, emphasizing France's focus on early stage startups.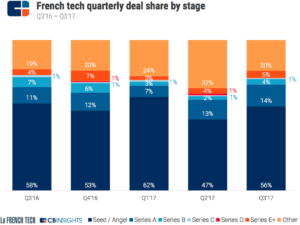 FRANCE RANKS SECOND BEHIND THE UK ON TECH INVESTMENT ACTIVITY
France consistently ranked second behind the UK, but ahead of Germany, in deal activity over the last five quarters. The UK has pulled particularly far ahead in deal activity this quarter, witnessing almost twice as many deals as France in Q3'17.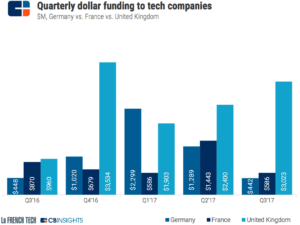 FRENCH INTERNET AND MOBILE DOMINATE IN DEAL SHARE
While deals to internet and mobile companies still account for 78% of deal share, deal activity to electronics and hardware startups have grown substantially over the last four quarters.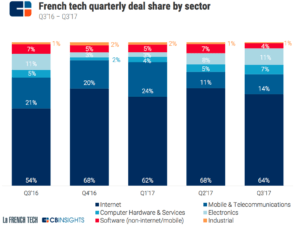 If you aren't already a client, sign up for a free trial to learn more about our platform.