Our food tech report takes a data-driven look at global food technology investment trends and top deals, highlighting areas of interest across the food landscape. 
While food tech funding has slowed from its record quarter in Q1'21, deal count has increased by over 10% in Q2'21. Early-stage deals accounted for the majority of deals (62%), up from 46% last quarter. This rise in early-stage deal share points to the issues in the global food system highlighted by the pandemic and the interest in startups who are innovating to address them.  
Tech is helping players along the value chain from production to consumption ramp up to create a safer, more reliable, and more sustainable food system in response to the vulnerabilities exposed by the pandemic. Market drivers include issues around food waste and labor shortages, spurring innovation in food production on farms, like vertical farming, as well as in restaurants, like cooking robots.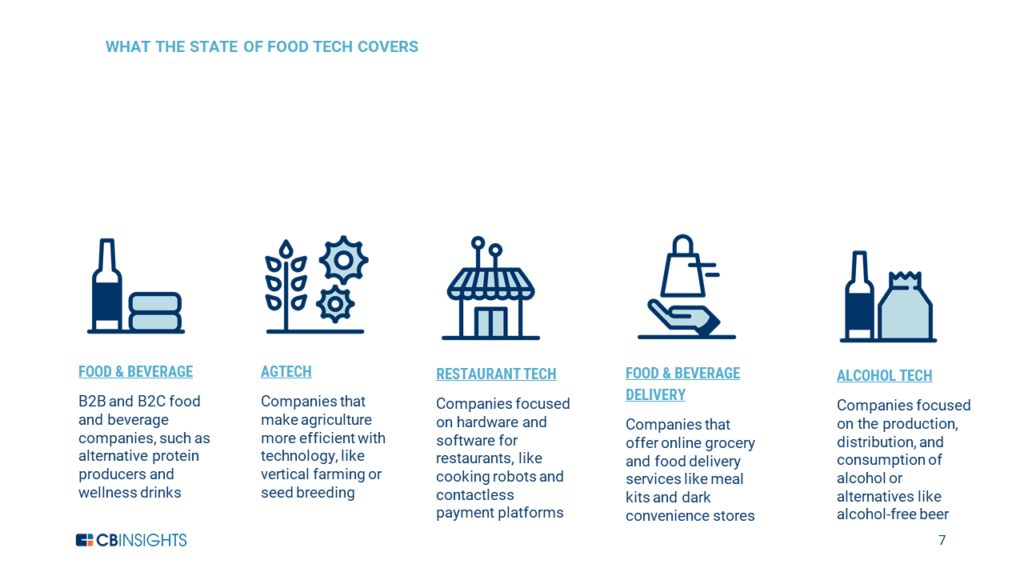 REPORT HIGHLIGHTS:
Food & beverage players are innovating with ingredients:

As of H1'21, alternative protein funding to B2B and B2C companies has already quadrupled from 2020's funding. Some of the largest deals in 2021 have involved B2B ingredient companies that are transforming proteins. 

Vertical farming continues to grow:

Vertical farms help alleviate multiple issues brought on by the pandemic like food waste, supply chain vulnerabilities, and labor shortages. Vertical farming startups have seen investment burgeon and are projected to garner more than 2.5x last year's funding amount by year's end. 

The new alcohol is no alcohol:

Alcohol tech saw a 38% rise in deal count since last quarter, with multiple alcohol alternative startups receiving funding in Q2'21. Alcohol alternative startups offer replacements for beers and spirits for more health-conscious individuals. 

Restaurant tech is ripe for disruption:

Though restaurant tech has received less funding since its peak in Q4'21, Q2'21 saw early-stage cooking robot startups garner attention and funding as potential solutions to the current labor shortage within the food industry. 

Home chefs can also fill the labor gap

: Food and beverage delivery had a record quarter in Q2'21, but has since slowed in deals and funding. However, home chef delivery platforms are gaining traction, with multiple platforms raising in Q2'21. This new delivery model can address some of the gaps in demand left by the labor shortage. 
If you aren't already a client, sign up for a free trial to learn more about our platform.