An analysis of emerging food and beverage trends using the CB Insights NExTT framework.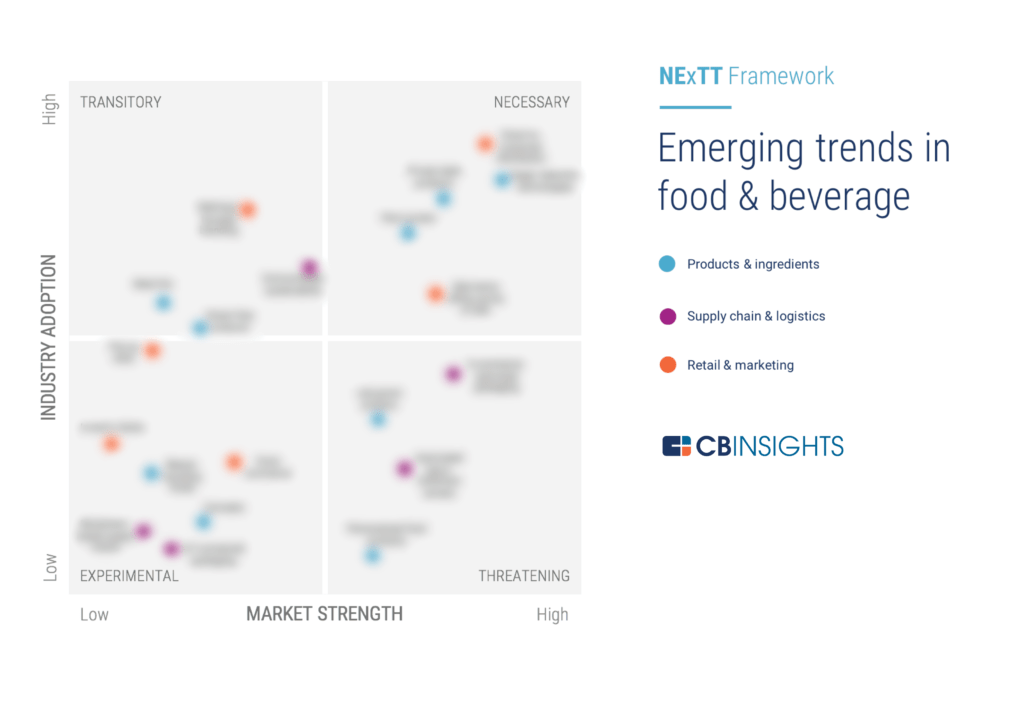 What's next for food and beverage tech?
CB Insights examined 20 of the biggest food and beverage trends, covering everything from beauty-boosting foods to optimized packaging.
Using the NExTT framework, we looked at the industry adoption and market strength of these trends, categorizing them as necessary, experimental, threatening, or transitory (NExTT). The framework educates businesses about emerging trends and guides their decisions in accordance with their comfort with risk.
Trends highlighted in the report include:
Food leaders have been slow to adopt direct-to-consumer distribution, but that's beginning to change.

Pop-up retail continues to gain steam as a marketing tactic, customer engagement driver, and data collection strategy for brands.

In 2019, expect retailers to ramp up their investment in inventory management robots, rather than robots that interact with consumers.

Gluten-free foods have become increasingly popular over the past several years, but the trend is no longer a needle-mover for big companies.

And much more.
Download the entire food and beverage trends report to see all 20 trends shaping the industry.
If you aren't already a client, sign up for a free trial to learn more about our platform.