Freight forwarding startup Flexport has raised more than $200M to take on the entire global shipping industry, while fending off other new entrants such as Amazon.
Logistics giants like DHL and Kuehne + Nagel have been entrenched industry leaders for decades, but their size may be an obstacle as new technologies emerge that can significantly streamline the shipping industry. San Francisco-based freight forwarding startup Flexport is attempting to upend these massive players, using its software-based infrastructure as a competitive advantage.
"There are 25 freight forwarders that each do more than $1 billion in revenue a year . . . none of them [were] founded after Netscape." – Ryan Petersen, Founder and CEO, Flexport
Recent headlines have highlighted the necessity for tech adoption in the logistics space. Shipping carrier Hanjin's 2016 collapse, for example, stranded 400,000 containers aboard its ships and left 8,300 cargo owners with no visibility over their freight.
Flexport uses software and data to provide greater control and visibility to clients though freight forwarding service, which facilitates the international shipment of freight through coordination with manufacturers, warehouses, shipping carriers, and other global trade players.
Competing as a new freight forwarder is no easy task due to high regulatory hurdles, complex logistical operations, and competition from both startups and incumbents.
However, Flexport's digital-first model — with real-time visibility and analytics tools — differentiates it from traditional larger players. At the same time, Flexport is one of the only digitally-driven logistics startups with significant funding to tackle the entire freight forwarding process. Moreover, recent moves into capital-intensive offline services such as warehousing and trade financing may help further shield Flexport from emerging startup competition, where we're seeing a more crowded market, while also helping it move up the value chain to more directly compete against incumbent corporations.
We analyzed Flexport's financing history, investors, product offerings, business initiatives, and its biggest threats and opportunities to understand the company's position against major rivals.
KEY TAKEAWAYS:
Flexport's integration of software-based communication, real-time shipment tracking, and customs brokerage services attract clients and investors. Flexport's tech-focused model endeared it to modern clients, such as Warby Parker and Allbirds, while helping it raise over $200M in funding.
Flexport is using its funding to expand beyond its digital roots into more capital-intensive services. Recent moves into physical warehousing, trade financing, and airplane freight charting highlight how Flexport is using its VC funding to build capital-intensive competitive moats, protecting it from earlier-stage startups.
As Flexport moves offline, traditional players are moving online. As tech-focused Flexport moves into the high-cost offline areas traditionally controlled by major players, these major players — like DHL or Maersk — aim to compete by accelerating their digital innovation.
Amazon threatens Flexport and incumbents alike. Amazon entered the freight space in 2017, offering services to help organize ocean freight shipments between China and the US for its merchants. The e-commerce giant remains a threat to Flexport given its vast sums of money, physical resources (such as existing warehouses), and digital infrastructure.
TABLE OF CONTENTS
The road to an $800M+ valuation
What is Flexport?: Flexport offers a solution to lack of visibility and control in the logistics space by providing software that, on a high level, organizes the end-to-end shipment of goods around the world (known as freight forwarding) in a unified platform. The startup uses its software to streamline all points of communication between different parties along the global trade supply chain, and allows for cargo owners to track their shipments in real-time.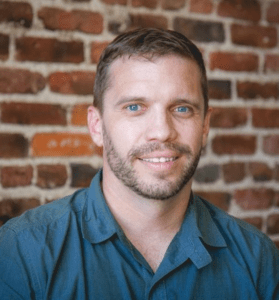 Ryan Petersen, founder and CEO of Flexport, became interested in shipping and logistics after spending two years in China working in the supply chain space as a customer of freight forwarders. It was there that he realized the obstacles faced by businesses looking to ship goods internationally.
These obstacles often derive from a lack of coordination and communication between the multiple parties that take part in the international shipping process. These parties can include manufacturers, truckers, warehouses, freight forwarders, shipping carriers, customer brokers, importers, exporters, and retailers, among others.
Funding and valuation: Although Flexport has faced many regulatory hurdles, as is common in the international freight forwarding industry, the startup has had a strong track record of consistently attracting investors, raising each and every year since 2014.
Most recently, Flexport raised a $110M Series C round of funding in September 2017, at a pre-money valuation of $800M (post-money $910M).

Investors: Flexport's investors include prominent venture capital firms including First Round Capital and Founders Fund, corporate venture arms like Google Ventures and Bloomberg Beta, well-known accelerator Y Combinator, and famous individual investors including Palantir co-founder Joe Lonsdale and Russian founder of DST Global Yuri Milner.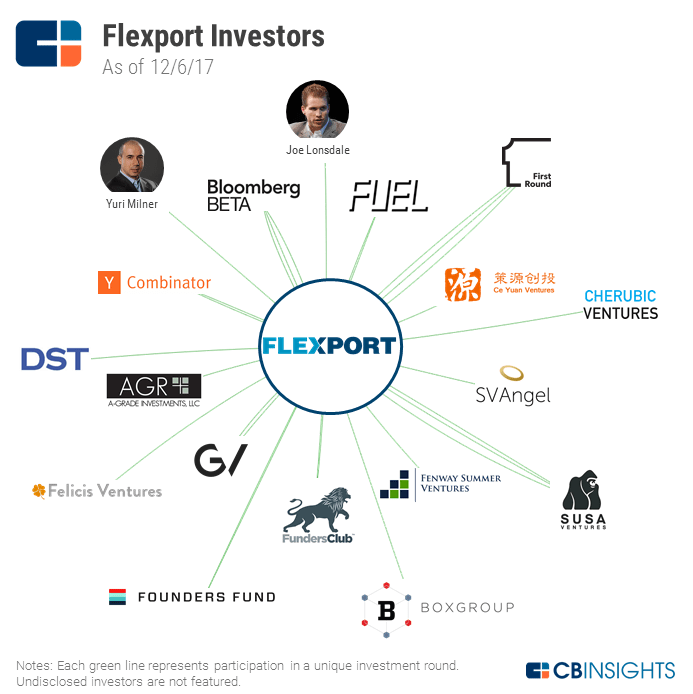 Expansion: With $201.6M in funding, Flexport has expanded to approximately 500 employees and has a presence in cities like New York City, Atlanta, Los Angeles, Amsterdam, Hong Kong, and Shenzen, outside of its headquarters in San Francisco. Additionally, the startup has amassed approximately 1,800 customers including prominent direct-to-consumer and e-commerce startups such as Casper, The Honest Company, Allbirds, Warby Parker, as well as incumbent brands like Bridgestone.
Potential impact: If Flexport, and the overall digitization of freight forwarding by other players, continues to gain traction, the effects could impact many players in the international trade ecosystem that are directly touched by freight forwarding (such as manufacturers, carriers, retailers, and consumer goods companies). Thus, any improvements to transparency and communication within the international shipping process, brought about by digitization, may ultimately improve the efficiency of the entire global supply chain.
Track all the supply chain and logistics startups in this brief and many more on our platform
Startups working at the intersection of technology, supply chain, and logistics have the potential to upend the industry. Look for Supply Chain & Logistics Tech in the Collections tab.
Track supply chain and logistics tech startups
Product overview
As mentioned above, Flexport acts as a freight forwarder, providing a number of different products and services to help clients have visibility and control over their supply chain as they ship goods across the globe. The startup's primary services, which largely rely on the company's software platform, include: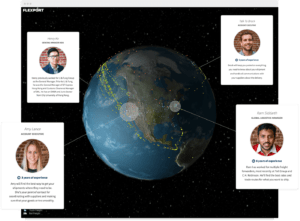 Global forwarding (ocean / air / land): Flexport provides global freight forwarding to enterprise-level customers looking to ship goods internationally by ocean, air, or land through its software platform. Mentioned above, freight forwarders facilitate of the international shipment of freight through coordination with manufacturers, warehouses, shipping carriers, and other global trade players.
Customers using Flexport's global forwarding platform can expect: multiple competitive pricing quotes for each shipment; a dashboard to track and monitor global shipments in real-time; and data analytics / reporting to gain a better understanding of their supply chain.
Beyond the software platform, a dedicated Flexport employee is provided as a single point of contact for each customer.
To allow the company to transport goods to and from the US more smoothly by ocean, air, or land, the company has obtained a number of licenses and approvals from organizations such as the Federal Maritime Commission, the Transportation Security Administration, the US Department of Transportation, and the Federal Motor Safety Administration. Licenses from organizations such as these are also obtained by incumbent freight forwarders like Kuehne + Nagel, so that they may operate in the US.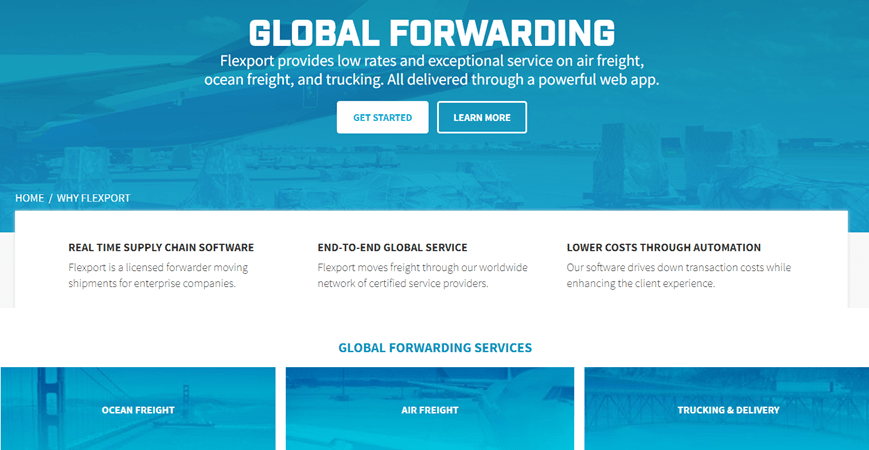 Customs brokerage: Beyond the licenses mentioned above, Flexport also acts as a licensed US customs brokerage. Specifically, the company employs its software in combination with its in-house customs brokerage experts to ensure that: freight is able to clear customs efficiently; products are classified correctly for tariff and duty purposes; country-specific government-agency forms are correctly completed; and US customs bonds are registered.
Supply chain services: Flexport provides a range of services that help integrate software and data into a client's broader supply chain operations. The startup's services include low-rate cargo insurance, cargo quality inspections, as well as partnerships with warehousing services. Flexport is looking to run its own warehousing facilities going forward, which we examine further down in this analysis.
Competition: Big and small
Flexport faces competition from many players, big and small, within the freight forwarding and greater logistics space.
Logistics giants: Flexport faces competition from large, well-established players in the freight forwarding space that hold far more resources than Flexport. Companies like DHL, which provides freight forwarding in addition to other services, raked in more than $57B in revenue in 2016. Comparatively, Flexport is only estimated to bring in $500M in revenue in 2017.
However, Flexport's innate technological advantage could help it compete against such large wallets. While its larger competitors have traditionally tracked much of their client data on paper, Flexport analyzes its client data to optimize shipping routes and streamline relationships with other players along the shipping container supply chain, such as ports and shipping carriers. This allows Flexport to cut five days off travel time for shipping an LCL (less than container load) on certain global routes, which is attractive to potential customers, according to Petersen.
 "Everything that can be digitised in our industry will be digitised." – Jakob Stausholm, Chief Strategy, Finance and Transformation Officer, Maersk 
Nevertheless, larger companies such as Maersk, with its own freight forwarding arm (Damco) launched a digital freight forwarding portal in April 2017. This is reflective of a larger effort by Maersk to digitize its operations. Flexport will have to watch out as large players begin to explore different technologies and erode Flexport's key differentiator.
Other startups: While startups like FreightHub are also tackling freight forwarding, Flexport is unmatched in its level of funding. Moreover, many other startups in the logistics space are digitizing only certain pieces of the freight forwarding and international shipping process. Specifically, startups such as Freightos, Xeneta, and Haven work in conjunction with existing freight forwarders, rather than as freight forwarders themselves.
Freightos offers an online freight marketplace showcasing price quotes from different freight forwarders
Xeneta offers a freight price comparison platform that helps freight forwarders better adjust their pricing
Haven provides a cloud-based transportation management system that connects shippers to freight forwarders
Flexport, on the other hand, acts as full-service digital freight forwarder offering a wide range of related services.