The Post-Covid World
During the pandemic, livestreaming services, connected in-home devices, wearables, and more have become necessary for consumers looking to stay active at home. Here's how these technologies have changed the fitness landscape — and why they'll stick around even when gyms reopen.
With gyms and boutique studios forced to close for months during the Covid-19 pandemic, fitness companies and their customers have had to get creative.
Fitness apps, streaming services, wearables, and connected devices are helping people stay active while they practice social distancing. And while many will return to the gym when they're able to do so safely, the virtual workout isn't going anywhere.
From in-home connected equipment like Mirror to smart apparel, digital fitness tools offer on-demand workouts and real-time performance data. This provides flexibility, convenience, and personalization that are difficult to find at the gym or even an in-person class. And with many digital services coming in at a significantly lower price point than the typical gym membership, customers will likely integrate them into their fitness routines long after the pandemic subsides.
In this post, we take a look at 3 digital trends that are reshaping the fitness industry now — and why they'll pervade even after gym doors reopen.
Take a look at 20+ other industries and technologies that will shape the post-pandemic world here.
Table of contents
Fitness streaming services and apps offer convenience and value
With gyms and fitness studios closed for months, the commute to work out has disappeared for millions of consumers. Many are reportedly working out more frequently than they were before the pandemic. 
Pre-Covid, working out typically meant carving out time to visit a gym, something many people found challenging in their busy lives. But now streaming services and apps are bringing workouts into consumers' homes — often at significantly lower costs than a traditional gym membership.
In 2019, only 7% of surveyed Mindbody users used fitness streaming services on a weekly basis. By April 2020, that figure had grown to more than 80%.
Necessity prompted many people to try fitness streaming services for the first time. In March 2020, many popular chains with locations nationwide — including Equinox, Gold's Gym, LA Fitness, and SoulCycle — closed their doors to comply with state-level lockdown orders. More than 38,000 gyms and fitness studios nationwide remained closed as of late May.
In response, downloads of fitness and health apps increased by 47% in Q2 alone, and many streaming services experienced dramatic increases in demand.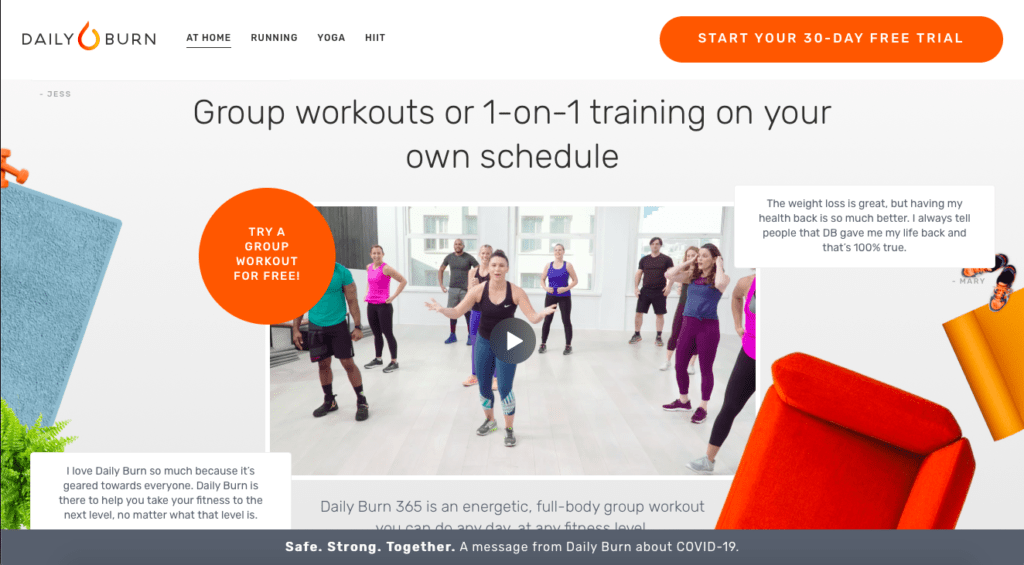 Source: Daily Burn
For example, online workout video library Daily Burn saw a 268% year-over-year surge in membership as the pandemic took hold across the US. Aaptiv, an audio-based workout app backed by Insight Partners, saw organic traffic double between March and April 2020, while engagement tripled.
While streaming services and apps may seem like the ideal alternative to brick-and-mortar facilities, they aren't without their drawbacks. Finding ways to successfully replicate the community aspect of in-person workouts is one of their greatest challenges.
Livestreamed workout sessions via social media have proved popular with instructors and fitness enthusiasts alike, particularly among smaller boutique gyms and independent trainers. These sessions approximate the shared experience of in-person workouts to a degree. While livestreams and other digital fitness products may not be able to fully simulate the collaborative feel of working out at the gym, the ability to encourage their users may give them a competitive edge in an increasingly crowded space.
Source: The Verge
Social functionality and gamification can be powerful motivators for users of fitness streaming services and apps, particularly if those features emphasize social support. Researchers discovered that sharing progress toward specific fitness goals in online communities significantly increased engagement with fitness apps.
Digital offerings can also allow self-conscious consumers to try new workouts and fitness routines they may not have had the confidence to try otherwise. Amaya Weddle, Mindbody's former VP of research and product marketing, told Forbes that many consumers who struggle with body image negativity have felt empowered by fitness streaming services and apps.
"We're also hearing from a lot of consumers who maybe feel judged or embarrassed or like they have to look a certain way in class and that livestreaming gives them access to new kinds of workouts that they wanted to try." — Amaya Weddle, former VP of research and product marketing, Mindbody
It may be difficult for streaming services and apps to re-create the in-person workout experience, but they don't necessarily have to. Approximately 46% of surveyed Mindbody customers plan to combine both in-person and at-home workouts when the pandemic is over.
In addition to convenience, fitness streaming services and apps are also at an advantage over physical gyms when it comes to cost.
The average gym membership in the United States costs $58 per month — almost $700 per year. The lower subscription fees of most fitness streaming services and apps could be a strong selling point for budget-conscious consumers given pandemic-induced economic challenges.
Many consumers have used the pandemic as an opportunity to identify ways in which they can reduce their discretionary spending. Almost 60% of consumers surveyed by TD Ameritrade have no plans to renew their gym memberships once the threat of Covid-19 has passed. 
"The difficult economic circumstances currently faced by gyms and health clubs will not disappear once the crisis ends. Once stay-at-home guidelines are lifted, consumers will continue to work out at home in numbers far beyond anything we saw prior to the crisis." — Paul Byrne, partner, Harrison Co.
Lower subscription costs and greater convenience may be tempting value propositions for consumers, but this does not mean fitness streaming services and apps can assume that the dramatic growth many experienced in Q2'20 will continue.
The growing abundance of fitness streaming services and apps has created a strong market for consumer choice. Many services have comparable libraries of workouts. Most cover a broad range of exercises, from high-intensity interval training to yoga. Subscription fees tend to be very similar. With so much overlap, the social functionality of digital fitness products may prove to be the most meaningful differentiator for today's increasingly discerning — and price-conscious — consumers.
Connected fitness equipment is making at-home workouts more engaging with data
Today's home exercise equipment is becoming smarter and more engaging by quantifying users' progress with data. Many connected fitness equipment brands are also successfully approximating the social and competitive aspects of working out in gyms, making at-home workouts more appealing. 
Companies like Peloton, Lululemon's Mirror, and Tonal are reshaping what the home gyms of the future might look like, while others are combining exercise machines with virtual reality to create entirely new hybrid fitness experiences.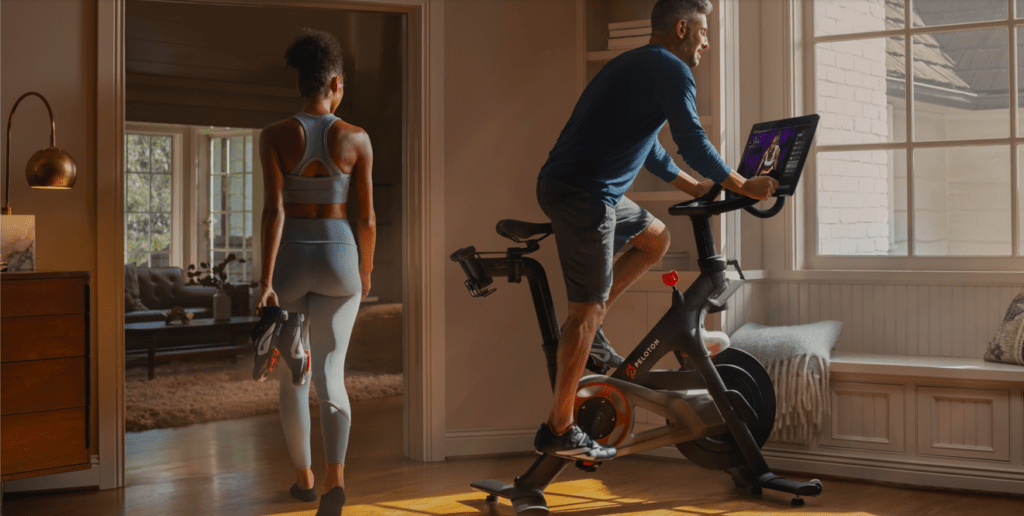 Source: Peloton
Connected fitness equipment is becoming increasingly popular with consumers. In 2015, the category accounted for approximately 2.9% of overall revenue in the fitness equipment vertical. By the end of 2020, that figure is expected to exceed 7.5%. The home fitness equipment market is projected to hit nearly $4.3B in value by 2021.
Part of what's driving connected fitness equipment's popularity is consumers' desire for engaging experiences that allow them to measure their progress over time, without having to go to a gym. The emergence of Covid-19 accelerated interest in these products and gave manufacturers an opportunity to demonstrate their value.
Peloton, in particular, saw dramatic increases in demand as the pandemic took hold. The company's year-over-year data for fiscal Q3'20 included a 94% increase in connected fitness subscribers, a 64% growth in digital subscribers, and a 66% growth in revenue to $525M. Having dispelled concerns about the sustainability of its business model, Peloton is currently developing a treadmill product, which will reportedly retail for less than its bike, as well as a connected rowing machine.
"I don't think people are going to rush back to crowded gyms. I just don't see that happening. Especially people who experience Peloton, and why it's a better experience at a better location with a bigger community, with better instructors, for better value," — John Foley, co-founder and CEO, Peloton
Other brands have wasted little time establishing strong positions in the connected fitness equipment vertical. Lululemon's $500M acquisition of Mirror in June 2020 is a prime example of predominantly analog fitness brands moving into omnichannel fitness experiences, as was Under Armour's acquisition of fitness tracking app MyFitnessPal for $475M in 2015.
Mirror, which describes itself as "the nearly invisible home gym," serves as a virtual personal trainer, a performance tracker, and a social workout experience. Users can choose from a wide range of workouts of varying intensities, from barre and yoga sessions to kickboxing and cardio drills. The product also offers users individualized guidance and personalized training sessions delivered by professional trainers. This makes Mirror a compelling alternative to the in-person workout experience — albeit with a substantial upfront cost.
Source: Tonal
Tonal, another smart home gym product, takes this concept one step further by incorporating adjustable arms that rely on magnets and electrical currents to approximate the experience of weightlifting. With cardiovascular and strength training equipment accounting for more than half of the connected fitness equipment market in 2018, it's likely that additional products will emerge to compete with Mirror and Tonal in the coming years.
What brands like Peloton and Mirror share is the potential to recreate the social and competitive aspects of traditional in-person workouts.
Mirror's live classes and personalized workouts with professional trainers are an example of how digital-first products are already offering users the benefits of in-person workouts without leaving their homes. Trainers offering classes via Mirror can see a wealth of data about individual clients, including physical indicators that show how hard that person is working out. Many trainers use this data to offer encouragement to their clients and a level of personalized interactivity that livestreams and apps cannot match. 
As these products evolve and become more sophisticated, it's likely that an even broader range of data will be monitored and tracked to give users greater insights into their performance.
"During a live [Mirror] class, I can see the information clients fill out in their intake survey along with the user's heart rate, where they live, and milestones of their experience (such as how many classes they've taken and their birthday)." — Alex Silver-Fagan, Nike Master trainer
Offering consumers a more engaging workout than traditional exercise equipment isn't just a value-add — it's a vital element in these brands' sales strategies.
With prices ranging from $1,200 to more than $2,000 — excluding accompanying monthly subscription fees — the substantial sticker price of connected fitness equipment is a potential barrier to entry for many consumers. Yet as brands like Peloton have demonstrated, the high prices of its machines have not been a deterrent for sales.
Source: The Verge
Peloton exemplifies how brands can use the exclusivity of their products to build consumer loyalty and engage users. This strategy is also evident in Lululemon's acquisition of Mirror. By offering a branded, digital-first fitness experience that users can enjoy in the comfort of their homes, Lululemon offers almost end-to-end omnichannel fitness experiences. This includes connected equipment, digital-first amenities like group classes and personal training, and related athletic apparel.
While digitally integrated variants of old ideas are proving popular with consumers, some companies are reimagining what fitness equipment can be by integrating exercise machines with virtual reality.
Source: Icaros
Icaros is a German company that offers consumers what it describes as "active virtual reality" experiences. The company's machines are unlike any other type of exercise equipment, as many of Icaros' simulations emphasize experiences such as diving and flying.
Users lie horizontally in a cockpit-style suspension seat that mimics the position of a hang glider and grip 2 handles at the front of the machine with their forearms and with their knees resting in stirrup-style supports. Wearing a VR headset, users can then complete a range of virtual simulations. This has made it useful in physical therapy and e-sports, as well.
Like other types of connected fitness equipment, the cost of Icaros' virtual reality machines is considerable, with the company's Icaros Home model retailing for almost $2,400.
Brands like Icaros may be exciting to fitness enthusiasts and investors alike, but the high price point of this kind of equipment is another example of the ongoing bifurcation of the fitness market as a whole. Connected fitness equipment can offer an immersive, engaging workout in the comforts of the home, but cost remains an obstacle for many.
Wearables are helping athletes improve their form
Wearables are becoming smaller and more sophisticated, and they're helping everyone from professional athletes to physicians quantify a greater range of health and wellness data.
Although the wearables market is still dominated by well-established brands such as Fitbit, several new brands have emerged in recent years to challenge even the largest incumbents.
Source: Oura
Finland-based Oura Health, founded in 2013, is one such company. Its flagship product, the Oura Ring, is similar in size to a wedding band. In addition to tracking standard metrics like sleep quality and heart rate, the Oura Ring also tracks a proprietary metric called readiness. This combines sleep data and historical activity levels with body temperature, resting heart rate, and heart rate variability, giving users an at-a-glance overview of their readiness for physical activity.
Whoop, a Boston-based performance optimization company backed by Foundry Group and Two Sigma Ventures, is another brand taking aim at the growing wearables market. With similar dimensions to other wristwatch-style devices, Whoop's Strap product doesn't push the boundaries of wearable design. It does, however, offer a glimpse at the potential direction of the wearables vertical as a whole.
Whoop offers its wearable to consumers via a monthly subscription. Users pay $30 per month to join the Whoop community, which includes the Strap product and access to Whoop Teams and Whoop Live services. Teams allows users to create custom groups centered around specific athletic activities, health goals, or training objectives. Whoop Live connects users to professional athletes and "power users" with a focus on competitive incentives in real time, leveraging social gamification as a means of driving engagement. Subscribers also gain access to a detailed personal dashboard of health and activity data, which summarizes users' activity in monthly reports.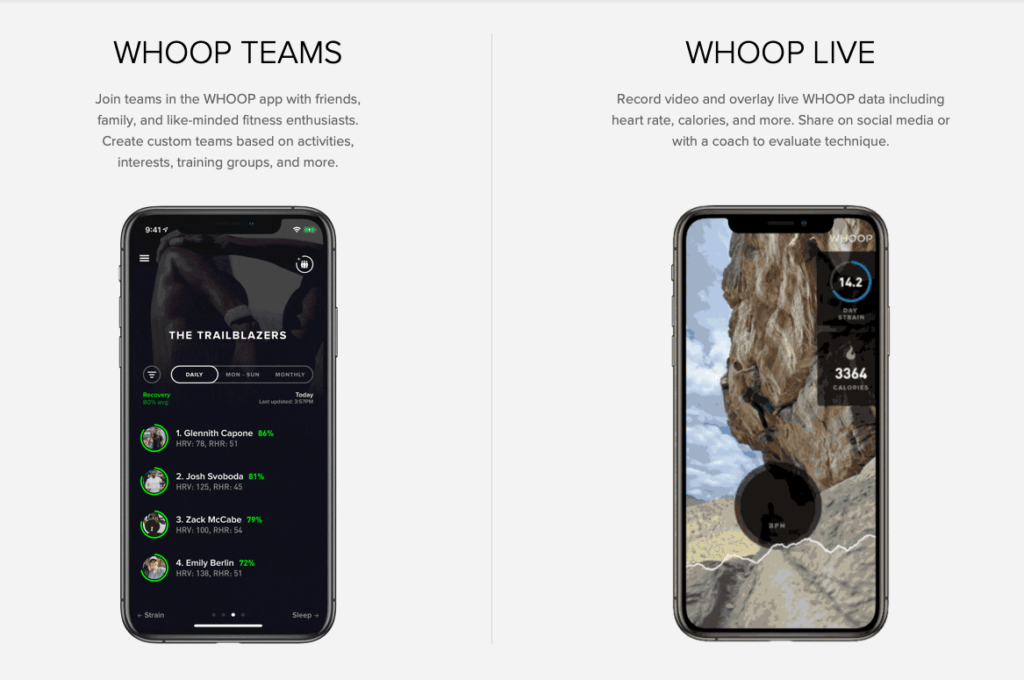 Source: Whoop
For wearable brands, this kind of community-driven engagement based on a subscription model represents one of the few ways these brands can distinguish themselves in an increasingly competitive market. 
Barring significant innovations in the sensor technologies essential to wearable devices, differentiation between products remains a considerable obstacle. The discreet form factor of the Oura Ring lends itself to overnight wear — already a major design challenge for many wearable manufacturers — but its primary differentiator remains a simple temperature sensor. This makes the social aspects of products like WHOOP that much more important.
Another driving force behind the evolution of the wearables vertical is the increasingly blurred line between casual fitness enthusiasts and professional athletes. Brands such as Fitbit appealed primarily to the "amateur" athletic market initially. Today, many brands are targeting professional athletes and focusing on optimizing competitive performance over tracking casual activity — factors that have a strong appeal to even casual consumers.
Source: Engadget
This is exemplified by brands such as Under Armour's line of HOVR footwear. Positioned as a digital running coach, the HOVR line promises "real-time form coaching" for amateur and professional athletes by measuring cadence (the number of steps taken per minute) and stride length (the distance between steps), and making personalized recommendations via a companion smartphone app. 
Other performance data, such as foot-strike angle and ground contact time, is tracked by the footwear and analyzed by the app to provide runners with real-time, data-driven analysis of their runs. While the data-tracking aspect of HOVR footwear is far from unique, the performance-coaching angle is a compelling value proposition in an increasingly crowded space.
Other brands are pushing this angle by appealing directly to professional athletes and major sporting franchises in the broader smart apparel space.
Athos, a brand specializing in smart apparel designed for professional athletes, offers a range of garments featuring its Athos Core electromyography (EMG) sensor. The Core sensor measures just a few inches in length and sits inside pouches stitched into Athos apparel to sit next to the user's skin. Athos' sensor focuses primarily on muscular stress to provide athletes and coaches with insight into the performance of an athlete's individual muscle groups. This data can be viewed from a centralized dashboard for individuals or entire sports teams, further allowing coaches to adjust training routines for optimal performance.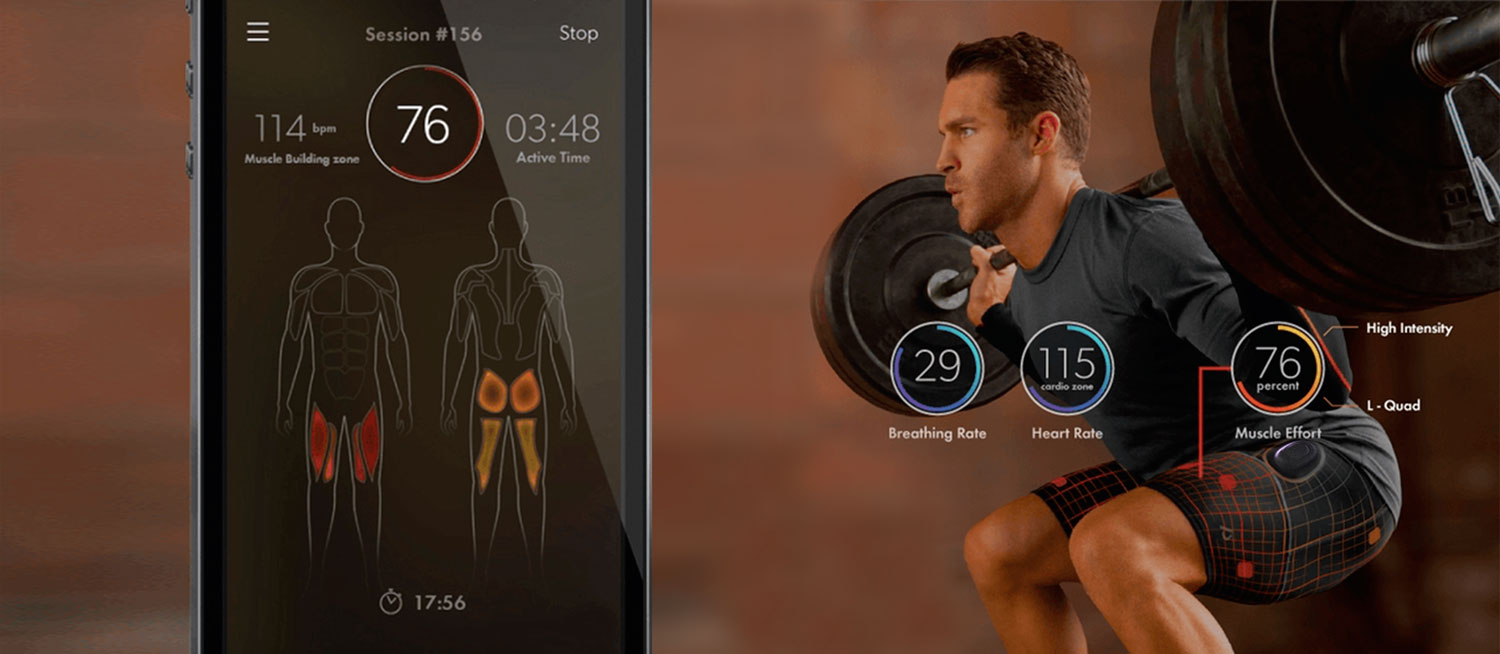 Source: Busted Wallet
The brand has already secured endorsements from and partnerships with sporting franchises, including the Los Angeles Clippers, Philadelphia Phillies, and the Santa Cruz Warriors. Athos has also partnered with pro athletes, such as Greg Jennings, former wide receiver for the Green Bay Packers.
In the coming years, brands are likely to invest heavily in this kind of individualized performance tracking in wearable devices. Consumers and athletes alike want and expect more from wearable devices, and data-driven subscription models are likely to become the standard. 
However, product quality, pricing, and customer acquisition remain very difficult are still challenges for many new clothing startups, and they will likely be compounded by the technology aspect of smart apparel products. But for brands with the means and technologies to overcome these obstacles, the potential rewards are immense.
Better, harder, smarter workouts
For many consumers, Covid-19 presented an unprecedented opportunity to reexamine their lifestyles and fitness routines. As emerging fitness tech evolves, virtual and digital fitness will become increasingly specialized — and personalized — in the coming years.
However, while consumers may soon be able to choose from a broader range of more specialized products and services, the costs associated with cutting-edge fitness technologies are likely to remain a major hurdle for those from lower-income ranges. The already considerable divide between budget and luxury is likely to grow even wider, especially in verticals such as connected fitness equipment and smart apparel. As in many other sectors, this will create opportunities for some companies but could also make something as supposedly universal as exercise a polarizing experience for many consumers.
If you aren't already a client, sign up for a free trial to learn more about our platform.