Our State Of Fintech report features data-driven insights from our emerging tech insights platform. We take a look at global fintech investment trends in key financial verticals, partnership activity, top deals, and more.
Fintech finished 2020 on a strong note, with Q4'20 deals up 11%, reversing the space's 4-quarter decline in activity.
In this report, we dig into trends including "buy now, pay later" (BNPL) and insurtech product expansion, in addition to covering secular tailwinds and headwinds that will impact fintech companies in 2021.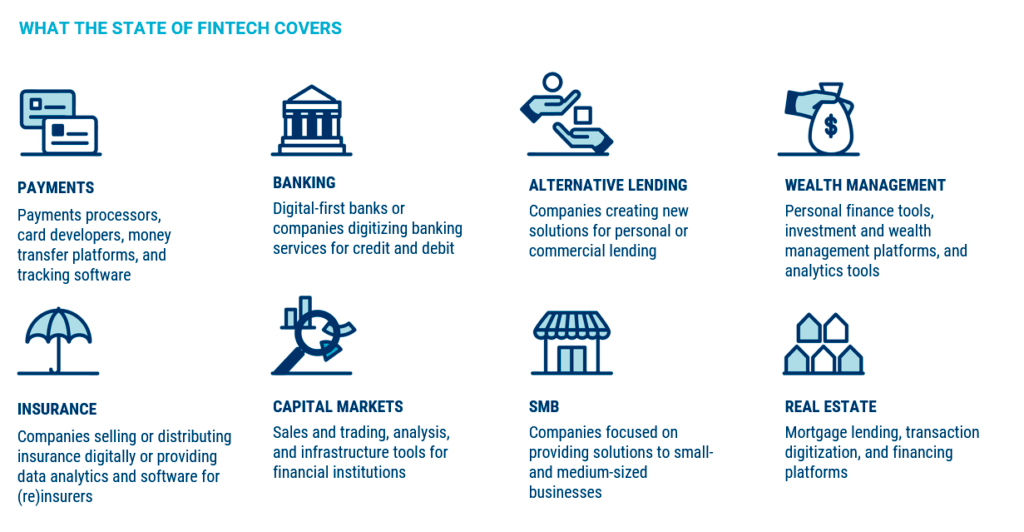 Report Highlights:
Q4'20 saw 522 deals, reversing a 4-quarter decline. Deal activity increased 11% quarter-over-quarter (QoQ) in Q4'20, the first quarter of deal growth since Q3'19. Series A, B, and C rounds accounted for 90% of the increase in deals. Higher early- and mid-stage deal activity helps explain why mega-rounds' ($100M+ deals) share of total funding fell from 59% to 44% in the quarter.
2020 funding and deal activity declined slightly. Funding and deal activity fell 2% and 13% year-over-year (YoY), respectively. Deals in every fintech vertical we track fell except for SMB, which grew 13% YoY.
Fintech is gaining momentum in South America. From 2016 through 2020, funding to South America-based fintech companies grew at a 64% CAGR. Around 40% of deals during this period went to alternative lending and payments companies.
Europe surpassed Asia in quarterly deal activity for the first time since Q2'19. Deal activity activity in Europe grew 6%; however, Asia's deal activity dropped 2%, falling below Europe's deal total in Q4'20. This was the fifth consecutive quarterly decline in deal activity for Asia-based fintech companies. However, funding in the region grew 10% while funding to Europe-based companies fell 17%.
M&A activity grew 25% YoY in 2020. 2020 was a busy year for fintech M&A, with companies spanning our coverage areas becoming acquisition targets. For example, Visa and Stripe both made acquisitions in emerging markets, acquiring YellowPepper and Paystack, respectively.
If you aren't already a client, sign up for a free trial to learn more about our platform.