Global fintech funding showed signs of stabilizing in Q3'23, falling by just 3% QoQ.
Global fintech funding reached $7.4B in Q3'23 — a 3% drop from the previous quarter.
Fintech deal activity also continued to trend down in Q3'23. Deal count slid back to 2017 levels, falling by 18% QoQ to hit 754.
Using CB Insights data, we highlight key takeaways from our State of Fintech Q3'23 Report, including:
Global fintech funding falls 3% QoQ to hit $7.4B.

US fintech funding experiences a 5% drop in Q3'23.

Unicorn births remain at 3 in Q3'23.

Fintech mega-round funding climbs 50% QoQ.

Digital lending funding jumps 70% while deals fall 56% QoQ.
Let's dive in.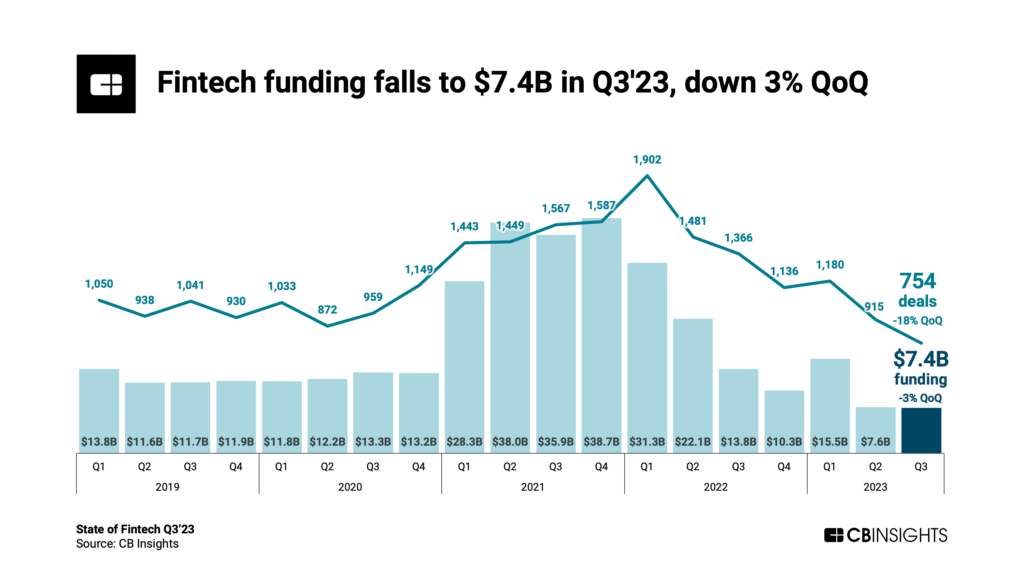 Global fintech dollars dipped 3% QoQ to hit $7.4B in Q3'23, leveling off after seeing sharp declines in most quarters since the end of 2021. Meanwhile, deal count fell by 18% QoQ.
This fintech funding stabilization was supported by $100M+ mega-rounds, which accounted for 33% of total fintech funding ($2.4B) in Q3'23.
The top 3 deals of the quarter went to:
Hong Kong-based microfinance platform

Micro Connect

(

$458M Series C)

US-based spend management company

Ramp

(

$300M Series D)

India-based digital lending solution Perfios ($229M Series D)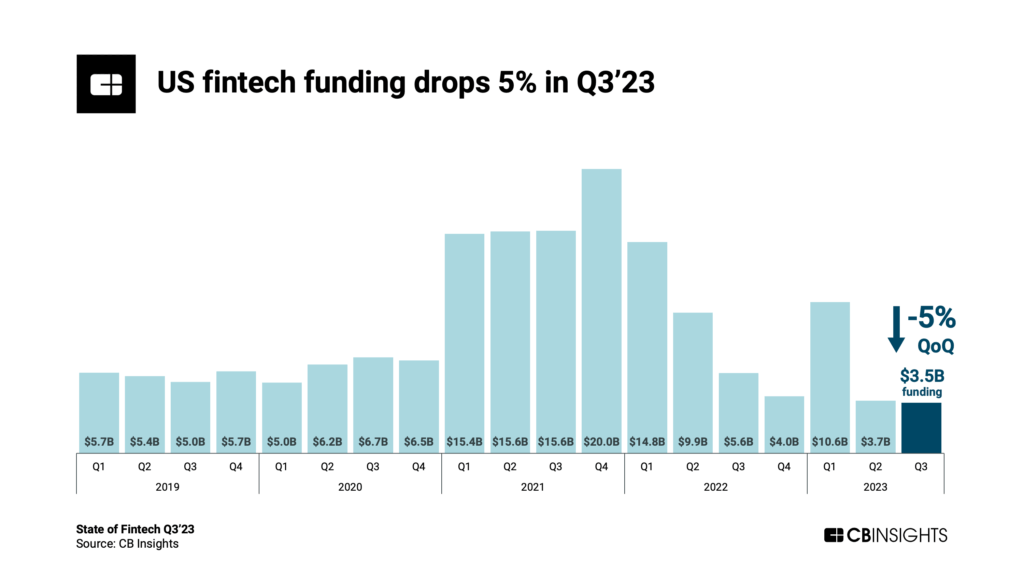 While US-based fintechs saw a 5% drop in funding QoQ, they continued to drive a significant chunk of global fintech funding. The US accounted for almost half (47%) of all quarterly fintech funding in Q3'23 — the highest share among global regions.
Asia, on the other hand, secured a smaller share of the funding total but saw funding rise substantially. Companies in the region experienced an 82% increase in funding QoQ.
This jump was supported by deal-making activity among digital lending companies — 6 of Asia's top 10 deals in Q3'23 went to companies in this category.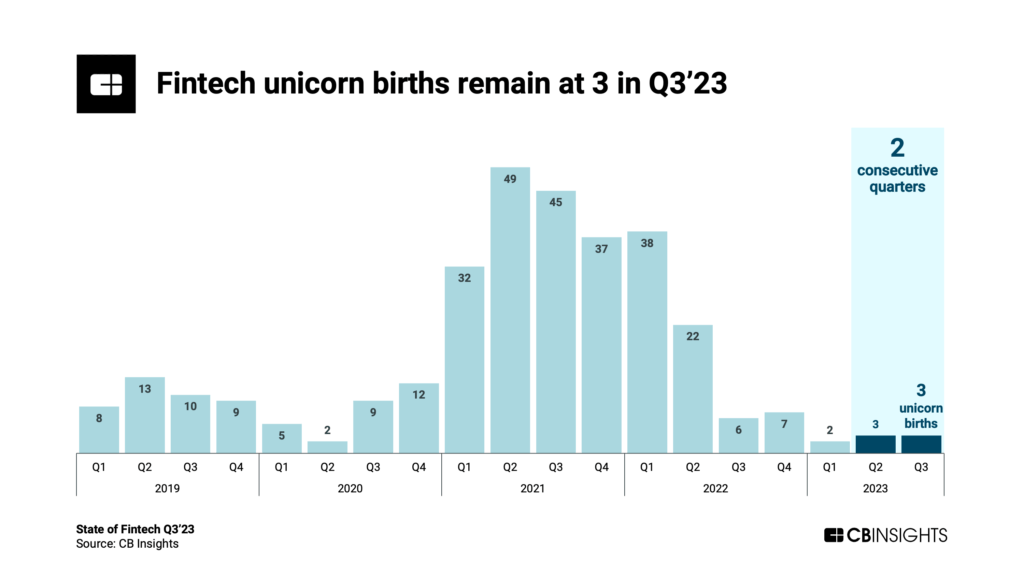 Unicorn births also showed signs of stabilizing in Q3'23. Like the previous quarter, 3 unicorns (private companies valued at $1B+) were born in Q3'23, bringing the total unicorn count to 312.
Viewing unicorn births through an annual lens shows just how pronounced the unicorn slowdown is in the fintech arena. Just 8 unicorns have been born in 2023 so far, down from 163 in 2021 and 73 in 2022.
The US accounted for 2 new unicorns in Q3'23: crypto custody platform BitGo ($1.8B valuation) and insurtech Kin ($1B). The only other unicorn born in Q3'23 was Hong Kong-based microfinance platform Micro Connect ($1.7B).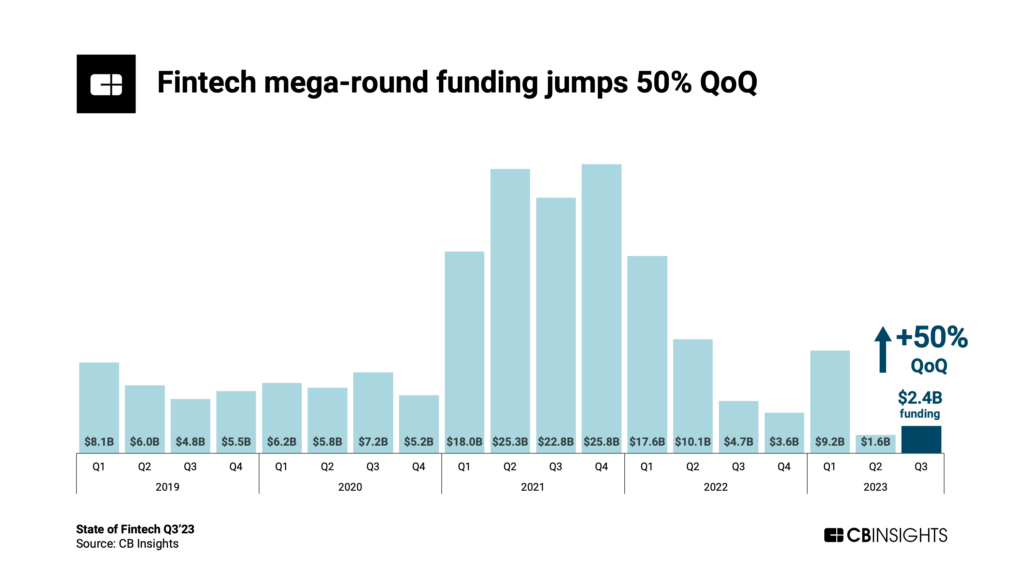 Fintech mega-round funding rose 50% QoQ to hit $2.4B across 14 deals in Q3'23. Despite the upward trajectory, this marked fintech's second lowest quarter for mega-round funding since 2016.
Asia surpassed the US in mega-round funding, securing $1.1B across 5 deals. The US raised $1B across 7 mega-rounds.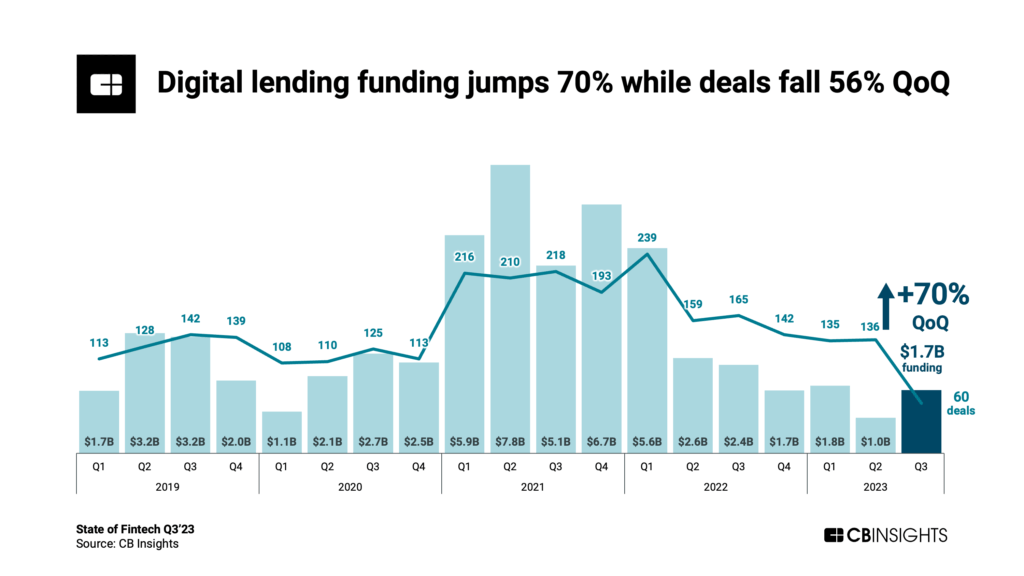 Despite a drop in deals, digital lending secured the most funding among fintech sectors in Q3'23 — funding to the space rose by 70% QoQ to hit $1.7B.
Digital lending's funding boost was driven in part by mega-rounds, which brought in more than half of the sector's quarterly funding.
Payments and insurtech tied for second in total fintech funding, raising $1.1B each. While this marked a 22% increase for insurtech QoQ, it represented a 39% drop for payments.
If you aren't already a client, sign up for a free trial to learn more about our platform.