Our State Of Fintech report features data-driven insights from our emerging tech insights platform. We take a look at global fintech investment trends in key financial verticals, partnership activity, public company earnings call transcripts, top deals, and more.
The largest fintech companies are benefiting from private markets flush with capital and yield-hungry investors.
In Q3'20, mega-rounds (deals worth $100M+) accounted for 60% of total fintech funding — the highest percentage share since Q2'18. Funding represented by mega-rounds increased 24% quarter-over-quarter (QoQ) to $6.4B, while non-mega-round funding declined 16%.
In this report, we continue our coverage of embedded fintech trends and look at how fintech companies are "rebundling" services as they seek out new revenue streams.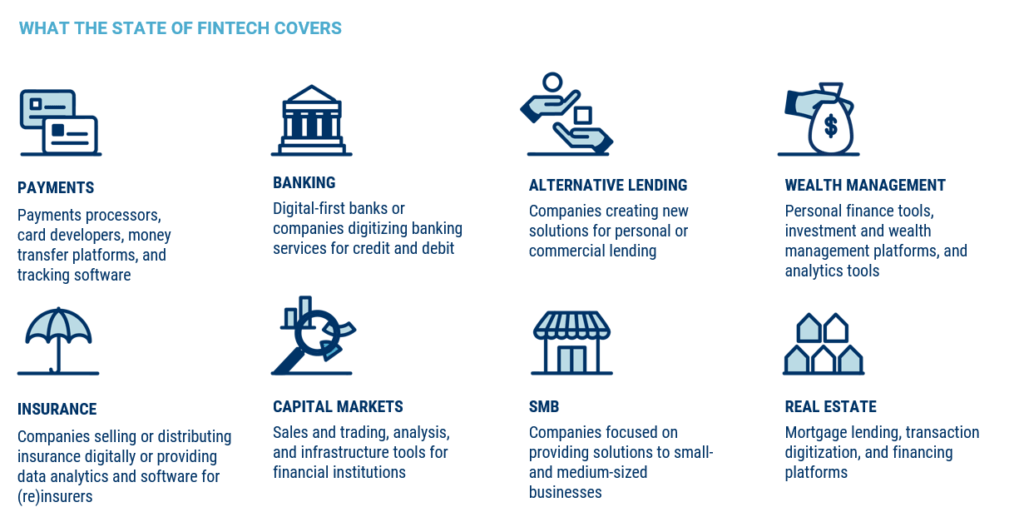 Report Highlights:
Mega-rounds drove fintech funding in Q3'20. The 25 mega-rounds ($100M+ deals) in the quarter accounted for 60% of total fintech funding — the highest percentage share since Q2'18, when Ant Financial raised a $14B round.
Deal activity declines for the fourth consecutive quarter. Deal activity declined for the fourth consecutive quarter to 451, down 24% year-over-year (YoY). However, angel/seed rounds were a bright spot, increasing 20% QoQ and reversing a 3-quarter contraction.
Funding and deal activity both grew in Europe and South America. Europe and South America were the only regions to show QoQ increases in both funding and deal activity. North America, Europe, and South America all saw increased funding QoQ, while funding to Asia- and Australia-based companies fell 12% and 84%, respectively.
FAMGA activity in fintech is taking many forms. FAMGA was active in fintech this quarter with patent approvals, partnerships, and investment activity. Most notable was Apple's acquisition of Canada-based mobile payments company Mobeewave for $100M.
Mortgage companies and brokerages were popular acquisition targets. Mortgage analytics firm Black Knight acquired Optimal Blue for $1.8B, ICE acquired EllieMae for $11B, and United Wholesale Mortgage is set to go public in a $16B SPAC deal.
If you aren't already a client, sign up for a free trial to learn more about our platform.