A comprehensive, data-driven look at global financial technology investment trends, top deals, active investors, and corporate activity.
REPORT HIGHLIGHTS:
VC-BACKED FINTECH COMPANIES RAISE $4B ACROSS 278 DEALS IN Q3'17
Deals to global VC-backed fintech companies deals held steady in Q3'17, but global fintech funding in Q3'17 dipped 25% from Q2'17's record. If the current run rate holds steady in Q4'17, global fintech investment dollars and deal activity could top new highs in 2017.
25 FINTECH UNICORNS GLOBALLY VALUED AT $75.7B
Q3'17 saw 1 new fintech unicorn, 1 fintech unicorn go public, and 1 fintech unicorn raise a down round. Coinbase entered the club at a $1.56B valuation, while Zhong An Insurance, previously valued at $8B, went public at the end of Q3'17. Q3'17 also saw alternative lender Prosper, previously valued at $1.77B, raise a down round at a valuation of $550M.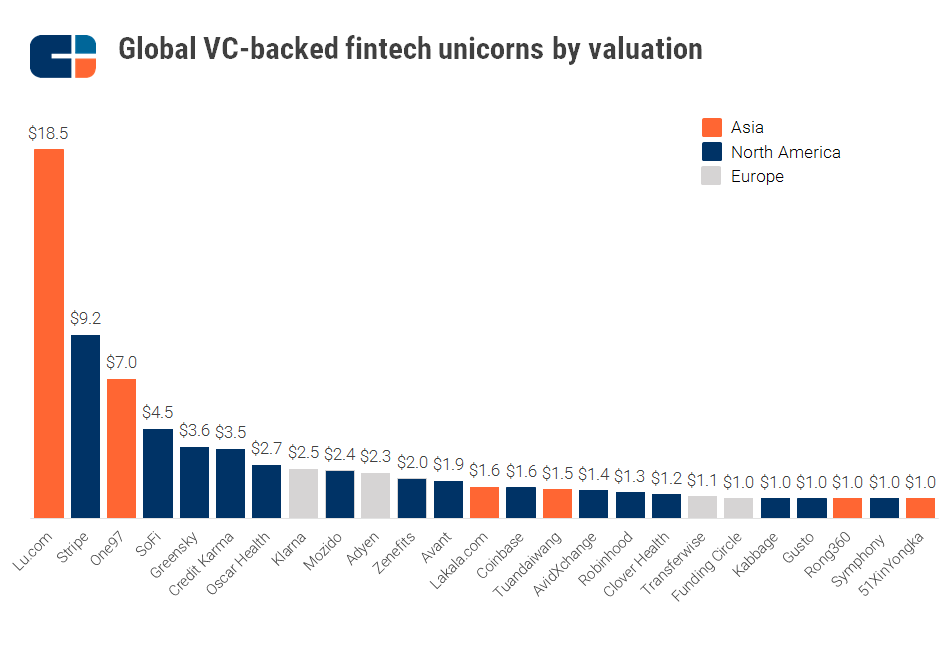 FINTECH DEALS IN NORTH AMERICA AND EUROPE RISE IN Q3'17
North America saw deal activity to VC -backed fintech companies rise 13% on a quarterly basis in Q3'17 and accounted for 45% of quarterly global deals. Europe and Asia both saw deals to VC -backed fintech companies hold steady on a quarterly basis in Q3'17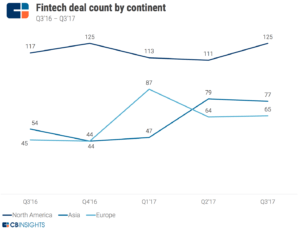 If you aren't already a client, sign up for a free trial to learn more about our platform.