Our State Of Fintech report features data-driven insights from our emerging tech insights platform. We take a look at global fintech investment trends in key financial verticals, partnership activity, top deals, and more.
Q1'21 was one of the largest quarters on record across deals, funding, exits, and mega-rounds.
In this report, we dig into what drove this quarter's $22.8B funding boom and explore trends including digital asset custody, cross-border payments in emerging markets, and community-focused challenger banks.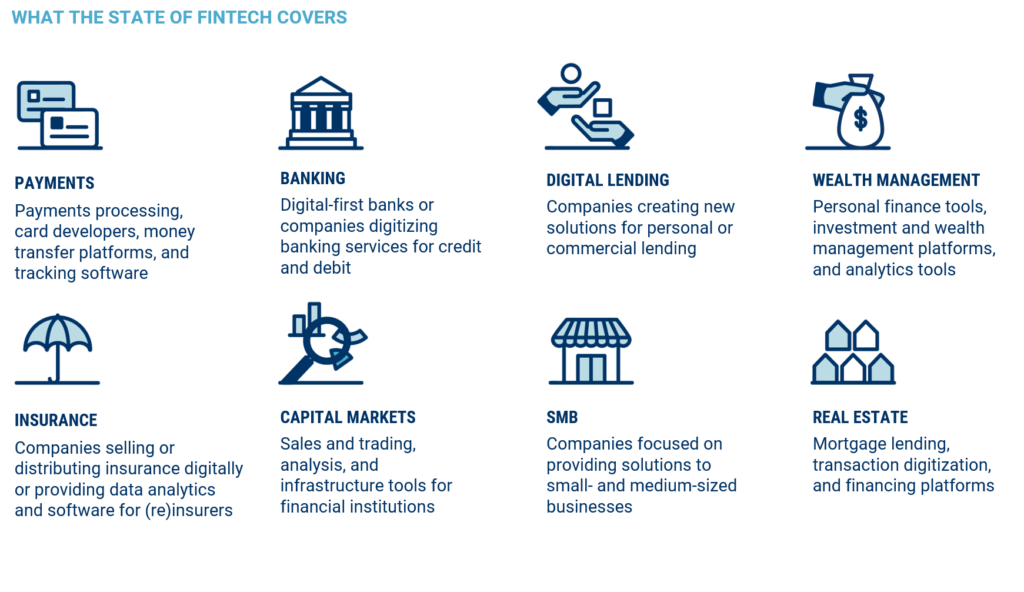 Report Highlights:
Q1'21 was the largest funding quarter on record. This was the largest quarter for fintech funding — surpassing Q2'18's previous record, which included Ant Group's $14B funding round. Across 614 deals, VC-backed fintech companies raised $22.8B. This represents 15% and 98% year-over-year (YoY) growth, respectively.
Mega-rounds drove this quarter's funding boom. There were 57 $100M+ mega-rounds this quarter, a new record, which together accounted for 69% of total funding in the quarter. As a result, the average deal size this quarter nearly doubled vs. Q4'20, from $19.3M to $37M.
Deal growth was global. Every continent except for Africa saw QoQ growth in deal activity. Europe's deal activity surpassed that of Asia last quarter, and this continued into Q1'21 with 151 total fundraises to VC-backed companies. Europe also saw funding growth of over 180% QoQ, primarily driven by mega-rounds which accounted for 68% of the continent's total funding for the quarter.
Exit activity hit a new high. There were 11 IPOs and 67 M&A deals (including announced, but not yet completed deals) for VC-backed fintech companies in Q1'21. Many of these were completed via SPAC transactions, including Bakkt, SoFi, MoneyLion, and eToro.
If you aren't already a client, sign up for a free trial to learn more about our platform.