A closer look at what's driving fintech funding and deal activity across Europe.
In 2021 so far, fintech companies in Europe have already eclipsed 2020's full-year funding totals.
Our Europe-based fintech funding update digs into the deals driving funding activity across the continent and looks at key trends across sectors including payments, banking, insurance, services for small- and medium-sized businesses (SMBs), and more.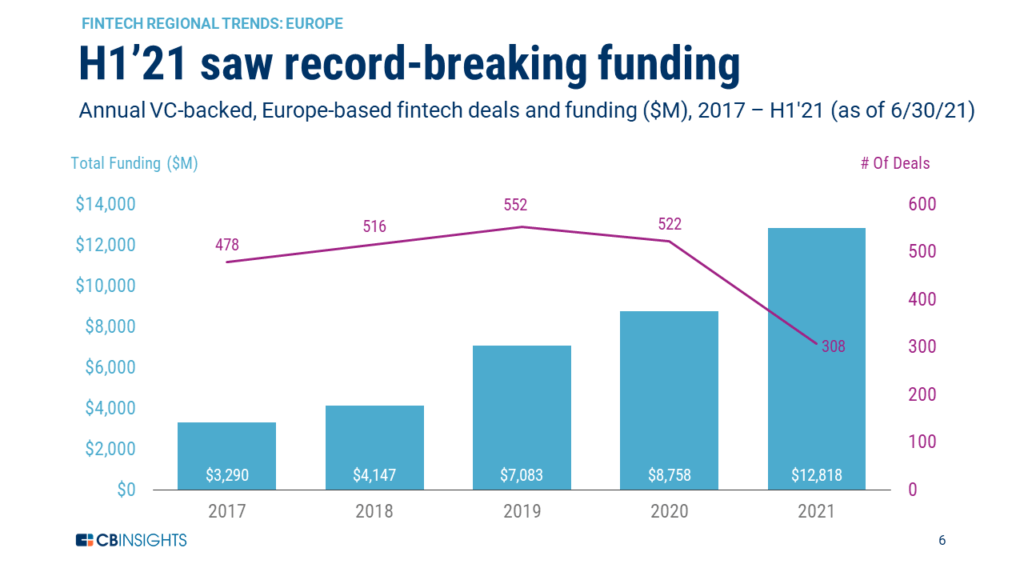 Key Takeaways:
Funding to Europe-based fintech companies in H1'21 surpassed 2020's full-year total. Europe-based fintechs raised a record-breaking $12.8B in H1'21, nearly 1.5x higher than in all of 2020. In Q2'21 specifically, deal activity fell by 8% quarter-over-quarter (QoQ) to 148 deals, while funding grew by 30% to reach a record $7.2B, driven by companies raising more mid- to late-stage mega-rounds.
Germany-based companies nearly reached UK's funding high among European countries in Q2'21. In Q2'21, UK fintech companies raised $2.1B in funding, only 2% more than Germany-based ones. Of the 5 largest funding rounds in the quarter, two went to companies based in Germany.
Insurance and wealth tech companies led funding growth in Q2'21. Across Europe, companies in insurance and wealth management saw the biggest funding gains among fintech sectors. Insurance tech companies raised a record-breaking $1.8B, up over 400% QoQ, while wealth tech companies raised $1.3B in funding for Q2'21. Banking companies led the quarter in deal volume and growth at 34 deals, up 70% QoQ.
If you aren't already a client, sign up for a free trial to learn more about our platform.