Banks, tech giants, and newer players are racing to capitalize on the white-hot fintech market. Dig into our top fintech research reports to explore what's in store for the future of lending, payments, insurance, crypto, wealth management, and other financial services.
Fintech has seen record-breaking investment activity this year.
As of Q3'21, YTD funding to the space had already surpassed 2020's year-end total by 96% to reach $94.7B, and it has continued to climb since then. Growth can be attributed in part to long-standing modernization initiatives, but it has also been accelerated by the increased demand for digital financial services and e-commerce amid the pandemic.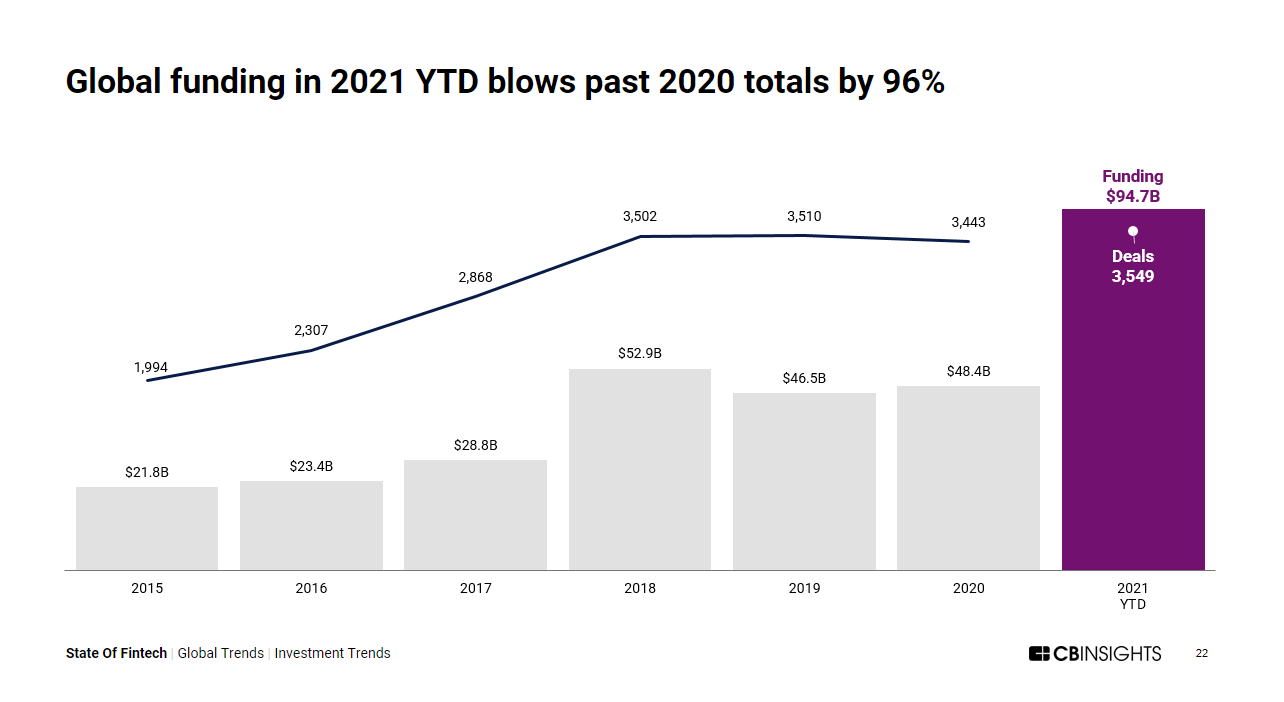 With activity distributed across all areas — from digital lending and payments to wealth and capital markets tech — investors, consumers, and organizations of all shapes and sizes have been left scrambling to figure out what's happening and what it means for them.
That's why we've brought together everything you need to know about key fintech players, trends, and advancements in this series of 5 free reports.
THE FINTECH 250: THE TOP FINTECH COMPANIES OF 2021:

The Fintech 250 are setting the pace and raising the bar for the rapid transformation of all areas of the financial services industry  — from digital banking to wealth management to capital markets. Discover who they are and what they're doing to push the boundaries of possibility.

THE BIG TECH IN FINTECH REPORT: HOW FACEBOOK, APPLE, GOOGLE, & AMAZON ARE BATTLING FOR THE $28.2T MARKET: Amid the 2021 fintech funding boom, tech giants are looking to further expand into the space — via new products, investments, and M&A deals. Uncover the strategies being employed by these companies as they attempt to gain market share across key verticals.
EVERYTHING YOU NEED TO KNOW ABOUT WHAT AMAZON IS DOING IN FINANCIAL SERVICES:

Amazon is looking to tackle payments, lending, checking accounts, and more — all without applying to be a conventional bank. We take a look at its product development and investment activity to outline its current strategy and predict what the company will do next. 

DISRUPTING THE $8T PAYMENT CARD BUSINESS: THE OUTLOOK ON 'BUY NOW, PAY LATER':

The popularity of the alternative buy now, pay later (BNPL) model has skyrocketed amid pandemic-induced e-commerce growth —  the BNPL industry is now expected to grow 10–15x by 2025. We explain what it is and dive into how it could potentially disrupt the $8T US payment card industry. 

WHERE TOP US BANKS ARE BETTING ON FINTECH:

US banks are increasingly investing in fintech to future-proof their organizations. Discover where key players — such as Goldman, Citi, and JPMorgan — are placing their bets across capital markets, blockchain & crypto, wealth & asset management, and more.
If you aren't already a client, sign up for a free trial to learn more about our platform.