In this interactive report, we examine how fintech companies are providing gig workers with more flexible banking services, faster payments, personalized financial management services, and broader insurance coverage.
The gig economy — a labor market characterized by flexible contractor work — continues to mature, especially as more consumers turn to platforms like Uber, Lyft, Instacart, and Fiverr. 
Covid-19 has impacted the gig economy in positive and negative ways, increasing the demand for some gig work, like grocery delivery, while decreasing it for others, such as ride-hailing.
With an estimated 57M workers participating in the gig economy, many fintech startups are targeting this area to provide better and more personalized financial services.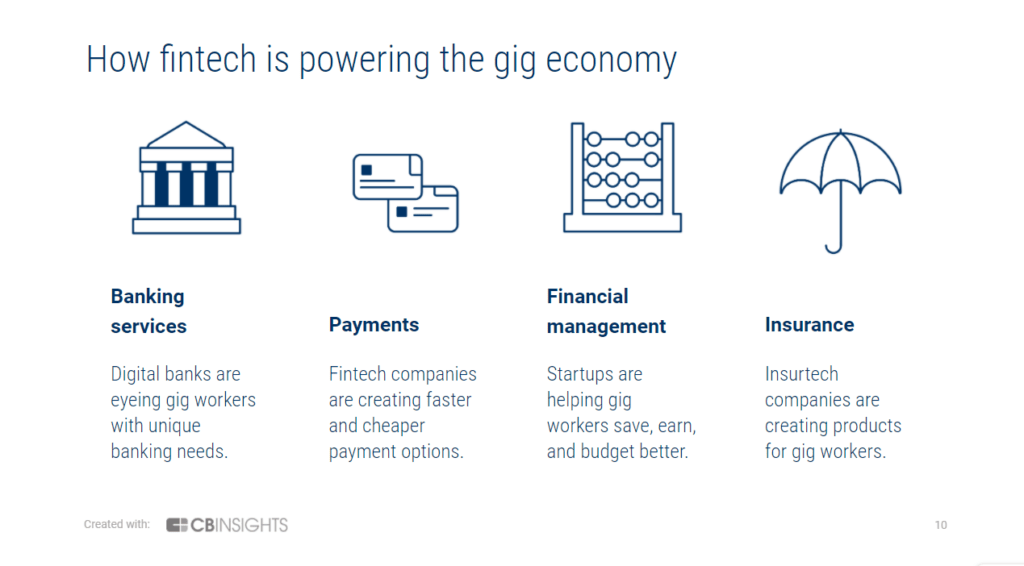 Using our Stories feature, we look at how fintech is enabling the gig economy.
This 39-slide interactive deck covers:
What is the gig economy, and how is fintech involved?

How is Covid-19 impacting the gig economy?

How are fintech startups enabling better services for gig workers and companies?
---
Stories is CB Insights' interactive presentation builder, which helps you create stunning market landscapes and always fresh data visualizations — so you can tell beautiful, data-driven stories.
---