The financial services industry continues to attract tech companies that transform how people and businesses spend, save, borrow, invest, and more. From capital markets to insurance and digital banking to wealth management, the Fintech 250 are among the most promising of these companies globally.
CB Insights has unveiled the fourth annual Fintech 250 — a list of 250 of the top private fintech companies using technology to transform financial services.
The 2021 Fintech 250 cohort has raised approximately $73.8B in aggregate funding across nearly 1,200 deals since 2016 and includes startups at different investment stages of development, from early-stage companies to well-funded unicorns.
GET the list of 2021 fintech 250 companies
The companies were selected by CB Insights' Intelligence Unit from a pool of over 17,000 companies, including applicants and nominees.
They were chosen based on several factors, including data submitted by the companies, company business models and momentum in the market, and Mosaic scores, CB Insights' proprietary algorithm that measures the overall health and growth potential of private companies.
Clients can access the entire Fintech 250 list and interactive Collection here. (If you don't have a CB Insights login, create one here.)
Want to be considered for future rankings? Fill out this initial application form (it'll take no more than a few minutes). If selected, you'll be asked to complete our Analyst Briefing Survey so our analysts can better understand your products, customers, and market traction.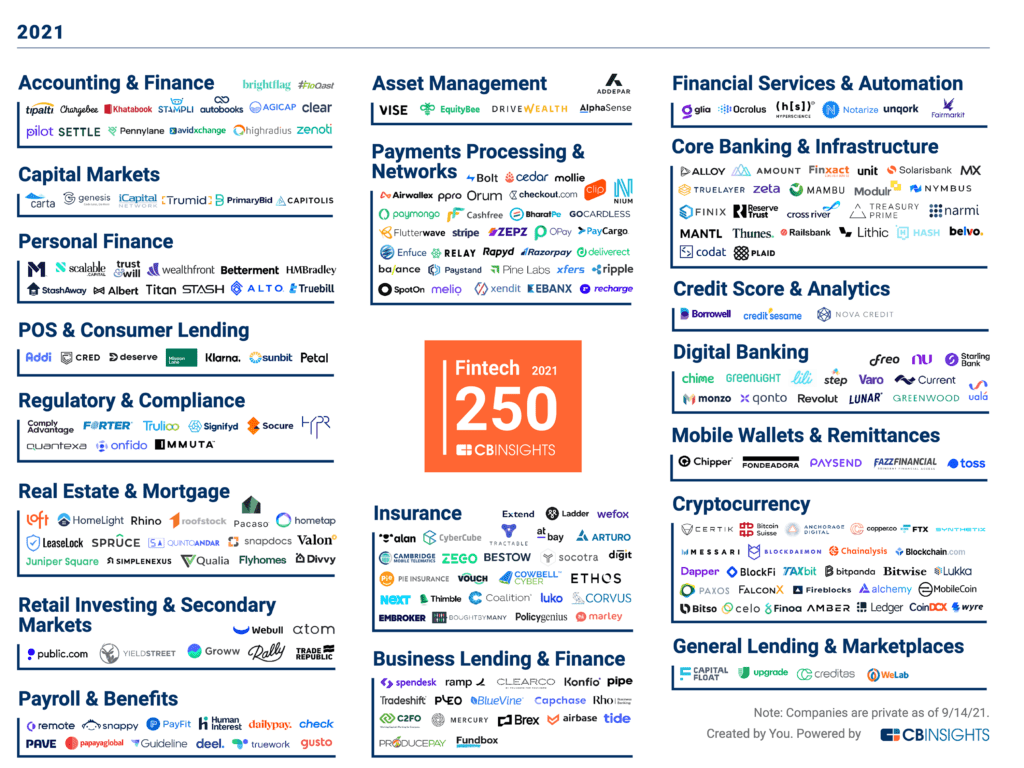 The market map above categorizes the Fintech 250 companies based on core area of focus. Categories are not mutually exclusive. Companies are private as of 9/14/21.
Table of contents
Top Fintech Companies 2021: Fintech 250 Investment Highlights
Unicorns: 118 of the 250 companies (47%) are valued at or above $1B as of their latest funding round.
Funding trends: In 2021 year-to-date (YTD), these 250 private companies have raised $40.3B in equity funding across 275 deals (as of 9/14/21).
Mega-rounds: Since 2020, there have been 178 mega-round ($100M+) equity investments to this year's Fintech 250, with 138 of them in 2021 YTD.
Global representation: 36% of the 2021 Fintech 250 are based outside the US. After the US, the UK is home to the most Fintech 250 companies (25), followed by India (12). This year's winners are based in 26 countries, including France, Brazil, Germany, Indonesia, and Nigeria.
Top VC investor: Ribbit Capital is the most active investor in this year's Fintech 250 companies, having invested in 62 deals since 2016. Since 2019, Ribbit has participated in 41 deals to this cohort of companies, including to Nubank, Uala, Brex, Vouch, Razorpay, and BharatPe. Tiger Global Management and Accel were close behind with 57 and 55 deals, respectively.
Top deal of 2021: Klarna raised a $1B growth equity round in Q1'21 from undisclosed investors.
Most well-funded: Klarna is the most well-funded company on the Fintech 250 list, having raised approximately $3.5B across 26 rounds since 2010.
Clients can access all 250 companies on the CB Insights platform here. 
THE 2021 FINTECH 250 CATEGORIES AND MOST WELL-FUNDED STARTUPs REPRESENTED
Previous winners and highlights from the fintech 250 class of 2020
Unicorns: 77 of the 2020 Fintech 250 (31%) remained or have since become unicorns with a $1B+ valuation.
Exits: 17 have gone public and 25 have been acquired.
Deaths: 0 of these companies have died.
Deals, funding, and mega-rounds: Since 2019, the 2020 Fintech 250 has raised $62.7B in equity funding across 566 deals, including 197 mega-rounds ($100M+ investments).
If you want to learn more about the Fintech 250 Class of 2020, check out the full list of last year's winners and see where they are now.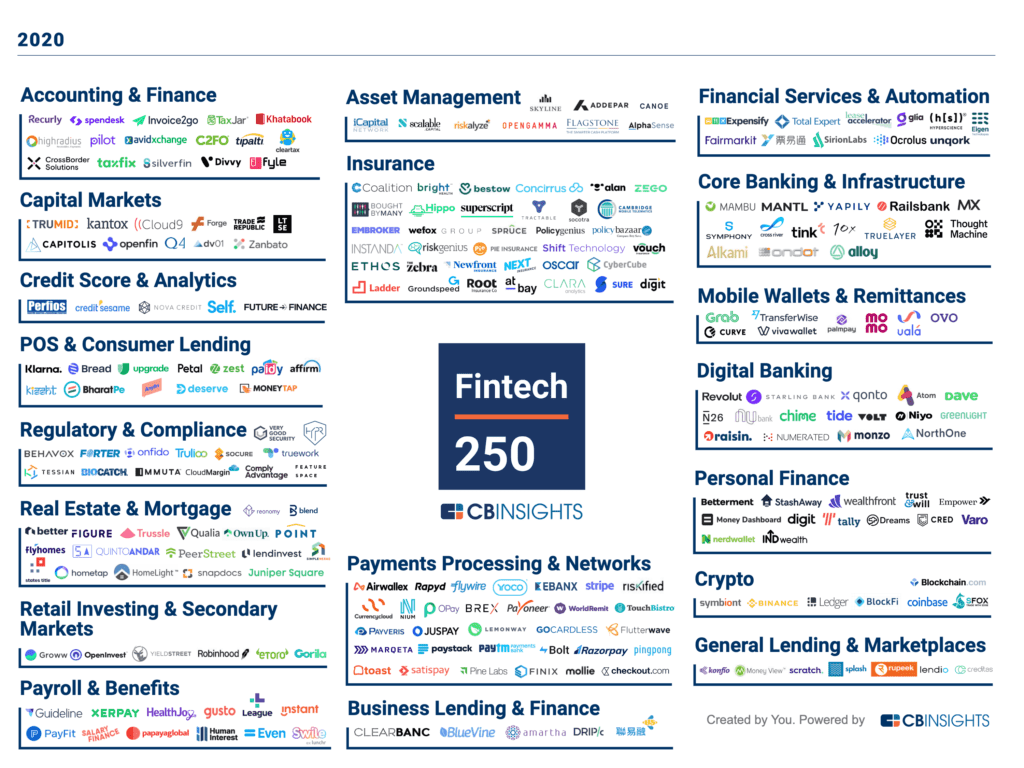 If you aren't already a client, sign up for a free trial to learn more about our platform.