Some of the biggest names in finance are creating fintech innovation labs to solve the most pressing challenges faced by banks, merchants, and consumers.
With recent advances in blockchain, cryptocurrency, contactless payments, and more, finance is primed for disruption.
As fintech plays a larger role in the financial ecosystem, companies are looking for ways to use tech to solve problems and find new opportunities in the space.
One popular approach: in-house financial innovation labs.
Companies are turning to accelerators, funds, and labs to try to find the next big thing that will reduce fraud, speed up transaction times, and catch on with consumers.
We've created a list of finance innovation labs from some of the biggest names in the industry, as well as from newcomers looking to make a name through tech.
We've written about corporate innovation theater before — and how sometimes corporate innovation goes wrong.
---
Visa — Innovation centers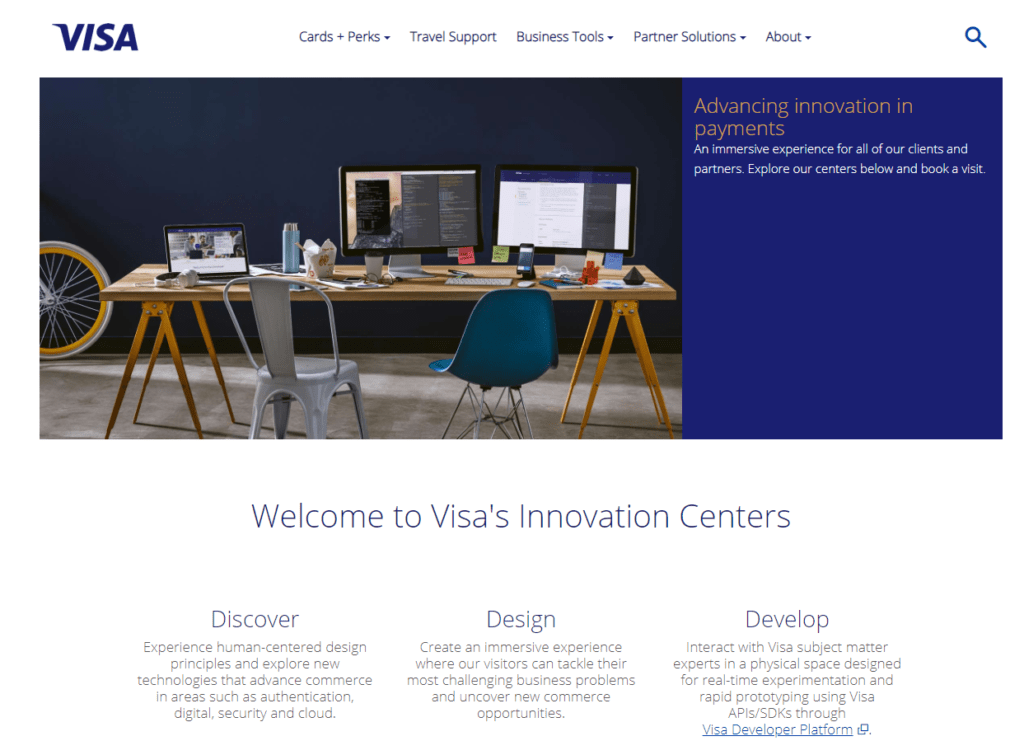 Founded: 2013
Visa's Innovation Centers focus on technologies in areas like authentication, digital, security, and the cloud. The centers are located in San Francisco, Dubai, Singapore, Miami, and London, and feature collaborative spaces to prototype ideas with clients as well as experience galleries to showcase new solutions.
Through its Fast Track program, Visa partners with fintech startups to give them access to its network and help them scale more quickly. As of May 2020, more than 140 companies are enrolled in the program.
Notable projects: Headquartered in Visa's London Innovation Center, the Visa Global Transit Solutions program is working to "accelerate seamless, friction-free commuting with contactless payments." Visa has more than 500 active transit projects around the world as of July 2020, and it saw contactless transactions for transit fares double between April and June 2020.
---
DBS Bank — DBS Asia Hub 2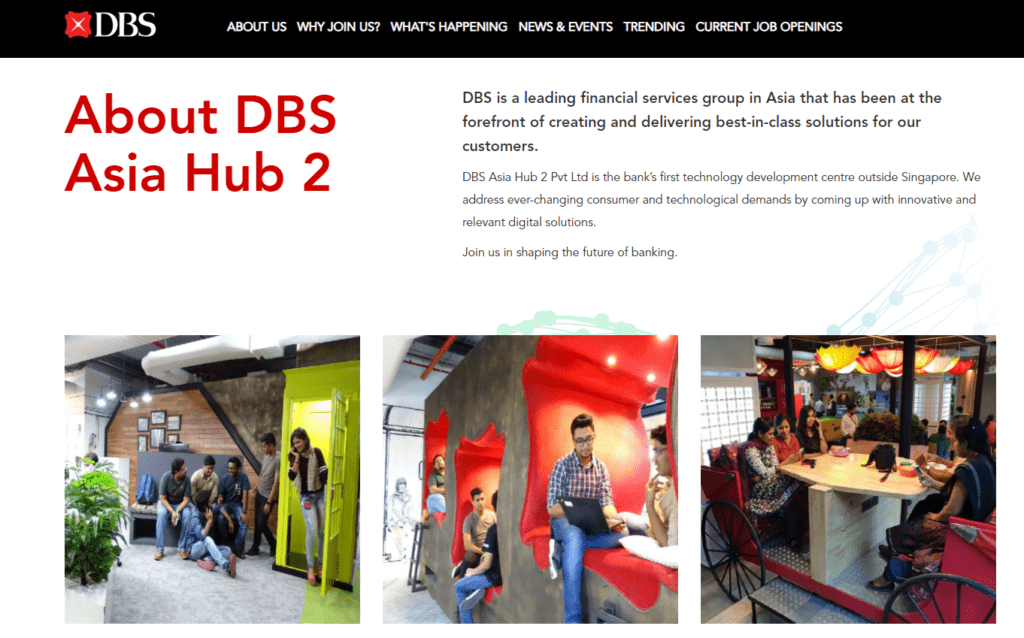 Founded: 2016
DBS launched its Hyderabad, India-based DBS Asia Hub 2 (DAH2) in 2016, the bank's first and largest tech development center outside of Singapore. Over 2,000 employees work in a retreat-like setting, collaborating on projects that aim to drive technological innovation at the bank.
Notable projects: DAH2 partnered with the NASSCOM foundation to launch the DAH2 Digital Literacy Center in Hyderabad. The center aims to empower 1,000 people from the community through digital literacy and basic computer skills training.
---
Fidelity — Fidelity Labs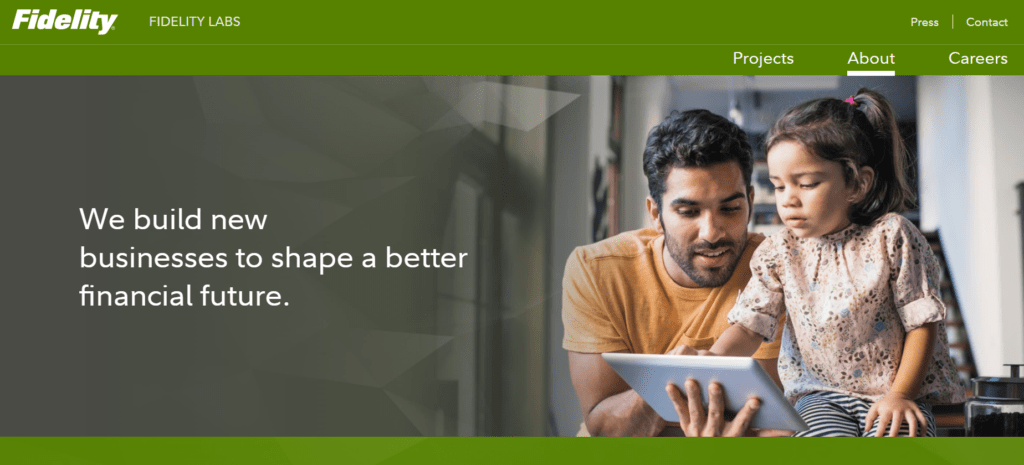 Founded: 2005
Teams at Fidelity Labs focus on developing tools and strategies that will drive growth at the $3.3T investment firm. Since its inception in 2005, Fidelity Labs has expanded its focus to include incubating and scaling new businesses.
Notable projects: Fidelity Labs interviewed thousands of users to better understand the student debt crisis, and how the team might be able to use tech to help. Following the interviews, they created a platform that helps borrowers see all of their student loans in 1 place and receive guidance on debt repayment plans. The product is now part of the Fidelity Student Debt Program, which offers loan repayment assistance as an employee benefit.
---
Wells Fargo — Digital innovation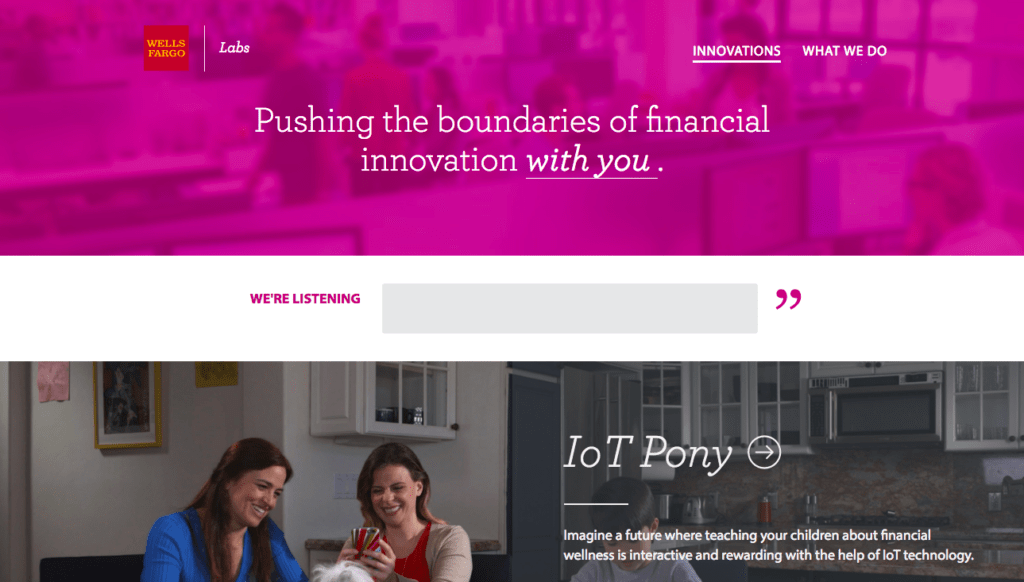 Founded: 2015
In February 2020, Wells Fargo introduced a new organizational structure, with an added focus on digital innovation. Its newly created Strategy, Digital Platform, & Innovation group aims to drive the development and application of new technologies and business models at the bank. Focuses include the potential of artificial intelligence (AI) in financial services and online banking innovations.
In addition, the Wells Fargo Startup Accelerator runs a 6-month program that enables selected startups to leverage the bank's expertise to grow their products and potentially receive investment.
Notable projects: From mid-March to April 2020, Wells Fargo customer digital banking sign-ons increased by 23%. In response to the surge in demand amid the Covid-19 pandemic, Wells Fargo rolled out new digital capabilities for customers, such as online mortgage payment referral requests and PPP loan applications for small businesses.
---
JP Morgan Chase — Financial solutions Lab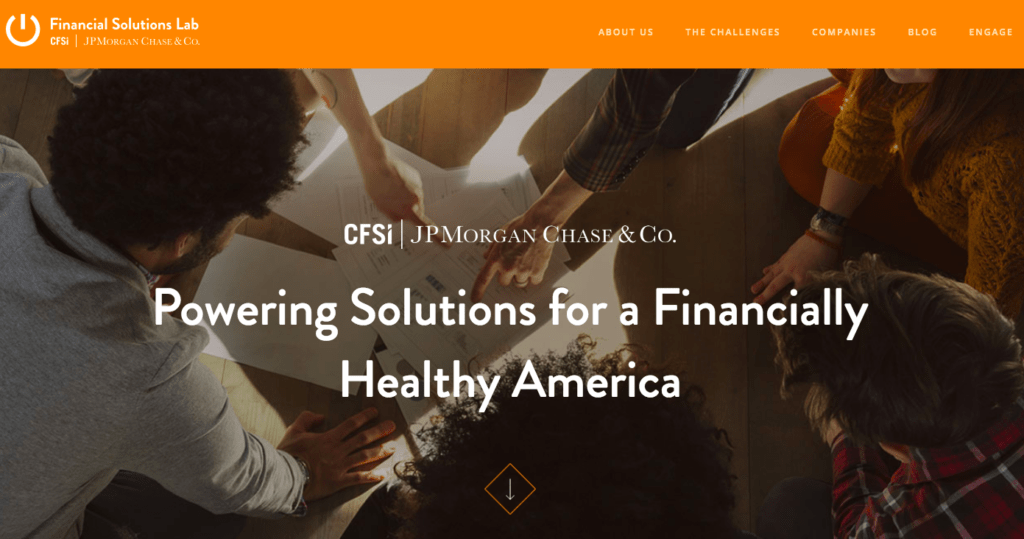 Founded: 2015
Founded by JPMorgan, the Financial Solutions Lab is a $60M, 10-year program managed by the Financial Health Network and supported by Prudential Financial. The lab was designed to spur innovations that help support low- to moderate-income Americans save more and improve their credit. Teams work in collaborative groups to develop new financial apps and tools.
Notable projects: Brightside, a winner of the Financial Solutions Lab's 2019 "Workplace Financial Health" Challenge, is a financial planning platform that partners with businesses to help employees achieve financial wellness. The lab awarded Brightside $130,000 in prize money. As of October 2020, the company has raised over $39M through subsequent rounds of funding, and was a CB Insights Digital Health 150 pick.
---
Citi — citi innovation labs & d10x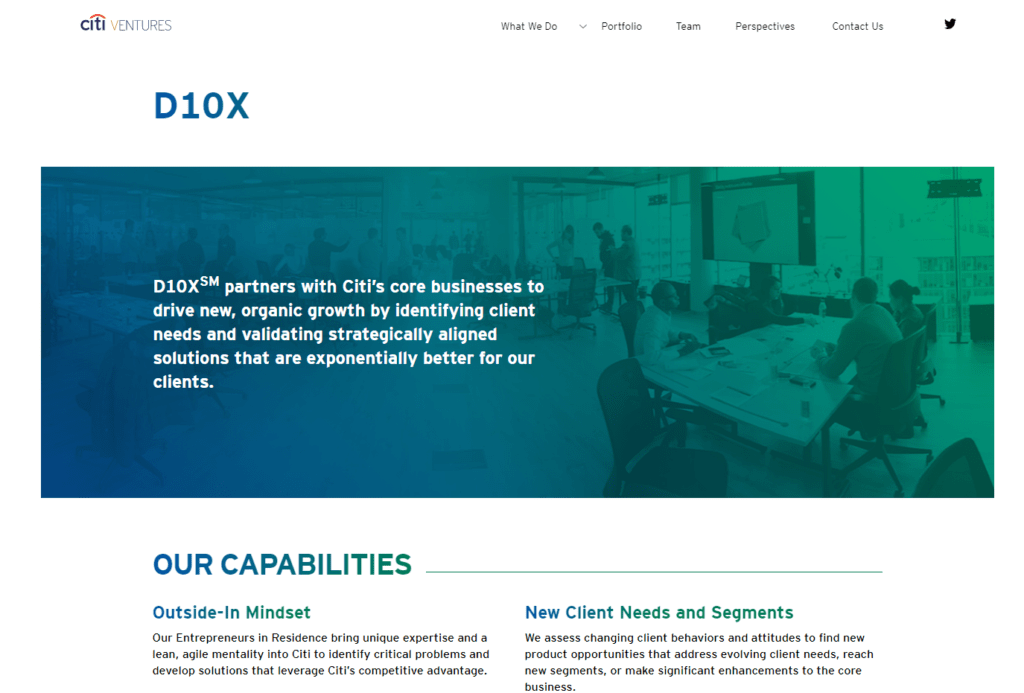 Founded: 2011
Citi's global network of Innovation Labs is designed to speed up work on disruptive products and technologies like IoT and blockchain. Located in 5 cities around the world — Dublin, Tel Aviv, London, New York, and Singapore — lab teams focus on developing forward-looking digital solutions for the bank.
Housed under Citi's venture capital arm, D10X focuses on internal innovation and supporting entrepreneurship within the bank. Its Entrepreneurs in Residence program aims to help bank employees identify client needs and develop competitive solutions in response. Employees pitch ideas to senior leadership at the bank and can raise funding from Citi itself. The program has reportedly more than 100 internal startups under development.
Notable projects: The labs developed a machine learning- and natural language processing-powered system that can generate automatic responses to client questions sent over channels like email and chat. The program, dubbed the Inquiry Engine, reportedly gained traction as Citi transitioned to remote work during the pandemic.
Two products that have been launched through D10X include Proxymity, a digital proxy voting platform, and CitiConnect for Blockchain, formed through a partnership with Nasdaq and the Citi Ventures portfolio company Chain.
---
Capital One — Capital One Lab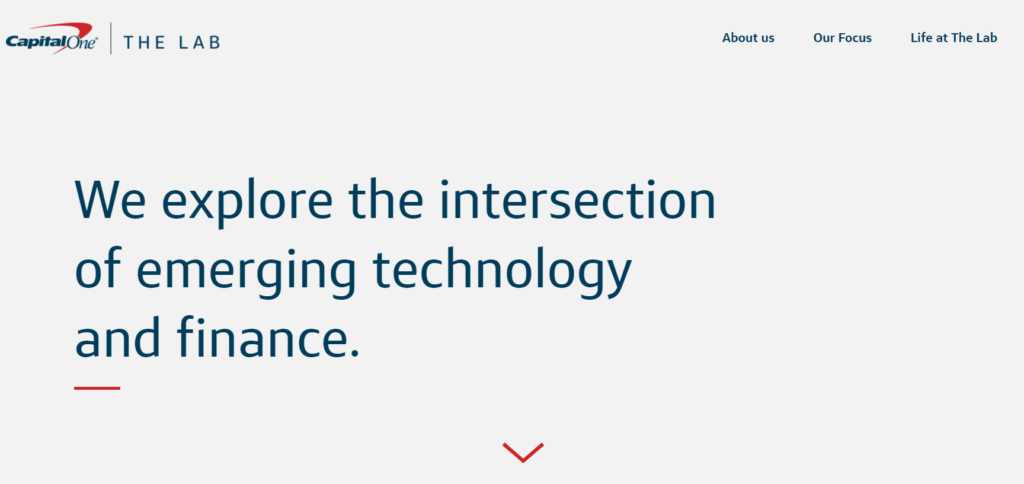 Founded: 2012
Capital One Lab aims to streamline the product creation process, with a focus on consumer-first design. It operates 2 labs, one in Washington DC and the other in New York City, which focus on ventures that can have a significant business impact in the short term (from 6 months to 3 years). Specifically, the lab looks to back engineering solutions, customer experiences, and new products that tie in with Capital One's focus on reimagining banking and lending through machine learning and virtual payments.
Notable projects: Current projects at the lab include developing infrastructure for machine learning that makes model training simpler, and a reimagined payment card that includes more functionality.
---
Deutsche Bank — Deutsche Bank Labs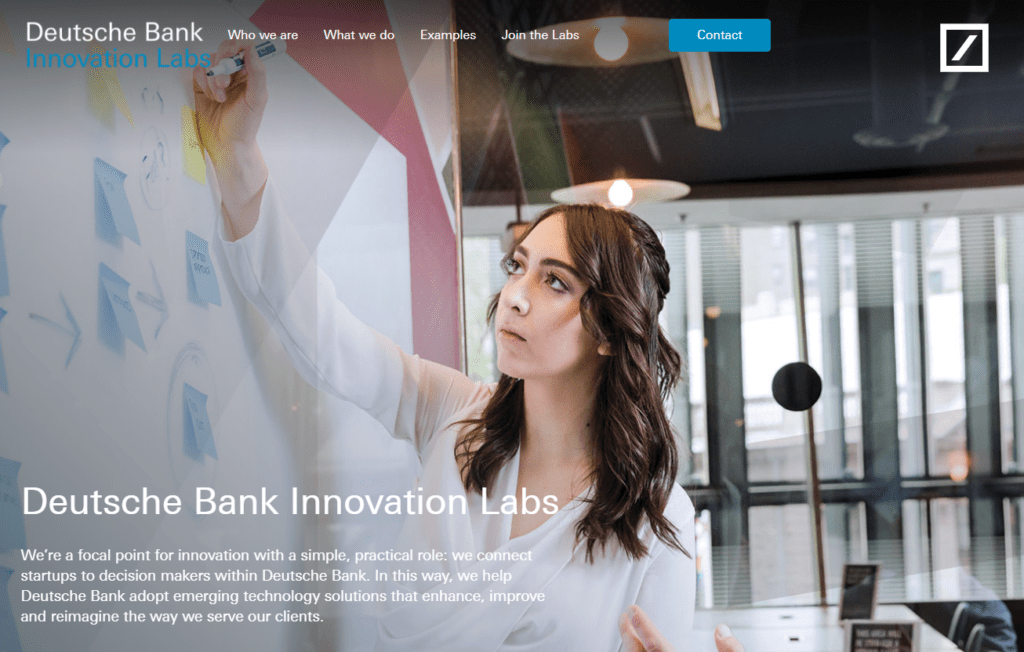 Founded: 2016
Deutsche Bank has innovation labs in New York, Silicon Valley, London, and Berlin. Deutsche Bank Labs connect technology startups with the bank's internal teams, enabling them to adopt products and solutions to better serve its clients and employees. The labs aim to help Deutsche Bank evaluate and adopt emerging technologies, develop a culture of innovation, and contribute to the bank's digital strategy.
Notable projects: Eye-tracking solution Eyevido was discovered by the Deutsche Bank Berlin Lab as a very early-stage startup. Working with the lab, the Eyevido team was able to conduct eye-tracking studies of Deutsche Bank's retail banking websites to help improve the user experience for customers.
---
FIS Global — FIS ventures & Impact labs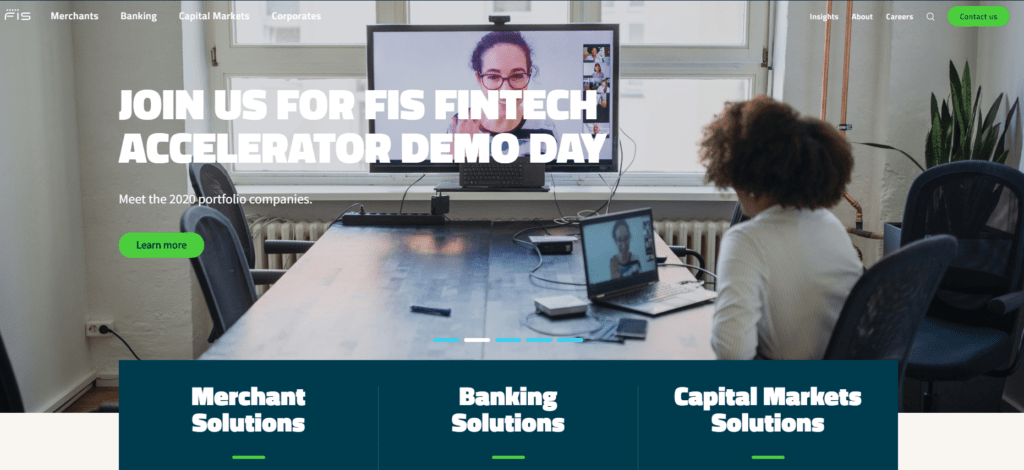 Founded: 2020 (FIS Ventures)
In April 2020, FIS launched FIS Ventures, its new corporate venture investment arm. The company plans to invest $150M in fintech startups focusing on emerging technologies like AI and digital enablement. The new venture complements the FIS FinTech Accelerator, which is in its fifth year. The 12-week program, produced in partnership with The Venture Center, aims to empower selected fintech startups through guided workshops and networking opportunities.
FIS Global also operates innovation labs around the world, as well as a recently launched internal innovation team called Impact Labs that focuses on scaling products for the company.
Notable projects: FIS partnered with The Clearing House to bring its RTP Network, a real-time payment processing and settlement system, to small- and mid-sized banks. Through the FIS managed service, participating institutions can reportedly connect to the network more quickly, allowing banks and their customers to instantly settle payments.
---
Partnership Fund for New York City and Accenture — FinTech Innovation Lab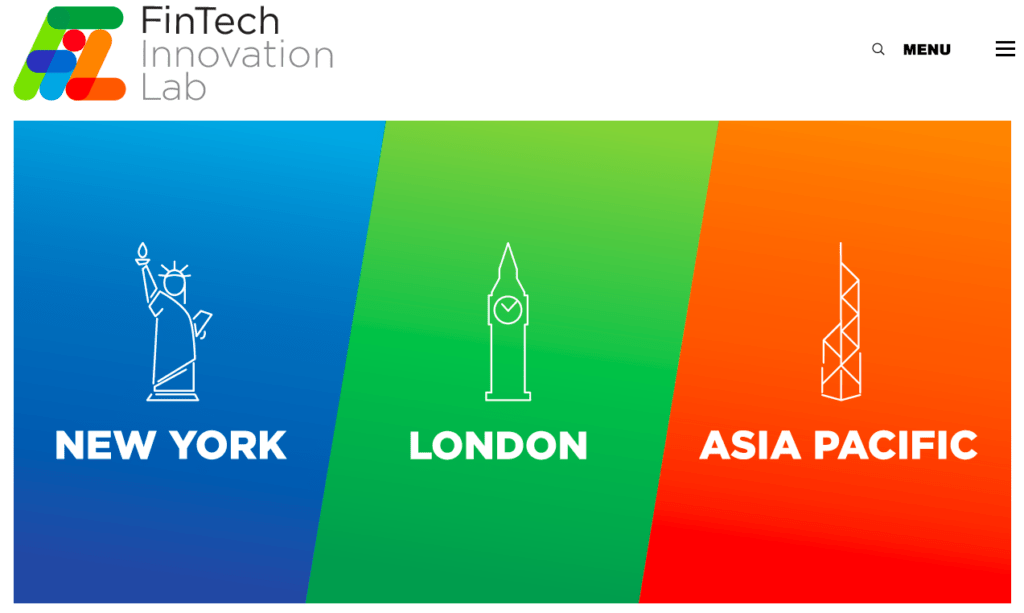 Founded: 2010
The Partnership Fund for New York City (formerly the New York City Investment Fund) and Accenture jointly run the FinTech Innovation Lab, a 12-week program that focuses on early- to growth-stage startups. Participants get a workspace, mentorship, connections to industry leaders and user groups, feedback on products, and weekly workshops and panel discussions.
At the end of the program, startups participate in a demo day, showcasing their brands to potential investors. Since the lab's founding, additional labs have been opened in London and Hong Kong.
Notable projects: Of the 79 companies that have gone through the New York lab program, 14 have been acquired. They have also raised a collective $1.3B. Graduates include password manager Dashlane, valued at $505M as of May 2019, and AI surveillance software Digital Reasoning, which has gone on to raise over $115M in funding.
---
PWC — PwC experience centers

Founded: 2015 (Experience Centers), 2017 (Digital Transformation and Innovation Center)
PwC Digital Services operates Experience Centers around the world that bring together consultants and clients in a "sandbox"-style environment. First launched in 2015, the Centers are aimed at encouraging collaboration between creatives and engineers on digital-first solutions.
PwC also sponsors the Digital Transformation and Innovation Center at Carnegie Mellon University. Formerly known as the Risk and Regulatory Services Innovation Center, the center has expanded its mission since launching in 2017 to "examine the impacts of digital technologies across a variety of industries" as it aims to develop solutions for business challenges. Current focuses include data analytics, cybersecurity & privacy, and safe cities.
Notable projects: One of the projects researchers at the Digital Transformation and Innovation Center are currently working on is detecting the cues in human voices that may signal fraud or impersonation attempts. Potential applications of the tech could include law enforcement or finance where transactions occur by phone.
---
royal bank of canada — innovation labS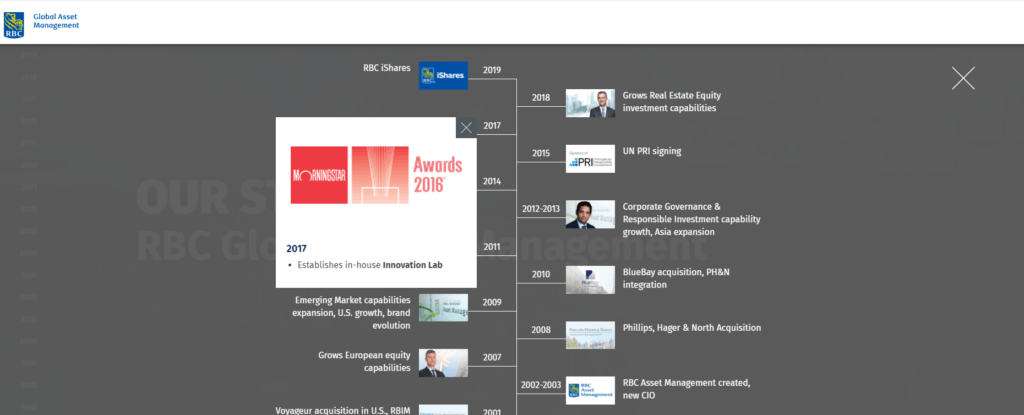 Founded: 2017
The Royal Bank of Canada runs several innovation labs in cities across the world, including in Orlando and Toronto. In 2017, RBC's Global Asset Management division launched the RBC GAM Innovation Lab in Toronto with $20M in funding. The lab, which was formed from the acquisition of Wiser Investments, a Toronto-based fintech VC firm, aims to develop RBC GAM's digital capabilities.
RBC also funds the Rogers Cybersecure Catalyst, a cybersecurity training and research center at Ryerson University, as well as ONRamp, a startup accelerator at the University of Toronto. Through RBC Ventures, the bank invests in sectors like fintech, AI, and information security.
Notable projects: One project developed out of RBC's Orlando-based innovation lab is NOMI, a mobile banking tool that uses AI to provide RBC customers with tailored insights into their financial health, chatbot functionality, budgeting tools, and more. As of Q1'20, NOMI has more than 1.1M monthly users.
---
MasterCard — MasterCard Labs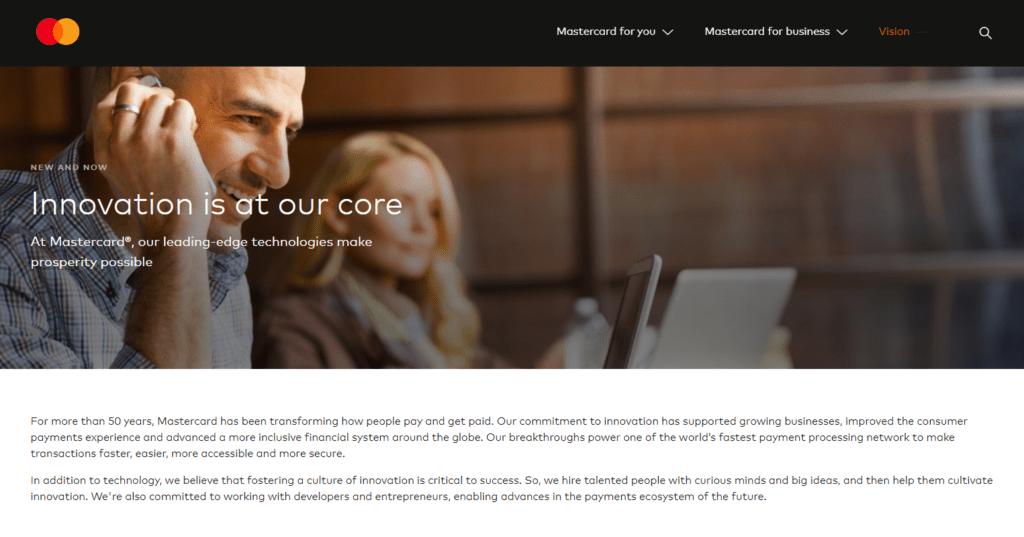 Founded: 2010
Mastercard Labs looks to quickly develop innovations and products that will drive growth for the company at large. By investing in "edgier ideas," the lab aims to stay ahead of the competition and help improve the customer shopping experience. Since Mastercard operates in over 200 markets, the company pushes out innovations regionally, creating more standardized versions of products that can be adjusted on a geographic basis.
Fintechs also play a role in Mastercard Labs' innovation strategy. Mastercard partners with seed- and Series A-stage startups through its Start Path program, enabling selected fintechs to access Mastercard's resources and network.
Notable projects: Mastercard Labs, in partnership with Samsung, Airtel Africa, and Asante, developed a Pay-on-Demand payments platform that aims to provide consumers and merchants in Africa more convenient access to financing. The platform is reportedly set for an initial pilot in Uganda in October 2020.
---
Synechron — FinLabs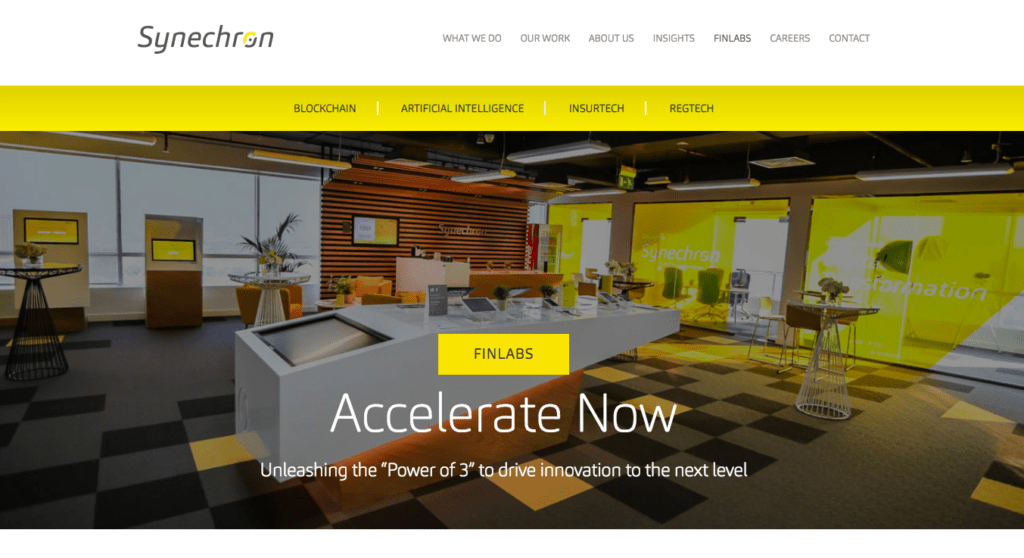 Founded: 2017
Synechron has fully invested in the FinLabs concept, with 13 labs now open in countries across the world like India, Serbia, the Netherlands, and the US. These labs aim to act as innovation hubs for banking customers to collaborate and foster new ideas in interactive spaces.
FinLab users have access to digital specialists, R&D experts, and accelerator programs. The labs specifically focus on technology solutions in blockchain, AI, insurtech, and regtech.
Notable projects: A blockchain mortgage lending application looks to harness the power of blockchain technology and apply it to the mortgage industry. Financial institutions using it can decrease errors, fraud, and processing times while improving workflows.
---
GFT Technologies — Digital Innovation Lab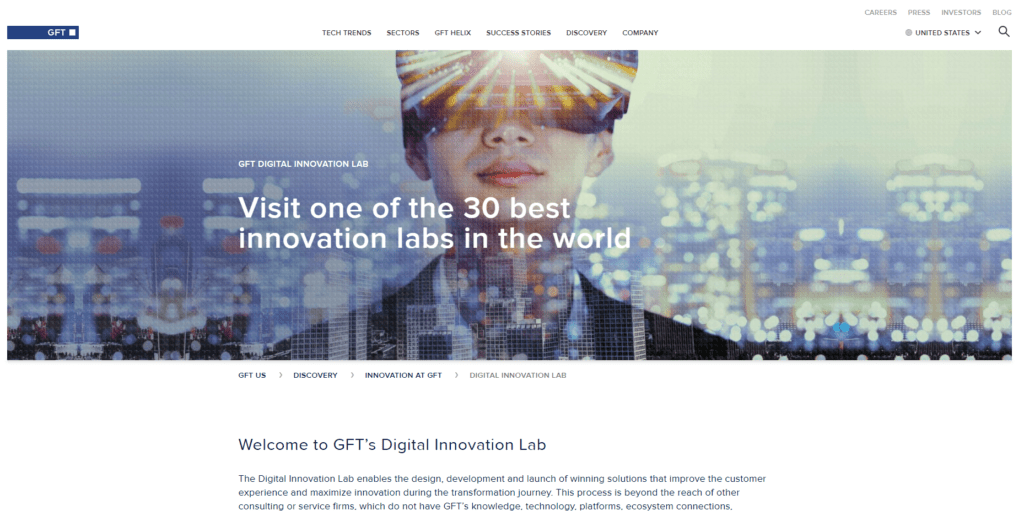 GFT's Digital Innovation Lab focuses on improving the consumer banking experience, both online and in branches, while ensuring banks are meeting security and efficiency needs. The lab has different workspaces users can use for hands-on experiences. Its retail space, for example, lets teams test in a model that mimics a typical shopping environment.
In its branch space, the lab seeks to use digital technology and IoT to provide a more personalized banking experience for consumers. In 2018, GFT acquired the Insurance and Innovation Performance Center run by V-NEO, expanding the size of its innovation lab.
Notable projects: GFT and digital bank Fidor formed an innovation partnership in 2016. Running out of the Digital Innovation Lab, the focus of the partnership is creating mobile finance and banking apps. One outcome is the mobile o2 Banking solution, an app built for Germany-based telecom company Telefónica Deutschland. With o2, Telefónica Deutschland can offer its own full-service mobile bank to customers.
---
Commonwealth Bank — the foundry & x15ventures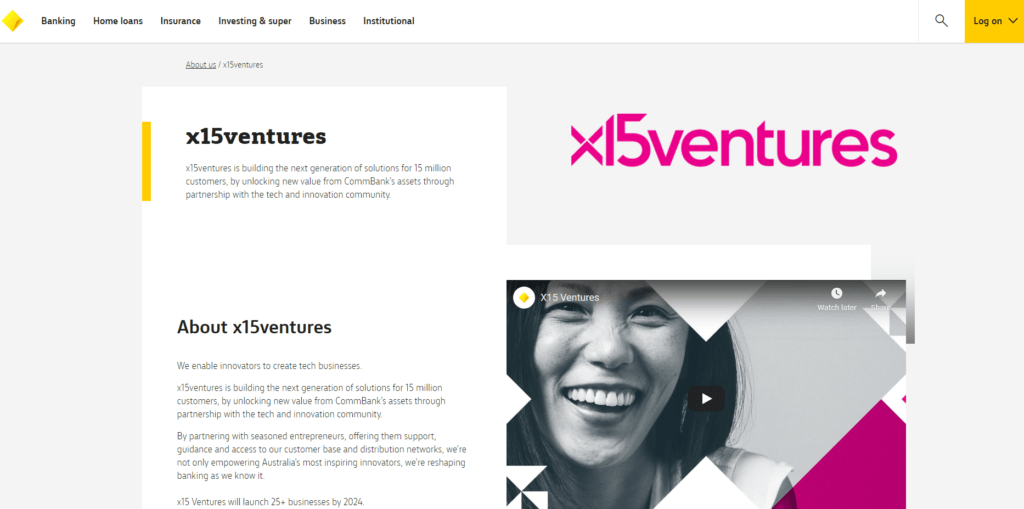 Founded: 2020
In June 2020, Commonwealth Bank completed work on The Foundry, a nearly 550,000-square-foot building that will house 5,500 bank employees, including its technology teams and innovations labs. Located in the "innovation corridor" just outside of Sydney, the workplace is designed to encourage collaboration and innovation among the bank's employees, with its large open spaces and connecting atriums.
In February 2020, the bank also launched its fintech investment vehicle, x15ventures. Rather than act like a traditional CVC arm, CommBank's venture aims to "build" rather than simply "buy" businesses, leveraging the expertise of the bank as well as its partners — Microsoft, Square Peg, KPMG, and Zetta — to help entrepreneurs develop digital solutions for the bank's 15M customers.
Notable projects: Two ventures that have emerged from x15 include Home-in, a platform that guides buyers through the home-purchasing process, and Vonto, a mobile business insights app.
---
BBVA — Innovation Labs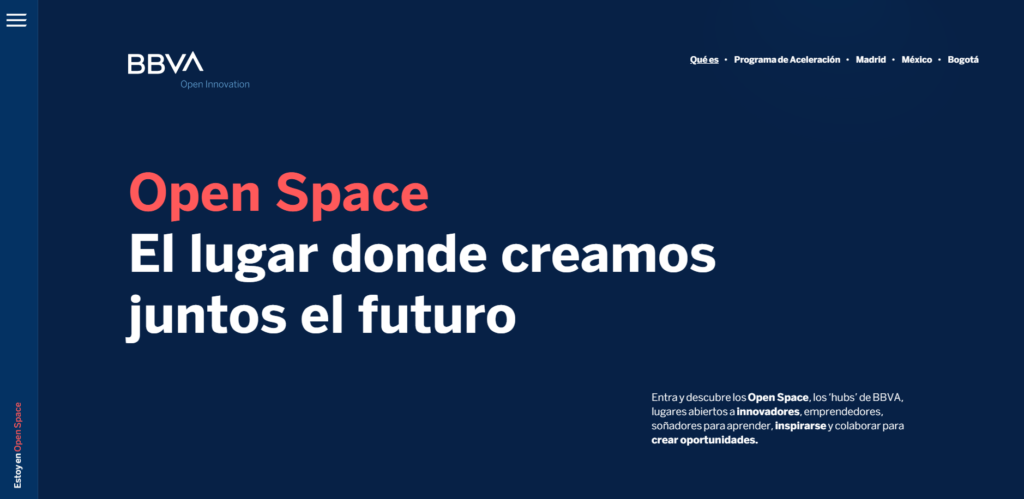 Founded: 2007
BBVA's customer-centric focus is highlighted through its innovation labs. It does this by "crowd-inventing" — inviting teams across different departments and functions to collaborate under one roof.
BBVA's Open Innovation unit also operates "Open Spaces" in Spain, Mexico, and Colombia, hubs of collaborative innovation. The Open Spaces are home to BBVA's Open Talent competition as well, which seeks to connect fintechs with BBVA to solve bank challenges.
In 2018, BBVA partnered with the fintech venture capital firm Anthemis to launch a venture creation studio in London.
Notable projects: Selfie & Go was developed by the startup Veridas, a joint venture between Das-Nano and BBVA. The technology enables consumers to open a bank account online as well as complete payments using a facial recognition system once they have registered via a related app. BBVA employees used the Selfie & Go app to reserve rooms and cafeteria services in order to avoid lines.
---
Rabobank — Innovation at Rabobank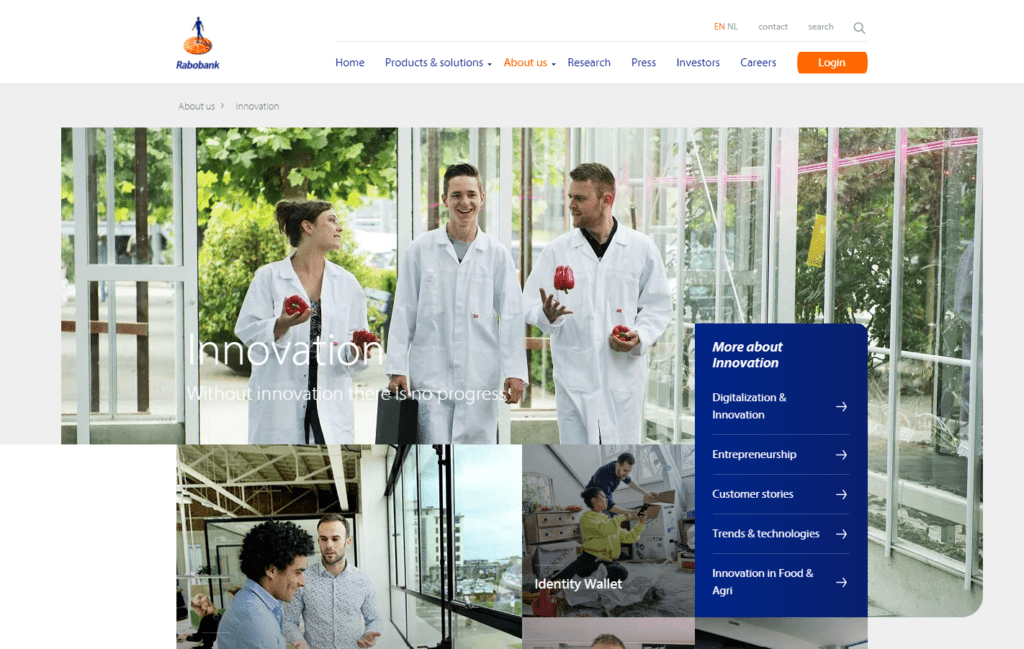 The innovation arm of Rabobank has 2 main focuses: develop better financial services for customers, and help solve the global food problem. While these might seem like disparate goals, Rabobank is utilizing big data, blockchain, and IoT technology to explore opportunities for both at its Strategy & Innovation hub, Innovation Factory studio, and Tech Lab.
In addition, Rabo Frontier Ventures (RFV), a €120M ($142M) investment fund and subsidiary of Rabobank, is aimed to support the bank's overall innovation strategy. Its focus is on "new business models, often built on emerging (software) technologies in the Fintech and Food & Agri space." Beyond capital, RFV provides access to the Rabobank network as well as mentorship.
Notable projects: SurePay is a payment authentication service that lets consumers vet the information of the payee during financial transactions. It was rolled out in 2017 across the Netherlands, and now more than 90% of all payments in the country are checked using the IBAN-Name Check system invented by SurePay. Rabobank announced in February 2020 that the corporate startup would be spun out of the group.
---
BNY Mellon — Global Innovation Centers
Founded: 2014
Bank of New York Mellon operates multiple Global Innovation Centers around the world. Each center was created with a specific focus in mind. However, the overall goal of the centers is to provide hubs for collaboration, finding solutions at "the leading edge of financial technology" for clients. To achieve this goal, the bank works directly with clients to identify specific needs and opportunities for solutions.
Notable projects: A system for better communication between chatbots came out of a hackathon at the Singapore Innovation Center. The BNY Mellon team partnered with Deutsche Bank to create a system that would allow their respective chatbots to integrate. This reduces the number of manual responses on securities trades, allowing information to move more quickly.
In July 2020, BNY Mellon announced it had developed jointly with Deutsche Bank an "API-enabled foreign-exchange (FX) solution" that reduces "confirmation times for restricted emerging-market currency trades." The solution leverages bots at the banks that can communicate instantly.
---
Barclays — Rise (Created by barclays) & Barclays Accelerator (Powered by Techstars)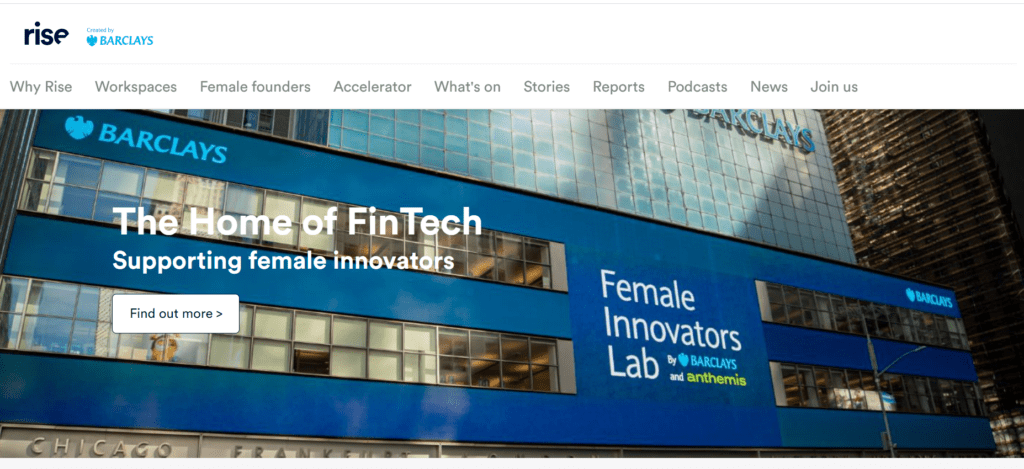 Founded: 2015 (Rise), 2014 (Barclays Accelerator)
Since 2014, Barclays has partnered with fintechs through the creation of a global fintech community called Rise, which has physical spaces located in financial hubs around the world, and through targeted accelerator programs, which are geared toward helping promising startups scale their business. 
Rise — also known as the "Home of FinTech" — aims to connect technology, talent, and trends from across a global network to accelerate innovation and growth in the financial industry. Rise operates 3 physical workspaces in the US, UK, and India, where startups and scaleups can connect, create, and scale their businesses, backed by Barclays' global network of industry experts, mentors, investors, and partners.
The Barclays Accelerator, powered by Techstars, is a 13-week startup program aimed at shaping and scaling fintech businesses. Since 2014, the program has connected startups to mentors from across Barclays' and Techstars' global network of clients, partners, and experts. Startups in the program focus on creating solutions that could help solve some of the finance industry's biggest challenges.
Barclays also backs the Female Innovators Lab, which funds female entrepreneurs innovating in financial services, and the Barclays Black Founder Accelerator, which helps Black founders scale their pre-seed business.
Notable projects: Flux, a 2017 graduate from the accelerator, is a software platform that, when connected with partner merchants, allows users to see a full itemized accounting of purchases from within their banking app. In January 2020, Barclays acquired a minority stake in the company. Flux has issued more than 2.5M digital receipts to customers as of mid-2020.
---
PayPal — Innovation Lab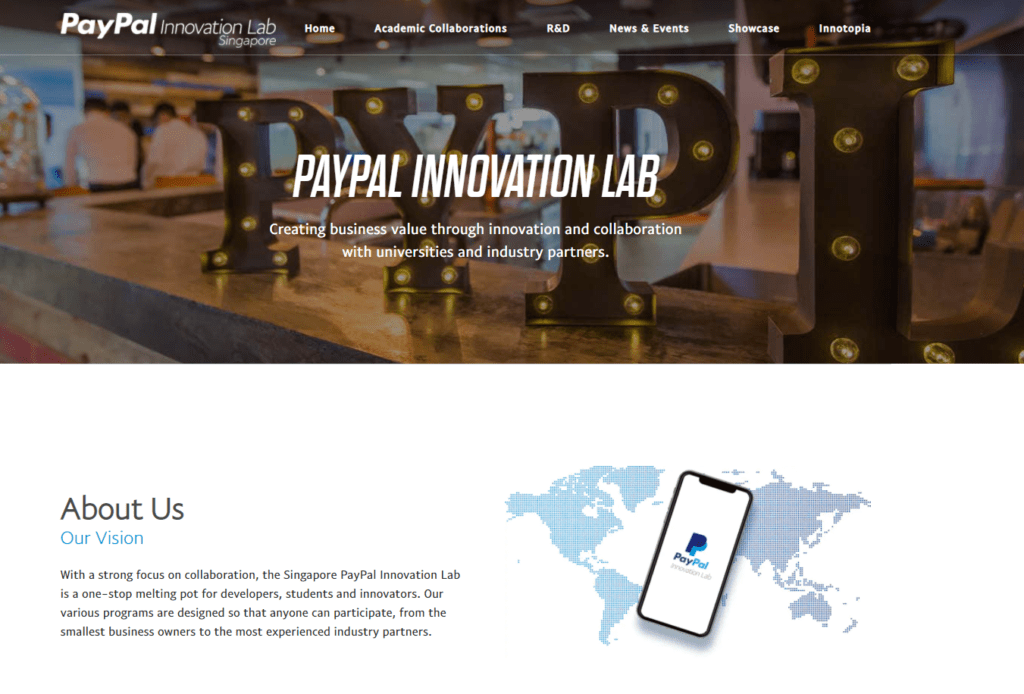 Founded: 2016
PayPal's Innovation Lab is billed as a "first-of-its-kind collaboration between PayPal and the Singapore fintech ecosystem, including government agencies, industry associations, small-medium businesses, and universities."
To find new ideas, PayPal runs an incubator out of its Singapore center that provides advice and support around business infrastructure, access to fintech mentors and business leaders, and a network of investors.
Notable projects: Incubator graduate TenX allows users to make payments online and offline at more than 54M merchants in over 200 countries, using debit/credit cards that automatically convert cryptocurrencies into native currencies.
---
TransUnion — Innovation Lab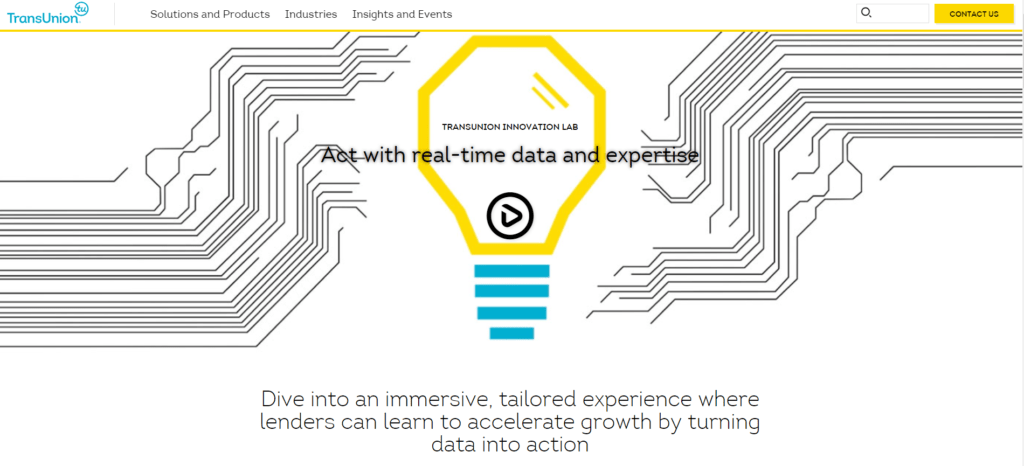 Founded: 2017
TransUnion's Innovation Lab aims to help lenders reduce risk when entering the market by giving them access to data in a fast-paced testing environment. The lab's goal is to create "an immersive, tailored experience where lenders can learn to accelerate growth by turning data into action."
Participants can access TransUnion's proprietary data as well as experts who can help run models in real time. This approach means participants can get a full model analysis in just a few days working with TransUnion's data experts, versus weeks or months of testing. Amid the Covid-19 pandemic, the credit reporting agency pivoted to conduct "virtual innovation labs," giving customers access to TransUnion experts and data despite the crisis.
Notable projects: The Startup Credit Kit gives access to depersonalized data to participating startups and investors collaborating with TransUnion. The kit offers two tracks: a Planning Package that provides depersonalized solutions for businesses in the early stages of development, and a Launch Package with personalized solutions for startups that are ready to go live.
---
Morgan Stanley — Multicultural innovation lab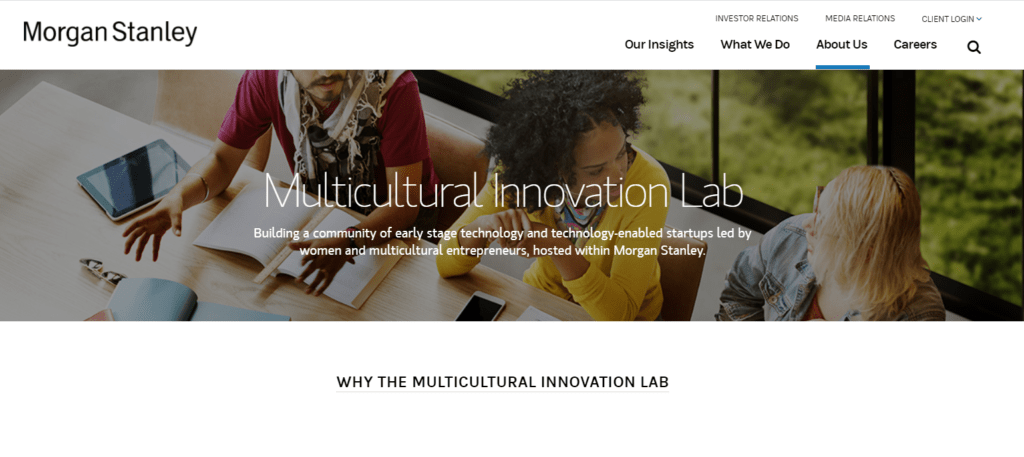 Founded: 2017
Morgan Stanley's Multicultural Innovation Lab is trying to solve the large gap in funding for minority founders. The lab seeks to back technology-enabled startups that have raised funding and have a "multicultural or woman founder or co-founder."
The Multicultural Innovation Lab offers a 6-month intensive accelerator program to a select cohort of startups. It provides $200,000 in funding, a tailored curriculum, office space, mentorship, and access to Morgan Stanley's global network. In 2021, the lab plans to double the size of the cohort to 20 companies and increase its funding commitment to $250,000.
Notable projects: Goalsetter, selected for the lab's 2018 cohort, is a gifting and savings platform aimed at kids. The startup was also one of the winners at the Center for Financial Services Innovation Fourth Annual $3M Challenge in 2018. In September 2020, the company launched a debit card for teens.
---
US Bank — Innovation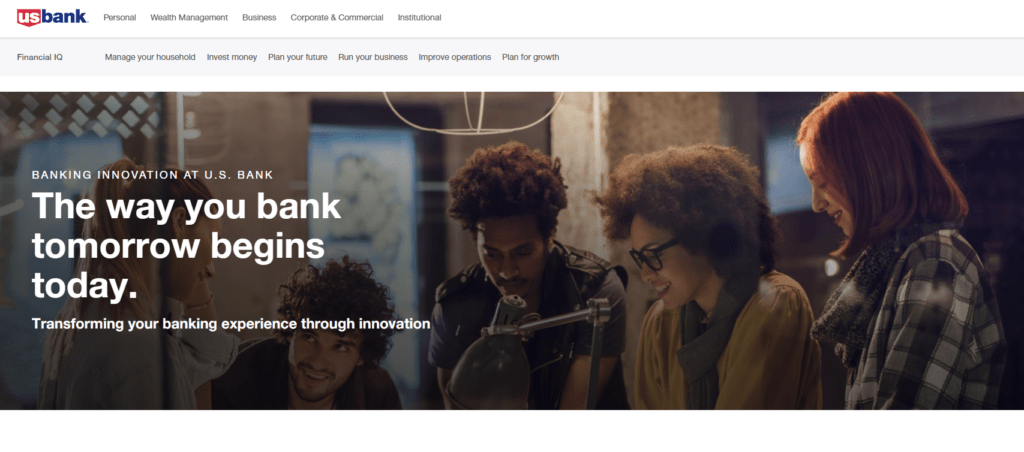 While not technically a lab, US Bank's Innovation concept is simple: it aims to throw out convention and look for great ideas that might be hiding in plain sight. This means encouraging networking, collaboration, and interaction across different divisions of US Bank, as well as with external players. The bank hosts hackathons, partners with fintechs, and frequently meets with small local business owners to listen to their pain points.
Notable projects: In May 2019, US Bank launched Expense Wizard, an AI-powered tool that aims to make it easier for business travelers to file expenses. In June, the bank debuted a virtual corporate credit card, and in partnership with TravelBank, announced in September that with TravelBank's technology, it had added integration between the the card and Expense Wizard.
---
TD Bank Group — TD Lab (Partnered with Communitech)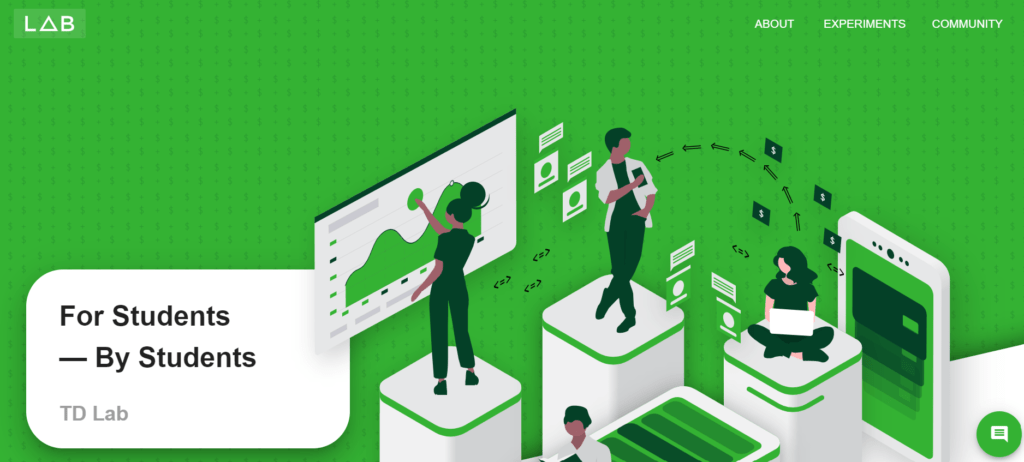 Founded: 2014
TD Bank Group chose the Communitech Hub in Kitchener-Waterloo as the home base for the TD Lab to be at the center of Ontario's startup scene. The TD Lab's team is small and includes a rotating group of interns who can learn about design thinking and problem solving within an environment that embraces experimentation and testing. The Lab focuses on the financial challenges of college students.
Notable projects: A recent prototype to come out of the TD Lab is the Student Budget Calculator, which can help students more accurately predict their school and program costs to budget effectively.
---
PNC — iLab & Numo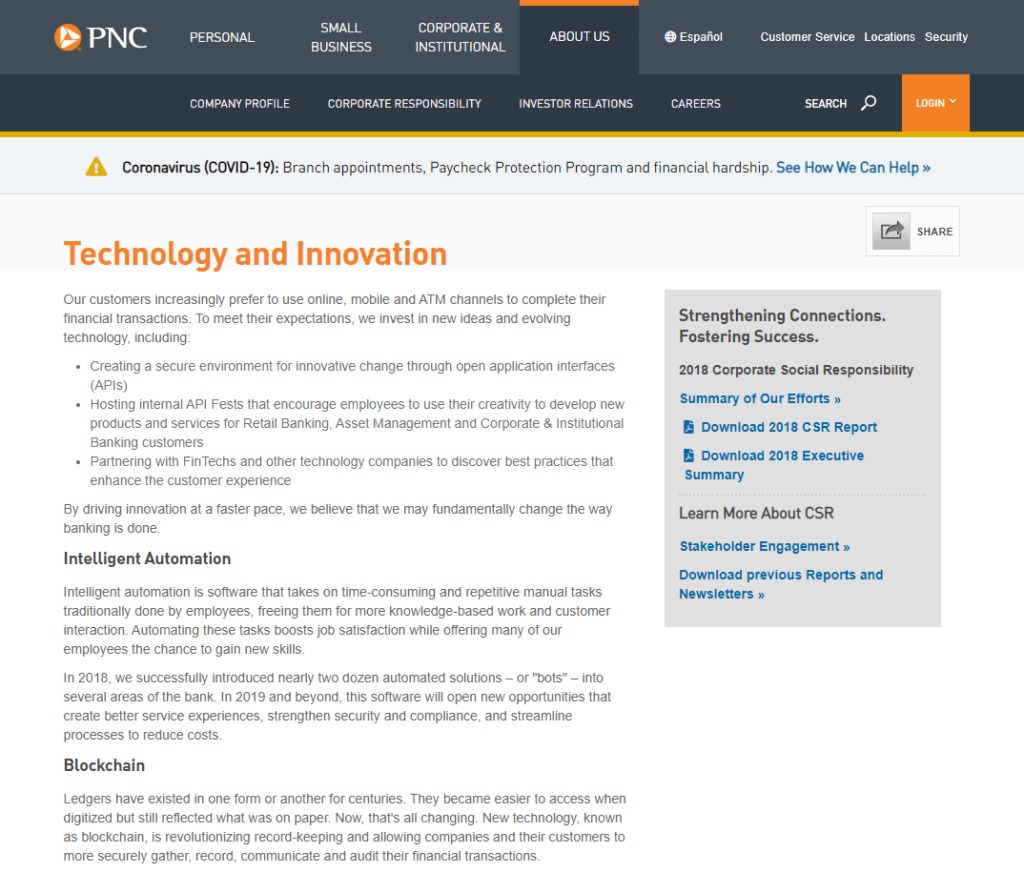 Founded: 2015 (iLab), 2017 (Numo)
PNC has a heavy focus on being a customer-centric bank. Subsequently, the goal of iLab is to "provide a space where PNC can develop technology, process and operations, space design, sales and service scripts, and marketing material." Every idea that is tested in the lab is focused on improving the overall customer experience at retail banking centers, within apps, or in other digital marketplaces.
In 2017, PNC launched Numo, a "part innovation lab, part tech incubator" and independent subsidiary of the bank. The lab sources ideas from PNC employees, external entrepreneurs, and its own team to build innovative products for the financial services sector, with the eventual goal of spinning them out.
Notable projects: Indi, supported by PNC and Numo, is a banking app for freelancers. While money deposited in the digital-only bank accounts is held by PNC bank, the app also contains non-traditional banking features directed at gig economy workers, such as automatically saving money for taxes.
---
Santander — innovation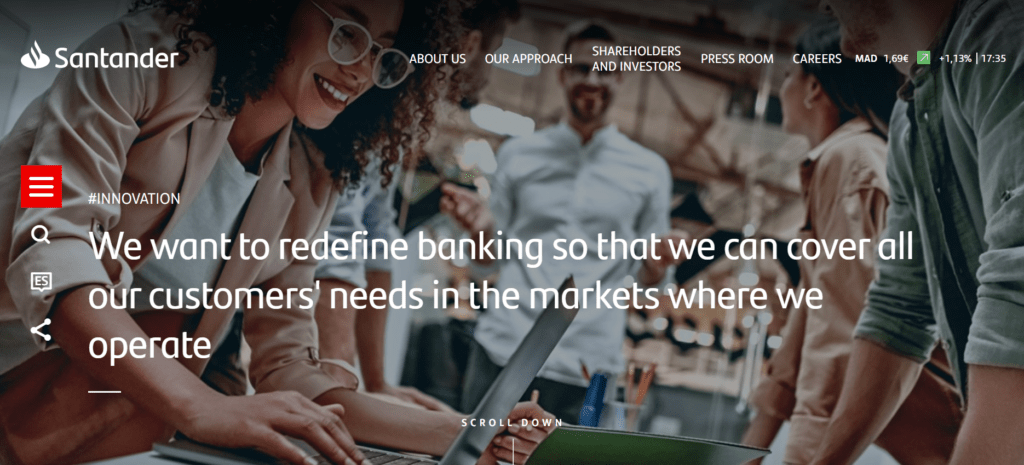 Founded: 2014 (InnoVentures), 2020 (X Tomorrow Challenge)
In September 2020, Santander announced that it would spin out InnoVentures, its hybrid fintech VC firm and an accelerator, to form Mouro Capital. Following the reported success of InnoVentures, Santander will double its allocated funds to the new venture to $400M.
In February, the bank launched the X Tomorrow Challenge, "a global entrepreneurship challenge" aimed at eliciting solutions for a post-Covid-19 world. Twenty winners were selected from over 2,200 submissions. The winning projects received a €20,000 ($23,400) prize as well as access to mentors and investors.
Notable investments: Portfolio investments include Kabbage, an automated platform for small businesses to access capital, and Ripple, a platform that allows users (including banks and financial institutions) to send money globally using blockchain technology.
Most recently, it participated in Mexico-based digital bank Klar's $15M Series A funding round.
---
HSBC — Global data AND innovation labs & Strategic Innovation Investments (SII)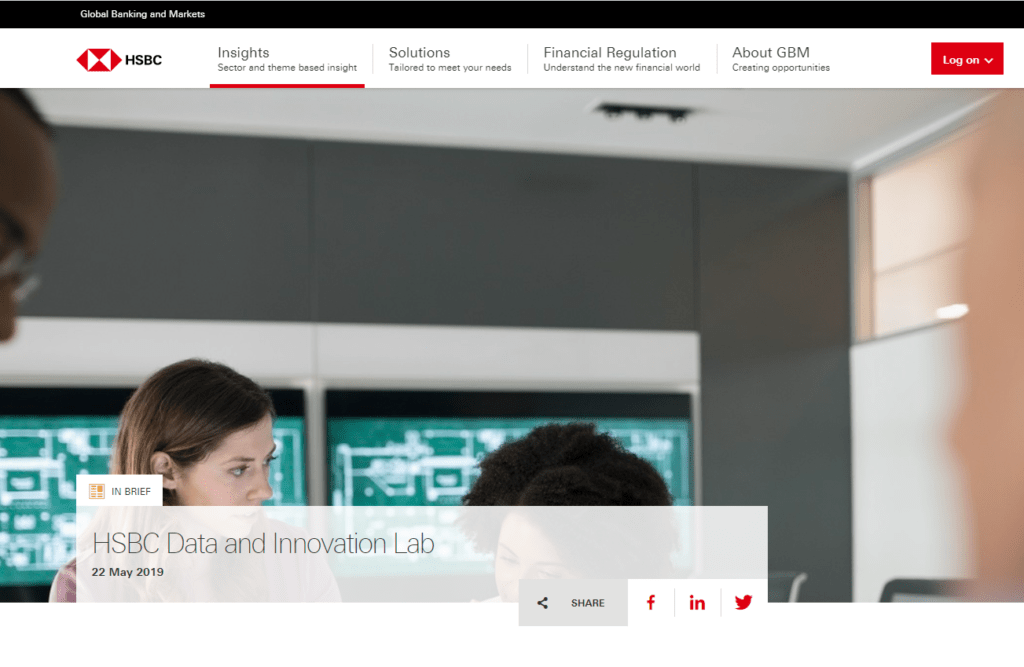 Founded: 2019 (Global Data and Innovation Labs), 2014 (Strategic Innovation Investments)
In 2019, HSBC launched data and innovation labs in Toronto and London. The labs aim to "accelerate the development of innovative data, cloud, and robotics solutions for clients," with a focus on AI applications in banking and fostering promising tech talent at the bank.
HSBC also aims to spur innovation through its Strategic Innovation Investments (SII) group, which falls under the umbrella of the corporate venture capital arm of the bank. SII focuses on investing in companies that offer products or services that could improve HSBC's financial technology. Portfolio companies tend to fall within big data, open banking, security, and operational efficiency.
SII also manages other consortium investments from across the entire HSBC Group.
Notable investments: Portfolio investments by SII include OpenFin, a finance-focused operating system, and Kenna Security, a risk intelligence platform.
---
american express — AmEx digital labs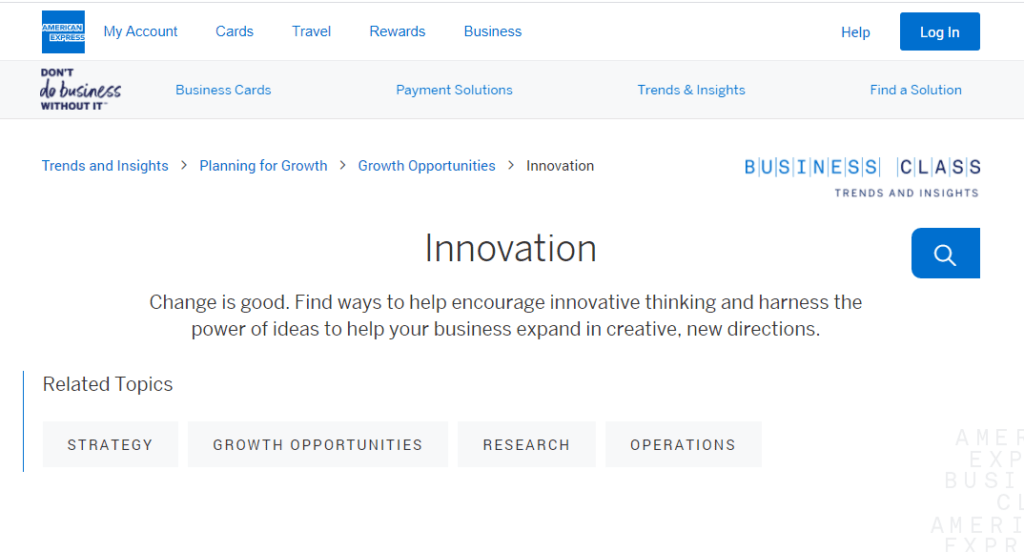 Founded: 2017
American Express' Digital Labs spearheads the card company's innovation strategy. Its 150 employees focus on developing payment solutions outside of credit cards, like contactless payments and QR codes, as more and more consumers turn to mobile payments. Beyond building new products internally, Digital Labs is also increasingly looking to startups to develop new tech in partnership with AmEx's venture arm, American Express Ventures.
American Express Ventures focuses on investing in startups that will enhance AmEx's existing business. Of the venture's more than 60 portfolio companies, two-thirds are in partnerships with the company.
Notable projects: After acquiring virtual travel assistant Mezi in 2018, AmEx's Digital Labs repurposed the app's tech to boost the functionality of its customer service AskAmEx chatbot.
---
Goldman Sachs — GS Accelerate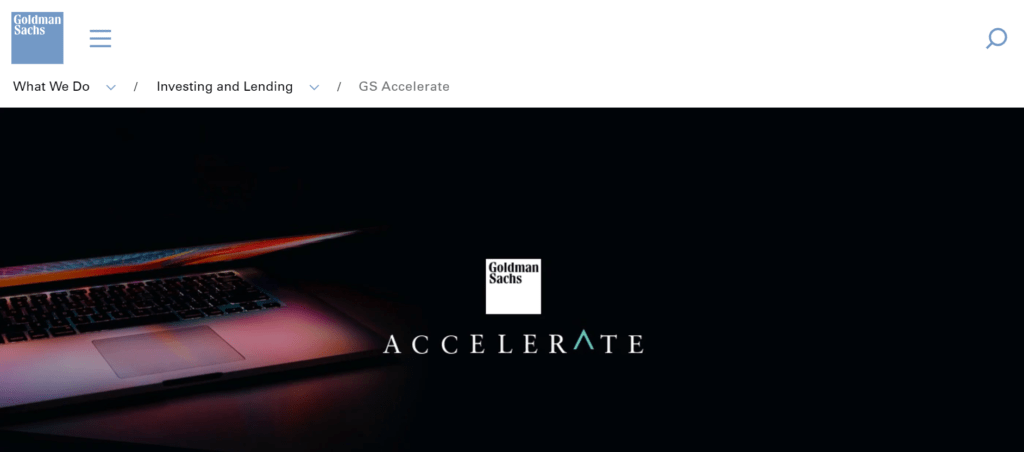 Founded: GS Accelerate (2018), Launch With GS (2018)
Through GS Accelerate, Goldman Sachs looks to foster and support internal innovation. Employees are encouraged submit ideas that may lead to growth at the firm, whether by increasing efficiency, improving customer satisfaction, or generating new revenue streams. Since the in-house incubator's launch in 2018, over 1,400 ideas have been submitted and 13 have received investment.
In 2018, Goldman Sachs created Launch With GS, its $500M investment commitment to startups led by women, Black, Latinx, or other diverse entrepreneurs based on its "data-driven thesis that diverse teams drive strong returns."
Notable projects: PinACL is a GS Accelerate winner that is currently under development at the incubator. The cybersecurity program was originally developed to automate security updates at the firm. Through GS Accelerate, engineers are working to commercialize the tech.
Other notable in-house innovation efforts include its "digital storefront" platform Marquee, digital consumer bank Marcus, and communications platform Symphony, which began as Goldman Sachs' internal messaging platform before being spun out and is now valued at $1.4B.
---
ALLY Financial — TM Studio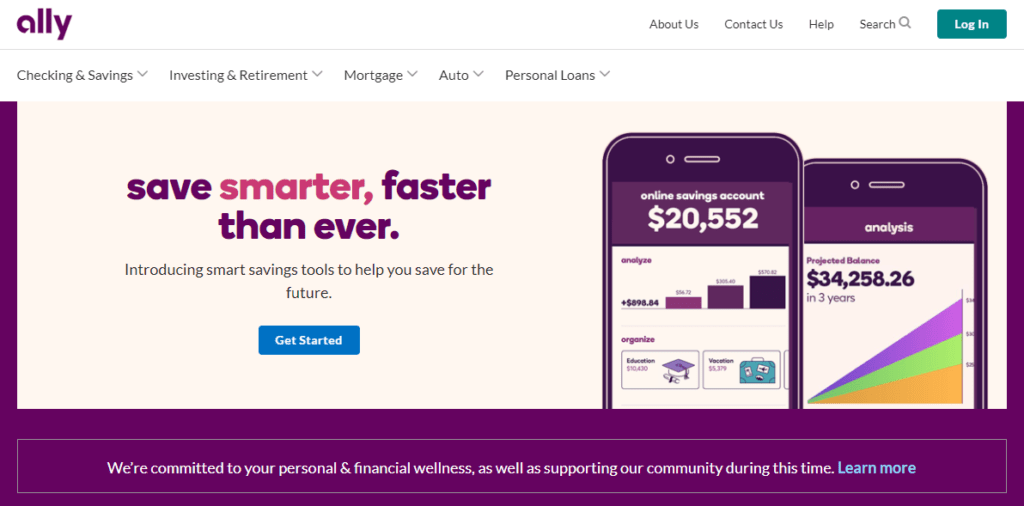 Founded: 2018
Ally Financial set up TM Studio in North Carolina to test "new banking concepts." The studio's main goals are to "transform business processes, leverage design thinking principles, and deliver innovative solutions for consumers."
The bank sends rotating teams to the studio to help create prototypes alongside the core TM Studio staff.
Notable projects: Just before the Covid-19 pandemic, TM studio launched a new feature that enables customers with Ally bank accounts to segment their savings into different "buckets" based on their goals. The Ally team was able to track how buckets changed pre- and post-pandemic — for example, travel fell out of the top 10 after February.
---
societe generale — digital Innovation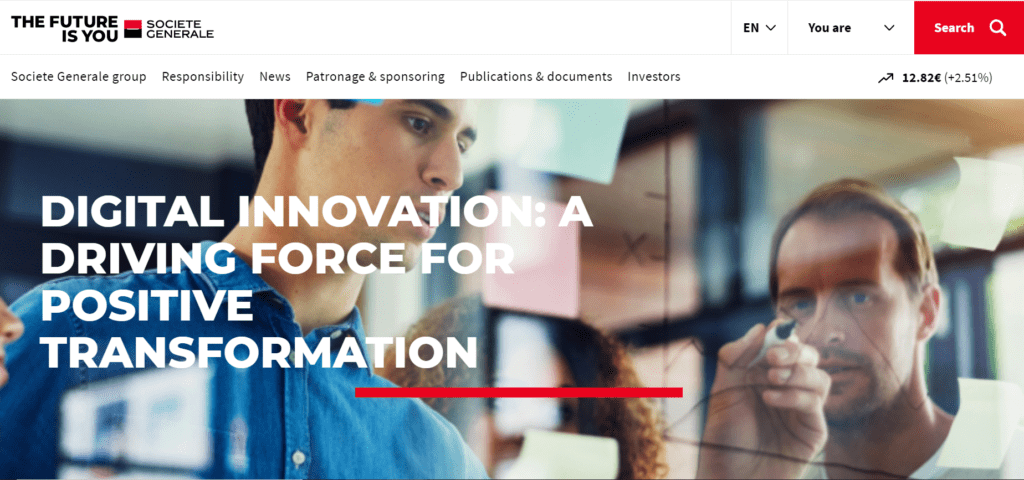 Founded: 2017 (Internal Startup Call), 2018 (Global Markets Incubator)
Société Générale has an expansive innovation network focused on driving the 150-year-old bank's digital transformation. The bank runs 3 innovation labs in Africa that act as incubators for ideas from its Africa-based subsidiaries. The group also encourages employee innovation through its "Internal Startup Call," which has led to the launch of 10 internal startups.
Furthermore, Société Générale also partners with outside entrepreneurs and startups in the fintech space. Initiatives under this umbrella include the Open Innovation platform, which connects startups with bank experts; the Global Markets Incubator, a 6-month incubation program for financial markets startups; and Société Générale Ventures, the bank's €150M ($175M) innovation fund that invests in both internal and external fintechs.
Notable projects: Two companies launched through Société Générale's Internal Startup Call include Prismea, a neobank for startups (now a subsidiary of the group), and Forge, which focuses on blockchain tech and reportedly tested the first central bank digital currency (CBDC) transaction in France.
---
Bank OZK — OZK Labs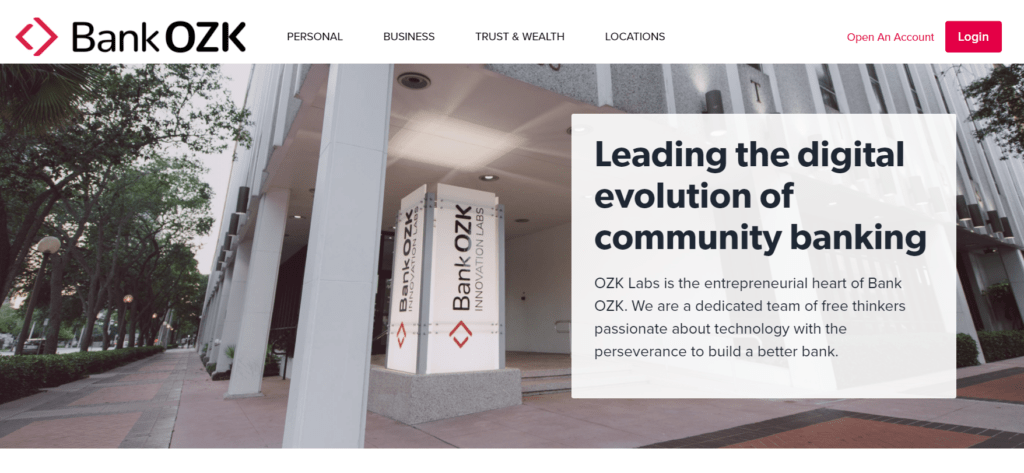 Founded: 2012
OZK Labs is tasked with looking at the near future, 3 to 5 years down the road, and identifying emerging technologies and innovations.
Intended to mimic the approach of a startup, it aims to find ways to disrupt community banking. OZK Labs' approach is create products in-house and partner with nascent fintech brands.
Notable projects: In 2018, the lab developed an online account system for Bank OZK's commercial real estate team, boosting the efficiency of the account setup process.
---
Commerzbank — Main incubator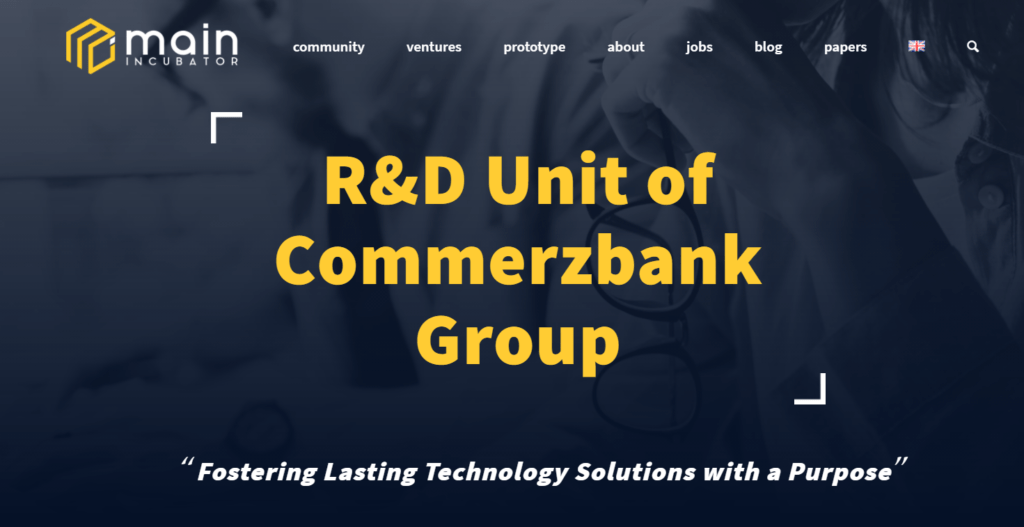 Founded: 2014
Commerzbank developed the Main Incubator as its research and development arm with a focus on emerging technologies like AI, IoT, and quantum computing. Using an incubator approach, it has 3 overarching goals: invest in fintech related startups, help develop disruptive prototypes, and build a community of entrepreneurs.
Notable projects: Backed by the Main Incubator, Gini is an AI-powered tool that can pull data from images, including checks, contracts, and receipts, and integrate them into customer's banking services.
---
USAA — USAA LABS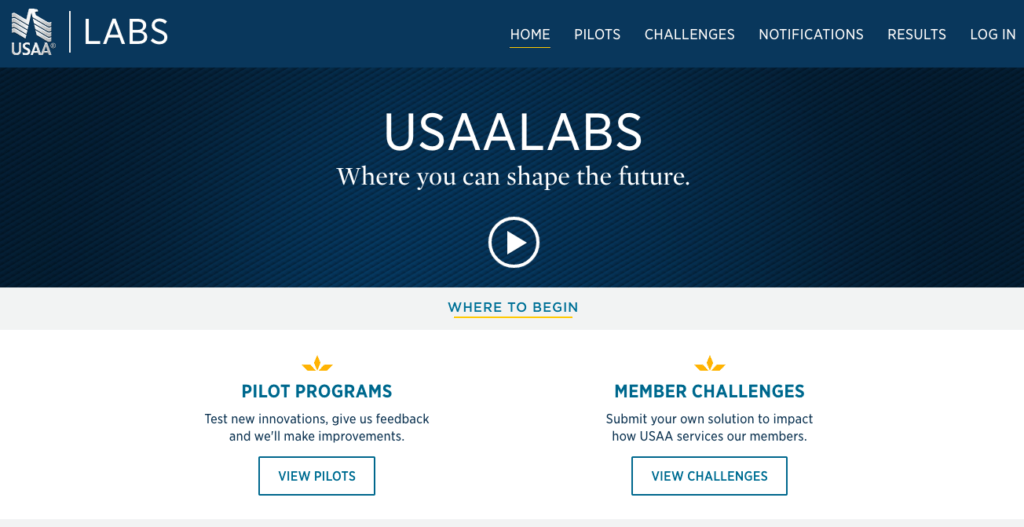 Founded: 2017
USAA created its lab to explore ways innovation could improve its customer service approach. The lab encourages USAA members to submit ideas for solving problems via innovation challenges and projects. Members are also invited to participate in pilot programs to test products and give feedback as they are developed.
Notable projects: USAA Labs partnered with CarAdvise to help members get their cars serviced while maintaining social distancing guidelines amid the Covid-19 pandemic. CarAdvise's tech lets customers book car appointments, review recommended work, and pay all in 1 account.
---
Eastern Bank — Eastern Labs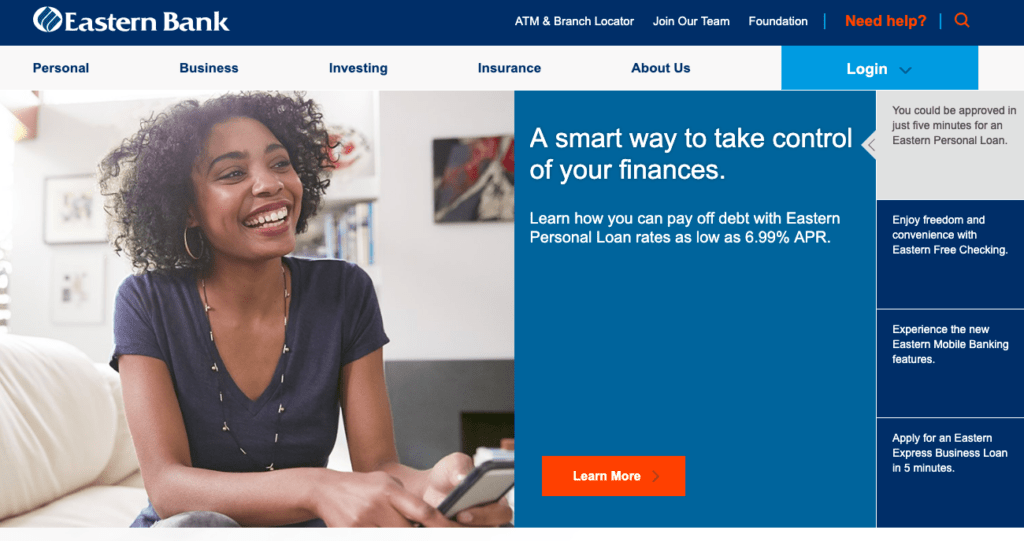 Founded: 2014
Eastern Labs is looking to innovate in the small business banking arena, such as small business loans. By leveraging industry and customer data, the lab is tasked with providing a competitive advantage over other regional banks which serve similar customers.
After spinning off the original Eastern Labs in 2017, the bank rebooted the lab in 2018. It is focused on emerging technologies like AI and blockchain as it looks to respond to shifting trends in online banking.
Notable projects: Numerated is a digital loan approval service that was developed by Eastern Labs. The platform was successful enough that Eastern Labs spun it out into its own company (along with the lab) in 2017. Another more recent project developed at Eastern Labs is Monit, an app that can help small businesses manage their finances. It is now being offered to the bank's business customers.
---
UBS — STrategic development lab & digital factory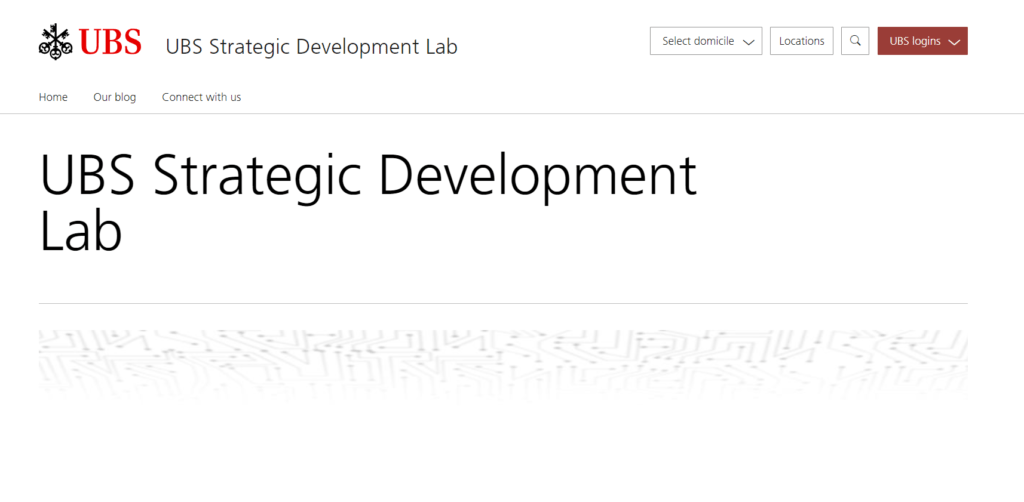 Founded: 2019 (Digital Factory), 2020 (UBS Next)
At the UBS Strategic Development Lab, data scientists, programmers, and other tech experts work together on data- and technology-driven solutions for the financial services industry. Focuses of the lab include digital engineering, electronic trading, and product strategy. UBS also opened in 2019 its Digital Factory in Zurich, Switzerland. The factory is intended to foster cross-functional collaboration between the bank's teams as they work to develop new digital applications for clients.
Amid wider changes at the bank, UBS' Wealth Management Innovation Lab, which has a narrow focus on finding innovations and technologies that can help improve the wealth management process for clients, reportedly went through a major downsizing effort in July 2019.
In October 2020, UBS launched UBS Next, a $200M fintech investment vehicle. The bank has partnered with the VC firm Anthemis to help identify fintech companies for potential investment.
Notable projects: Following the market volatility caused by the Covid-19 pandemic, the UBS Strategic Development Lab deployed machine learning tech to "customize bond axes and liquidity for clients" in its UBS Bond Port platform, helping ensure clients saw more accurate pricing data.
---
Standard Chartered — exellerator innovation lab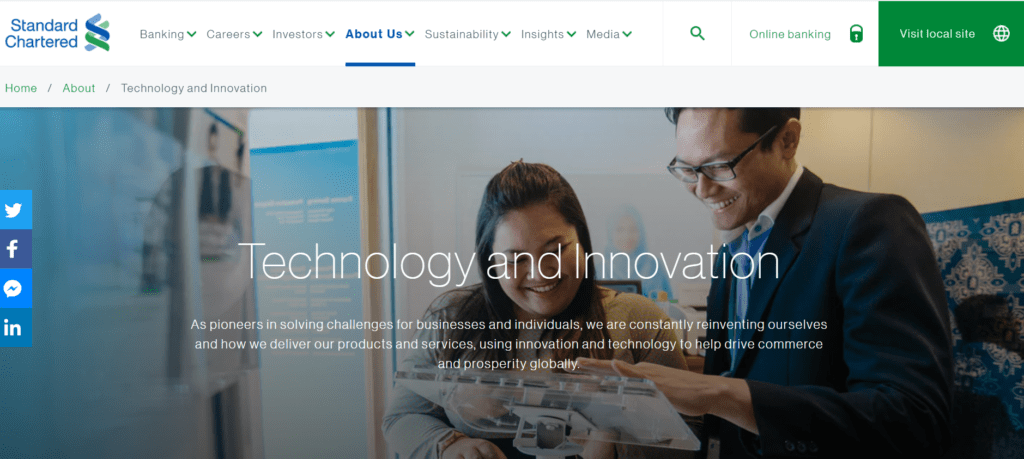 Founded: 2016
Standard Chartered operates 6 eXellerator innovation labs around the world, including in Singapore, Shanghai, and London. The labs are under the umbrella of Standard Chartered's SC Ventures business unit, which also invests in fintech startups and leads an intrapreneur program to fund employees' innovative ideas. The labs themselves look to contribute and respond to the fintech environment of the region they're in, while also developing and testing digital solutions for the bank and its clients.
Notable projects: In March 2020, Standard Chartered launched nexus, its Banking-as-a-Service solution. Nexus was started from a bank employee's idea and incubated at SC Ventures. The platform has 2 partnerships in Indonesia and plans to expand into other markets in Asia, Africa, and the Middle East as of October 2020.
---
banco bradesco — inovabra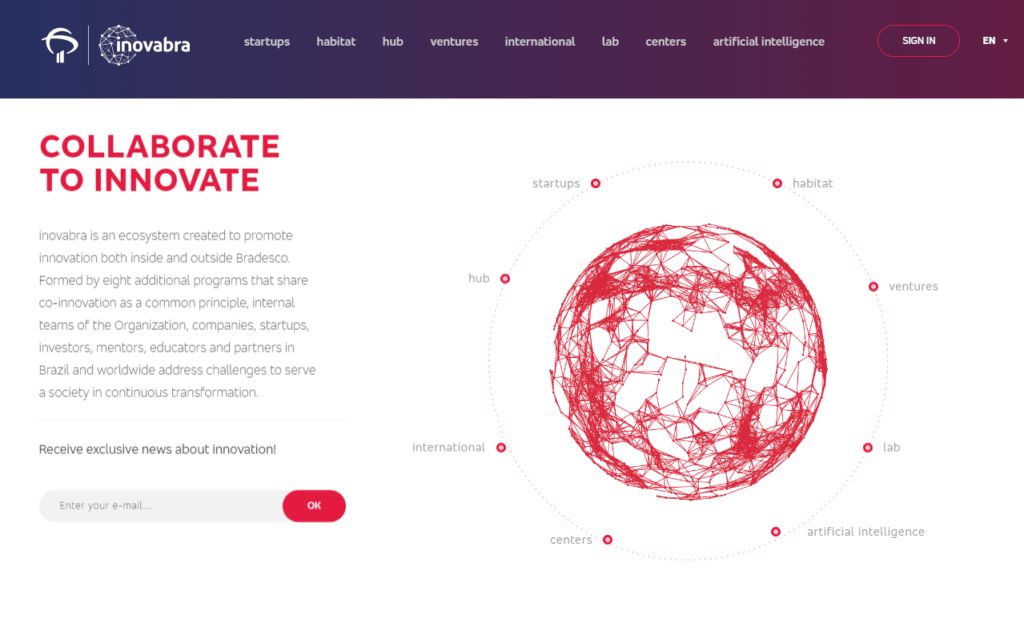 Founded: 2010
Inovabra is Banco Bradesco's innovation "ecosystem," formed from 8 programs that include a corporate venture arm, internal innovation centers, and an innovation lab. The lab is designed to bring tech and business innovation at the Brazil-based bank together in a space where ideas can be prototyped and tested and events like hackathons hosted.
Notable projects: The Inovabra lab has reportedly reduced the time it takes to test prototypes by 60%.
---
intesa sanpaolo — innovation center labs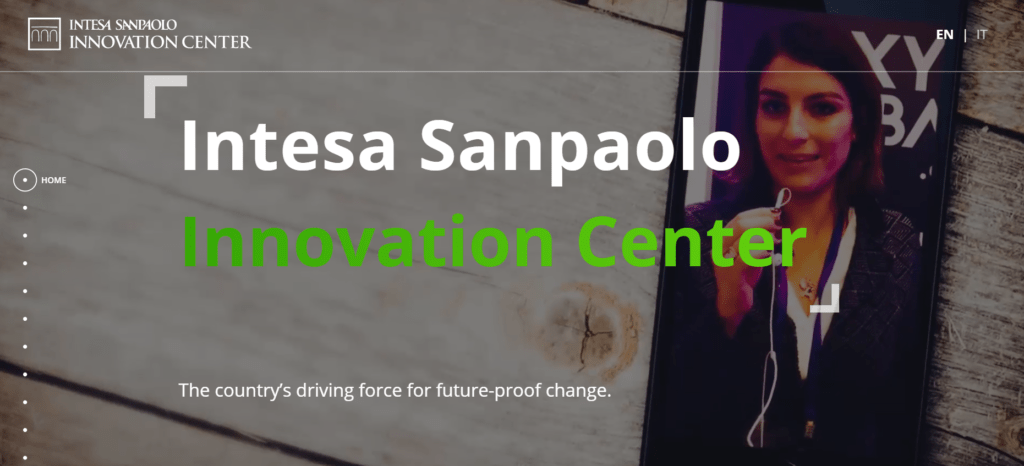 Founded: 2009
Intesa Sanpaolo's Innovation Center runs several innovation labs in addition to startup and business accelerators. The Innovation Center Labs, which include an Artificial Intelligence Lab, Neuroscience Lab, and Circular Economy Lab, have partnered with foundations and other academic institutions to bring researchers together to work on innovative solutions for the bank and its clients. Through the labs, the Italy-based banking group aims to keep in step with emerging technologies.
Notable projects: In September 2020, the Intesa Sanpaolo Innovation Center's Circular Economy Lab partnered with Cariplo Factory and Microsoft to launch "Circularity goes digital." The initiative will incubate select startups focusing on sustainability with the aim of promoting circular business models.
If you aren't already a client, sign up for a free trial to learn more about our platform.