Big tech is going after the $1T+ pharma market. Here's how the tech titans are working to establish permanent places for themselves in the space through product launches, partnerships, M&A deals, and more.
Tech giants Amazon, Microsoft, Apple, and Alphabet (Google's parent company) are making moves in the pharmaceutical industry.
The space is undergoing a digital transformation driven by an explosion in healthcare data and use cases for AI. Incumbents are quickly learning that inexperienced data science teams can cause more harm than good.
In response, big tech companies are building tech to streamline drug discovery, clinical trials, manufacturing & supply chain, and remote patient monitoring & health records.
Some tech giants will likely succeed in healthcare — as partners, competitors, or both — and will play a key role in pharma's digital transformation. In this report, we analyze the trends driving each big tech company's pharma strategy, their current initiatives, and what it means for the industry.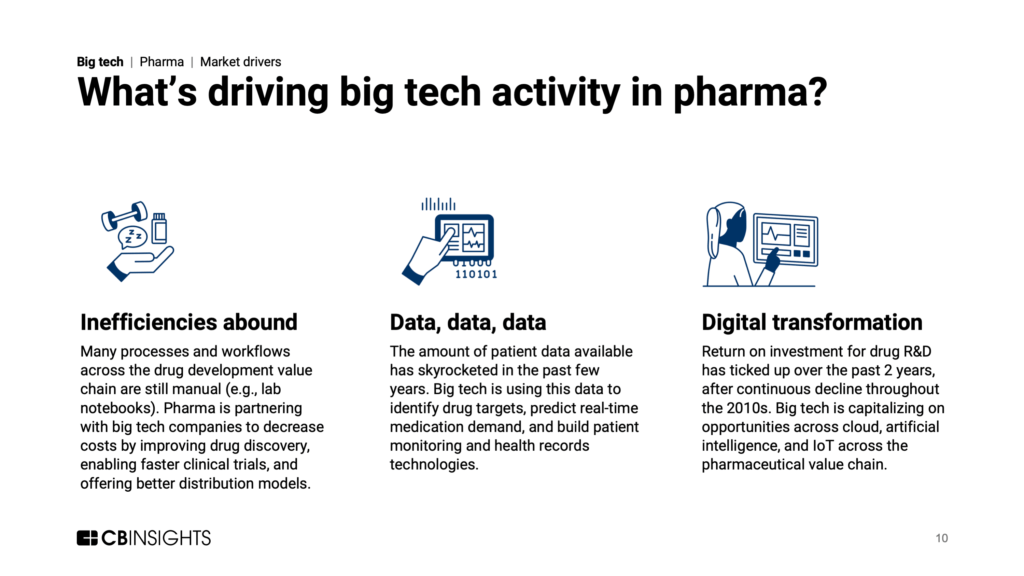 Download the report to find out:
Which pieces of the pharma value chain big tech is attacking
How big tech's product strategies differ across drug discovery, clinical trials, manufacturing & supply chain, and patient monitoring & health records
How big tech companies leverage partnership deals with incumbents to expand their pharma offerings
Which strengths and capabilities differentiate each tech giant from others in pharma
REPORT HIGHLIGHTS:
Big tech companies are likely to double down on hardware and software, with the aim of capturing as much patient data as possible. The amount of data generated from these products is significant. Expect big tech companies to utilize their data expertise to discover and commercialize digital biomarkers.
The number of pharma acquisitions by big tech companies dropped steeply in 2022, after a very active 2021. Deals to pharma startups with big tech participation also slid over the same period. Alphabet led big tech in unique pharma investments in 2022 by a wide margin, followed by Microsoft.
Big tech companies will continue to offer AI expertise to pharmaceutical companies. Anticipate big tech to begin negotiating contracts with shared upside for drugs discovered as a result of their pharmaceutical partnerships.
If you aren't already a client, sign up for a free trial to learn more about our platform.