After 18 months of the pandemic, change has permeated every facet of care delivery, from scheduling patient visits to inventory management. We look at how Facebook, Apple, Microsoft, Google, and Amazon are looking to establish a permanent place for themselves in healthcare through new product launches, partnerships, M&A deals, and more. 
The big tech giants — Facebook, Amazon, Microsoft, Google, and Apple (FAMGA) — have taken an interest in the healthcare industry. They are attracted to the massive $8.3T market  and the opportunity to bring modern technology & a culture of customer obsession to an industry that can sometimes lack both.
The healthcare industry is undergoing systematic changes driven by an explosion in healthcare data and deafening hype driving healthcare AI and automation demand skyward. Industry incumbents are quickly learning that inexperienced data science teams can cause more harm than good. In response, big tech companies are building industry clouds built to secure patient data and accelerate responsible AI.
Customer obsession is also transforming the industry. Several big tech companies are beginning to build healthcare services businesses that meet the patient where they are with transparent pricing that incumbents often lack. 
---
DOWNLOAD THE FULL REPORT BELOW


---
Some FAMGA companies will likely succeed in healthcare — as partners, competitors, or both —  and will play a key role in healthcare's digital transformation. In this Big Tech In Healthcare report, we examine each FAMGA company, analyzing the trends driving each company's healthcare strategy, their current healthcare undertakings, and what it means for the industry.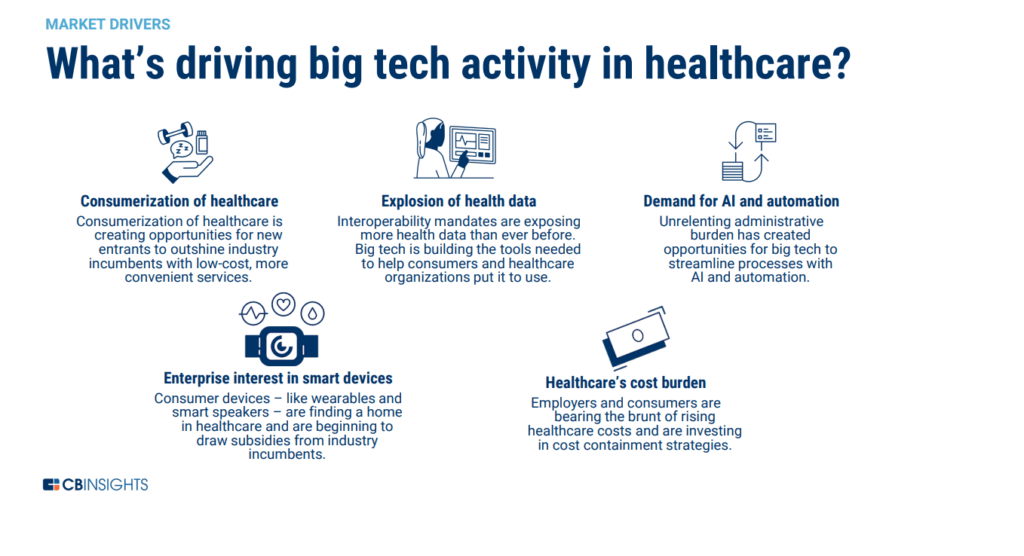 Download the report to find out:
Which healthcare verticals are gaining traction among tech giants

How big tech's product strategies differ across industry clouds, healthcare AI, smart devices, health data tools, and more

How big tech companies leverage partnership deals with incumbents to expand their healthcare offerings

Which strengths and capabilities differentiate each tech giant from others in healthcare
REPORT HIGHLIGHTS:
Both investor and executive attention to healthcare peaked over the last year.

Healthcare funding had a record quarter in Q1'21, where companies raised a total of $31.6B. Big tech has invested in deals worth a cumulative $6.8B since the start of 2020.

Cost reduction pressure is driving healthcare out of the hospital.

Healthcare revenue continues its decades-long march out of the hospital and into outpatient markets, where the barrier to entry is far lower. As consumers seek care in an increasingly oversaturated ambulatory market, FAMGA companies are positioning themselves to own a piece of healthcare's new digital ecosystem.

Big tech companies are taking new steps to increase their market opportunity in healthcare.

These efforts range across Facebook's preventative health solution, Apple's smart devices, Microsoft's Nuance acquisition, Google's camera-based search tool, and Amazon's consumer-focused healthcare services. 
If you aren't already a client, sign up for a free trial to learn more about our platform.