From cloud services to wearable monitors, tech leaders are moving aggressively into healthcare. We look at how 5 big tech companies are backing innovative startups, developing new products, and strategically partnering to build their positions in the industry.
Healthcare is already an $11T market worldwide — and it's still growing quickly. While the first steps of the industry's digital transformation have been taken, new technologies and models of care are being built every day, with tech giants clamoring to lead the way.
Amazon, Microsoft, Google, Apple, and Oracle are all deeply involved in new healthcare-related product development, investments, M&A, and partnerships. Leveraging software development expertise, device and wearable leadership, and cloud computing expertise, each company is looking to grow market share.
With healthcare providers and patients more willing than ever to adopt new technologies and explore new models of care, expect the healthcare space to remain a strategic focus for big tech for years to come.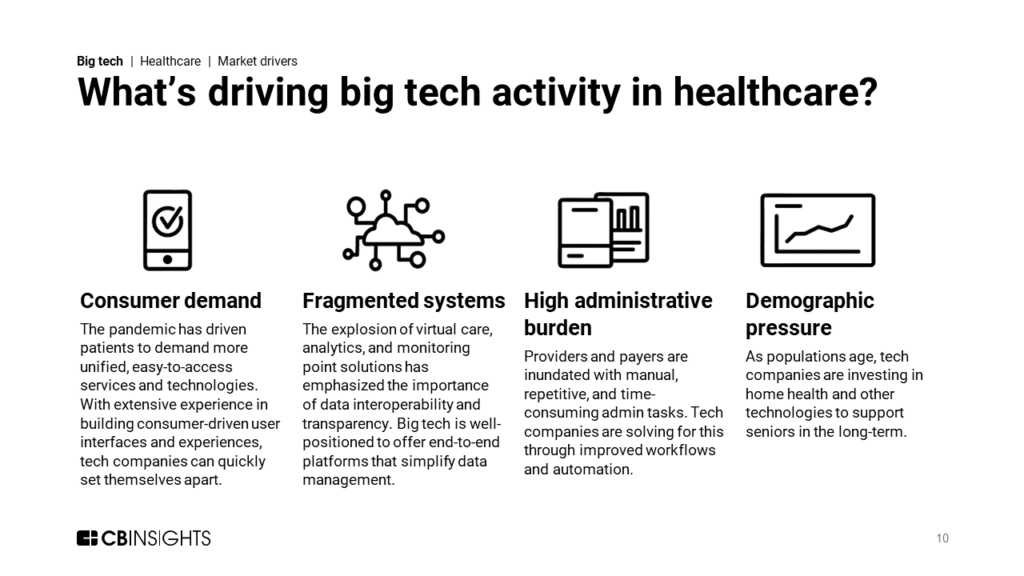 Download the report to find out:
The major tailwinds fueling big tech activity in healthcare
The competitive advantages of different tech giants in healthcare technology
How big tech is impacting the future of healthcare
Report highlights:
Gathering, leveraging, and monetizing data is a guiding force in big tech's healthcare activity. Amazon, Microsoft, Google, and Oracle are all competing to be the cloud platform of choice for healthcare providers, software developers, and life sciences organizations.
Healthcare strategies are beginning to distinguish themselves. Amazon is moving into healthcare provision, with new products and major acquisitions. Microsoft is building a leading healthcare development platform. Meanwhile, Apple is planning to leverage its connected ecosystem to dominate consumer home health.
Established competitive advantages are key. With new access to millions of healthcare records, Oracle can build its cloud, CRM, and life sciences verticals. Amazon can leverage its core of dedicated subscribers and an unparalleled logistics network to dominate employee health. And Google might secretly dominate one of the most important touchpoints in healthcare.
If you aren't already a client, sign up for a free trial to learn more about our platform.