We look at how Facebook, Apple, Google, and Amazon are conquering key financial services verticals through new product launches, investments, M&A deals, and more. 
The adoption of fintech apps has skyrocketed throughout the Covid-19 pandemic, spurring further growth and investor interest in this category. Fintech had one of the most successful quarters in history in Q1'21, with record deals, funding, exits, and mega-rounds. 
Eager to turn the ongoing fintech boom into an advantage, big tech companies (Facebook, Apple, Google, Amazon) have been taking a number of strategic steps to grow their market share in financial services. From digital banking and lending to budgeting and payments, tech giants are revamping their financial services offerings through partnerships with legacy institutions and in-house solutions that fit into their wider product ecosystems.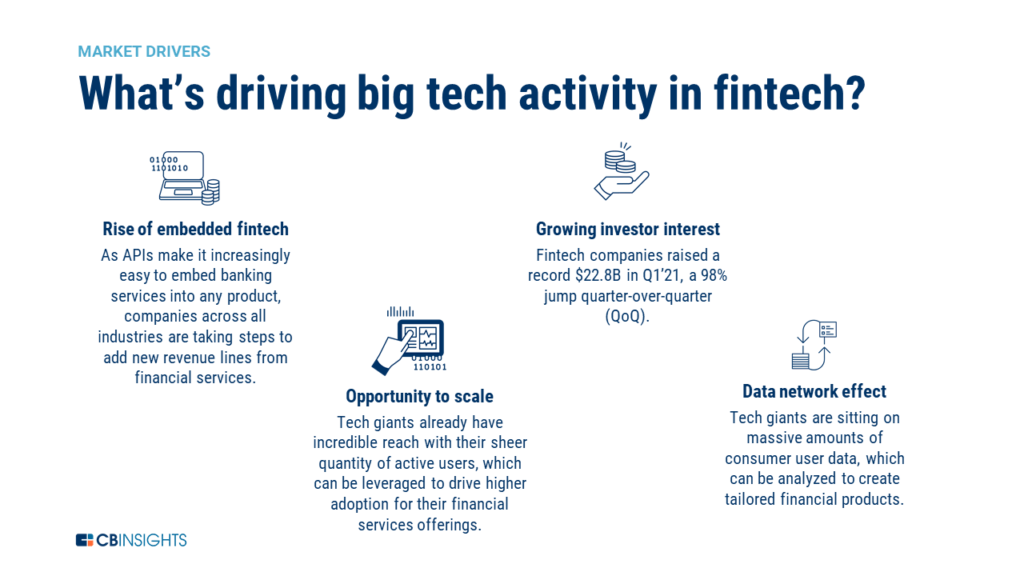 Download the report to find out:
Which big tech giant leads fintech investment activity

Which financial services verticals are gaining traction among tech giants

How big tech's product strategies differ across banking, payments, lending, and e-commerce

How big tech companies leverage partnership deals with incumbents to expand their financial services offerings

Which strengths and capabilities differentiate each tech giant from others in financial services
REPORT HIGHLIGHTS:
Big tech funding to fintech companies dropped slightly amid the pandemic as deal activity picked up.

Big tech investment in fintech companies reached $2.2B in 2020, marking a 4% drop from the previous year. In contrast, deal count increased 52% year-over-year (YoY), hitting 32 deals. 

Google remains the most active tech giant in fintech equity investments.

Google led big tech in unique fintech investments (23) between 2020 and 2021 YTD, followed by Amazon (7). GV (Google Ventures) is the most active big tech venture arm by a wide margin, participating in 45 fintech funding rounds between 2016 to 2021 YTD.

Incumbent deals support big tech's entry into financial services.

Apple and Google are already partnering with banks to embed banking into their services, while Amazon is seeking out institutional lenders to expand its loan offerings. These partnerships present a win-win situation for tech giants and legacy names alike and help boost customer attraction and retention. 

Big tech companies pose a growing threat to legacy banks.

Financial services are becoming increasingly intertwined with non-banking apps (e.g., social media, communication), giving tech giants more incentive and leverage to keep their financial offerings in-house. Tech giants already have the capacity to not only offer improved banking services, but also scale quickly within their large user bases. In big tech's race to become the go-to app for banking, shopping, and connecting, legacy banks face the continued threat of being further pushed out of the financial system. 
If you aren't already a client, sign up for a free trial to learn more about our platform.