Companies and individuals face numerous threats in an increasingly digital world, from misinformation to ransomware. We look at how big tech is using product launches, acquisitions, investments, and partnerships to transform cybersecurity.
The number and cost of cyber attacks are on the rise. This comes at an inopportune time, when cyber talent is in short supply and companies are supporting largely remote workforces. As a result, funding to cybersecurity tech startups more than doubled YoY in 2021, exceeding $25B. 
Against this backdrop, big tech companies Facebook (now Meta), Apple, Microsoft, Google, and Amazon are investing heavily in securing their platforms and building cybersecurity products and services.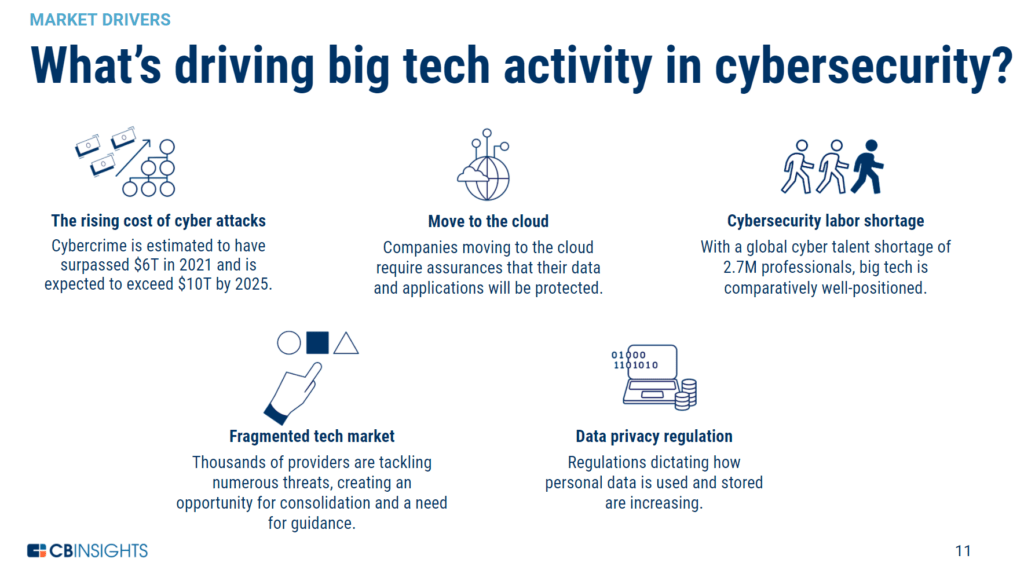 Download the report to find out:
How big tech companies are adding layers of security to their cloud platforms and devices

The different areas of cybersecurity where big tech is investing

How big tech giants are responding to privacy concerns and regulations

Where each big tech company is headed in the cybersecurity space
REPORT HIGHLIGHTS:
Big tech is committed to security.

While each company has made investments in cybersecurity, Google and Microsoft stand out with their recent pledges to spend $10B and $20B, respectively, in this area over the next 5 years.

There is a battle to secure the cloud.

Microsoft, Google, and Amazon view cloud computing as a massive revenue opportunity and are seeking to win customers by offering superior protection. 

Privacy is a divisive issue for big tech.

While Apple is rolling out privacy protections and shaping public opinion on the topic, Facebook continues to face penalties for its use of customer data. Each big tech company must grapple with how it handles the customer data at its disposal.

Cybersecurity represents a new revenue stream. Through recent acquisitions, several big tech companies have moved beyond protecting their own products to offering cybersecurity services to other companies.
If you aren't already a client, sign up for a free trial to learn more about our platform.