Identifying new startup and venture capital frontiers globally.
This report focuses on hotspots of rising venture capital activity in countries that are the most outside of places where mainstream venture capital is concentrated, but show at least some measurable disclosed VC activity.
The startups profiled in this report are headquartered in countries that each take between .01% and .5% of the world's venture capital deals since 2012. You can see below that 50+ startup frontier markets take only 5% of the world's VC deals.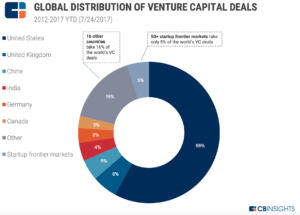 REPORT HIGHLIGHTS:
Startup frontier markets are seeing increased deal activity.
Collectively, the 50+ frontier markets we identified have seen rising VC deal activity nearly every year since 2012, with this year being on track to beating last year's total of ~1500 VC deals.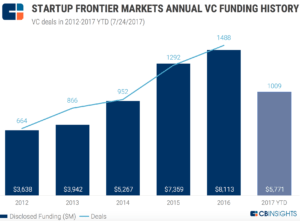 These companies and ecosystems are young.
The lion's share of deals to startups in these markets have been at an early stage (Seed/Angel – Series A), including 75% of all deals last year.

Jakarta leads, followed by Dubai, Vienna, and Istanbul.
Of cities in these markets Jakarta, Indonesia, takes the largest share of global VC deals since 2012, almost twice as large a share as Dubai. Jakarta companies saw 47 VC backed deals last year.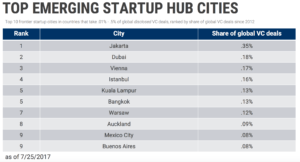 If you aren't already a client, sign up for a free trial to learn more about our platform.