Elon Musk is CEO of Tesla and SpaceX, has plans to colonize Mars, and thinks AI may turn humans into its pets. But beyond the hype, his enormous net worth, and Twitter presence, here's how Musk's companies are actually taking on 8 industries. 
Elon Musk thinks and acts on a larger, more cosmic scale than we're accustomed to from entrepreneurs. Musk has become a household name synonymous with the future.
Whether he's working on electric vehicles (Tesla) or sending rockets into space (SpaceX), his larger-than-life reputation attracts its fair share of attention — and scrutiny.
His main projects take on almost every major industry and global problem conceivable, and imagine a disruptive fundamental rewiring of that space or sector.
Elon Musk's Companies By Industry

| | Industry | How it Could Be Disrupted |
| --- | --- | --- |
| SpaceX | Space Launches | Offering lower priced transport into space |
| | Telecommunications | Offering lower priced service |
| | Satellite Internet | Putting more satellites into space for cheaper |
| Tesla | Automobiles | Building the best, lowest-cost electric vehicle |
| | Personal Transport | Eliminating the need for car ownership entirely |
| | Solar Energy | Increasing access with Powerwall and Solar Roof |
| | Fossil Fuels | Maximizing efficiency of solar panels |
| | Car Sharing | Making idle Tesla cars available via app |
| The Boring Company | Tunneling | Reducing cost of tunneling through the ground |
| | Infrastructure | Building more efficient transportation infrastructure |
| | Real Estate | Increasing range people can live from their place of work |
| | Freight Shipping | Reducing freight costs by a magnitude |
| OpenAI | AI/Machine Learning | Owning the best AI system in the world |
| | Competitive Gaming | Consistently producing better-than-human AIs |
| Neuralink | Prosthetics | Reducing cost of effective prostheses by magnitude |
| | Medicine (Treatment) | Treating serious illness with simple injection |
| | Military | Allowing enhancement of human capabilities |
| | Robotics | Better modeling of brain-machine interaction |
We take a look at the state of his companies and how they are — or aren't — transforming the industries in which they operate:
Automotive: Tesla has boomed in 2020. We take a look at the company's rocky history and how Musk has propelled Tesla to become the most highly-valued carmaker in the world.
Aerospace:

Find out how SpaceX plans to build a "freeway" to Mars by reducing the cost of flying a

spaceship

to a fraction of what it is today, and to harness rocket technology for earth travel as well.

Telecommunications:

Musk's work in space could revolutionize how we get online, and provide fast, affordable internet

for those without access.
Energy: According to a utilities lobbying group, Musk's efforts with Tesla and SolarCity could "lay waste to US power utilities and burn the utility business model."
Transportation:

We analyze the Hyperloop, Musk's proposed "fifth mode of transportation" that's a "cross between a Concorde and

an air hockey table,"

and the progress that's been made.
Infrastructure/Tunneling: We look at how Musk's business, called The Boring Company, is trying to cut costs in the notoriously expensive tunneling industry, where a mile of tunnel can cost

$1B to dig and each additional inch in diameter costs millions more.

AI: We investigate why Musk, who is certain that the race for AI superiority will be the "most likely cause" of WWIII, is investing so much into building better AI.
Healthcare: We dig into the high-bandwidth, minimally invasive brain machine interfaces that Neuralink is developing to create futuristic humans.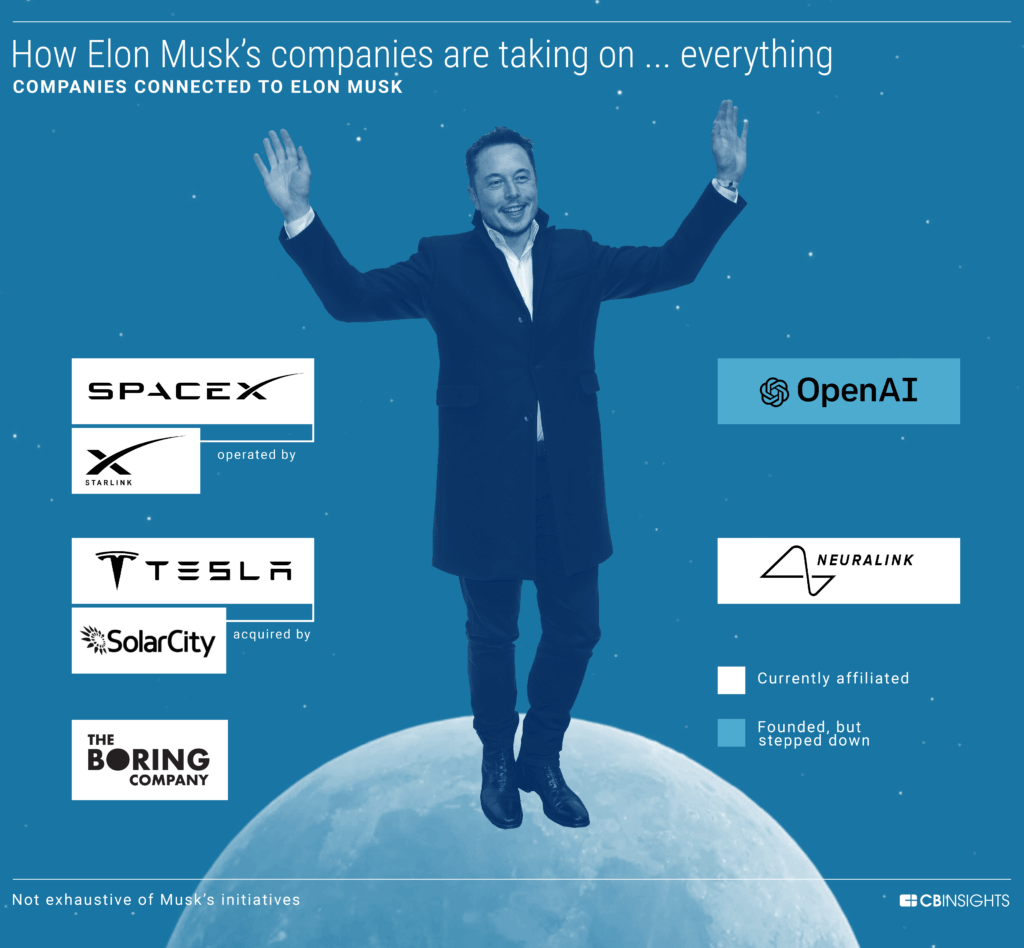 Elon Musk's Companies
Elon Musk is the CEO, founder, inventor, or adviser for some of the world's most-hyped companies, including:
SpaceX (including Starlink) 

Tesla (including SolarCity) 

The Boring Company 

OpenAI 

Neuralink 
Read on for a deep dive into how Elon Musk and his companies are transforming vital industries.
---
DOWNLOAD THE FULL REPORT BELOW


---
1. Automotive
By many counts, Tesla Motors has thrived during the Covid-19 crisis. The company, which has been dogged by missed production targets in the past, remained profitable amid the pandemic despite a factory shutdown, is expanding rapidly with plans to build 2 additional factories in Texas and Germany, and saw its stock price quadruple to make it the world's most valuable car maker.
What is Tesla's mission?
Founded in 2003, Tesla is Musk's second project post-PayPal, and still one of his most ambitious.
Tesla envisions a future of self-driving cars, where the majority of people travel by autonomous Tesla vehicles. It's also a future where car owners seamlessly rent out their vehicles to serve as self-driving cabs while they're not using them. Part of the company's mission is to ramp up the global transition to sustainable energy.
However, production problems have plagued the California-based company, causing delivery delays and raising concerns from some Tesla shareholders. The enormity of the hype around Tesla has made the company an attractive target for short sellers, but the bets have lost more than $20B this year as Tesla's stock has more than quadrupled YTD.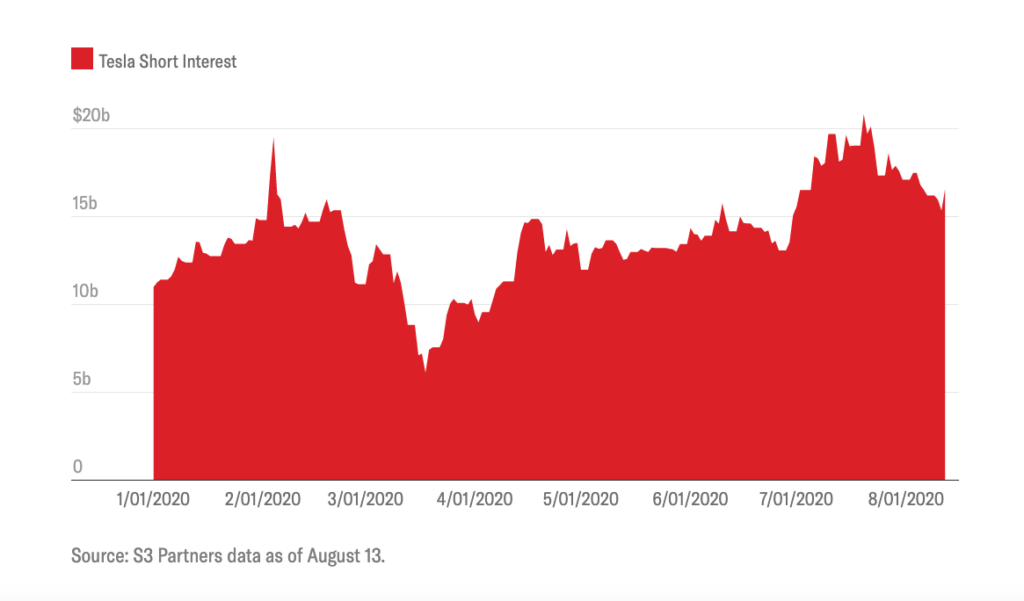 Source: Institutional Investor
Why bet on electric vehicles? 
Expecting electric vehicles to become mass market makes sense. Great Britain and France voted to ban diesel and gasoline auto sales starting in the year 2040. China has said that 20% of cars sold in the country should run on some alternative source of fuel by 2025. GM plans to have 20 electric vehicle models on the road by 2023. Volvo is expecting to sell 1M electric cars by 2025.

Bloomberg's growth forecast for electric vehicles over the next several decades. Source: Bloomberg NEF
In this landscape, owning the electric vehicle market begins to look a lot more like eventually owning the entire automobile industry.
The promise of Teslas
Americans spend an average of nearly $3,000 a year on gasoline. Freight companies pay as much as $200,000 a year to fuel up each semi.
Though electric vehicles like Teslas still rely on the grid for energy, they could help reduce that economic burden.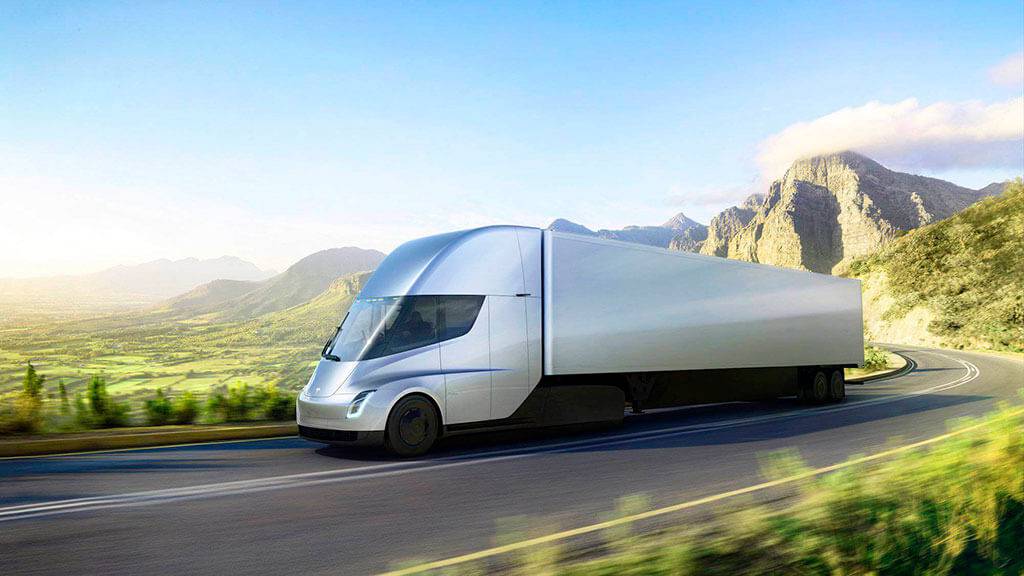 The Tesla Semi will reportedly save drivers up to $200,000 a year on fuel costs.
Another distinguishing point of Teslas is their self-driving technology. (We cover other corporations working on autonomous vehicle tech here.) 
The vehicles are equipped with 8 external cameras, 12 ultrasonic sensors, and a radar that are used to generate a model of the surrounding environment. Those models are uploaded to Tesla, where they're studied and compared with millions of hours of footage compiled from other Tesla vehicles.
The resulting "Autopilot" technology, available in all 4 Tesla models, enables features like auto steering, self parking, and summoning. Fully autonomous driving without driver input is not yet available.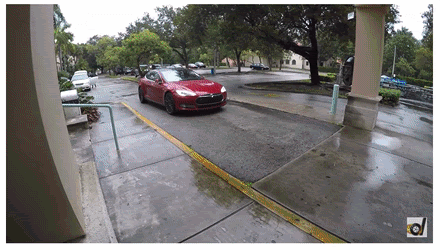 A driver uses a smartphone to summon his car during a rainstorm.
However, questions regarding the safety of autonomous driving tech and regulatory approval remain obstacles. For example, Tesla's Autopilot system was being used during a fatal crash in 2018. After 3 crashes involving the Autopilot system in early 2021, the National Highway Traffic Safety Administration launched an official investigation.
Tesla's rocky history
The Tesla Model 3 — Tesla's first true mass market electric vehicle — became the best-selling electric vehicle globally in March 2020.
But getting to that point wasn't easy.
Within 48 hours of announcing the Model 3 in March 2016, the car had almost 250,000 preorders. That amounted to over $10B in potential sales. But delivering on those orders proved to be a problem.
Musk promised 1,500 Model 3 units in the third quarter of 2017, up to 20,000 per month by December. In reality, only 260 units were produced in the third quarter.
In November 2017, the date for hitting 5,000 Model 3 units a week in production was moved from December to March 2018, and the company sold about 100,000 vehicles that year. 
Production issues for the Model 3 continued to plague Tesla throughout 2018. The goal of 5,000 cars/week was finally reached in the last week of June, which required Musk to: 
Build a tent in 2 weeks to house an entirely new assembly line

Stay at the facility "24/7" and work 120-hour work weeks to help solve production bottlenecks

Call employees from other business functions to try and speed up production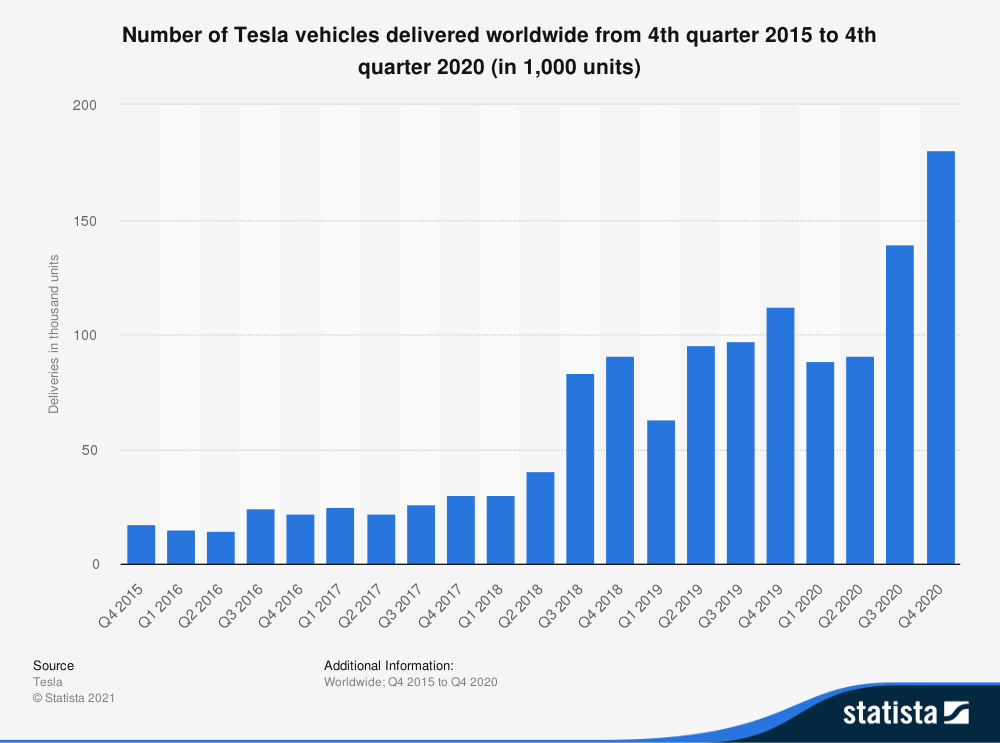 Source: Statista
However, production has ramped up since then, with Tesla delivering 499,550 vehicles in 2020. The company aims to deliver up to 1M vehicles in 2021, although that goal may be hindered by a global semiconductor shortage.
Tesla's recent success
A number of developments have helped Tesla gain momentum:
Less than a year after breaking ground, its China plant hit early production targets for 1,000 Model 3s a week in December 2019. This helped sustain revenue as Tesla's lone US plant shut down during the pandemic.
The company also began work on its third assembly facility in Germany in early 2020.
Enthusiasm swelled when the car maker began delivering its newest Model Y — a compact SUV expected to become a bestseller — ahead of time in March.
In July 2020, Tesla Motors announced that it notched its fourth-straight profitable quarter for the first time in its 17-year history. It also revealed plans to build a second US assembly plant in Austin, Texas, slated to build the Cybertruck pickup, which was unveiled in 2019.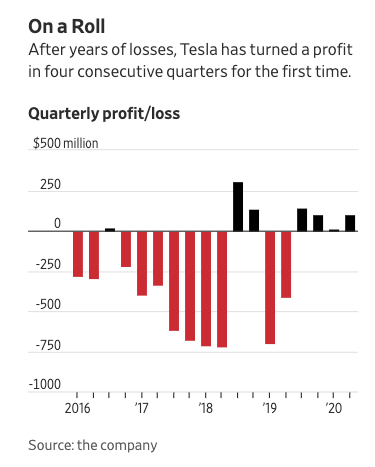 Source: WSJ
However, Tesla's future isn't necessarily smooth sailing from here on out. Critics have been skeptical about the sustainability of profits in recent quarters, and some analysts are questioning the company's sky-high valuation. Meanwhile, US tax breaks for purchasing Tesla's electric vehicles have expired, potentially dampening buyer demand.
Tesla is facing growing pressure in China as well. The Chinese government has reportedly banned Tesla vehicles from entering its military premises, sensitive facilities, and key agencies. The government expressed security concerns over the multiple cameras installed onboard in Tesla cars, fearing that the "data the cars gather could be a source of national security leaks."
Troubles in China are a major source of concern for Tesla. The company sold 147,445 cars in China in 2020, almost a third of its deliveries. The company also runs Shanghai Gigafactory.
It comes as no surprise that Musk reacted quickly to spying concerns. In March 2021, he said that Tesla has "a very strong incentive" to protect sensitive data because otherwise it risks being shut down. It remains to be seen how Tesla will maintain its position in China amidst a growing tech rivalry between Beijing and Washington.
Another potential source of volatility is Tesla's foray into cryptocurrencies. The company purchased $1.5B worth of bitcoin in February 2021 and announced it would accept the cryptocurrency as payment.

Musk often encourages people to buy digital coins on Twitter, driving the price of Bitcoin and other cryptocurrencies. But cryptocurrencies are volatile, and their price drop could cost Tesla billions. The carmaker's stock is now directly affected by the value of Bitcoin.
Tesla is also considering a move into insurance, a more traditional finance sector. The company briefly offered insurance in 2019 before pausing the program. In July 2020, Musk told investors in an earnings call that Tesla plans to build "a major insurance company." The new service has yet to be rolled out despite Musk promising the launch by the end of 2020.
Analysts point out that insurance could help the company improve profit margins and get more value out of its vehicles.
2. Aerospace
Leaving humanity as a single-planet species is a surefire path to extinction, according to Musk.
The further we explore and settle away from Earth, the more resilient our species becomes in the face of threats like superhuman AI or the depletion of Earth's natural resources.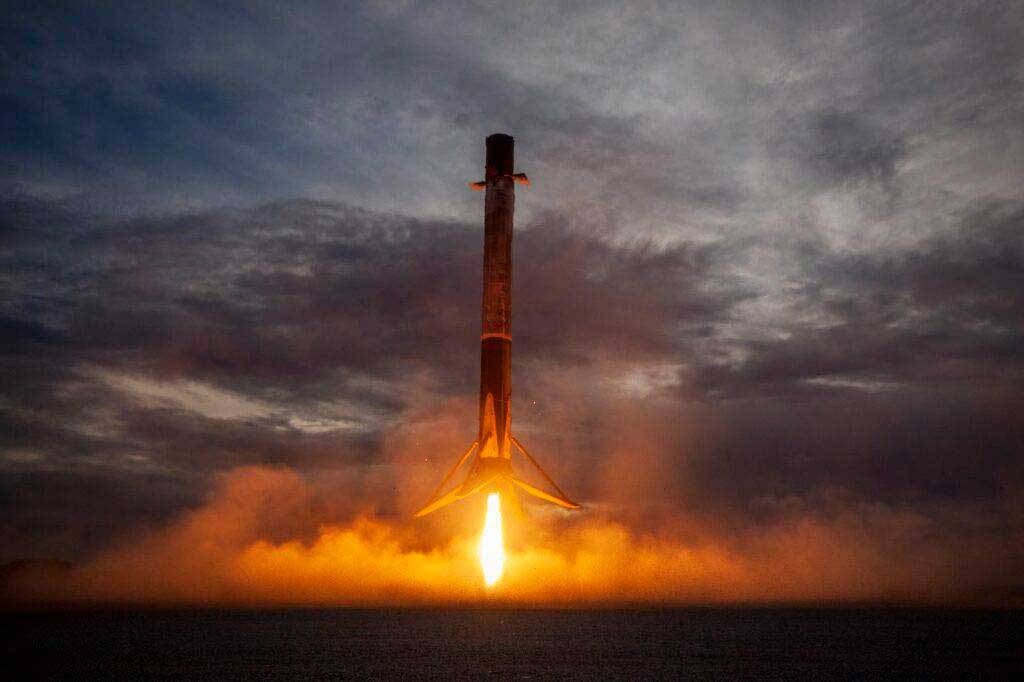 Source: SpaceX
What is SpaceX?
In 2002, Musk founded Space Exploration Technologies Corporation, or SpaceX, with the goal of making humanity multiplanetary.
"You want to wake up in the morning and think the future is going to be great — and that's what being a spacefaring civilization is all about," per a Musk quote on the SpaceX website. "It's about believing in the future and thinking that the future will be better than the past. And I can't think of anything more exciting than going out there and being among the stars."
In the summer of 2020, SpaceX became the first commercial company to send 2 NASA astronauts to the International Space Station and back. The mission also marked the first manned launch from US soil since 2011, when NASA ended its space shuttle program.
Current tech
High launch costs have been prohibitive to the expansion of space travel. However, typical launch costs have declined by a factor of 20 in the past decade thanks to commercial rocket development.
There are a host of technical reasons for the high costs, including the capital requirements of building single-use rockets, low failure tolerance, and high system complexity.
For Musk, reusable rockets are the key to making space exploration accessible. 
Currently, at the top end of the price spectrum are the "expendable launch systems," such as Arianespace's Vega launcher and Boeing/Lockheed Martin Atlas V (manufactured by United Launch Alliance, a joint venture between the 2 companies).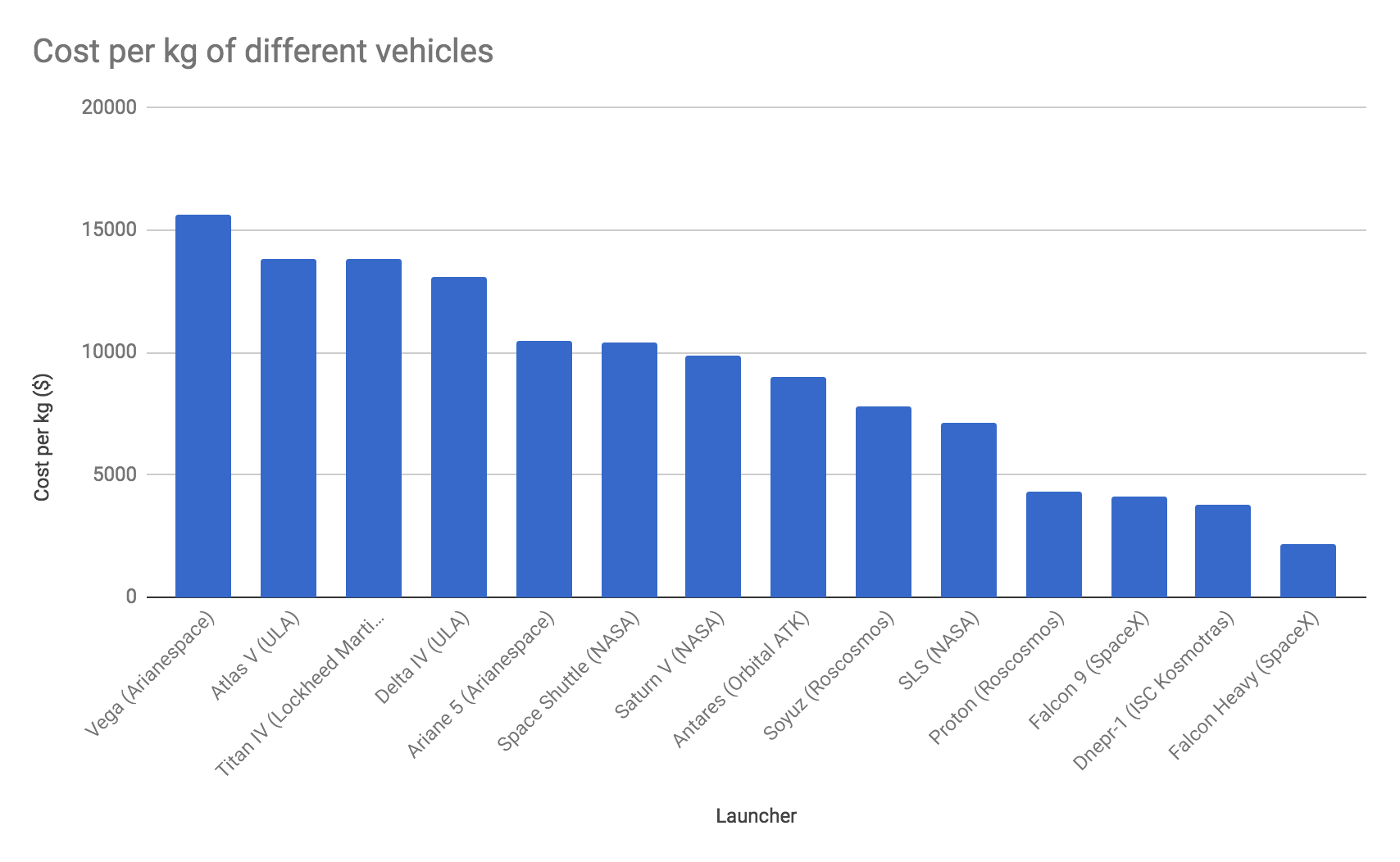 These are big rockets that can put a lot into orbit, but cannot be reused. The Space Shuttle (NASA) sits in the middle of the cost range. The shuttle was designed to be cheap and reusable, but the price of the expendable solid rocket boosters and main fuel tank added to the cost and ultimately restricted the value of the program.
At the bottom of the spectrum sit SpaceX's Falcon rockets, which have already shown a decrease in cost of up to 5x for getting a spacecraft into the sky.
In August 2020, SpaceX celebrated its 100th rocket launch as well as a new milestone of reusing a single orbital rocket 6 times.
In the long term, Musk wants SpaceX to put 1M people on Mars by 2050. To do that, he said that the "cost per ton to orbit needs to improve by >1000% from where Falcon is today for there to be a self-sustaining city on Mars."
Why does elon musk want to go to Mars?
Musk has said that humans need to set up a presence on Mars to protect "the continuance of consciousness as we know it." Mars isn't exactly hospitable, but it is one of the better nearby options for humans to settle.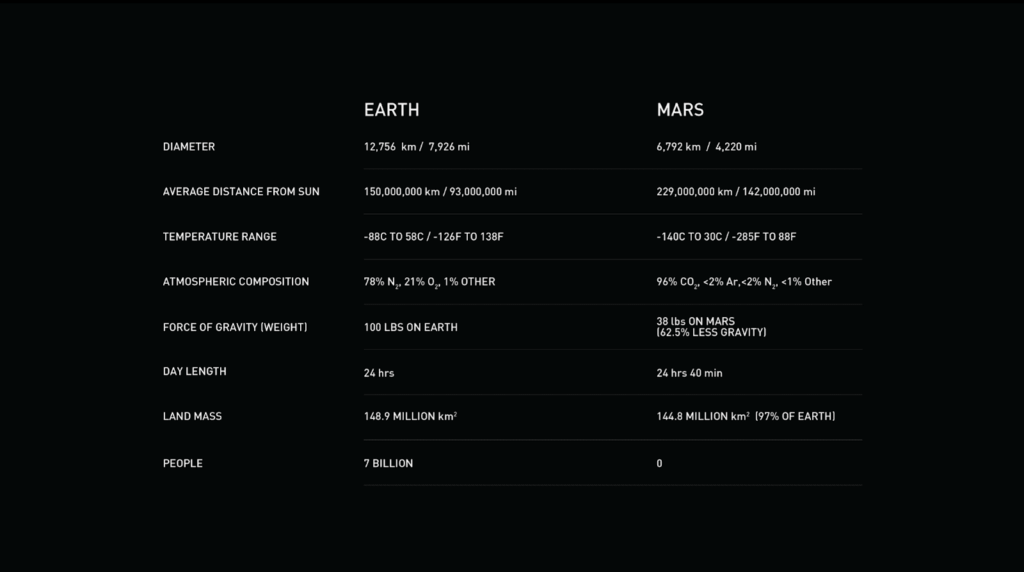 The Martian day is just a bit longer, the temperature range is not too extreme, and the amount of land is similar. There is water under the surface and an abundance of resources that could help to sustain human life.
How SpaceX is working toward Mars
Getting to that cost improvement to make commercial interplanetary space travel a reality requires more than just reusable rockets. That is just the first of 4 envisioned components that are needed to set up a return service to Mars economically:
Reuse of rocket technology. This is where SpaceX has found success so far.

Refill the rockets in orbit. So much fuel will be needed for a trip to Mars, the rockets may need to refuel in orbit.

The ability to produce propellant on Mars.

If it's a challenge to launch with enough fuel to get there, then transporting the fuel to get back would be even more prohibitive.
The ability to produce the right type of propellant on Mars.
The SpaceX vehicles will use Methalox, a combination of methane and oxygen. To make the methane, SpaceX will collect carbon dioxide from Mars' atmosphere (96% of the atmosphere is CO2) and mine water from the surface. Through this, the company can produce all the fuel its needs for the return trip.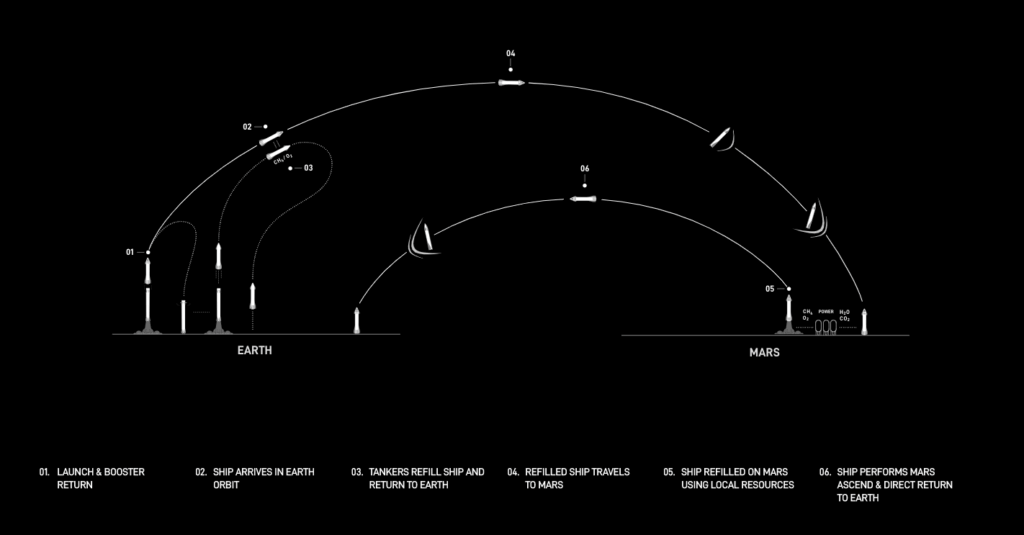 The SpaceX plan for shuttling between Earth and Mars includes finding a way to generate enough fuel to sustain a return trip on the red planet itself.
The vehicle won't be the Falcon rocket/Dragon capsule combination currently in use. Instead, SpaceX is developing Starship (previously named the Big Falcon Rocket). A prototype was successfully launched 500 feet into the air for the first time in early August.
But ensuring that the Starship prototypes land has been a challenge. In April 2021, the fourth Starship prototype in a row failed to land and exploded in midair.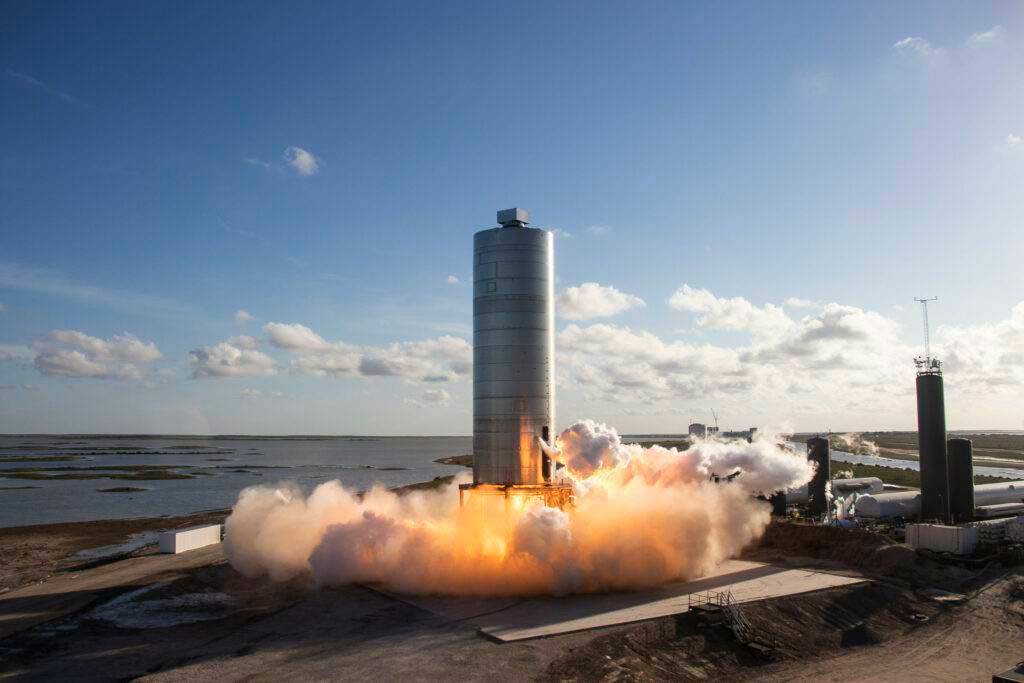 Source: SpaceX
The ambitious vision for Starship outlines a 400-feet tall, 30-feet wide ship, propelled by 37 Raptor engines, that will be capable of transporting up to 100 people at a time.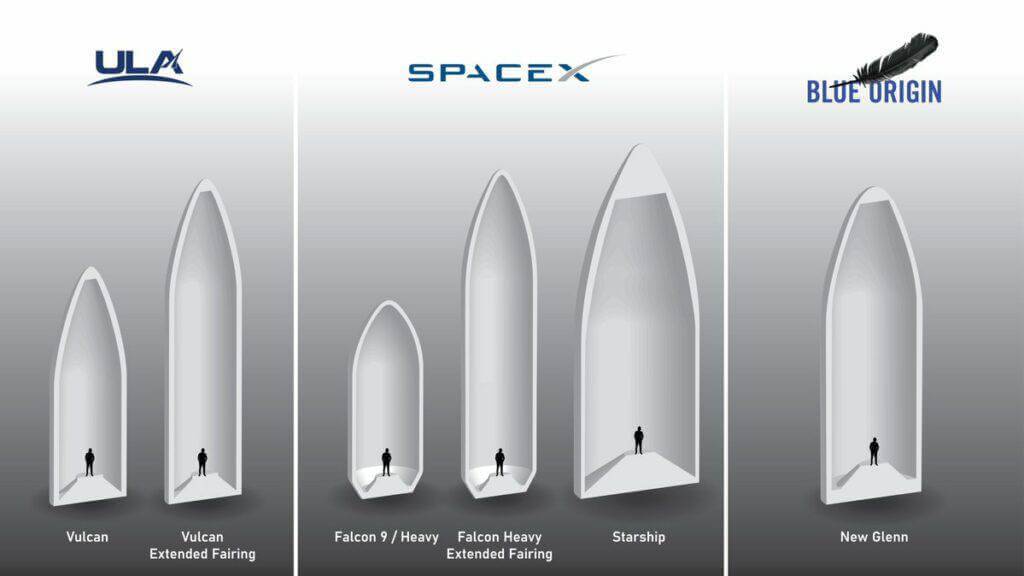 Source: Ken Kirtland IV
What's next for spacex?
Before SpaceX takes anyone to Mars, it plans to bring Japanese billionaire Yusaku Maezawa close to the moon. In September 2018, Musk announced that the Japanese billionaire and his 6-8 guests will be the first humans to see the moon up close since the Apollo 17 astronauts in 1972. Initially slated for 2019, SpaceX has pushed back the trip to concentrate on developing the more powerful Starship, with plans to launch as soon as 2023.
SpaceX also plans to send the world's first all-civilian mission to space by the end of 2021. Called Inspiration4, the 4-person mission will be led by billionaire Jared Isaacman and will also include Hayley Arceneaux, Christopher Sembroski, and Dr. Sian Proctor. SpaceX will use a Falcon 9 rocket to launch the crew.
The crewmembers will be aboard a Dragon spacecraft that will orbit the Earth along a specific flight. At the end of this mission, the spacecraft will re-enter the atmosphere and hit the ocean off the coast of Florida.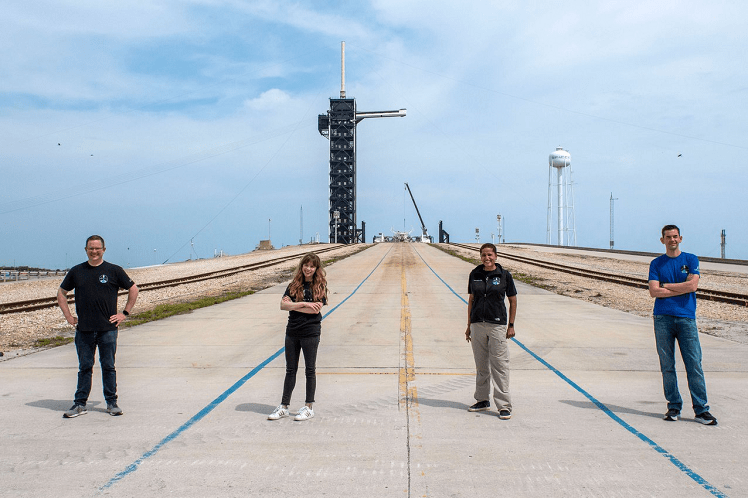 Inspiration4 crew: Christopher Sembroski, Hayley Arceneaux, Dr. Sian Proctor, and Jared Isaacman. Source: Inspiration4
Musk hopes this mission will inspire others to sign up for these flights. And although most people can't afford space tourism, Musk says that missions like Inspiration4 are like "when America went to the moon in '69 — it wasn't just a few people, humanity went to the moon." As technology progresses, he hopes all-civilian flights will become more affordable.
Musk's ambitions with SpaceX aren't just focused on interplanetary travel. The rocket company is using its space-faring experience to build its own internet service, which will be delivered by a constellation of thousands of satellites.
---
DOWNLOAD THE FULL REPORT BELOW


---
3. Telecommunications
For all the talk of Musk's innovation, his average project seems to revolve around a set formula: find an old idea that failed because of lackluster technology, and attack it with some of the world's best engineers.
That's exactly how Musk and SpaceX are going after the $400B satellite internet industry to provide online access to those in rural, hard to reach locations.
What is Starlink?
SpaceX's ambitious $10B Starlink project isn't intended to provide high-speed internet to everyone, everywhere, but instead targets the population that terrestrial networks have failed to reach.
"I want to be clear: it's not like Starlink is some huge threat to telcos," Musk said in a March keynote. "In fact, it will be helpful to telcos because Starlink will serve the hardest-to-serve customers that telcos otherwise have trouble dealing with."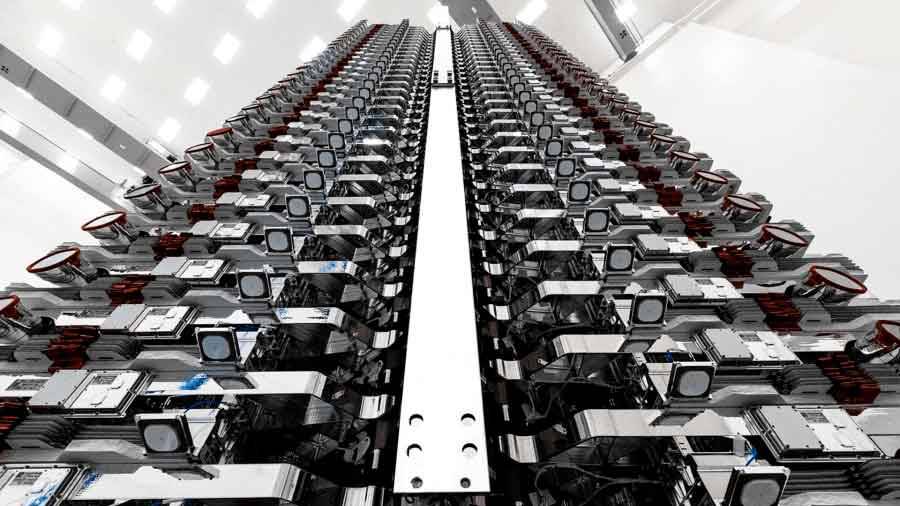 Source: SpaceX
The state of satellite internet
The idea of beaming the internet down from satellites is an old one. Teledesic was founded in the early '90s to build a constellation of satellites that could provide a wide network of broadband internet. It, and a few other similar companies, failed and went bankrupt given the logistical challenge of getting so many satellites into space and maintaining low-latency connections.
There have been a number of prominent satellite internet company flame-outs in the last few decades — Iridium, Teledesic, Globalstar, and OneWeb, to name a few. But the Starlink project differs in some significant ways:
Cost: As discussed above, SpaceX has brought (and continues to bring) the cost of launching a satellite down to a fraction of what it once was
Speed: Previous satellite internet attempts capped out at about 25 Mbps, while SpaceX is targeting about 1 Gbps
Latency: The amount of time it takes for a data packet to travel between Earth and a satellite — current high-orbit providers post about 600+ milliseconds (ms) latency, while SpaceX is aiming at below 20 ms for its low-orbit satellites, a significant improvement
How SpaceX is revolutionizing satellite internet with starlink
Elon Musk first talked publicly about satellite internet in early 2015. In 2018, SpaceX received the go-ahead from the FCC to launch up to 11,943 broadband satellites.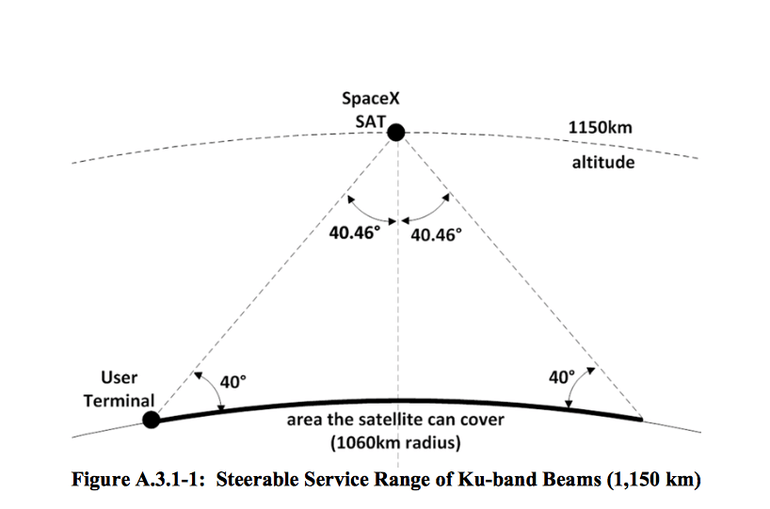 SpaceX plans to deliver global broadband internet from orbit, creating a mesh network that could cover the entire globe.
A few months later, SpaceX flew a used rocket into space for the first time.
SpaceX has already brought the cost of a satellite launch down to about $62M, compared to competitors' rates that go upwards of $165M. It's also pioneered reusable rockets, which can bring down the cost to below $30M per launch, according to SpaceX's director of vehicle integration.
The first 2 Starlink satellites — Tintin A and B — were launched into orbit in February 2018. As of March 2021, Starlink has deployed over 1,000 satellites, surpassing the 800 satellite mark when the network is expected to be functional.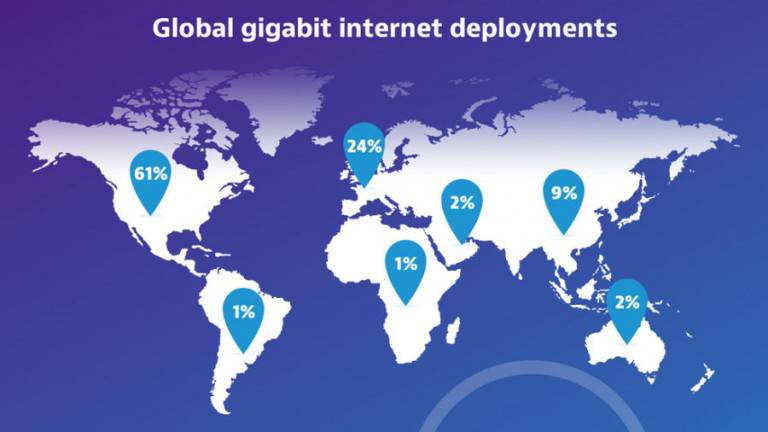 Most of the world still doesn't have access even to a land-locked gigabit internet connection.
What's next for starlink?
Two challenges remain for SpaceX:
The FCC requires that half of the satellites be launched by March 2024 — SpaceX had only planned on launching one-third, or 1,600, by that time. Since the FCC is reserving a band of telecommunications spectrum for the Starlink system, it wants SpaceX to fully deploy the satellites as soon as possible.

SpaceX also has to provide an updated "de-orbit plan." This shows how SpaceX is going to deal with all of the space debris from deteriorating satellites, which, in the worst case scenario,

could trigger a chain of devastating satellite collisions

.

With close to 6,000 tons of material in low Earth orbit as of 2019

, the FCC wants to make sure SpaceX

isn't contributing to the problem of space junk.
The FCC also awarded SpaceX with nearly $900M in subsidies to bring internet to rural areas. The subsidies will be paid out over a decade. Participation has traditionally been limited to fixed broadband providers, but recent beta tests have shown that Starlink's broadband speed clears the low-latency threshold.
In October 2020, SpaceX launched the initial public beta test called the Better Than Nothing Beta program. Users in the US, UK, and Canada can sign up to join the program. To participate, they have to pay $499 for the Starlink ground equipment as well as a $99 monthly service fee.
SpaceX also developed a Starlink mobile app for both Android and Apple devices that helps users manage the equipment. In an email sent to beta testers, the company said that it expects latency "to decrease to between 16ms and 19ms by summer 2021." SpaceX is pursuing further international expansion, with Austria, Germany, South Africa, Mexico, Japan, and Italy on the list of countries where Starlink service may eventually be available.
Competition for the market is also growing. Apple is reportedly building out a satellite internet team, while Amazon recently gained FCC approval for its $10B Kuiper constellation of 3,236 satellites.
Ultimately, Starlink's progress has brought momentum into an industry that has been stagnant for decades.
4. Energy
Eliminating our dependence on fossil fuels and instead drawing energy from the "giant fusion reactor in the sky" (i.e. the sun) has been one of Musk's priorities for more than a decade.
What is SolarCity?
Elon Musk originally suggested the concept for the company that became SolarCity to his cousins, Peter and Lyndon Rive, in 2004.
SolarCity, which creates and sells solar panels and roof tiles, was Musk's first attempt to make solar power mainstream and ubiquitous. The company was at the forefront of the early 2000's "solar gold rush." In some ways it was a failure, but it remains important to understand its trajectory to understand how Musk and Tesla plan to approach renewable energy.
SolarCity grew to become the country's largest provider of residential solar energy, then suffered some very public financial problems before being purchased by Tesla for $2.6B.
That 2016 acquisition was controversial, with many observers calling it a thinly veiled bailout, and gave rise to a multi-year shareholder lawsuit — with $2.6B in damages at stake — that has yet to be resolved.
Why solar energy?
The concept for SolarCity emerged out of a simple realization: the clock was running low on fossil fuels. The need for a replacement was emerging fast. "If they started now," as Men's Journal reports Musk telling Lyndon in 2004, "They might rule the market."
Coal production had been in a plateau since the late 1990s, as had electricity generation from nuclear. And while some predicted a "nuclear renaissance" in the early 2000s, as of 2004, that had not arrived either.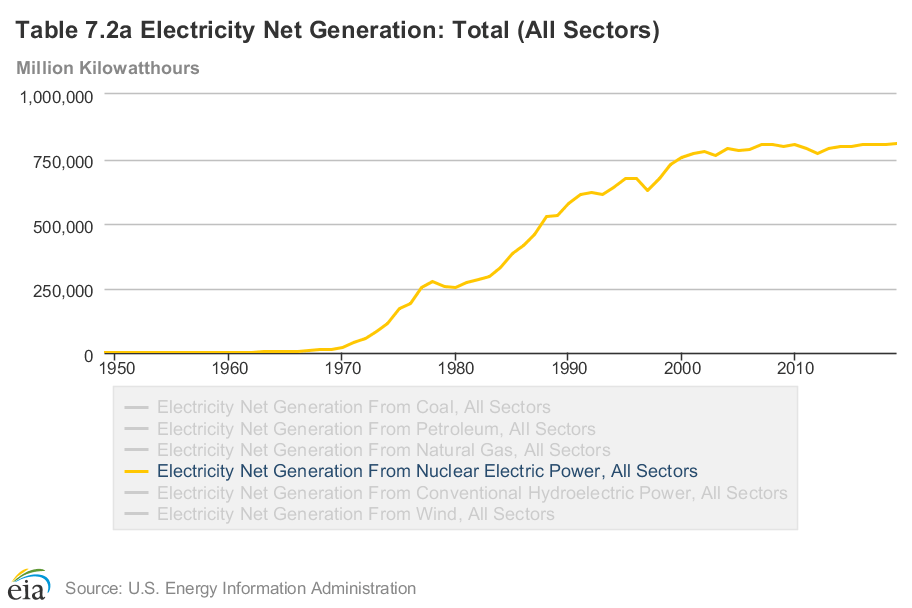 Electricity generation from nuclear power has remained fairly steady since 2000 — though growth has all but stopped. Source: EIA
As of 2004, a majority of the generators of nuclear and coal-based power in the US were also starting to reach end-of-life status. They would soon need either expensive upgrades or maintenance, or to be refashioned into generators for alternate sources of energy.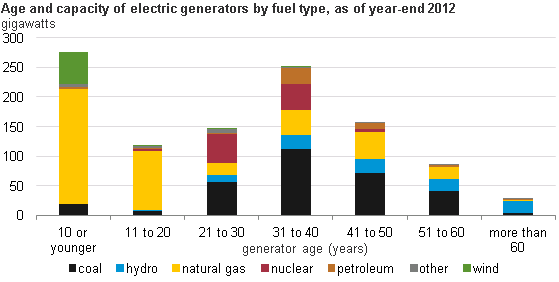 The average nuclear or coal installation lasts about 40 years. Today, about 250 gigawatts of our total energy consumption comes from generators that are in imminent need of upgrade or maintenance or replacement.
At the same time, solar looked like an attractive alternative. Prices on solar power had been dropping for decades, going from about $76/watt in 1977 to less than a dollar per watt in recent years.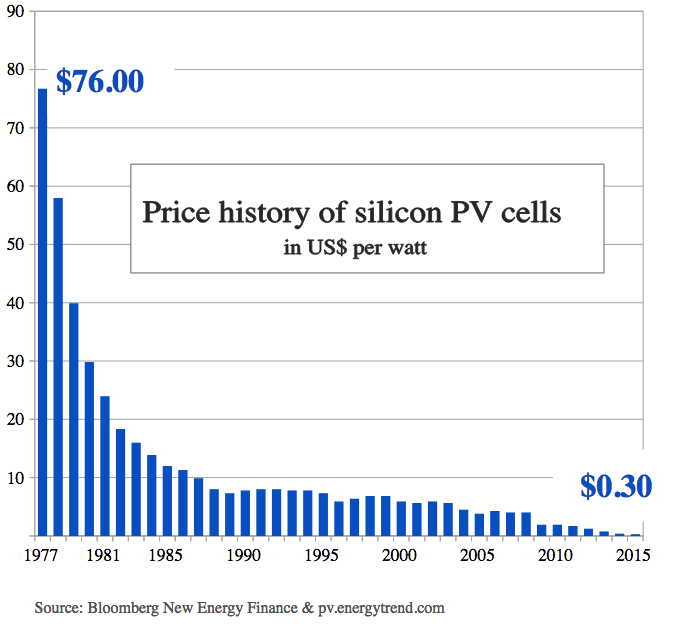 The Swanson Effect observes that the price of building photo-voltaic cells for use in solar power generation tends to fall by about 20% every time the volume of solar panels produced doubles. Source: Wikimedia
The price of installing solar panels on roofs decreased as well — and has continued to do so in the ensuing years.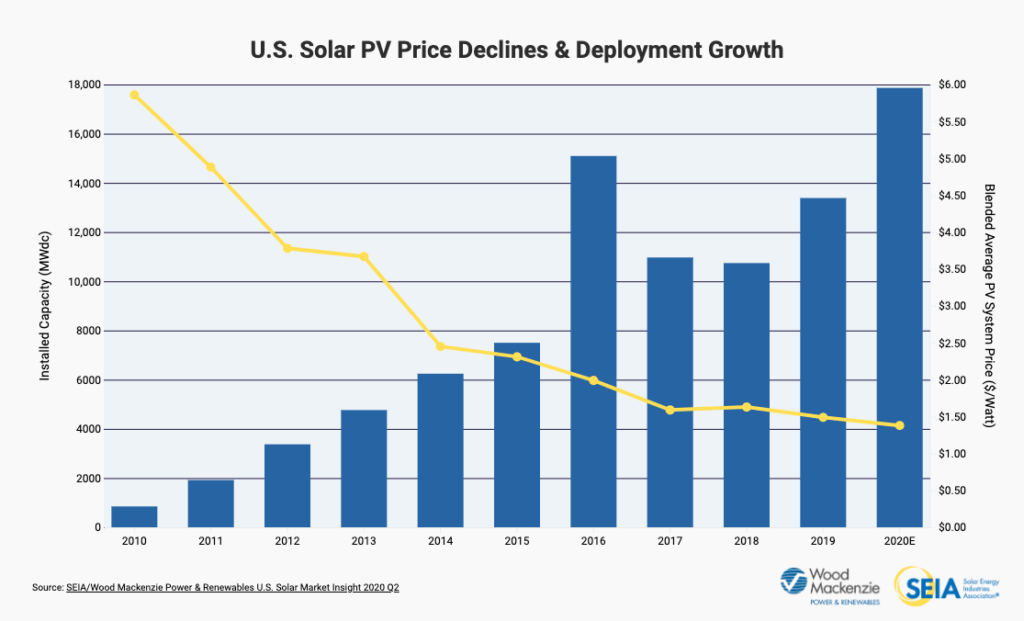 Source: SEIA
SolarCity's history
SolarCity launched in July 2006 and took on the last-mile challenge of making solar truly accessible and mainstream. By 2013, it was the leading installer of solar systems in residential buildings in the United States.
Its key innovation, though, was less on the technology side and more on the accounting side. Before SolarCity, the cost for getting a solar roof installed was between $30,000 and $50,000 upfront. SolarCity pioneered the "solar lease" strategy, which allows homeowners to get their roofs installed for free and pay back the installation costs over time. GTM Research reports that solar leases made up 72% of new solar installations as of 2014.
February 2014 was SolarCity's stock price peak. But cancellation rates on SolarCity contracts soon spiked to 45% or more, according to Fast Company.
Some critics pointed to SolarCity's aggressive sales tactics as the culprit. SolarCity salespeople would book installations using savings promises that critics say "bent the truth" on the numbers. Customers, once they realized they wouldn't be saving as much as they had been promised, canceled their installations in droves.
All the while, the SolarCity sales team was growing by hundreds of people a week, and they were incentivized to book installations. Revenue, however, was not increasing at nearly the same rate.
Toward the end of 2015, SolarCity promised investors it would right the ship — by reducing its growth rate. Wall Street wearied. After SolarCity announced a particularly bad quarter in February 2016, its stock price dropped by a third.
"This is a company that I regard in a first-class crisis that acts as if everything is fine," TV anchor Jim Cramer said afterwards. "You know I'm an aficionado of conference calls. You may have found the bottom. Yes, [this is] the worst conference call of 2016."
In February 2016, Musk proposed that Tesla buy SolarCity.
Tesla was developing the technology to help people charge their Teslas at home and on the road. These so-called Powerwall batteries were being installed in homes and connected to solar generators by third parties.
After the deal was approved, SolarCity's business became organized under the Tesla "Solar Roof" product offering — allowing Tesla to provide end-to-end residential solar energy rather than just the battery.
What is Tesla doing with Solar Roof now?
At a 2017 National Governors Association meeting in Rhode Island, Elon Musk announced that — with solar technology from SolarCity and battery technology from Tesla Powerwall — a 100 square mile patch of land could provide enough power to supply the entire United States.
But that promise remains to be seen.
Rollout of the Solar Roof has been slow: the first preorders were in May 2017, and the first non-employee installations began in spring 2018.
The earliest results suggested some success. Amanda Tobler's Solar Roof was one of the first to get hooked up to a local energy provider and to start producing electricity for her family. The full roof cost about $50K (including federal tax credits) for about 2K square feet of roofing, of which 40% were solar tiles.
In the summer, the solar panels started producing higher amounts of electricity, getting to the point where, even with A/C use and 2 electric vehicles charging, Tobler was pumping electricity back into the grid, according to her Twitter account.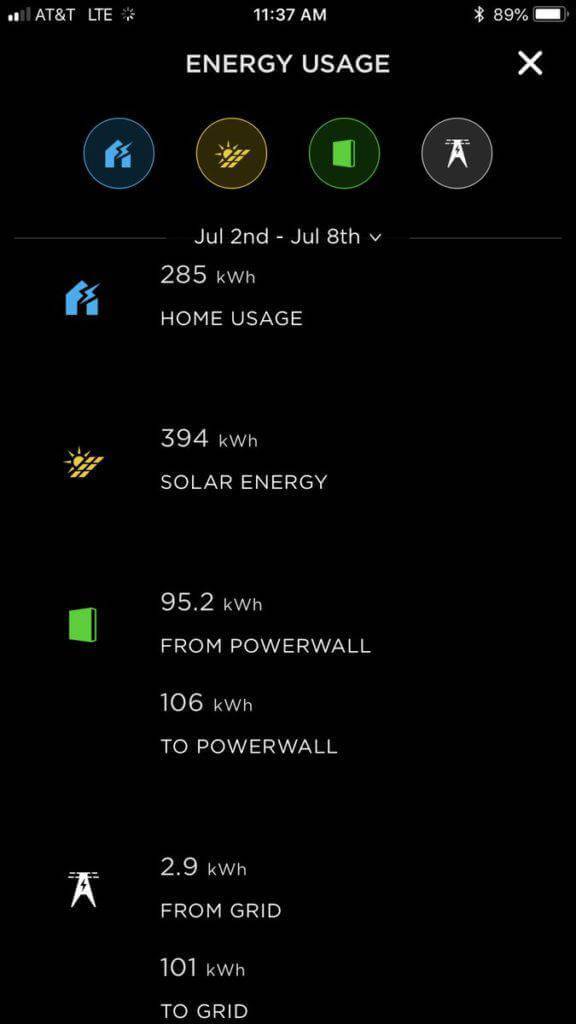 In just one week, the solar roof produced 394 kWh of electricity, far more than the average US residential electricity use of ~225 kWh/week.
During this phase, her family used just 2.9kWh from the grid but gave back 101 kWh to other Californians.
Though the technology is promising, Tesla has not been able to roll out the tiles to many buyers.
In Tesla's Q2'18 earnings call, Musk stated that the company "now [had] several hundred homes with the Solar Roof on them," though the company later clarified that he included roofs that are scheduled for installment or partially installed.
However, in May 2018, only 12 roofs had been installed and connected to the grid, according to Reuters.
In October 2019, Tesla launched a third iteration of the roof, which the company claimed would be cheaper and easier to install.

Source: Tesla
The launch of this new version also expanded availability to 25 states, up from 8, and solar roof installations have ramped up some: Q2'20 solar roof installations tripled compared to Q1, according to an earnings call.
Further, Musk said in a Q2'20 earnings call that Tesla solar energy costs just $1.49 per watt after the federal tax credit.
Musk also claimed in February 2020 that the product would be expanding to international markets, though global rollout has yet to happen.
---
DOWNLOAD THE FULL REPORT BELOW


---
He later announced that the rollout in Europe and Canada might happen in 2021. Tesla already filed a Solar Roof patent, called "Packaging for Solar Roof Tiles," with the European Patent Office in June 2020. The company has also optimized Model 3 production, which took many of its resources in previous years. Musk says that means "now we got a little more bandwidth, we're putting a lot of attention on solar, and it is growing rapidly."
In Q4 2020, the amount of annual solar energy generation capabilities deployed by Tesla rose to 87 megawatts, up from 54 megawatts in Q4 2019. The company thus quickly recovered from a brief slump in sales caused by the Covid-19 pandemic.
Tesla will also provide Apple with 85 Megapack battery energy storage systems. The phone maker will use these batteries to store 240 megawatt-hours of energy in its future California-based solar farm. Once built, this facility will power Apple's headquarters.

Tesla is exploring other revenue streams for its home energy products division as well. Musk said on Twitter that he plans to eventually produce HVAC systems with air filtration capabilities. This move would especially benefit owners of solar roofing products by allowing them to achieve a higher level of off-grid self-sufficiency and get more value out of their Tesla batteries.
TESLA'S Ongoing LEGAL obstacles WITH SOLARCITY
Meanwhile, the company has faced legal struggles.
In August 2019, Walmart sued Tesla after its solar panels caught on fire at 7 of its stores, but quickly reached a settlement a few months later.
Tesla also remains ensnared in a major ongoing lawsuit originally filed in September 2016, right after the SolarCity acquisition.
Tesla shareholders alleged that Musk misrepresented the financial crisis SolarCity was in at the time, and that the $2.6B deal was essentially a bailout for the solar installer. In a June 2019 deposition, Musk admitted that he transferred every solar employee to work on the Model 3 car, which further damaged SolarCity's shot at revival. After Tesla directors settled for $60M in January 2020, Musk remains the sole defendant in the case and will go to trial in March 2021.
5. Transportation
Transportation by vacuum tube is a centuries-old idea. In 1812, an Englishman named George Medhurst was the first to propose building tunnels underground and shooting passengers in pods through them pneumatically.
In 2012, Elon Musk was one of the first to convince people that this vision could be realized.
What is the Hyperloop?
Musk first started talking publicly about the Hyperloop in 2012, at a PandoDaily event in Santa Monica.
This "fifth mode of transport" (after cars, planes, trains and boats) would be a "cross between a Concorde and a railgun and an air hockey table." Riders would travel in a low-pressure tube, inside pod-like capsules supported by air and powered by a "magnetic linear accelerator."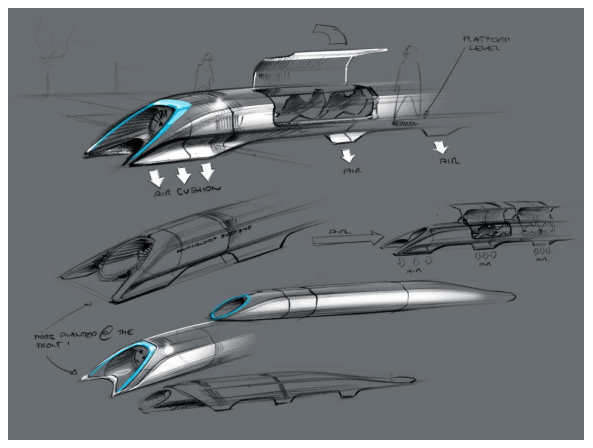 Musk's original model of a Hyperloop pod from SpaceX's 2013 whitepaper on the topic.
In a whitepaper, he worked with the SpaceX and Tesla teams to test the idea's feasibility and understand its economics. They wrote that a "pod" would be able to travel a distance of 30 miles in just 2.5 minutes, cutting a 6-hour trip to just 30 minutes. And it would only need to cost about $20 USD each way to sustain itself.
According to this projection, it would be cheaper than the high-speed rail California was planning to implement at the time.
The Hyperloop was envisioned as a form of commercial transportation that's much faster than traditional approaches.
Commercial airlines can move passengers at an average speed of 575 mph. The Hyperloop would travel at about 760 mph.
This is also double the speed of Japan's planned Maglev bullet train, which set a speed record for trains of 374 mph during its 2015 test run.
What industries could hyperloop impact?
The Hyperloop could have a major impact on a few different industries.
For one, the $765B+ airline industry. With the exception of travel over oceans, the Hyperloop could transport passengers faster and for less money than an airplane.
That speed could alter where and how Americans live, dramatically changing both residential and commercial real estate. One could feasibly work in Manhattan and live a 6-hour drive away, in Burlington, Vermont — a 30-minute Hyperloop commute.
It could also revolutionize freight shipping. Almost half of all American import goods flow through the ports at Los Angeles and Long Beach. 14,000 truck drivers bring those goods to warehouses and rail yards all across Southern California, according to SCPR. They move about 11,000 containers a day and burn about 68M gallons of fuel every year, according to PwC.
While you would still need trucks for last-mile delivery, a Hyperloop-like system could transport goods an order of magnitude faster at much lower expense (with far less pollution).
Who's working on the Hyperloop?
Musk has remained largely hands-off in making this vision a reality, but other firms have made progress, including: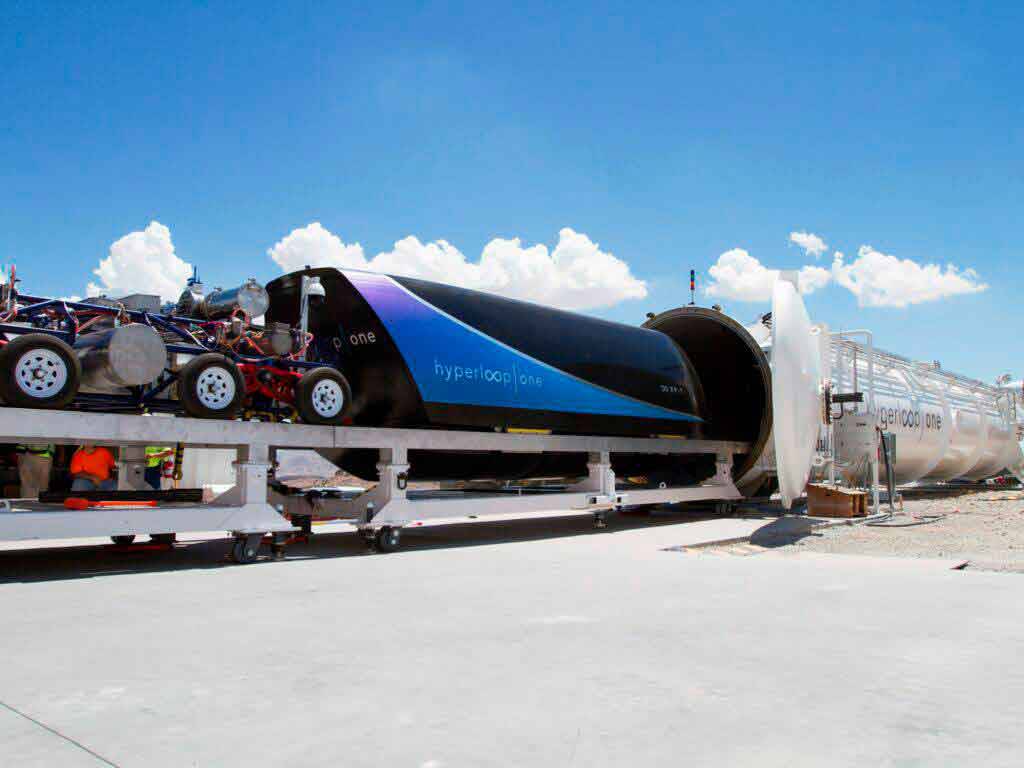 Source: Wired
In a landmark move for the industry, the US Department of Transportation issued guidance regarding Hyperloop technology in July, the first government agency to do so. The framework placed Hyperloop proposals under the jurisdiction of the Federal Railroad Administration, making future projects eligible for railway grants.
Critics of Hyperloop technology highlight the difficulty of achieving the right-of-way to build a train above-ground as well as the cost of construction, which has stymied high-speed rail projects for decades.
And tunneling technology isn't there yet.
These challenges haven't prevented Virgin Hyperloop from running its first-ever trial with passengers in November 2020. Its director of customer experience, Sara Luchian, and chief technology officer, Josh Giegel, traveled in a futuristic pod 500 meters along a test track in the desert of Nevada.
The pod covered this distance in 15 seconds, reaching the speed of 107mph (172km/h). The company hopes that its pods will eventually achieve travel speeds of over 1,000km/h. But reaching that speed will require traveling at longer distances and enabling pods to properly accelerate.
6. Infrastructure/Tunneling
One day, when Musk was sitting in traffic outside LA, he tweeted out a complaint that became the impetus for the company that would attack this problem head-on.
"Traffic is driving me nuts. Am going to build a tunnel boring machine and just start digging…" he tweeted in December 2016.
What is the Boring Company?
And so started The Boring Company (TBC), Musk's solution to "soul-destroying traffic." The company aims to "construct safe, fast-to-dig, and low-cost transportation, utility, and freight tunnels."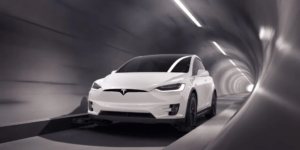 Source: The Boring Company
Current tech
The major problem with tunneling is cost.
The cost of tunneling typically ranges between $100M up to $1B/mile. TBC said it has reduced this to $10M per mile.
Reducing cost comes down to 2 things: size and speed.
The cost of a tunnel is proportional to the cross-sectional area of the tunnel. The wider the tunnel you want, the more you have to pay for it. The NYC Second Avenue Subway tunnel is 23.5 feet wide. A one-lane road tunnel has to be 28 feet. The two-lane A-86 West tunnel in Paris, completed in 2011, is 38 feet wide.

The Boring Company intends to build tunnels of just 14 feet. This is half the diameter of the current required road tunnel, and leads to approximately one-fourth of the cross-sectional area. Reducing the diameter can save millions of dollars.
The majority of space in traditional tunnels is for the ventilation of the fumes from combustion engines. The Boring Company's tunnels look much slimmer because they were originally designed to jettison electric cars on skates, catapulting them through the tunnel network at speeds up to 150 mph.
Whether this vision will come to fruition is unclear: Musk tweeted in May 2019 that he had abandoned the electric skate idea. Instead, the electric vehicles would simply travel autonomously on their own through the tunnel, which some have said undermines the revolutionary public transport concept that was initially promoted.
The other problem is speed. Tunnel boring machines (TBMs) are slow — typically only digging 1 mile of tunnel in 8 to 12 weeks. Musk's company said its boring machines will aim to tunnel at least 1 mile per week.
Environmental effects
Musk is also looking to offset the environmental impact of The Boring Company through one of its main assets: dirt.
Boring Bricks will reuse the dirt from tunneling — each one will cost 10 cents or will be free for affordable housing projects.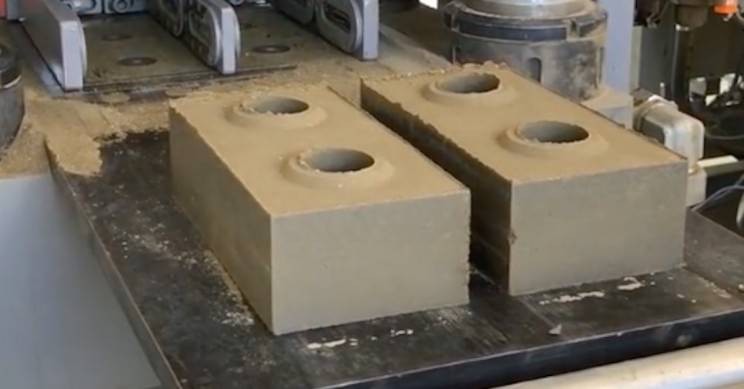 Source: The Boring Company
Recycling waste into building materials could reduce the emissions derived from traditional concrete builds, furthering Musk's vision for a cleaner planet.
What is the Boring Company working on?
Currently, the Boring Company has 4 projects in varying degrees of completion. The first is the test tunnel at SpaceX in Hawthorne, California, built solely for R&D, which was completed in December 2018.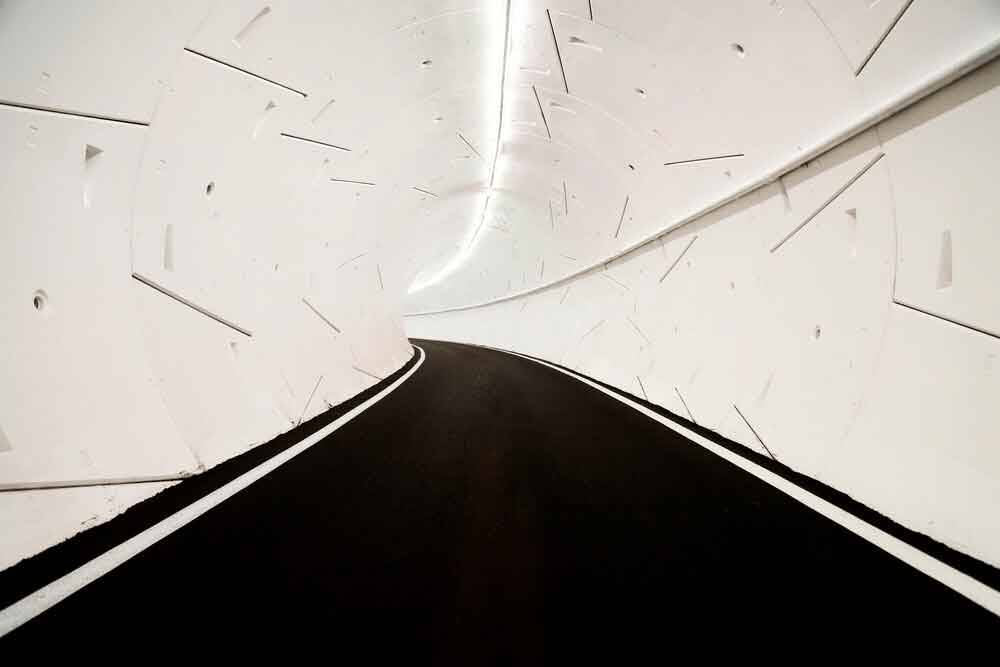 Source: The Boring Company
The second project is the Boring Company's first paying contract. The Las Vegas Convention Center loop is a 0.8 mile network that would transport convention attendees across the center in modified Teslas. It would reportedly shorten a 20-minute walk to a 1-minute ride.
Excavation of the second of 2 tunnels was completed in May and the completed loop was scheduled to debut in January 2021 at the Consumer Electronics Show (CES). However, because of the Covid-19 pandemic, the event was moved online. The pods were not going to be operated autonomously for the event anyway, according to Las Vegas Convention Center President and CEO Steve Hill.
Still, two more Vegas casinos, the Wynn Resort and Resorts World, have already submitted proposals for additional tunnels connecting the LVCC loop to their resorts.The Boring Company envisions expanding the loop to reach the McCarran International Airport, Allegiant Stadium, downtown Vegas, and eventually, Los Angeles.
However, the $50M project has changed significantly since its contract approval.
Initial designs mapped out a vision of platooned 16-passenger trams that would travel at speeds up to 155 mph. Recent renderings from July 2020 show Tesla Model 3 sedans, which can fit roughly 5 people.
When asked about boosting capacity, Musk replied, "Individualized mass transit is the future."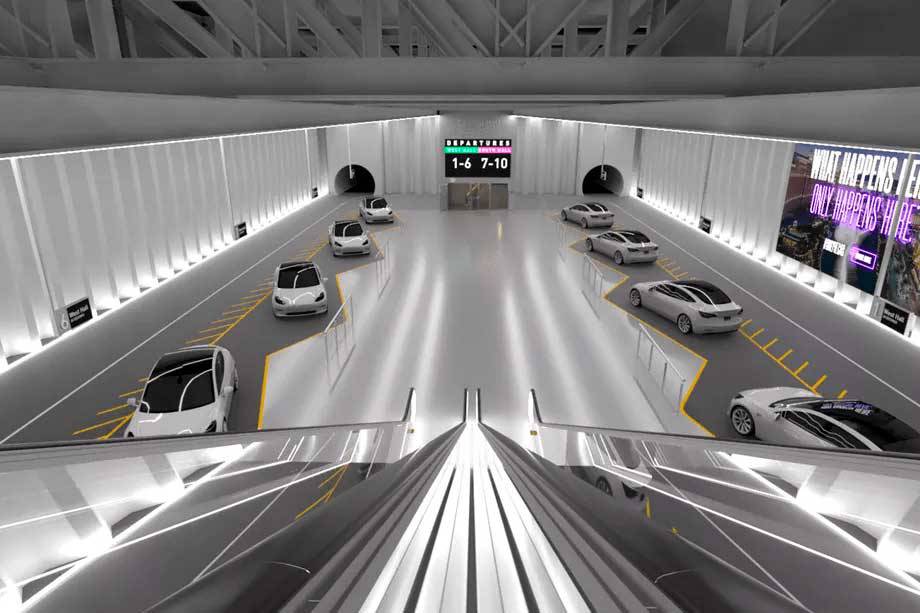 Source: The Boring Company
Other Boring Company projects have also faced challenges.
A project called the Dugout Loop, announced in 2018, aims to ferry passengers from East Hollywood to Dodger Stadium in less than 4 minutes. However, the project remains under review by the city of Los Angeles' Bureau of Engineering, which reportedly aims to present an environmental impact report this fall.
Also in 2018, the Boring Company was selected for a Chicago high-speed train bid, after Musk promised that he could build an 18-mile loop that would connect downtown Chicago to the O'Hare Airport in just 12 minutes using $1B of his own money and no public subsidies.
Chicago mayor Lori Lightfoot has yet to advance that bid and appears unlikely to. Lightfoot previously said in an interview with the Sun Times: "The notion that he could do this without any city money is a total fantasy. And in thinking about what our transportation needs are, I'm not sure that an express train to O'Hare in the current proposal rises to the top of our list." The Chicago Express plan has also been taken off the projects page of the Boring Company website.
Finally, the Boring Co's East Coast loop, which would connect Washington DC to Baltimore, also remains under review. An environmental report revealed the project to be similar to the Vegas contract — i.e., twin tunnels for electric vehicles — a far cry from its initial hyperloop proposal. Virginia's chief of rail transportation called it "a car in a very small tunnel."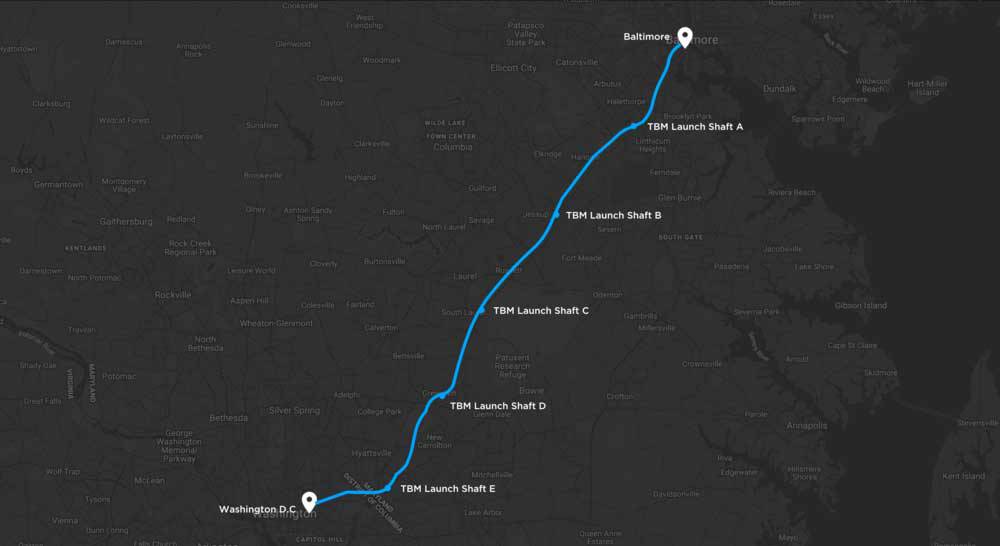 Source: The Boring Company
Critics have pointed out issues with Musk and the Boring Co's lofty promises, with some lambasting that these ideas as ranging from the reinvention of the subway to private tunnels for Tesla owners. Furthermore, some transportation solution advocates warn that providing more space for cars may not actually fix traffic congestion, as the approach may simply incentivize more people to drive while diverting resources from mass transit approaches like subways.
What's next for the boring company?
For Musk, the Boring Company almost comes across as a hobby, as he said in 2018 it takes up just 2-3% of his time. But the Boring Company's advancements could be helpful to his other projects.
The first is Tesla. The cost projections for the inner city tunnels are lower because they will be exclusively for electric vehicles, reducing the need for ventilation and boosting speed. Proponents say that this could alleviate traffic congestion on the surface streets by transferring traffic underground. When the first tunnels hit capacity, the company plans to add more, creating a network of tunnels under each city.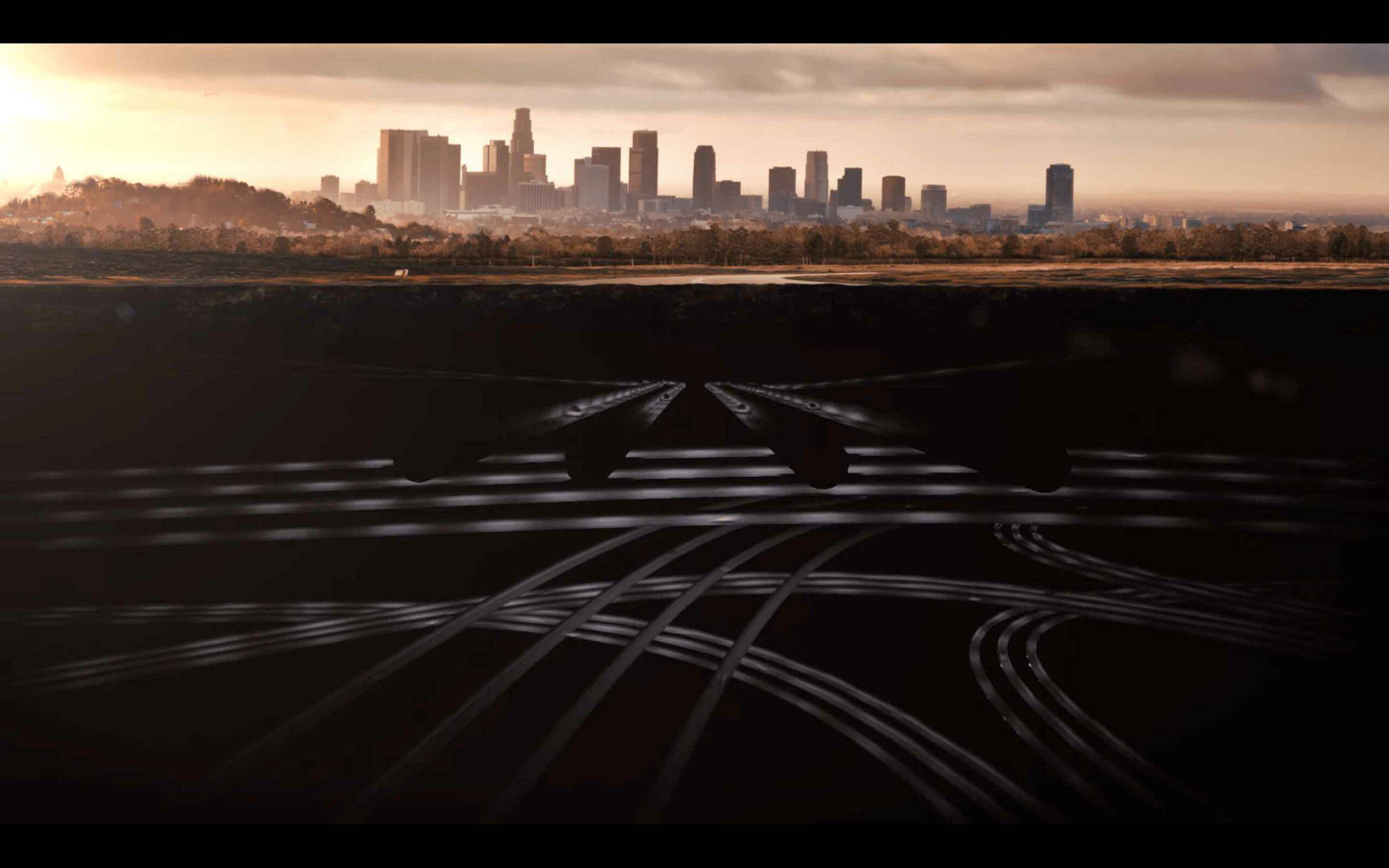 The second is Hyperloop. These tunnels will have to be larger, but with the advancements learned through the smaller tunneling projects, the Boring Company may be able to increase the efficiency of digging these as well.
The third is SpaceX.
Musk aims to put 1M people on Mars, and tunnels are central to this vision. With inhospitable conditions, humans may need to live underground. If Musk is going to build a colony on Mars, building a network of tunnels could be essential.
---
DOWNLOAD THE FULL REPORT BELOW


---
7. AI
OpenAI garnered headlines in July 2020 when it released GPT-3, the most powerful language model to date. Trained on 175B parameters — its predecessor, GPT-2, was trained with just 1.5B — the model is sometimes described as a super-smart autocomplete program.
But its capabilities run far beyond autocompleting text: it's been used to generate short stories, guitar tabs, technical manuals, images, and even computer code.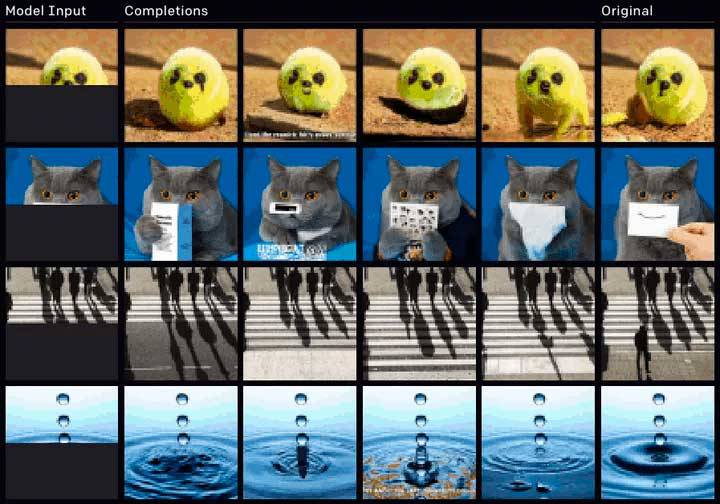 OpenAI's GPT-2 model can be used to automatically complete images. Source: OpenAI
Some call GPT-3 a huge step forward for AI given the program's impressive facility for unsupervised learning, i.e. picking up patterns from unlabeled, unstructured data. But others argue that its capabilities should serve as a warning — what's to stop such a system from "building up a model of the world and knowledge of everything in it," per independent researcher Gwern Branwen.
What is OpenAI?
Elon Musk has long been vocal about the dangers of AI, donating $10M to the Future of Life Institute in 2015 to run a global AI research program. That year, he founded OpenAI with the intent of strengthening AI research.
However, Musk stepped down from the company's board in 2018 and has said that he is no longer involved closely with OpenAI, citing a need to focus on his other ventures and potential conflicts of interest with Tesla's AI ambitions.
Current AI research is largely concentrated within big tech companies that have a commercial imperative to keep developments secret. In contrast, OpenAI was founded as a nonprofit to conduct AI research without commercial considerations — though in 2019 it moved to a "capped-profit" organizational structure to help attract investment.
Why is AI a threat?
AI research is progressing at a significant rate, and Musk sees this as an existential threat to humanity. Google, Facebook, Amazon, Apple, and an ocean of startups are contributing to the upside of AI: higher efficiency, higher productivity, less work for humans, and, ideally, a higher quality of life for humans.
But the race for these upsides is also a race towards a massive potential downside — a super-intelligent general artificial intelligence that is vastly smarter than humans and sees no use in keeping them around.
Fears about AI are two-fold:
An AI will unintentionally do harmful things
An AI will intentionally do harmful things
The first could be a problem even with current deployments of AI, but more advanced iterations could end up trying to "solve" problems using perverse logic.
Say we build an AI cleaning bot. All this bot wants to do is make sure the world is as clean as can be. If the bot just wants to make sure everything is clean, it has a few options. One option is to just clean up all the mess. This is the outcome we want and that the AI developer is expecting.
But that isn't the only option. Another possibility is that it will try and stop the mess occurring in the first place. Humans cause mess. "If there are no humans, there is no mess, so let's get rid of all humans" increases the AI's utility function and is a perfectly legitimate solution to the AI's problem.
In 2016, the OpenAI co-authored a research paper titled Concrete Problems in AI Safety. The paper identified 5 areas of research that AI researchers need to strongly consider as they push forward with any type of AI:
Avoid negative side effects. How can we make sure that an AI won't follow its programming such that it will do anything to perform its function? For the cleaning robot, this could be destroying the room in an effort to clean faster.
Avoid reward hacking. If the AI uses a reward function to determine the right course of action, how can we make sure it doesn't just try and maximize that reward function without performing the action? For the cleaning AI, this could include switching off its visual system so it can't see the mess.
Scalable oversight. How can we make sure that an AI can train safely even when training examples are infrequent? The cleaning robot would know that it should clean up coffee cups, but how does it learn not to "clean up" the phone that's been left overnight on the desk?
Safe exploration. Can the AI explore possible outcomes and train without serious repercussions — say, learning how to mop the floor without trying to mop an electrical outlet?
Robustness to distributional shift. As the data or environment changes, can the AI continue to perform optimally, or at least define its ambiguity and "fail gracefully"? Can the cleaning AI adapt to cleaning a factory floor if it learned to clean in an office?
There are already ways to test the limits of AI. Robustness is a particular concern for narrow AI. How well do they work when you test them outside of their comfort zone. As of today, not well. Image recognition machine learning systems often misclassify "adversarial" examples — images that have specific noise injected into them to confuse algorithms.

This is a benign example. It's not hard to imagine a malicious implementation of this approach, however. Imagine an adversarial attack on the AI in your self-driving car that changes its recognition of "stop sign" into "green light" in its programming. Not only would it potentially be as deadly as something like cutting the brake lines in someone's car, but, depending on the vulnerability the malware exploited, it may also be highly scalable across different vehicles.
How is OpenAI tackling the issue?
OpenAI's stated mission is to "ensure that artificial general intelligence (AGI) — by which we mean highly autonomous systems that outperform humans at most economically valuable work — benefits all of humanity."
One of the core concerns is the learning rate for AI. OpenAI Five — an AI that learned to play a multiplayer video game called Dota 2 — played the equivalent of 45,000 years of Dota 2 against itself over a time span of 10 months.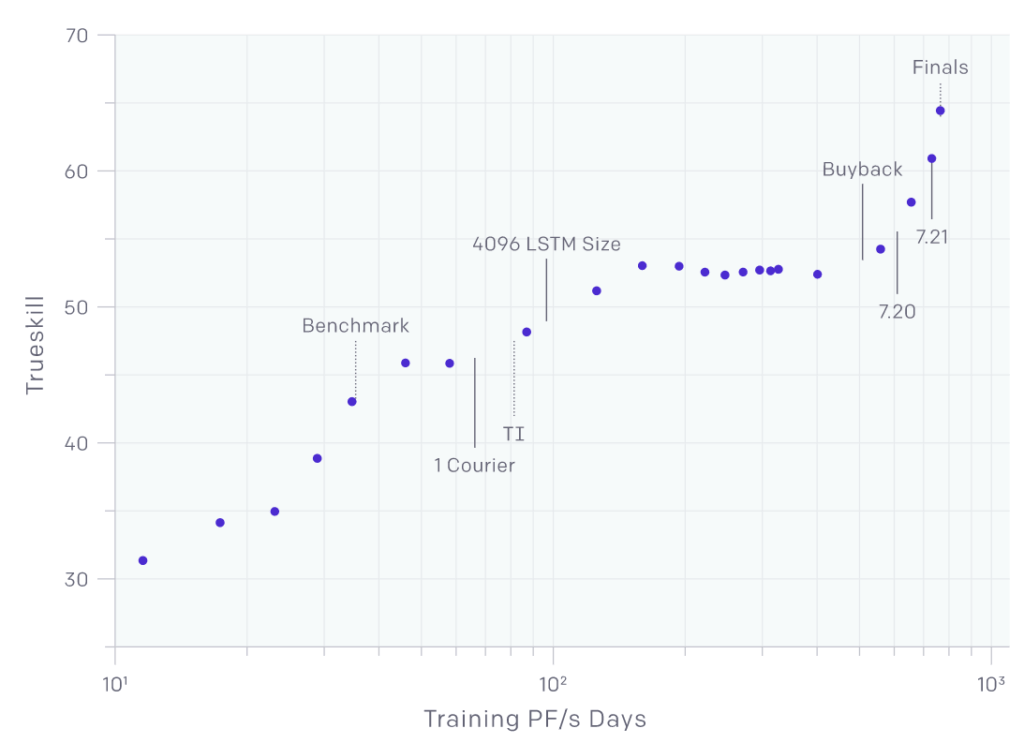 This graph measures OpenAI's best bot's TrueSkill rating — similar to an ELO rating in chess — which is a summary of the bot's win ratios against the other OpenAI bots it trained against. Source: OpenAI
In April 2019, OpenAI Five became the first AI system to defeat Dota 2 world champions OG in an e-sports game, according to a research paper OpenAI published. It went on to win 99.4% of all games played in a public experiment that let anyone play the AI.
OpenAI Five demonstrates the potential for deep reinforcement learning, as the model learned by playing games against itself at an astonishing speed.
It also served as a reminder of the law of accelerating returns: AI that learns quicker is being developed quicker. An artificial general intelligence (AGI) could test millions of iterations of itself, picking the best parameters from each, combining them and immediately becoming smarter. That smarter AGI could then start the process anew.
"I don't believe in comparing OpenAI Five to human performance, since it's like comparing the strength we have to hydraulics," said Johan Sundstein, captain of OG, the first 2-time Dota 2 world champion team. 
OpenAI researchers reported another breakthrough in March 2021. They had found a way to peek into neural networks and gain insights into how the software operates. The team, led by research scientist Gabriel Goh, discovered that neurons — nodes through which data in neural networks flows — are associated with specific concepts. For example, OpenAI found a neuron that's activated when AI is fed with the image of gold, while another neuron activates in response to images of spiders.
The team also demonstrated how the latest discovery could help uncover hidden biases. Researchers found a "Middle East" neuron that is triggered by images and words associated with this region. But the neuron is also fired with images associated with terrorism.
Another, called an "immigration" neuron, responds to words and images associated with Latin America. There was also a neuron that activated for both gorillas and dark-skinned people, OpenAI said. Discovering these neurons is the first step in finding and removing biases in "black box" algorithms.
OpenAI also trained software called DALL-E to generate images from short text captions. The algorithm was fed with a dataset of over 12B images found on the internet. DALL-E is unique compared to other neural networks because of its ability to produce coherent illustrations using nothing but text inputs.
OpenAI's co-founder Sam Altman is confident that advances in AI will have positive effects. Just like Musk argued that automation will lead to a universal basic income of some kind, Altman says that the wealth generated by AI should be taxed and distributed to citizens. He estimates that AI will generate so much wealth that "a decade from now each of the 250 million adults in America would get about $13,500 every year." Altman calls for the government to work on plans that would enable a fair distribution of AI-generated wealth.
With OpenAI, one of Musk's goals was to make the public sufficiently aware of the threat that AI could represent so that it becomes more likely to be regulated and controlled proactively. OpenAI isn't, however, the only iron Musk has in this fire. He's also investing in a hedge against the bet that humanity will save itself from AI in time.
It's called Neuralink — and the idea is to digitally augment humans before we get replaced.
As Musk once tweeted, "If you can't beat em, join em."
8. Healthcare
Most of Musk's endeavors exist on a big scale: spaceships to Mars, tunnels from DC to New York, electric car-producing factories all across the globe.
Neuralink, however, focuses on the microscopic level.
What is Neuralink?
Launched in 2016, Neuralink is Musk's project to build a brain-computer interface (BCI) that will link human brains directly to computers. Per a Wall Street Journal article,
"Building a mass-market electric vehicle and colonizing Mars aren't ambitious enough for Elon Musk. The billionaire entrepreneur now wants to merge computers with human brains to help people keep up with machines."
In a recent product update, Musk described it as a "Fitbit in your skull, with tiny wires."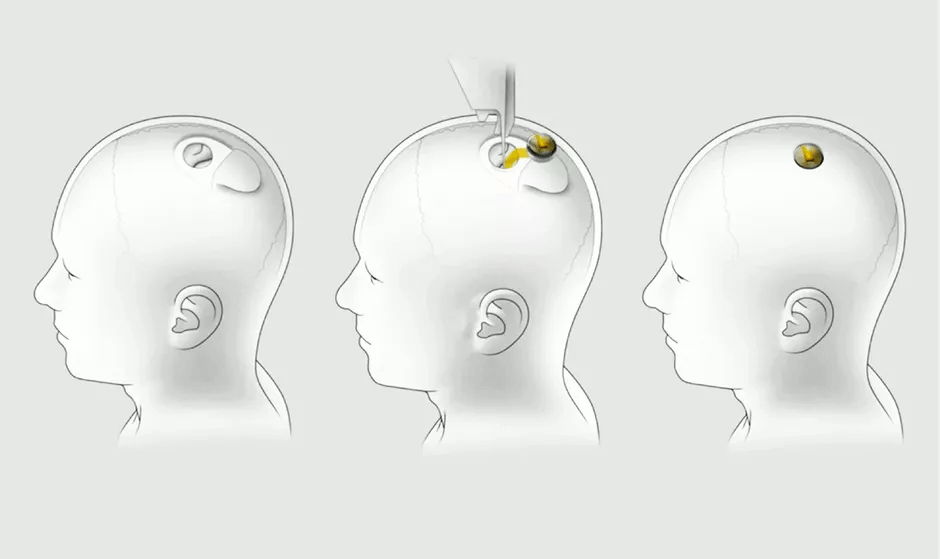 Source: Neuralink
Why BCI?
For Musk, this is the only way the human race will survive given the ongoing encroachment of AI.
As Musk sees it, AI advancement is driven by competition. Companies like Amazon need to invest millions into developing AI because if it doesn't, Google, Microsoft, and Facebook will, and so on. As a result, the creation of AI that will leave regular humans in the dust seems inevitable.
"Even in the [most] benign scenario," Musk says, "We would be pets."
The worst-case scenario would be the complete end of mankind.
With Neuralink, the goal is to augment the human level of intelligence and preemptively mesh us with the digital world so we can build ourselves up before an AI can surpass us.
Current tech
Musk sees BCIs as the way to bridge the gap and fuse humans with computers. BCIs are brain implants, usually a chip of electrodes a few millimeters square, that are surgically implanted directly into the brain.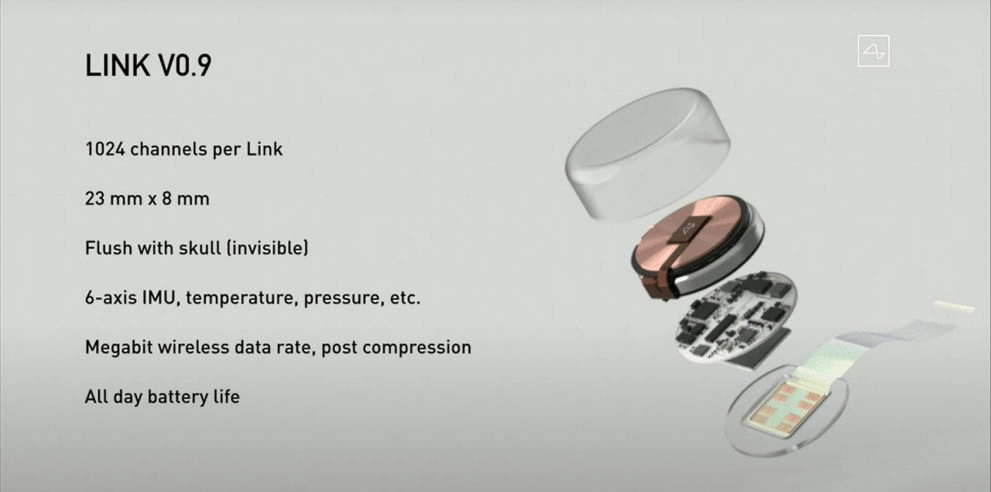 Source: Neuralink
The electrodes pick up the electrical activity from brain cells, neurons, and transmit them to a computer. While the brain activity is being recorded, the participant performs a task such as moving a joystick to guide a cursor around on the screen.
The scientists can then use algorithms to correlate the brain activity to the movement, teaching a computer that when certain neurons fire, the cursor should move left. Then you can turn the joystick off and move the cursor purely through brain activity. 
The driving force behind BCIs in the past decade has been the military. As the use of improvised explosive devices (IEDs) became widespread in Afghanistan and Iraq, limb loss became more common among soldiers. Body armor improved, meaning soldiers were less likely to die in the blast, but extremities weren't protected. From 2000 to 2015, approximately 1,600 soldiers had amputations.
Helping these soldiers was the goal of DARPA's Revolutionizing Prosthetics program. Funding was given to research groups around the US with specialties in neuroscience, biomedical engineering, and robotics to develop new implants, new prosthetics, and new understandings of how to control the latter with the former.
Though BCIs have existed in research for decades, major technical challenges remain: 
The invasiveness of the interface is high. The implant requires neurosurgery and a constant, hardwired link into the brain. 
The bandwidth of the systems is low. We have billions of neurons but BCIs only record a few neurons at any given time. This makes using them for any high-fidelity system difficult. 
The most immediate problem with these BCIs is how to implant them.
Non-invasive BCIs exist, but have low bandwidth as they can't discern the individual neuronal activity needed for close robotic control.
Wireless BCIs are a compelling approach, but they present their own problems:
How do you get power to the device? Wireless radios are power-hungry and processing and sending high-bandwidth information will also require significant power.
How do you dissipate heat from the device? Chips, radios, and batteries all produce heat. The brain can only heat up by a degree or so

before damage occurs.
Additionally, the electrodes themselves cause damage as they are inserted. The brain's natural defenses encapsulate them over time, cutting them off from the rest of the brain and rendering them useless.
Once implanted, the question of extracting, decoding, and processing data remains.
There are about 86B neurons in the human brain. As of 2017, the record for the most neurons recorded simultaneously was approximately 700.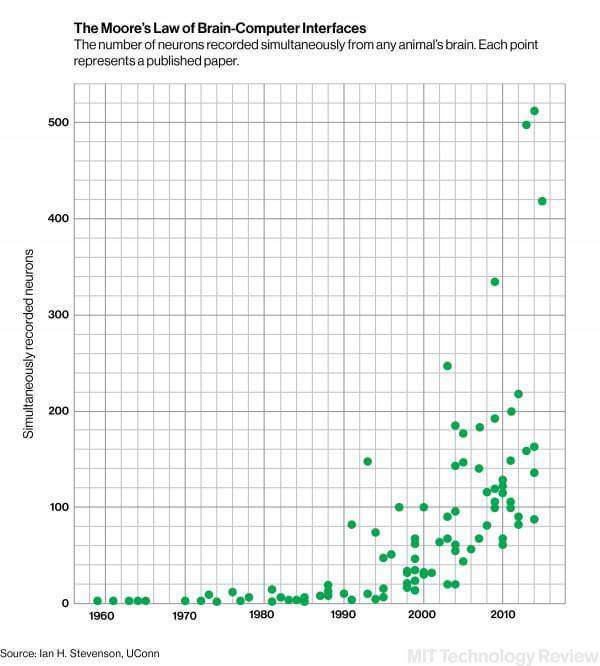 Source: MIT Technology Review
Only a fraction of all possible information is extracted by current BCIs. Millions of neurons are involved in the decision and movement when you move your arm to pick up a cup of coffee. To allow an amputee with a prosthetic limb the same degree of control as they had with their original limb requires the ability to record from significantly more neurons at one time.
Once a human is hooked up to a BCI, a learning phase starts. The person learns how to control the robotic arm with the limited bandwidth. The algorithms learn which neurons are signals and which are noise and get better at processing the information. The two symbiotically adjust until the person incorporates their new "arm."
Another challenge is that scientists simply don't understand how the brain works. Neuroscientist Christof Koch says that "we do not understand how large-scale neural activity is organized to give rise to thoughts, percepts, consciousness and actions."
On top of that, it takes decades for techniques tested on laboratory animals to be deployed in clinical trials. Legal, regulatory, and medical approvals take a lot of time. There is also a real danger that brain implants could get hacked by cyber criminals, which would lead to a whole new set of problems.
However, decades of research in this field by lab researchers have already shown stunning progress, allowing people with paralysis to walk again without surgery, enabling people to control robotic prosthetics with their minds, and treating depression by manipulating neural signals.
---
DOWNLOAD THE FULL REPORT BELOW


---
Neuralink's progress
In late August 2020, Musk unveiled Neuralink's latest brain implant prototype as well as a new version of its surgical robot in a livestream.
Neuralink's sewing machine robot will thread ultra-thin electrodes — what Musk terms "neural lace" — through brains to measure the brain's electrical signals, which represent memories, movements, thoughts, and more. The threads will be connected to a wearable device that collects and transmits the recorded signals, a new prototype of which was also unveiled during the livestream.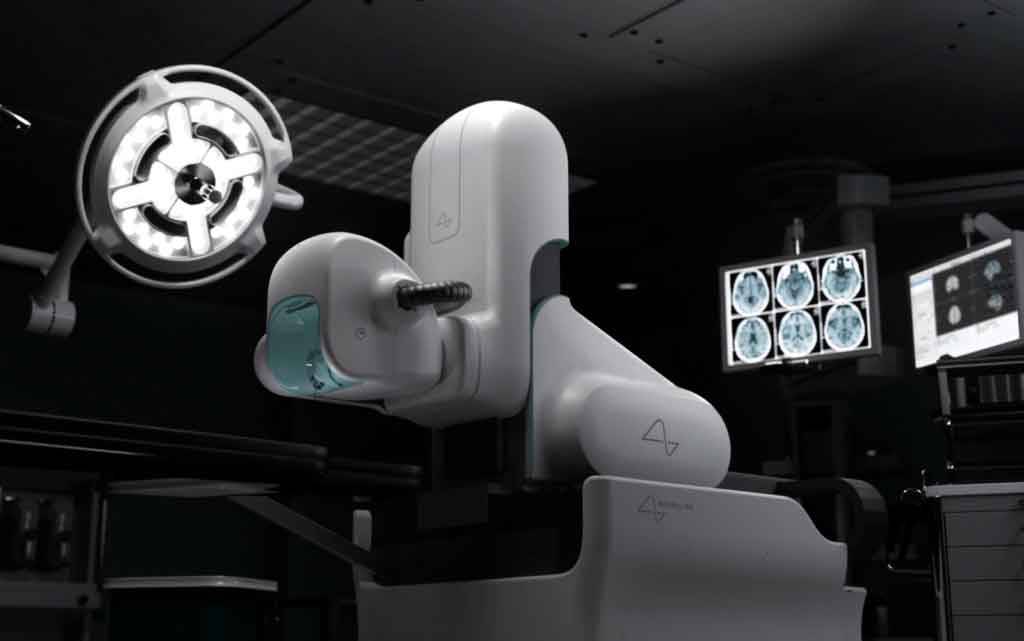 Source: Woke Studio
While the initial design of the "Link" featured a credit card-sized wearable designed to go behind the ear, the latest version is coin-sized and would replace a chunk of the skull, sitting flush with its surroundings and rendered invisible when covered by hair.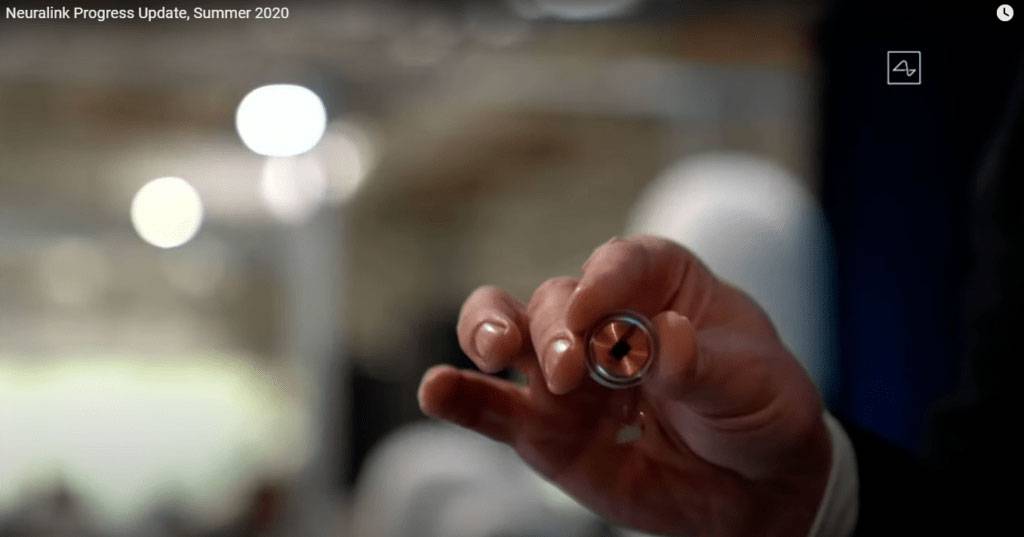 Source: Neuralink
The Link is novel in packing 1,000+ channels onto its interface, on par with the state-of-the-art Neuropixel, which has 960 channels. Furthermore, the Link device boasted onboard processing that is reportedly 15x better than current systems used in humans. Current neural spike processing is typically recorded offline and processed via computers, but Neuralink's team was able to develop algorithms to process, filter, and transmit data in a much more efficient way.
Also revealed were 3 pigs that are subjects of Neuralink's experiments. One pig, which had been implanted with a Link, had her real-time brain activity broadcast on a large screen. Another had successfully had the device implanted and removed.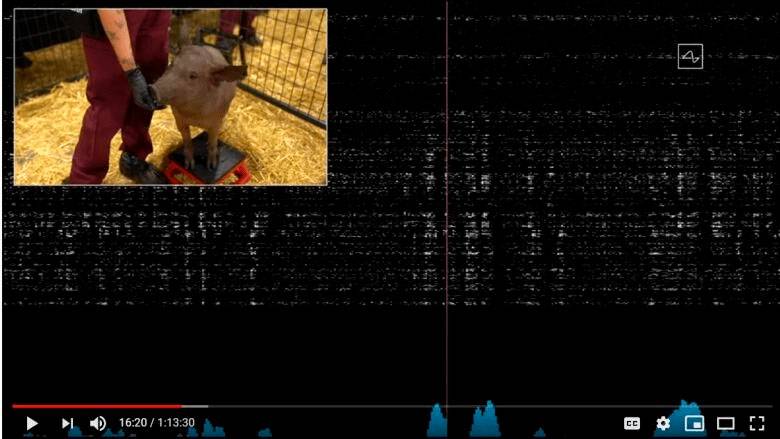 Source: Neuralink
Musk has said that human trials could be launched by the end of 2021. Neuralink is communicating with the FDA regarding the implant's safety. He also revealed to Clubhouse users that Neuralink successfully implanted a chip into a monkey's brain, and the animal was able to play video games using its mind.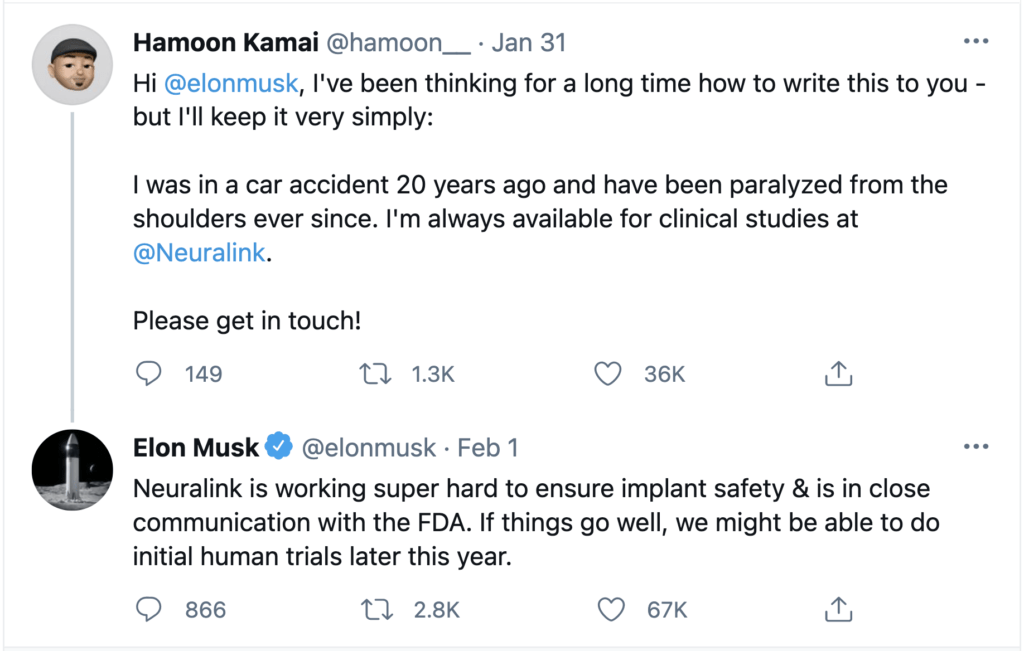 Future potential of neuralink
While the future of full AI symbiosis is far off, Neuralink's more near-term potential is in medical applications, specifically neurological diseases or injuries — a mission current research labs are already working on.
The FDA granted Neuralink a breakthrough device designation in July, according to Musk, and is working with the company to run trials for patients with quadriplegia — paralysis of all 4 limbs.
Neuralink's device could help people suffering from stroke, neurodegeneration, cancer, spinal cord injuries, amputations, and dozens of other healthcare issues. And if the Neuralink project is successful, years of expensive treatment and therapy (and in many cases risky surgeries) could be replaced with a relatively simple microscopic brain implant that restores motor, memory, or other cognitive functions.
During the August demo, Musk acknowledged the long path ahead before a commercial product is available, but underscored the importance of the "overall aim" of the company.
"On a species level, it's important to figure out how we coexist with advanced AI, achieving some AI symbiosis," according to Musk, "such that the future of the world is controlled by the combined will of the people of the earth. That might be the most important thing that a device like this achieves."
If you aren't already a client, sign up for a free trial to learn more about our platform.