From patient engagement to clinical workflow to revenue cycle automation, here's how Epic is being unbundled.
Epic Systems — and the broader electronic health records market — is being disrupted across many of its core functions and revenue streams.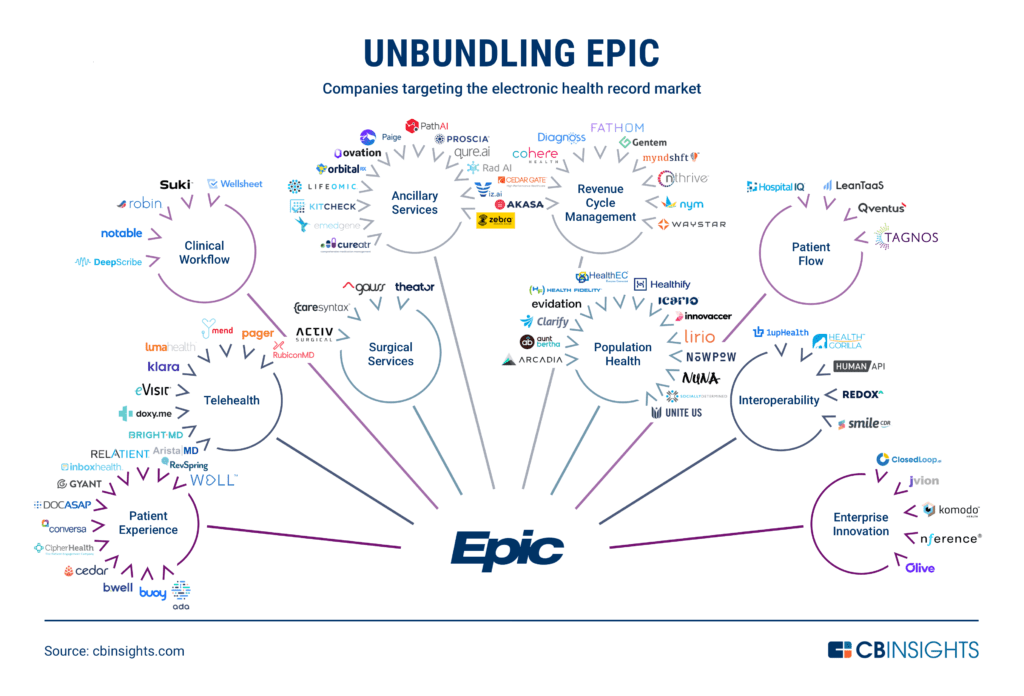 In 2020, Epic's annual revenue hit $3.3B and the company has delivered a 15% growth rate every year for the last decade.
Today, Epic's software underpins the vast majority of the day-to-day work done in US hospitals and houses the medical records of 250M Americans. It enjoys 29% of the hospital EHR market share and wins industry awards for both its hospital system and its doctors office solutions every year. Its market dominance appears unassailable.
But Epic's rise to the top has also created openings for rivals. For example, the company has been accused of making it too difficult to share patient records with non-Epic health systems and federal legislators ultimately stepped in to require that all EHR vendors adopt APIs that will allow patient records to be passed between hospitals more easily. These new rules help level the playing field for new entrants.
In this report, we look at how healthcare technology startups are responding to this opportunity by ramping up the competition with Epic to win end-user workflow and health IT revenue.
If you aren't already a client, sign up for a free trial to learn more about our platform.