Electric vehicle sales are growing quickly, yet they still only account for a small fraction of the cars on the road. But that could soon change. We look at the global EV landscape, barriers to adoption, and the brands to watch.
The race for the electric car is well underway.
Ever since the 2008 release of the Tesla Roadster — the first mass-produced highway-legal electric vehicle (EV) powered by a lithium-ion battery — automakers, from General Motors to Toyota, have been rushing to launch their own electric cars.
Technical limitations, production challenges, and consumer uncertainty have all had a role to play in hampering the industry's development. But with technical capabilities improving, production costs trending down, and a society-wide demand for sustainable solutions, the EV's moment may have arrived.
EVs are becoming more competitive. In the US, median electric car range has increased 281% in 9 years, from 68 miles in 2011 to over 250 miles in 2020, according to the US Department of Energy. The median cost of electric car batteries has dropped significantly in the same time frame, from $800 per kilowatt-hour in 2011 to $137 per kilowatt-hour in 2020, according to a Bloomberg survey.
These advances are translating into sales: in 2011, global EV sales reportedly reached just 50,000 units; by 2020, electric vehicle sales had increased over 50x to surpass 3.1M units.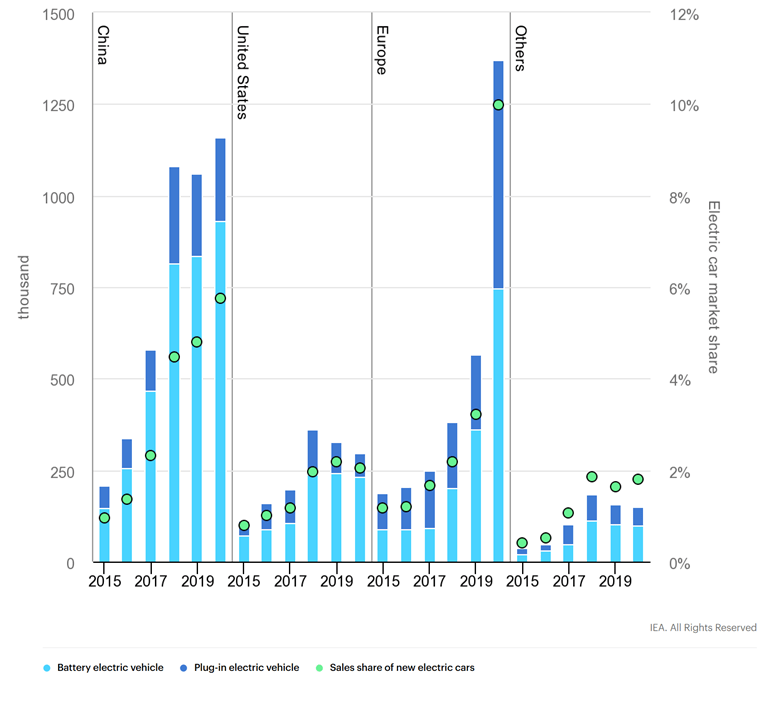 Global registrations and market share of electric cars since 2015 across regions. Source: International Energy Agency
The race for EV market share is on, with startups and incumbent brands alike jockeying for the top spot.
In this report, we look at how the race is unfolding: where the market is currently, the major contenders, how EV adoption is evolving in various markets, and the consumer concerns and technical challenges that need to be addressed for the technology to achieve widespread adoption.
Table of contents
Why now for the electric vehicle?
Where the EV market is now
Global landscape: The race for sustainable tech

China
Europe
United States

Barriers to adoption: Consumer & manufacturer challenges

Cost
Performance limitations
Lack of infrastructure
Production strategy
Raw material constraints

Brands to watch

American market leaders
German OEMs
Startup contenders

What does the future hold for the EV market?
If you aren't already a client, sign up for a free trial to learn more about our platform.