Amazon is the most formidable force in e-commerce. Here's how emerging e-commerce players are protecting their businesses from being disrupted by the retail giant.
In a challenging year for retail, Amazon posted blockbuster results — in 2020, the e-commerce giant saw net sales hit $386B, a 38% surge year-over-year (YoY). Excluding AWS, its net sales hit nearly $341B. Amid physical shutdowns, the e-commerce giant reaped immense rewards for its continued investments into distribution, fulfillment, and delivery, allowing shoppers to stock up on essentials early on in the pandemic.
Despite Amazon's overall stunning growth, its grip on online retail is slipping, as competitors hone their e-commerce capabilities and double down on consumer values. In 2020, Amazon captured 31.4% of all US e-commerce retail sales, down from 43.8% the year prior, according to Digital Commerce 360.
Big-box retailers have had an advantage early on in the pandemic, with hoards of cash to pour into their pivot to e-commerce: Walmart reported a 69% growth in its e-commerce business in Q4'20 while Target reported a 155% growth in digital sales in Q3'20. In addition, many small- and medium-sized businesses have had to grapple with survival, including rising e-commerce players looking to prevent their own disruption.
As competition heats up in the e-commerce market, key trends for smaller e-commerce players looking to capture some of Amazon's market share to note include:
Consumers want a

community connection
Sustainability

is critical for eco-focused customers

Assortment relevance

is being prioritized over mass variety

More app-based retailers

are tapping into the needs of a mobile-first generation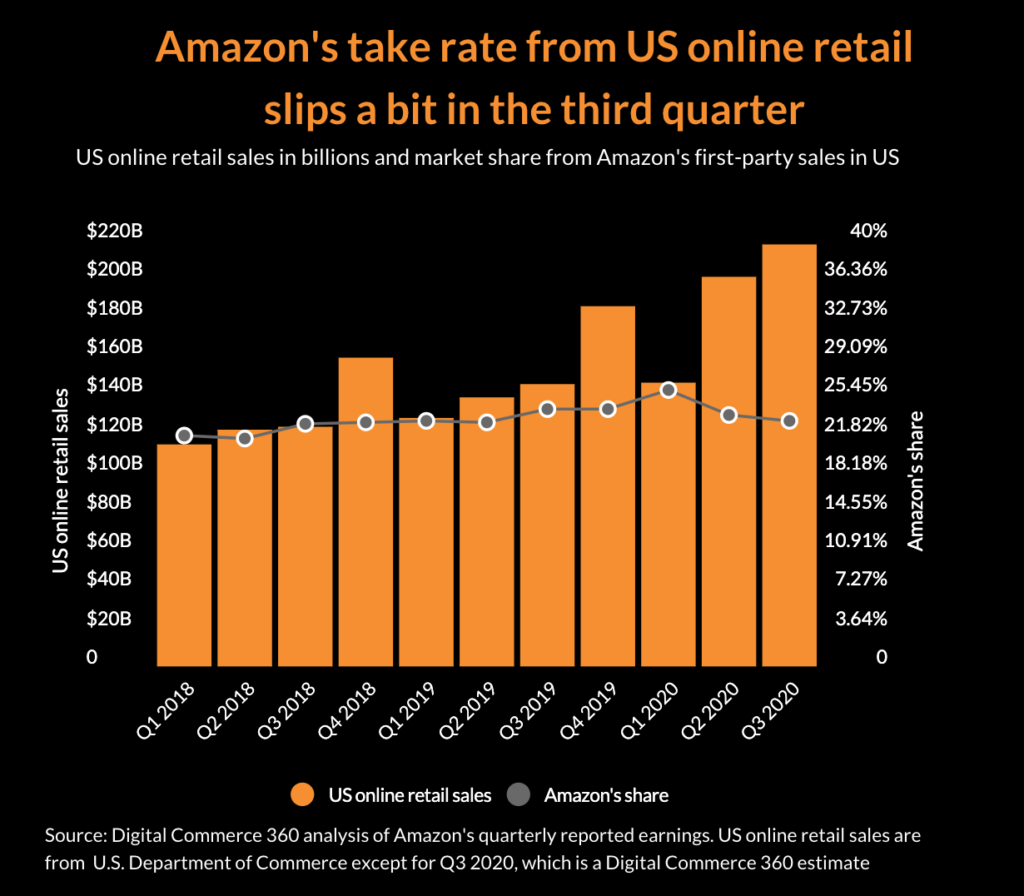 Source: Digital Commerce 360
Below, we dig into how emerging retail companies are tapping into these trends to build competitive advantages (or business moats) in the e-commerce industry. 
Table of Contents 
Niche assortment: Niche assortment companies focus on a narrow product assortment and gain a following among fanatics.  
Distinctive convenience: Distinctive convenience companies strive to deliver ease and speed as a service. 
Social connection: Social connection companies home in on the community and social aspects to promote product discovery, connection, and sales. 
Personalization: Personalization companies focus on merchandising (product recommendations and search) and product customization (tailor a product specifically to a customer).
Sustainability: Sustainability companies strive to reduce material waste, add more efficient products and services, and incorporate more transparent messaging. 
Amazon market jockeys: Amazon market jockeys are companies that buy and scale up third-party marketplace brands on Amazon. Rather than Amazon-proofing, these companies are riding the wave of Amazon's success.
1. Niche assortment: Niche assortment companies focus on a narrow product assortment and gain a following among fanatics.   
Compared to big-box retailers, companies focusing on a specific niche have the advantage of credibility and focus, and thus can foster greater customer loyalty. 
For example, sneaker collecting was a relatively niche hobby in the early 2000s, but the hobby has hit the mainstream with the rise of e-commerce. Goat and StockX have emerged to capitalize on this and expand access to a hobbyist market.
They do this by solving a key problem in the sneaker resale market. 
Authenticity poses a rampant problem in sneaker resale, with many sneaker flippers peddling fakes as these alleged rarities fetch high resale prices. With Goat and StockX, sellers ship their goods to a platform's team of specialists to be vetted before they are shipped off to the buyer. In comparison, Amazon has long suffered from problems of counterfeit goods, with brands like Birkenstock and Nike pulling out of the platform completely.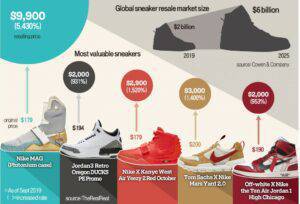 Source: Ked Global 
Companies that know their niche can build their business upstream. 
Fanatics is another example of a retailer that has carved out a specific niche to help future-proof its business. The e-commerce company is the exclusive retailer for licensed sports gear across all major US sports leagues, professional teams, and more. 
There are 3 core components to the company's strategy: a digital-first social strategy allows it to market directly to fans; its direct partnerships with leagues allows it to produce merch on demand as opposed to having to wait for other parties to create products; and its flexible supply chain, which includes domestic and offshore facilities, enables faster and more efficient shipping and fulfillment. 
The company — along with Amazon — has replicated fast fashion's playbook in building out vertical commerce capabilities: track what's trending on social media, then leverage its own production capabilities to quickly manufacture the product for sale. Fanatics has the advantage of exclusive league partnerships, cementing its moat against companies like Amazon. Online sales, which represent two-thirds of the business' sales, saw a 30% surge amid the pandemic, even as sports games were suspended. 
Other e-commerce players have tapped into addressing underserved markets. For example, traditional grocery markets have aisles of "Asian spices" that overgeneralize and fail to achieve fit for any of the broad groups of customers they're trying to reach; as a result, curation plays a key role in appealing to niche markets.
Weee!, a grocery delivery startup that focuses on the Chinese American market, curates its selection of staple grocery items and specialty produce. Weee! has over 600,000 app downloads per its website, but it's largely relied on word-of-mouth referrals to drive growth thus far.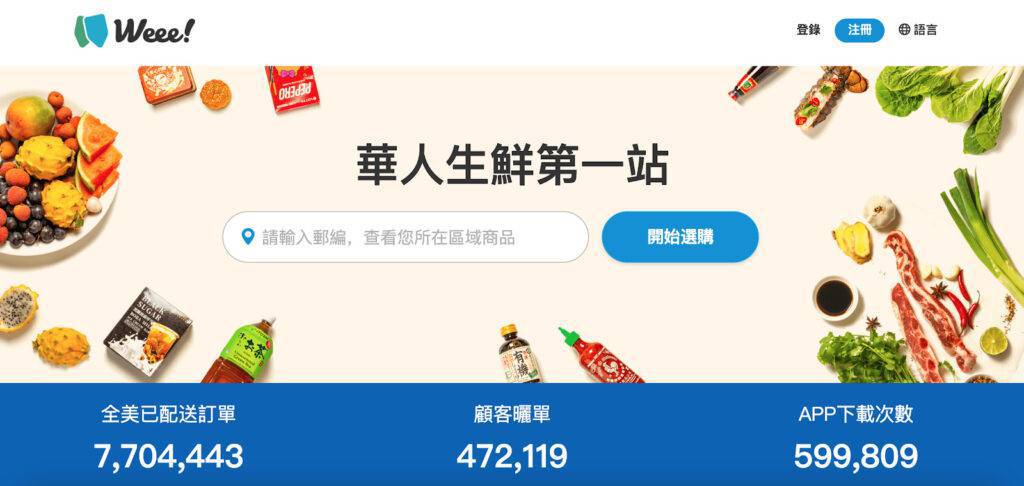 Source: Weee!
As of 2019, nearly 90% of its customers used a Chinese-language version of the app to buy groceries. It's also expanded to allow payments from credit cards from Chinese banks, Alipay, and WeChat Pay to accommodate its user base. Looking ahead, Weee! aims to diversify its offerings, in both product categories and shopper base. 
"I think a year from now, we will be more inclusive in the sense that our customer base will be more diverse than they are today," said founder and CEO Larry Liu. "We're going to offer products that cater to more ethnic groups among the Asian American communities."
2. Distinctive convenience: Distinctive convenience companies strive to deliver ease and speed as a service. 
With people staying at home more than ever, services that deliver convenience above all else are becoming increasingly popular.
Tovala, for example, delivers prepared meals that can be cooked exactly the way they need to be cooked in its smart oven. It recently picked up a $30M Series C and is backed by Tyson Ventures.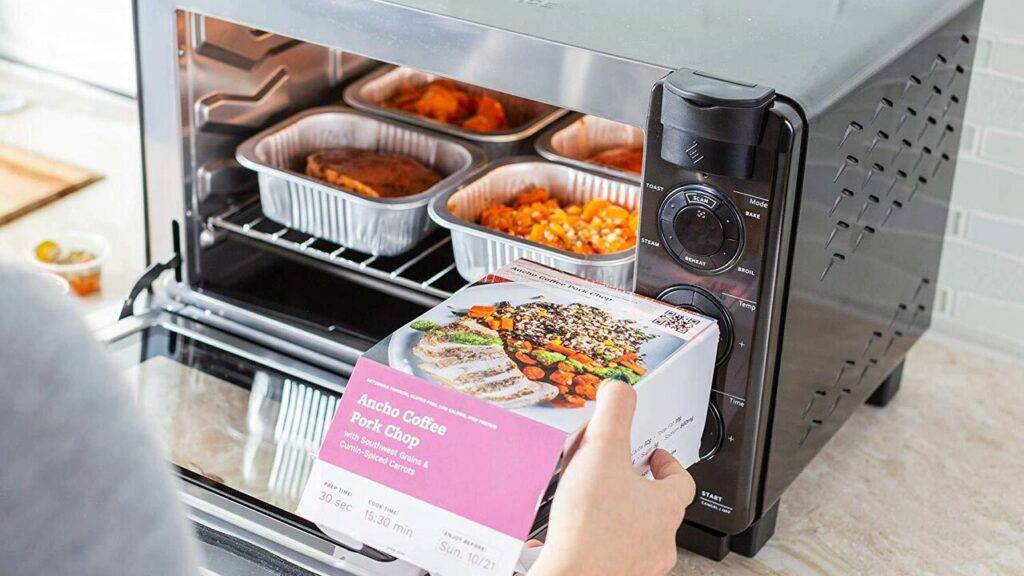 Source: Tovala
But delivering convenience isn't limited to the realm of day-to-day problems.
Zola focuses on streamlining the wedding planning experience. The online wedding registry allows couples to register gifts, gift cards, or experiences from any online store in one place. While Amazon also offers a wedding registry option, for example, it focuses more on broad access to any gift options on the marketplace. Zola, however, doubles down on its services to provide a more streamlined and end-to-end experience, including various other services such as websites, guest lists, RSVP tracking, and more.

Source: Zola
Super fast delivery is another aspect of convenience that some retailers are looking to double down on. 
Startups like GoPuff and Foxtrot offer exclusive inventory and warehouses and promise to deliver in an hour or less, focusing on speed over mass quantity of goods. Foxtrot already offers private label goods, while GoPuff is looking to expand its private label team. Both have raised millions of dollars in funding amid the surge in demand for delivered goods, with Foxtrot closing a $42M Series B in February. 
GoPuff and Foxtrot fit into a new series of players that are using dark stores to deliver goods within 15 minutes. We dig into early-stage startups innovating in food and beverage delivery here.
3. Social connection: Social connection companies home in on the community and social aspects to promote product discovery, connection, and sales.  
Social commerce has taken off, with companies like YouTube, Instagram, and Shopify focusing on integrating social and commerce over the past year to drive sales. 
The rise of digital communities and influencer marketing has hinged on this direct connection with consumers. Companies like skincare and makeup company Glossier and China-based lifestyle-focused platform Xiaohongshu are known for building strong communities in their user bases. 
Glossier not only markets its products through collaborations with social media influencers, it also engages more directly with its followers by allowing buyers the chance to be featured on its Instagram feed if they tag the company in their posts. 
Xiaohongshu leverages community-driven reviews and livestream shopping to drive engagement. Amid the pandemic, Xiaohongshu launched livestreaming capabilities, allowing in-platform key opinion leaders (KOLs) to promote and sell products through live video.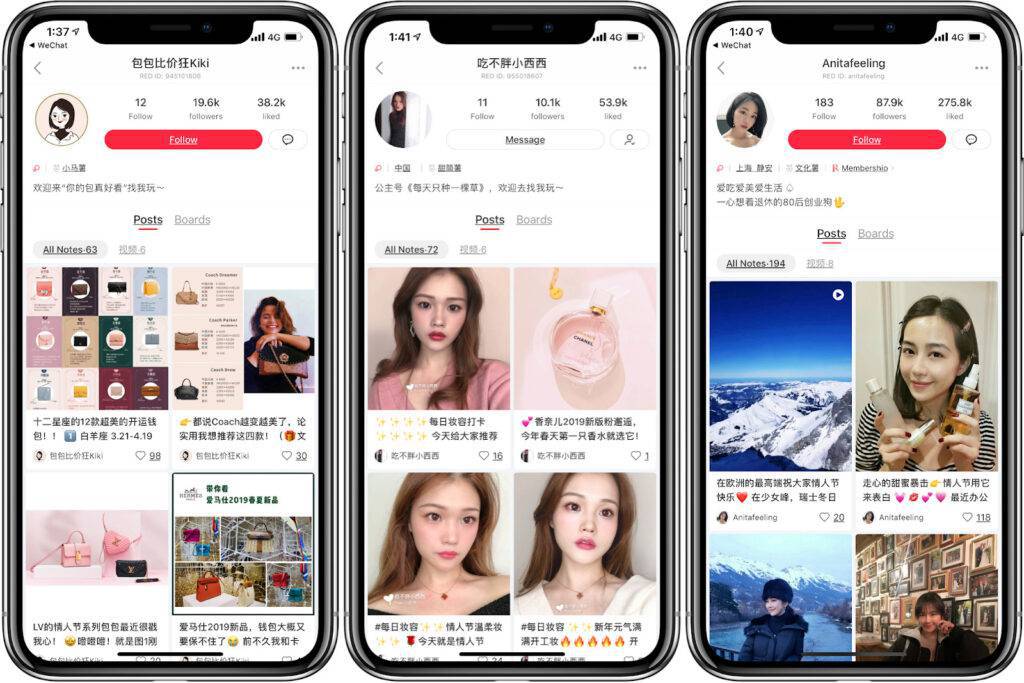 Source: Xiaohongshu
In 2020 alone, the platform saw an average of 8B views each day on its review articles, which are contributed by users and influencers alike. These articles, which users can interact with via likes and comments, have conversion rates as high as 20%, per a KOL on the platform. In December, Xiaohongshu's users spent 40 minutes on the app every day on average. 
Livestream shopping is a critical next step for companies looking to succeed in social commerce. The trend is expected to generate up to 20% of China's total e-commerce sales by next year, up from 10% in 2020, according to estimates by HSBC and Qianhai Securities. Rampant demand is also illustrated by China-based livestreaming app Kuaishou's $5.4B oversubscribed IPO — the largest since Uber's $8.1B debut — following its stellar gross merchandise volume growth in 2020. 
Clothing resale app Depop also focuses on the social experience. It functions like Instagram, with sellers operating as individual brands, emphasizing personal connection in what would otherwise be a solely transactional relationship. On the platform, sellers are encouraged to message their "followers," post frequently, and curate their feeds to showcase personal flair.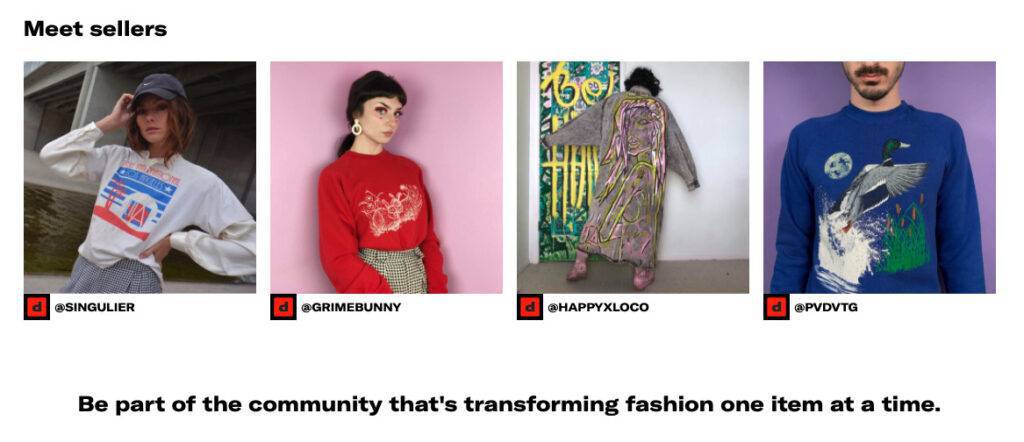 Source: Depop
As a result, it's seen much success, especially in the Gen Z demographic. More than 90% of its 21M+ users are under the age of 26, and most users end up opening the app several times a day. Its advantage over traditional retail sites and Amazon, by comparison, is that it showcases people, not products, to facilitate a deeper connection with shoppers. 
Other services focus on the broader social aspect of shopping, rather than marketing via individual influencers. 
For example, resale platform Lyst focuses on organizing its items based on lists of people's most wanted goods, specifically highlighting its aggregation of data from users across several different lists. By tracking more than 10M global searches a month, Lyst brands itself as a "unique source of global fashion intelligence" to help users see what's trending in fashion. 

Source: Lyst
In a similar fashion, Amazon has tried to offer live shopping shows in the past, to little success. Amazon holds several patents in the space, with one of them showing how the e-commerce giant plans on adding electronic commerce functionality in video overlays, indicating its continued ambition to pursue the space. 
Where it may find traction is through Twitch, its game streaming service. Amazon previously hosted a Prime Day livestream to promote its products, and Burberry streamed its Spring/Summer 2021 show on Twitch.
4. Personalization: Personalization companies focus on merchandising (product recommendations and search) and product customization (tailor a product specifically to a customer).
Amazon relies on the spearfishing experience of search — shoppers browsing to find what they want have to sift through the platform's catalog. 
As a result, some startups are doubling down on custom products to drive customer loyalty. These companies tailor their specific products to each individual. 
New York-based Prose, for example, leverages an online quiz that asks users about hair and scalp condition, treatments, lifestyle, and preferences to make custom blends of shampoos/conditioners. Function of Beauty also launched in 2015 as a custom hair care products brand, but it has since expanded into skincare and body lotion.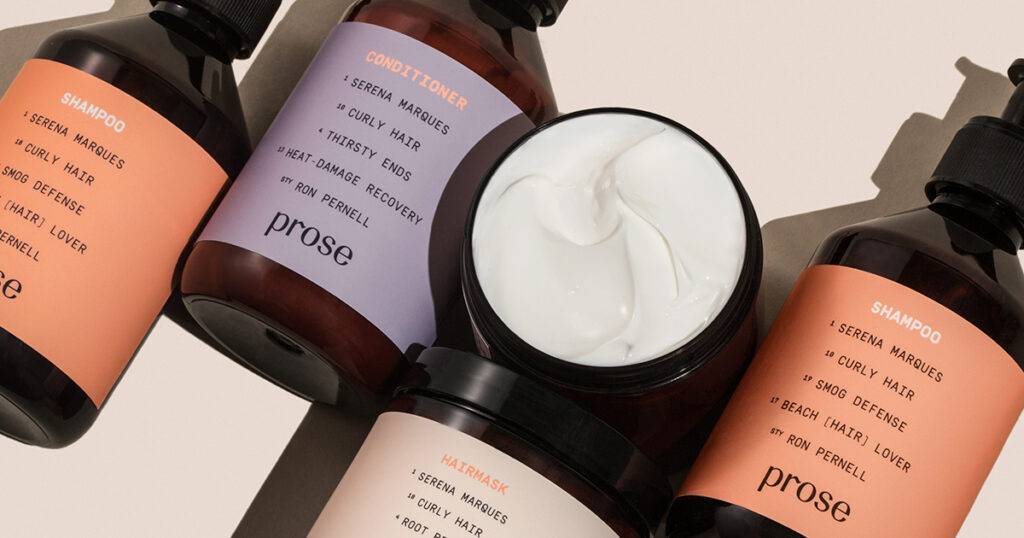 Source: Prose
Corporates are taking note, with Germany-based consumer giant Henkel acquiring eSalon, a customized D2C hair color company, in 2019. 
Another aspect of personalization focuses on the merchandising component of e-commerce, and some companies do this through sharp assortment tuning — curating and filtering goods for a specific taste, allowing for more precise product discovery.
Former Stitch Fix COO Julie Bornstein co-founded The Yes with former Google alum Amit Aggarwal to address this problem in fashion. The Yes uses AI to serve shoppers with personalized clothing recommendations from its curated assortment of brands, with its fashion-specific algorithms setting the app apart. 
"In order to build a great experience, you really have to use the domain knowledge, in this case fashion," said Aggarwal in an interview with Vogue. "You can't build a one-size-fits-all experience that works across all domains and that is really very different from other retailers." According to Bornstein, "Google, Pinterest, and Facebook — they're all trying to do variations on this, but they're tackling all categories at once. If you don't take into account all of the specifics around what actually matters in fashion then it becomes irrelevant and you lose the trust."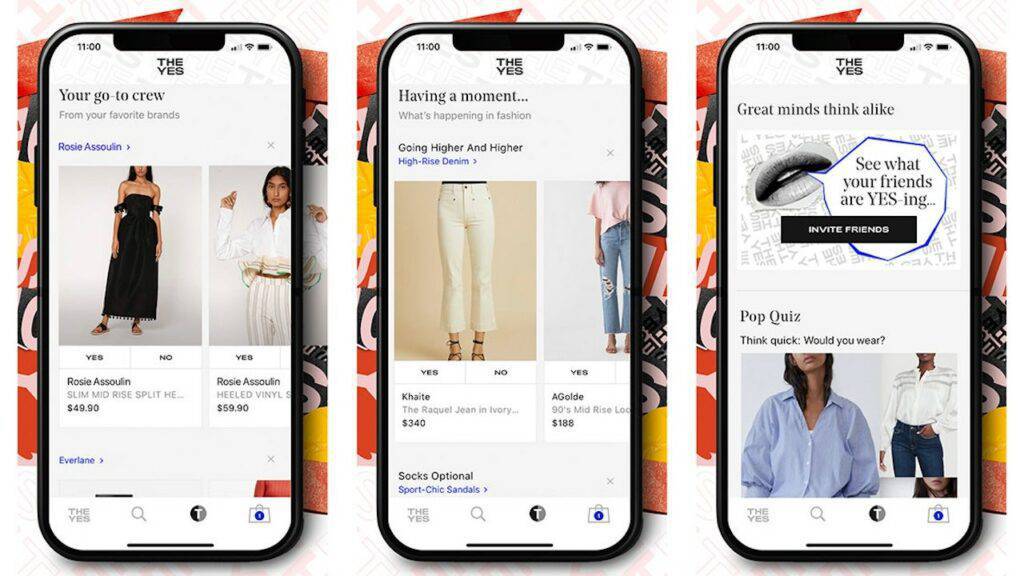 Source: Vogue
Singapore-based Livspace offers another example of sharp assortment tuning in the home design space.
Furniture shopping from massive retailers is rarely curated for living spaces, and filtering numerous tags for the styles consumers want is a painstaking process — not to mention the shipping and installation processes after. Livspace, however, focuses on furnishing customers' spaces completely, from personalized design to installation, with its curated catalogue of products. Though the pandemic battered the startup early on, it later picked up $90M in September 2020.  
"In general, personalization is a fast-rising trend in the beauty and personal care industries," said CB Insights intelligence analyst Kenya Watson. "Many customers are coming to expect beauty brands to offer some level of personalization, whether that is how [a brand] uses targeted recommendations to help them find the right item or a fully tailored product that's designed based on their needs."
It comes with tangible benefits: personalization can reduce acquisition costs by as much as 50%, drive revenues by up to 15%, and increase the efficiency of marketing spend by up to 30%, per Harvard Business Review. 
5. Sustainability: Sustainability companies strive to reduce material waste, add more efficient products and services, and incorporate more transparent messaging. 
Sustainability is top of mind for consumers. Over half (57%) say they're willing to change their shopping habits "to help reduce negative environmental impact," according to a study from the National Retail Federation. 
While Amazon is working on making half of all shipments net zero carbon by the end of the decade, concerns regarding its environmental impact aren't going away. As one of the top shippers in the world, Amazon saw its carbon emissions rise 15% in 2019 to 51.2M metric tons, the equivalent of 13 coal burning power plants running for a year, thanks to its dependence on fuel-powered trucks and planes to deliver its goods. In 2019, it produced at least 115M+ pounds of plastic waste in its packaging as well. 
Eco-conscious consumers are looking to green alternatives; so are investors. 
Notable deals have gone to unicorns like $1.7B company Allbirds, which was launched on the premise of making shoes primarily out of sustainable merino wool. The company's process uses 60% less energy than materials used in typical synthetic shoes, and Allbirds also uses recycled materials for its shoelaces and packaging.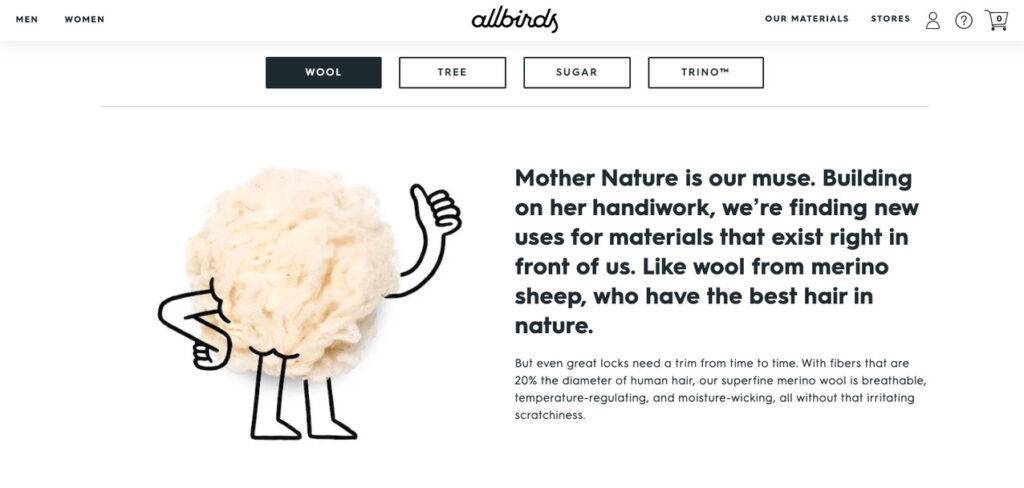 Source: Allbirds
Amazon has come under criticism for ripping off Allbirds, resulting in the CEO personally calling out Jeff Bezos in a Medium post: "Customers value companies that are mindful of the planet and profits, and we believe the most powerful businesses in the world, such as Amazon, should lead on these issues, and will be rewarded for doing so. Please steal our approach to sustainability."
Other companies that have made sustainable materials front and center in their brand messaging include outdoor brand Cotopaxi, which recently announced its goal to switch over completely to only responsible, recycled, or repurposed materials by next year, and Rothy's, which makes shoes out of recycled plastic. 
One niche within sustainability that's gained traction is fresh and organic grocery. Imperfect Foods focuses on selling vegetables that are too "ugly" for conventional markets, highlighting its mission to reduce food waste. GrubMarket, an online farmer's market, and Thrive Market, which sells organic produce at wholesale prices, both focus on delivering more sustainable produce. Following Amazon's Whole Foods acquisition, these companies are doubling down on becoming the sustainable, local option.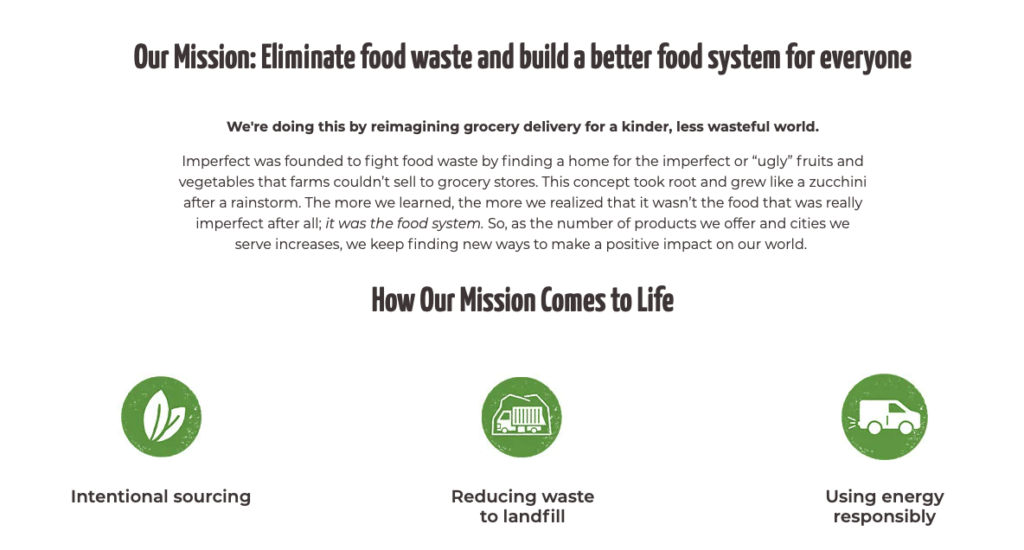 Source: Imperfect Foods
In comparison, Imperfect Foods, GrubMarket, and Thrive Market are highlighting their commitment to sustainability in their product standards, remaining focused on local, organic, or affordable vendors.
Beyond sustainable raw materials, some startups focus on sustainable processes — especially rental and resale — in consumers' lives. 
Four resale marketplaces reached unicorn valuations in 2019 — Vinted, StockX, Poizon, and Vroom. The first 3 companies resell clothing, accessories, and sneakers, while Vroom resells cars. Similarly, fashion rental company Rent the Runway achieved a $1B valuation in 2019. The trend has encouraged other major brands to follow: Ann Taylor Loft, Banana Republic, New York & Company, and Bloomingdale's are among some of the names that have launched their own rental services.
Furniture subscription service Feather also focuses on reducing furniture waste and promoting the circular economy. By offering durable, easy-to-clean furniture on a subscription basis, its core urbanite customer base can reduce the amount of potential waste going to landfills as they move from place to place.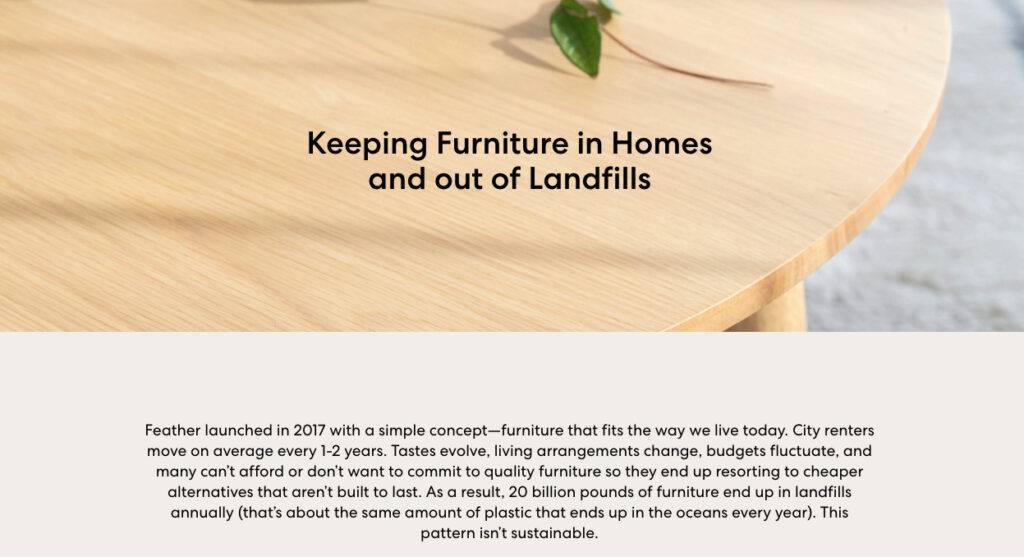 Source: Feather
Amazon has and continues to catch flak for its lack of sustainability efforts, though Jeff Bezos has tried to improve the company's image by personally committing $10B to combat climate change with the Bezos Earth Fund. But much remains to be done, as consumers continue to call for better environmental, social, and corporate governance (ESG) from corporations. 
The global waste crisis has been a growing topic of focus, with the bulk of sustainability-related mega-rounds, unicorn births, and exits centered around sustainable packaging and resale/rental models. Going forward, look for even greater consumer and corporate attention in incorporating and embedding sustainability practices within businesses. 
6. Amazon market jockeys: Amazon market jockeys are companies that buy and scale up third-party marketplace brands on Amazon. Rather than Amazon-proofing, these companies are riding the wave of Amazon's success.
For some companies, the best way to avoid being disrupted by Amazon — which captures about 40 cents of every dollar spent online in the US — is to embed themselves within the Amazon ecosystem itself.  
Last year, Amazon made $80B in revenue from third-party seller services, and third-party paid units made up 55% of Amazon's total unit sales mix as of Q4'20. Amazon "market jockeys" like Perch and Thrasio are capitalizing on this e-commerce boom.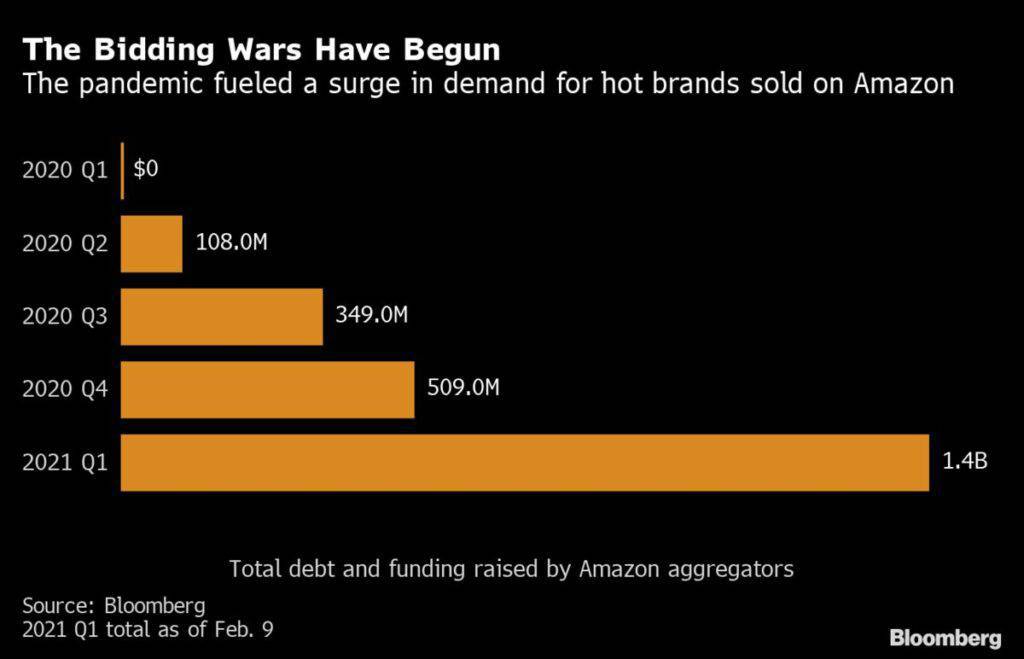 Source: Bloomberg
While the companies vary in the types of brands they buy and how they share in the sellers' growth on Amazon, they generally buy and scale up third-party brands that are part of Amazon's Fulfilled By Amazon (FBA) program, which allows the brands to use Amazon's fulfillment infrastructure and be part of Prime. The holding companies make money by growing the brands via support for product development, marketing, and other operations.
The strategy has seen success: 
Thrasio

, founded 2018, became a newly minted unicorn in 2020 and

saw $100M in profit on $500M in sales last year.

Perch

, which was founded in 2019, has garnered nearly $134M and acquired more than 30 brands.

Heyday

launched in November 2020

with a $175M Series A and expects to cross $200M in revenue by the end of 2021.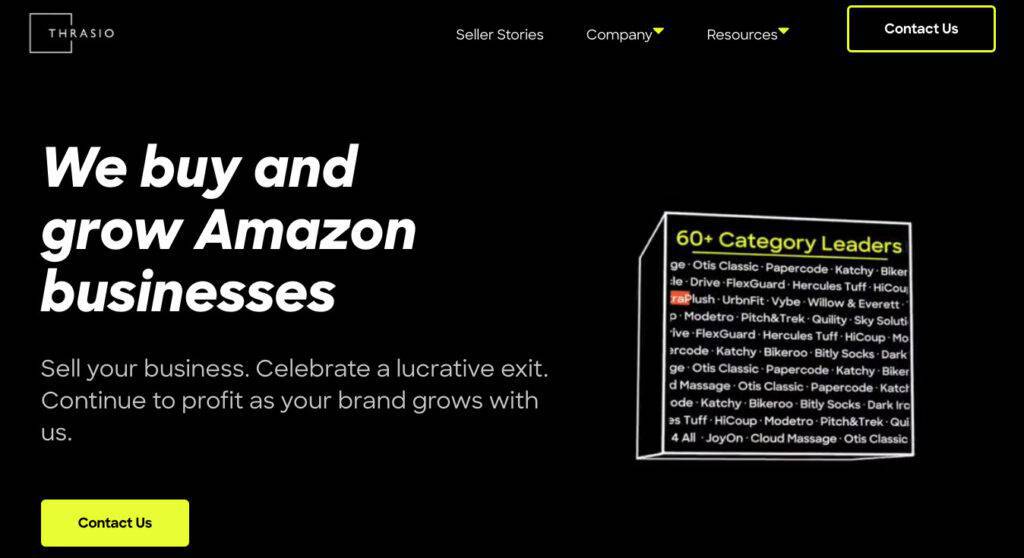 Source: Thrasio
It's still a relatively small playing field, with about 40 Amazon aggregators emerging in the past few years, according to Bloomberg. But already, 8 have announced fundraising rounds that total to more than $2.5B since 2019.
This trend illustrates the power of marketplaces to launch brands. For example, Amazon-native brand Anker, which makes consumer electronics accessories, went public in August 2020. Its success is helping fuel the idea that these market jockeys — though they currently function as holding companies for small marketplace brands, promising limited logistics benefits — might have the chance to disrupt incumbents.
If you aren't already a client, sign up for a free trial to learn more about our platform.