E-commerce companies worldwide hit records in funding, deals, exits, and more in 2021.
Investors funneled money into early-stage and maturing e-commerce companies alike in 2021. Valuations jumped and more companies went public as consumers continued to shift more spending online. 
In our State of E-Commerce 2021 Report, we dig into global investment trends to spotlight takeaways like:
The data behind the record year in e-commerce funding, which surpassed $50B for the first time

Which sectors led to a doubling in average deal size in 2021

The region that raised nearly $4 of every $10 of e-commerce funding during the year

The investors choosing the most advanced technologies with the most potential, according to CB Insights' Mosaic scores

Which digital shopping tech companies hit valuations of $1B, spurring a 40% increase in unicorn births

And much more
Below, check out a few highlights from our 81-page, data-driven State of E-Commerce 2021 Report. For deeper insights, all the record figures, and a boatload of private market data, download the full report.
MEDIAN LATE-STAGE DEAL SIZE SKYROCKETS 
Maturing and scaling e-commerce companies won huge rounds in 2021. See where investors funneled their money.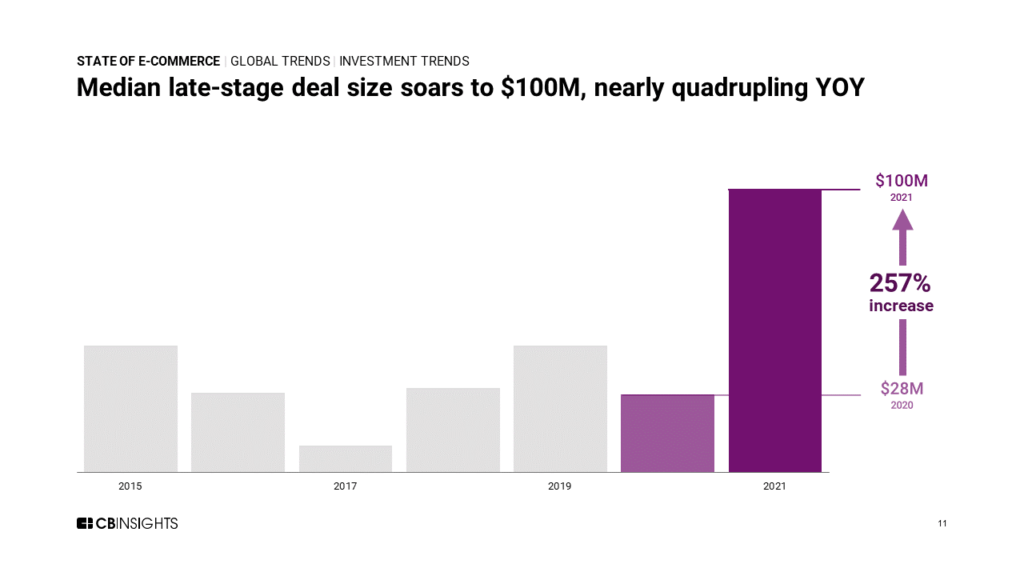 IPOs AND SPACs STACK UP
Find out which types of e-commerce companies fueled a nearly 4X increase in e-commerce public filings in 2021.