Are your eyes the window to your soul? Perhaps. And they're certainly a window to your health, offering insight into a host of diseases. We dive into the companies using tech to improve your vision.
The eye healthcare industry is attracting more attention than ever.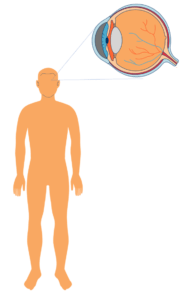 As healthcare technology evolves, emerging companies are offering new (and often less invasive) treatments for common eye diseases like glaucoma, as well as reimagining existing technologies as simple as eye drops.
In this report, we use CB Insights data to dive into the startups leveraging tech to tackle eye disease, emerging treatments in eye care, and how the eye can be a gateway to understanding full-body health.
Vision provides a major opportunity for companies and investors to capitalize on.
Funding and deals have trended upward over the past five years. Last year, there were 114 deals in the eye health space, totaling $1.5B in funding.
Given the new technologies on the horizon, we expect the pace of investment and disruption to only accelerate.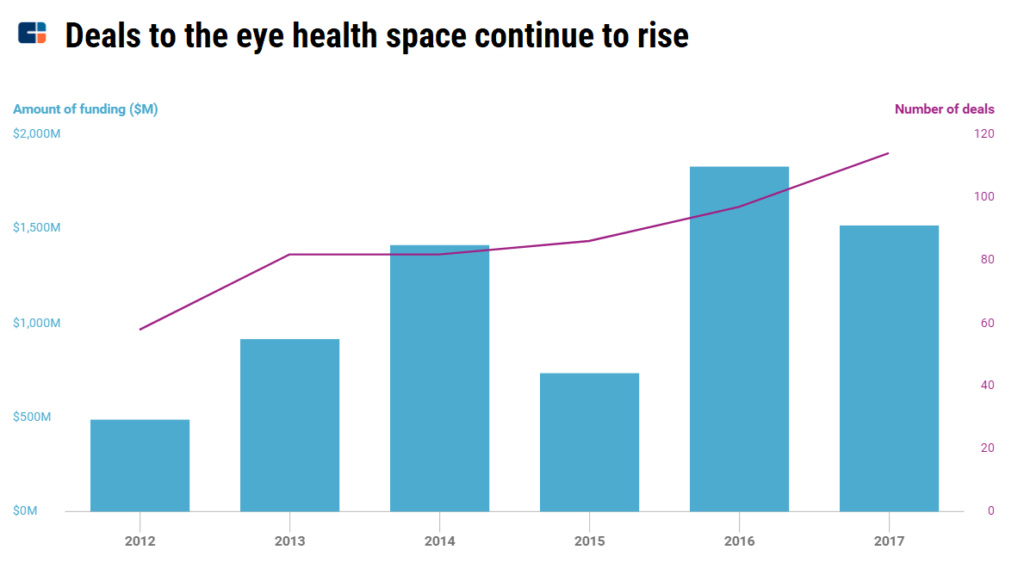 Read on to see what companies and treatments this uptick in investment is funding.
For more in our Body Series, read about how technology is transforming women's health and how new advances are reimagining brain research and disease treatment.
TABLE OF CONTENTS
Market map categories

Glaucoma
Dry eye
Cataracts
Retina
Diagnostic & tracking
Telemed & telerefraction
Top investors across the eye space
Research & innovative treatments
What the eye tells us about the rest of the body
Startups tackling eye diseases
Our eyes are susceptible to many diseases, linked to both hereditary and environmental conditions. Some of the most prevalent eye diseases for Americans aged 40+ include refractive errors (e.g. near- or farsightedness), cataracts, and retinal diseases like diabetic retinopathy.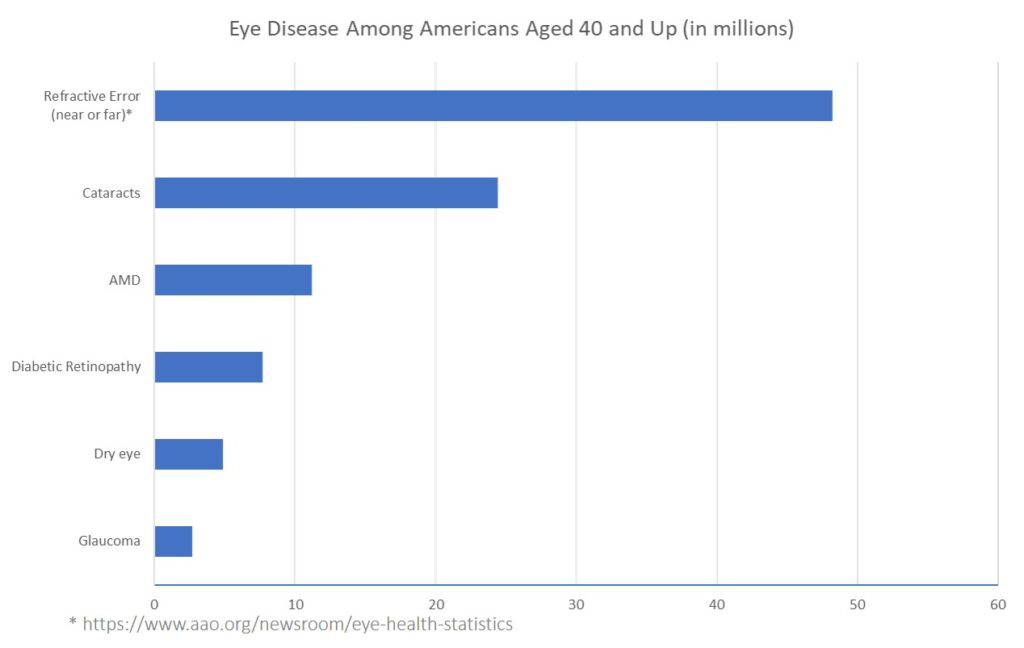 Below, we highlight the companies leveraging tech to tackle these common diseases and promote eye health.
This market map consists of private, active companies only and is not meant to be exhaustive of the space. Categories are not mutually exclusive, and companies are mapped according to primary use case.
Please click to enlarge.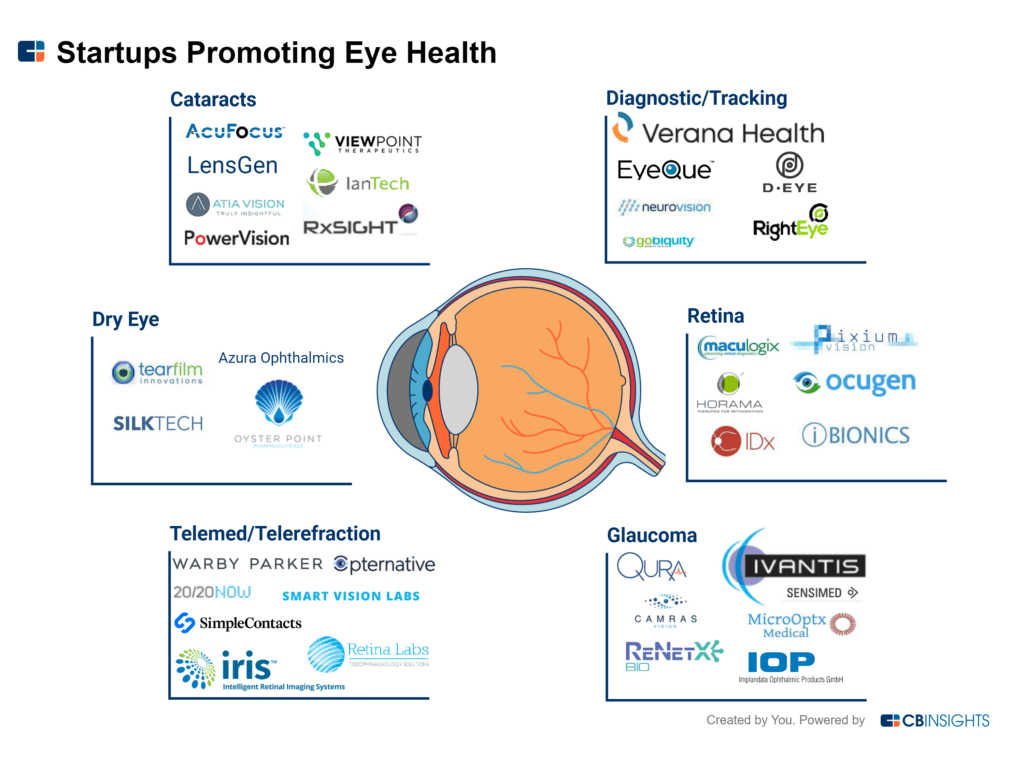 The Glaucoma, Dry Eye, and Cataracts categories contain companies addressing these specific conditions, while the Retina category more broadly includes startups working on various retinal diseases.
The Diagnostic/Tracking and Telemed/Telerefraction categories both contain companies working on a wide range of diseases and conditions, offering services such as vision exams and products like prescription glasses and contacts.
We dig into some of the companies highlighted in this market map below.
Glaucoma
Glaucoma, a condition in which the optic nerve is damaged, is one of the leading causes of blindness. As the disease progresses, the patient loses peripheral vision and develops tunnel vision, and ultimately might lose even central vision as well.
Optic nerve damage can be caused by high or abnormal pressure differentials in the eye. The most common treatments for glaucoma come in the form of eye drops or pills that halt further vision deterioration. Previously lost vision cannot be restored. The disease can occur at any age, though is more common in older adults.
Multiple startups are tackling this disease. California-based Ivantis, which last raised a $25M Series C in January 2017, has developed an "intracanalicular scaffold" for treating glaucoma. The procedure is designed to be less invasive than traditional glaucoma surgery.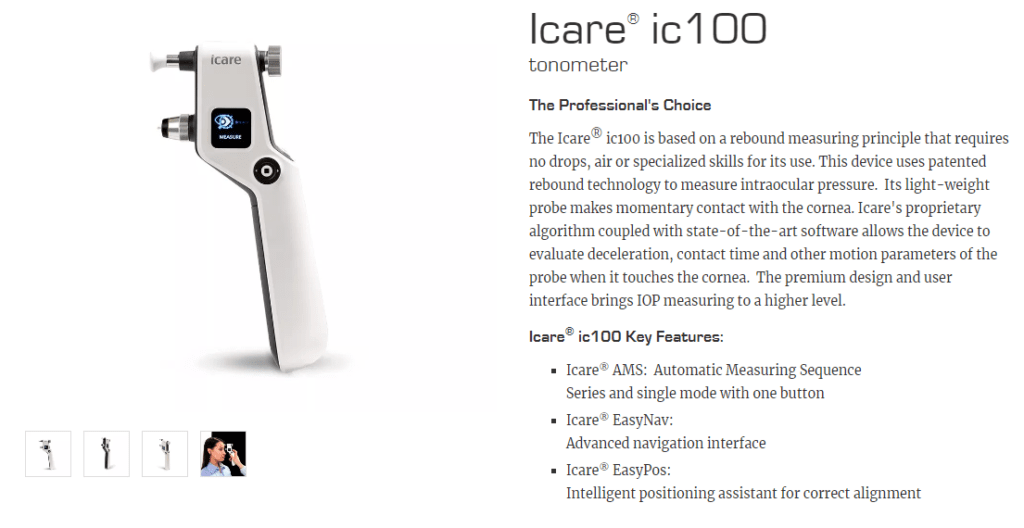 Camras Vision developed the Camras Shunt, which provides personalized pressure control to "attain the highest level of efficacy in stopping glaucoma progression." Camras raised a $5.7M Series A in November 2017.
Dry eye
Dry eye is a chronic condition where your tears do not provide enough lubrication for your eyes.
This can occur due to insufficient tear production (often caused by aging and laser eye surgery), increased tear evaporation (perhaps due to environmental factors or infrequent blinking), or an imbalance in tear composition. The leading cause of dry eye disease is Meibomian gland dysfunction (MGD).
Common treatments for dry eye include artificial tears, eye drops, and eye inserts.
Silk Technologies is developing silk-derived protein products to treat dry eye disease, while Azura Ophthalmics is a clinical-stage biotechnology company developing a portfolio of treatments for MGD. Oyster Point Pharma, which raised a $22M Series A in October 2017, recently announced positive results from a phase 2 clinical trial of its investigational treatment of dry eye disease.
On the hardware side, Tear Film Innovations has developed its iLux treatment device to also treat MGD. The company raised an $8.5M Series B round in April of this year.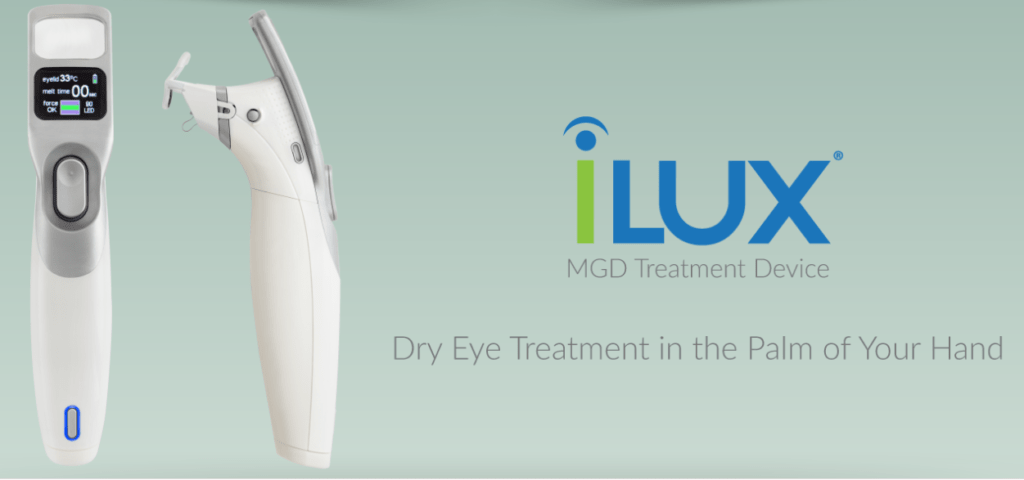 Cataracts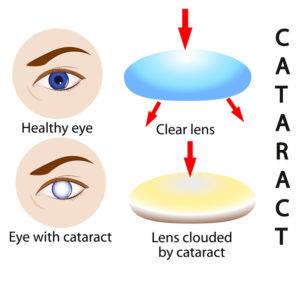 Cataracts are the most common cause of vision loss in people over age 40, and the leading cause of blindness in the world.
A cataract is a cloudy or opaque area in the eye's natural lens. Cataracts are formed when proteins in the eye start to break down and clump together. For a patient with cataracts, vision can become cloudy and ultimately become obstructed.
The main treatment for cataracts is surgery, where the ophthalmologist removes the clouded lens and replaces it with a plastic intraocular lens (IOL).
Several startups are working on this technology. For example, RxSight specializes in adjustable IOL technology to optimize vision after cataract surgery. The company raised a $50M round in 2017.
LensGen, which raised a $4.4M in a second tranche of Series A financing in July 2018, is developing an accommodating IOL to correct vision at all distances for patients with both cataracts and presbyopia (i.e. people who need reading glasses). AcuFocus, which raised a $24M Series H in August 2018, developed a small aperture IOL designed to also improve vision in a range of distances using the pin-hole effect.

Retina
The retina is the light-sensitive tissue at the back of our eyes that helps us to see. Two of the most prevalent retinal diseases are diabetic retinopathy and age-related macular degeneration (AMD).
Diabetic retinopathy is the most common cause of vision loss among people with diabetes and the leading cause of vision impairment and blindness for working-age adults. This diabetes complication is caused by sugar in the blood blocking the blood vessels that feed the retina.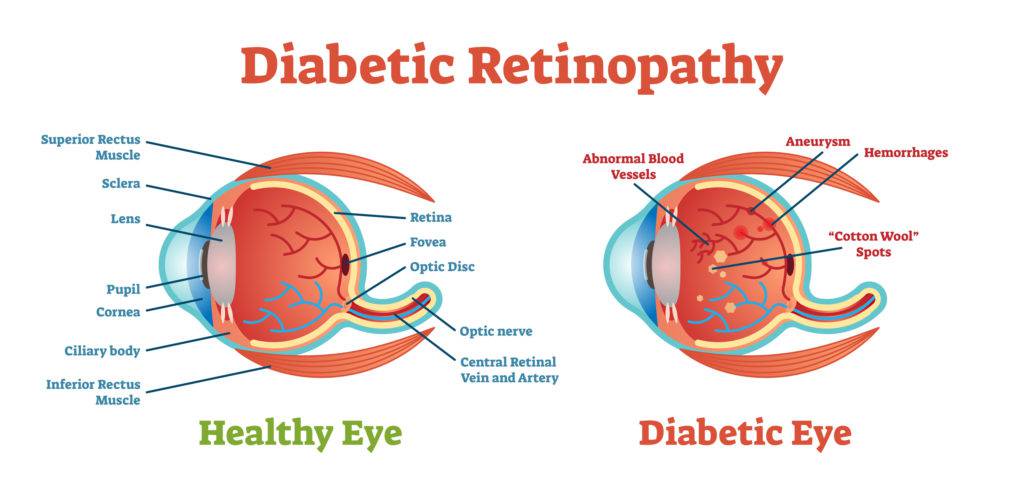 There are two main stages of diabetic retinopathy: non-proliferative (NPDR) and proliferative (PDR). In the early stages, the blood vessels begin to leak, which can lead to a swelling of the macula (the central area of the retina). In the more advanced stage, the retina starts to grow new blood vessels, which may bleed or in some cases cause retinal detachment.
A patient with diabetic retinopathy can quickly move from blurred vision to total vision loss.
Treatments for diabetic retinopathy include injections and/or laser surgery. IDx is developing an AI system to detect diabetic retinopathy (see below for more on IDx).
Age-related macular degeneration (AMD), or just macular degeneration, is the leading cause of vision loss among older Americans.
Macular degeneration — as suggested by its name — is a disease in which the macula begins to deteriorate. There are two forms of AMD: dry and wet.
Dry AMD is more common and occurs when parts of the macula get thinner as we age. Wet AMD is more serious: it occurs when abnormal blood vessels grow under the retina, and the vessels can then leak blood and scar the macula.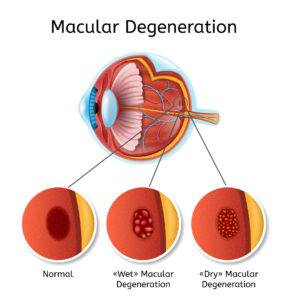 Patients with AMD lose their central vision, but still retain sight in the periphery. A common example is to imagine looking at a traditional wall clock, where you can see the numbers on the periphery but not the hands in the middle.
There are no effective FDA approved treatments for dry AMD, though there are a number of wet AMD drugs available.
Ocugen is developing biologic therapies for retinitis pigmentosa and wet AMD. The company is also working on therapies in ocular graft versus host disease (GVHD) and dry eye disease.
Paris-based Pixium Vision is developing retinal implant systems for patients who have lost their sight due to dry AMD. The company raised a $12.7M Series B in May 2018.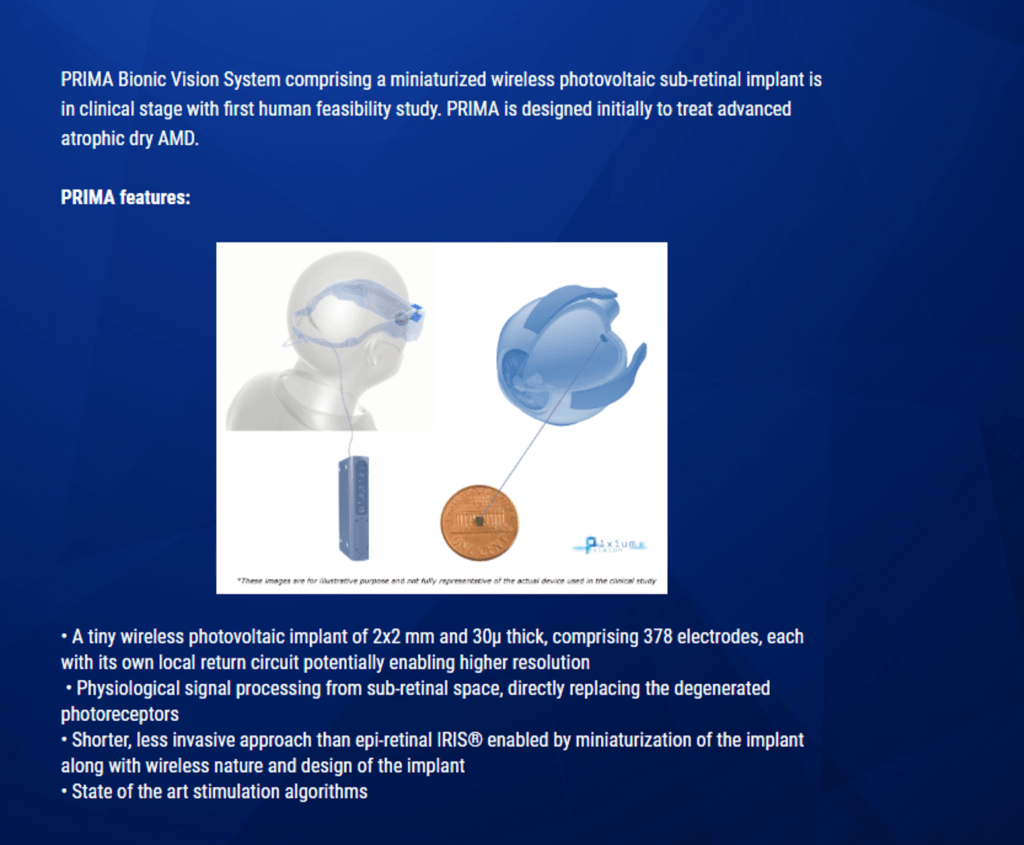 Diagnostic & tracking
Companies in this category are developing tools to image, monitor, and track the eyes for a wide range of diseases.
NeuroVision is developing non-invasive retinal imaging technology for early detection and monitoring of Alzheimer's disease by measuring amyloid beta plaque in the eye. The company raised an $11M Series C round in May.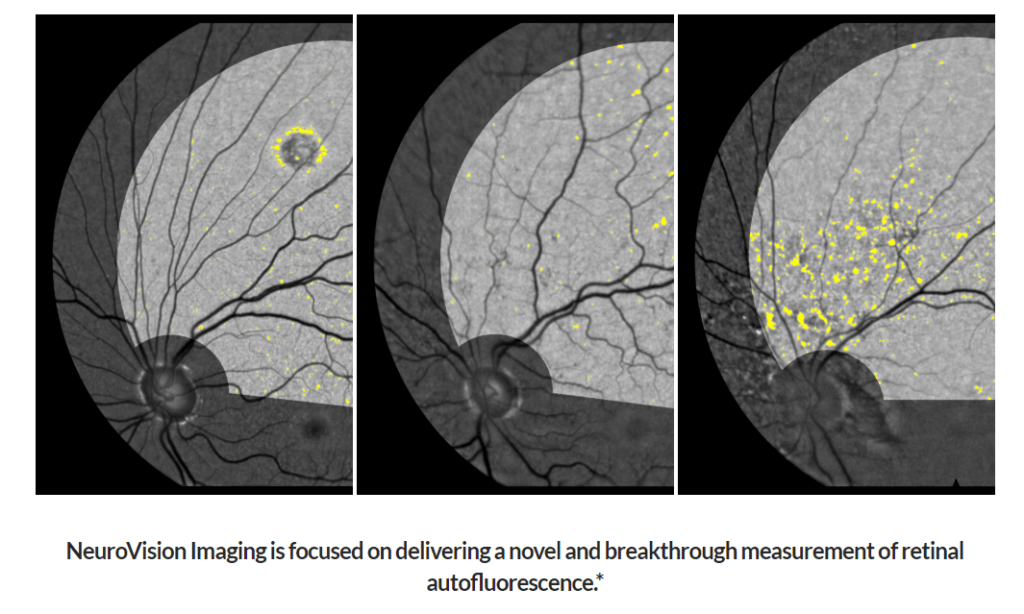 RightEye offers an eye-tracking solution that measures visual skills and health. The company offers screening programs to test for conditions such as brain health, sports vision, and Parkinson's. Most recently, RightEye's vision system received 510(k) clearance from the FDA for "recording, viewing, and analyzing eye movements in support of identifying visual tracking impairment in patients."
EyeQue, which raised an $11M Series B in June 2018, offers a direct-to-consumer vision test device. The results (which are not reviewed by an eye doctor) can be used to order glasses online.
Finally, Verana Health (formerly DigiSight Technologies), utilizes ophthalmology data to optimize drug and device development. Verana raised a $30M Series C in July 2018.
Telemed & telerefraction
While the use cases for telemedicine extend over the entire vision disease spectrum, we're going to focus on refractive error.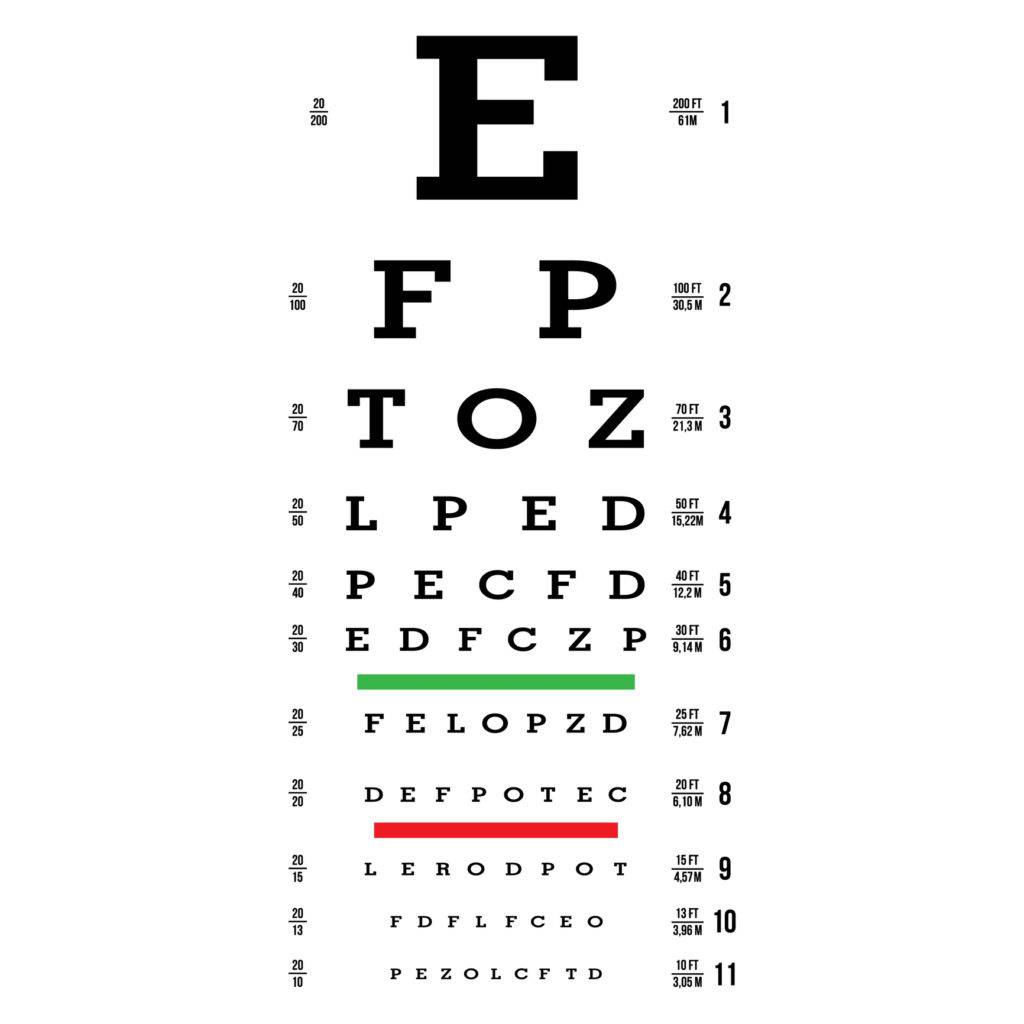 Uncorrected refractive error is the leading cause of vision impairment and the second leading cause of blindness worldwide. It occurs when the eye cannot properly focus light onto the retina.
The types of refractive error include myopia (nearsightedness), hyperopia (farsightedness), astigmatism, and presbyopia (the inability to focus on objects up close).
Detection of refractive error typically occurs using an eye chart, autorefraction, and subjectively testing lenses while viewing the eye chart. Treatment for refractive errors includes glasses, contact lenses, and surgeries such as lasik.
Notably, incidents of myopia have skyrocked in China in recent years. According to a recent study, 80% of 18-year-old school children suffer from from myopia — compared to just 17% of adults aged 40 and older. The study suggests that the large jump is due to children spending less time outside in favor of spending more time studying indoors.
Presbyopia is a special form of refractive error that occurs when the natural lens of the eye is unable to focus on objects up close. It occurs as people age, and the common treatment is reading glasses. According to a recent study, nearly 1.1B people are believed to be vision impaired because they do not have access to reading glasses.
Companies in the Telemed/Telerefraction category deliver remote patient care through web apps, mobile apps, and two-way video communication.
Simple Contacts allows patients to refresh their contact lenses prescription and supply through a mobile app (the company raised a $16M Series B in May 2018).
Warby Parker, better known as an optical retailer, launched its "Prescription Check" App that allows its customers to update their glasses prescription.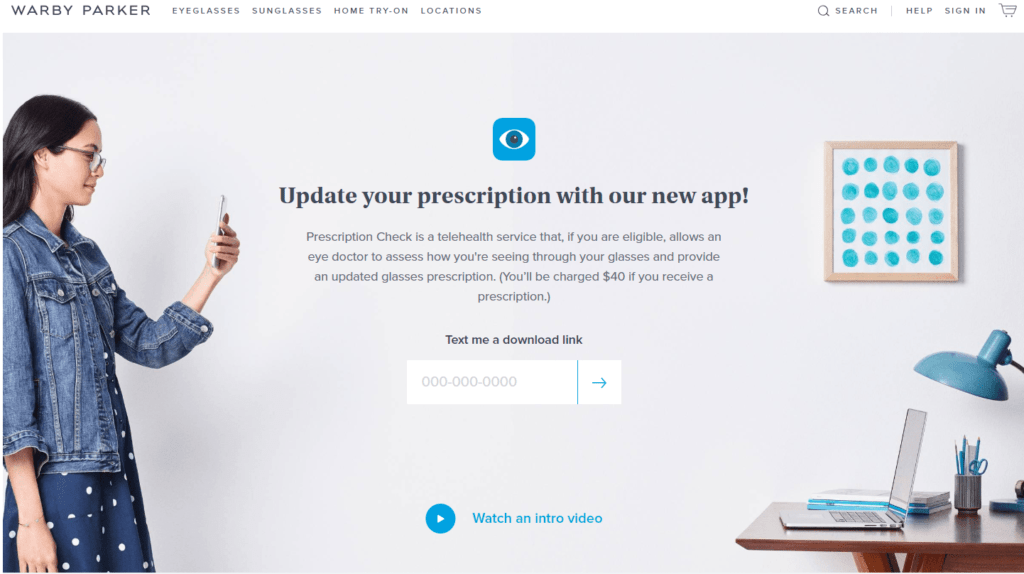 Notably, telerefraction is under fire from optometry lobbying groups.
Top investors across the eye space
There is a fairly consistent group of investors making bets within the eye space; we round up the top 15 below. Investors were chosen based on their number of investments into eye health from 2012 to 2018.
Versant led with 53 investments, followed by SV Health Investors with 38 and InterWest Partners with 29. The remaining investors made between 15 – 25 investments in the eye space.
Top 15 eye health investors (by # of investment rounds, 2012-2018)

| Rank | Investor |
| --- | --- |
| 1 | Versant Ventures |
| 2 | SV Health Investors |
| 3 | InterWest Partners |
| 4 | De Novo Ventures |
| 5 | Domain Associates |
| 6 | Polaris Partners |
| 6 | Johnson & Johnson Innovation |
| 8 | OrbiMed Advisors |
| 9 | New Enterprise Associates |
| 9 | Morgenthaler Ventures |
| 11 | The Carlyle Group |
| 11 | Essex Woodlands |
| 13 | Accuitive Medical Ventures |
| 13 | Kleiner Perkins Caufield & Byers |
| 15 | Delphi Ventures |
| 15 | Prism VentureWorks |
| 15 | MedImmune Ventures |
Research & innovative treatments 
Using the CB Insights patent analysis tool, we looked at patent trends pertaining to eye diseases.
Notably, intraocular lens patents (largely related to cataracts) have lead the pack most of the past five years, while patents related to refractive errors and dry eye have started to increase over the past two years.
The chart below shows patents for the past five years. Note that there is typically a 12 — 18 month delay between the time a patent application is submitted and the time it is published, and thus 2017 applications are likely to increase.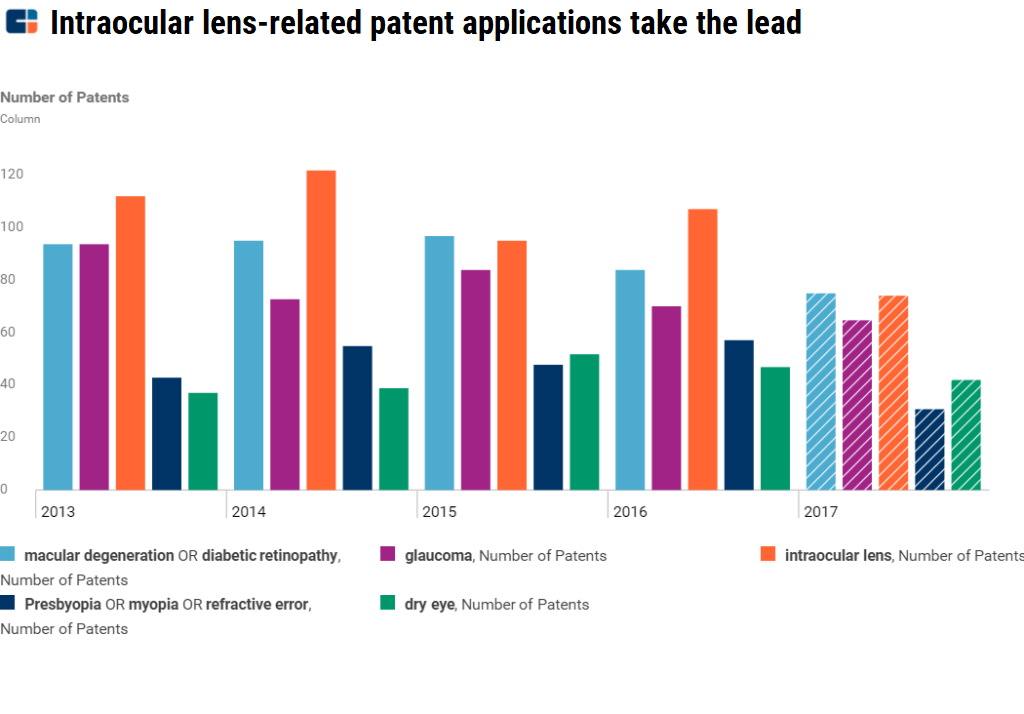 As companies increasingly research eye diseases and patent potential new treatments, advances in eye care — both in diagnostics and therapeutics — are taking place across several technologies.
Here are some recent developments and their impacts on diseases.
EYE DROPS
Eye drops are typically associated with reducing puffy red eyes, hydrating dry contact lenses, and treating glaucoma. Today, they can do so much more.
Use cases range from replacing the need for certain eye injections and surgeries to potentially eliminating the need for glasses.
Macular degeneration
As mentioned above, eye injections are a common treatment for macular degeneration. However, injections into the eye can be very intrusive and must be administered by a medical professional.
Recently, a group from the University of Birmingham invented a method of delivering the drug via eye drops —  a less invasive mechanism that patients can self-administer.
A recent study demonstrated that the technique could deliver an effective amount of drugs into mammalian eyes. The technology is being commercialized by Macregen, and a clinical trial is planned for 2019 following successful completion of proof of concept studies.
Cataracts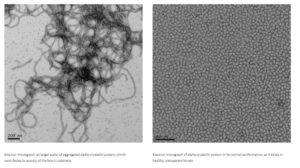 Common treatment for cataracts is the surgical replacement of the eye lens. Today, researchers are exploring how to achieve similar outcomes using eye drops.
ViewPoint Therapeutics is commercializing research out of the University of Michigan and Washington University.
Cataracts form when crystallin proteins change shape, clouding the eyes natural lens. ViewPoint is developing crystallin stabilizers to prevent this process from occurring. The company raised a $35M Series B round in March 2018.
Refractive errors
Reading glasses are a way of life for many individuals suffering from presbyopia. While alternative treatments exist — such as chemical-based pupil restrictors and specialized IOLs available via cataract surgery — they do have drawbacks, such as being more invasive.
Recently, new eye drops have begun to combat this condition. One example is FOV Tears, available in Colombia and in trials elsewhere.
Novartis is working on its own eye drug, UNR844 (formerly EV06), and a group out of the Shaare Zedek Medical Center in Israel recently announced technology utilizing "nanodrops" to eliminate the need for glasses outright (both for myopia and hyperopia).
Orasis Pharmaceuticals, which raised $13M in June 2018, is also developing an eye drop to eliminate the need for reading glasses.
CELL-BASED THERAPY
A number of researchers are utilizing cell-based therapy to combat macular degeneration.
Johnson & Johnson, for example, is developing an injectable cell-based product called palucorcel. The cells in this product are derived from umbilical cord tissue. The treatment is in clinical trials and patient improvement was shown to last for at least 18 months.
"This is the third clinical trial with these cells, and what we have learned is that the cells can improve the vision of some patients with geographic atrophy. In the phase 1 trial, some gained at least 15 letters on [the Early Treatment Diabetic Retinopathy Study] chart, and this was sustained for at least 18 months."  — Sheila Hickson-Curran, lead investigator and director of ophthalmology at the Janssen Pharmaceutical Companies of Johnson & Johnson
Researchers are also using stem cells to halt the progression of macular degeneration.
A team at USC's Roski Eye Institute built a retinal implant using stem cells, and the initial study of 4 people suffering from dry AMD-related vision loss was encouraging: the treatment halted vision deterioration for 3 people, while one actually improved.
ARTIFICIAL INTELLIGENCE
Artificial intelligence is also being used to diagnose vision issues, as AI in ophthalmology moves to reduce the need for a physician during the diagnostic process.
In April, the FDA approved IDx-DR, an autonomous diagnostic AI system that's able to detect diabetic retinopathy by analyzing retinal images. It does not require a clinician to interpret the results, thus enabling faster, simpler detection.
Assuming the images are of sufficient quality, the algorithm reports back to specific results:
"More than mild diabetic retinopathy detected: refer to an eye care professional" or
"Negative for more than mild diabetic retinopathy; rescreen in 12 months."
The study that helped lead the FDA to approve the system was published in Nature.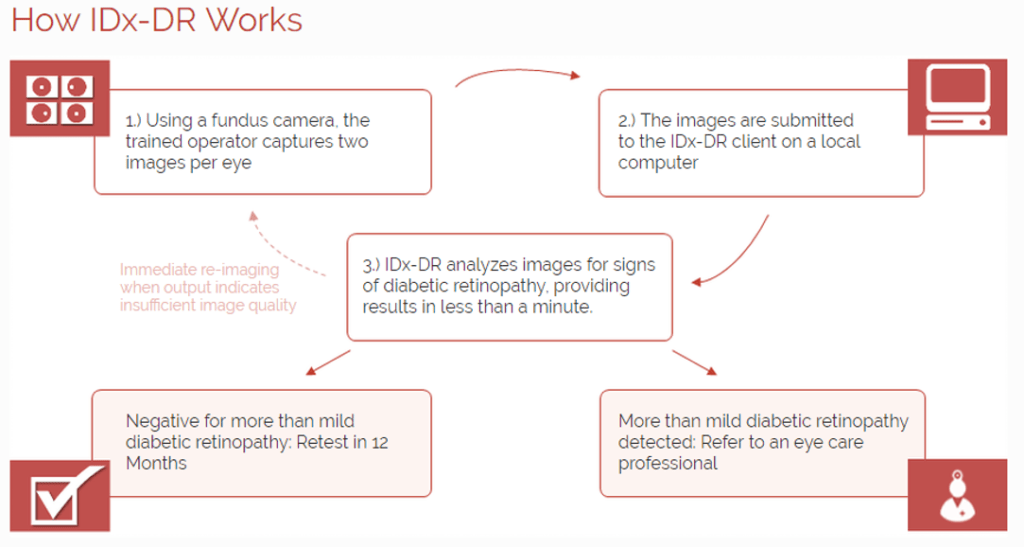 Google's DeepMind division is working with the Moorfields Eye Hospital in the UK to help eye doctors assess the risk of a patient having diabetic retinopathy, glaucoma, and macular degeneration. DeepMind's technology analyzes data from retinal scans previously tagged as having the conditions listed above.
The algorithm could help ease workloads for doctors and increase diagnostic accuracy, and Google hopes to enter clinical trials within a few years.
Recently, DeepMind published a paper discussing how its neural networks were able to recommend the correct referral decisions for over 50 sight-threatening eye diseases with 94% accuracy (also with Moorfields Eye Hospital).
In order to train the algorithms, DeepMind invested significant time into labeling and cleaning up the database of OCT (Optical Coherence Tomography) scans — used for detection of eye conditions — to make it "AI ready."
According to the DeepMind blog, the database is owned by Moorfields as a non-commercial public asset, and is being used in 9 separate studies. Moorfields can use DeepMind's AI model for its future non-commercial research efforts.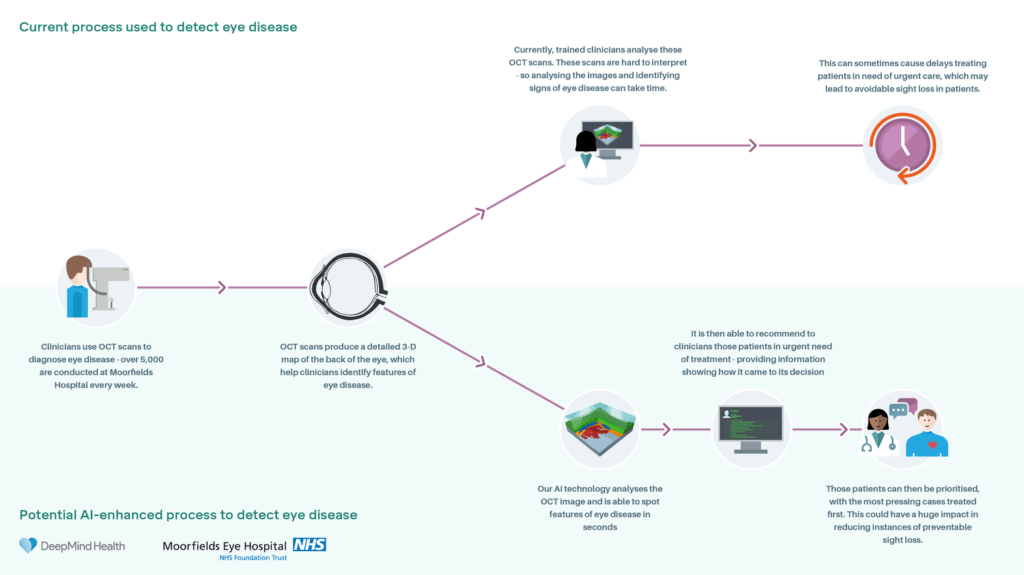 GENE THERAPY
Gene therapy — the process of modifying genes to treat or cure disease — is also being used to improve eye health.
In late 2017, the gene therapy category saw its first FDA approval with Luxturna, developed by Spark Therapeutics. Luxturna treats patients with inherited retinal diseases due to mutations in the RPE65 gene.
"Ophthalmology will be the first to see genome surgery before the rest of medicine." — Dr. Stephen Tsang, Columbia University
More recently, a group out of Stanford, led by Andrew Huberman, has been using gene therapy combined with virtual reality to preserve or restore vision for patients with glaucoma. The therapy was born out of a mouse experiment.
CRISPR, the much-hyped gene editing tool, is now being used to reverse the effects of retinitis pigmentosa (a genetic disorder that also causes loss of vision) in mice.
Dr. Stephen Tsang created this CRISPR tool with colleagues from Columbia University. Dr. Tsang expects human trials to begin in three years
MEDICAL DEVICES
From contact lenses to an artificial iris, companies are innovating on medical devices with ophthalmic use cases.
In May, the FDA approved HumanOptics' CustomFlex Artificial Iris. The iris is cleared for used for patients with a missing or damaged iris due to either a condition called aniridia or from injury. The artificial iris is made of thin medical-grade silicon and is custom-sized for each patient.
On the retinal side, iBIONICS has developed its nanotech "Diamond Eye" retinal implant for patients who have lost their vision due to dry AMD and retinitis pigmentosa (a genetic disorder that also causes loss of vision).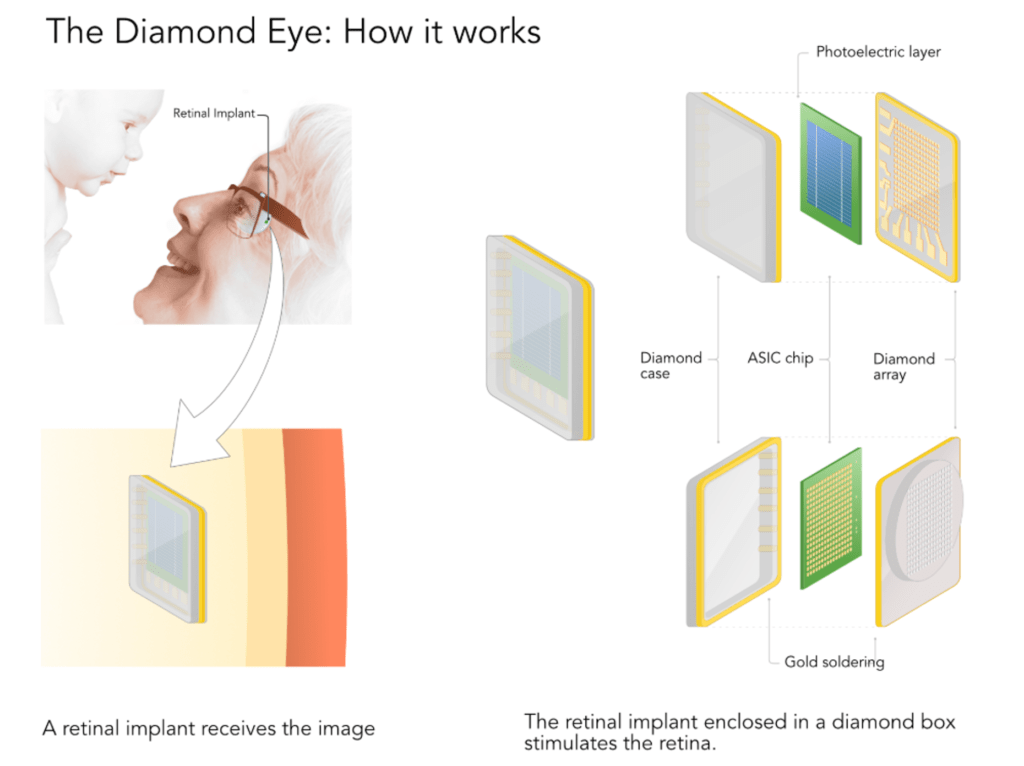 Second Site was the first company to offer an approved retinal prosthetic to help restore some visual function.
Contact lenses are also being expanded beyond just vision correction.
Several of Google/Verily's patents highlight ways to combat presbyopia by using contact lenses to help focus vision. This is a project Verily is working on in conjunction with Alcon, a subsidiary of Novartis (though soon be spun off).
In addition to combating presbyopia, the Alcon contact was also meant to monitor glucose through tears, and was one of Verily's first "moonshots" to be publicly announced.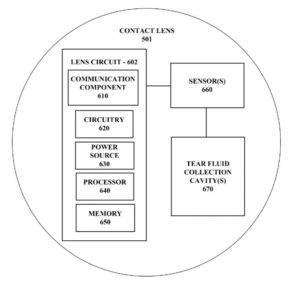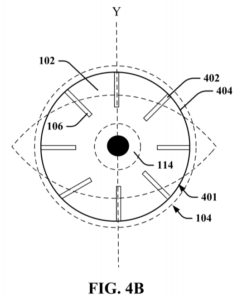 Another interesting contact lens application is by Sensimed.
Its Triggerfish contact lens sensor is designed to detect intraocular pressure-related changes to manage glaucoma.
In April, EyeGate Pharmaceuticals was issued a patent for its iontophoretic contact lens, which was designed to deliver drugs via the contact lens to help eliminate the need for eye injections.
What the eye tells us about the rest of the body
The eye can provide an early warning system for the rest of the body, and today a comprehensive eye exam can detect issues — including heart disease, diabetes, autoimmune disorders, thyroid disease, tumors, and arthritis, among others.
Two notable diseases that can be identified through the eyes are cardiovascular disease and diabetes.
ASSESSING CARDIOVASCULAR RISK
The retina offers several clues into cardiovascular health. For example, high blood pressure can be determined by noting the relative sizes of the retinal veins and arteries.
Google (through its healthcare-focused subsidiary Verily) is looking to help providers detect cardiovascular issues via retinal images.
The company recently highlighted how its machine learning algorithms can detect risk for cardiovascular issues by analyzing the blood vessels in the eye. From the images, the software can accurately determine patient age, blood pressure, and whether the patient smoked — all of which can be used to predict risk of suffering a cardiac event.
Below are images of the retina (i.e., fundus images): green lines depict areas that the neural network used to make its predictions.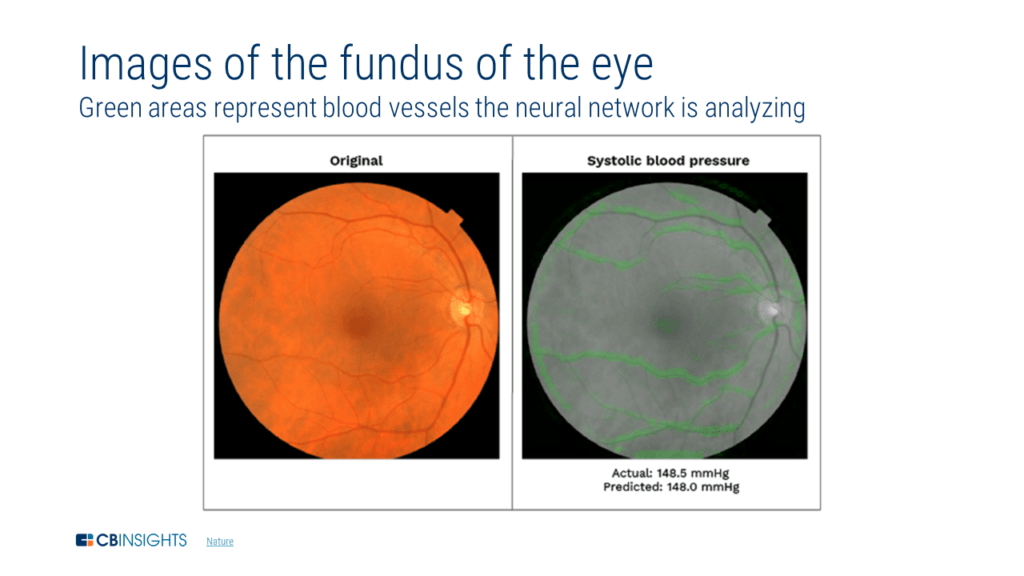 DIABETES DETECTION
As noted above, patients with diabetes are at risk for diabetic retinopathy, among other illnesses.
In some case where patients are not aware they have diabetes, they could present with the following condition, as explained by an optometrist in an excerpt from a VSP article:
"As soon as I noticed the leaking fluids and the hemorrhaging, I suspected that they might be symptoms of diabetes," recalls Dr. Clary, who practices in the Washington, D.C., suburb of Ashburn, Virginia. "In my 12 years of experience as an eye doctor, that kind of bleeding usually signals that a buildup of sugar in the patient's bloodstream has begun to break down the capillaries that feed the retina. The result is often what we call diabetic retinopathy – a condition in which continuing damage to retinal tissue from diabetes can lead to impaired vision or even blindness, if left untreated."
Detection of diabetic retinopathy symptoms could lead to a diabetes diagnosis for diabetic patients who don't yet know about their condition.
Looking ahead
Given the pace of innovation within the eye space, treatment options within 5 -10 years could look drastically different than what is being offered today. This goes for both eye-specific conditions as well as diagnostics and treatments for larger systemic illnesses, such as diabetes or heart disease.
Notably, a majority of these new technologies are not being offered by the vision incumbents, but rather by new startups or tech players such as Google. To stay ahead of these developments, traditional eye care research and treatment companies will want to keep close tabs on the newer players in the expanding space.
For more in our Body Series, read about how technology is transforming women's health and how new advances are reimagining brain research and disease treatment.
If you aren't already a client, sign up for a free trial to learn more about our platform.