The digital therapeutics sector saw a moderate quarter amid a record-setting year. 2021 YTD funding to the industry is already up 79% from 2020 FY, despite a QoQ dip.
Following a record-breaking couple of quarters earlier in the year, global digital therapeutics private market activity generally remained elevated in Q3'21.
In our State of Digital Therapeutics Q3'21 Report, we dive into global investment trends to spotlight takeaways including:
Global digital therapeutics investment activity, up 176% YoY
Which region saw its strongest funding quarter on record, growing 5x
The deal stage that makes up the majority of global deal share
Which geography saw a 118% median deal size increase compared to 2020
And much more
Below, check out just a few highlights from our 74-page, data-driven State Of Digital Therapeutics Q3'21 Report. For deeper insights, all the record figures, and a ton of private market data, clients can download the full report.
GLOBAL DIGITAL THERAPEUTICS FUNDING has HIT RECORD LEVELS IN 2021 YTD, SEEING A 176% YoY INCREASE IN Q3'21
See who's leading the charge, from the startups seeing the largest deals to the regions with the biggest funding booms.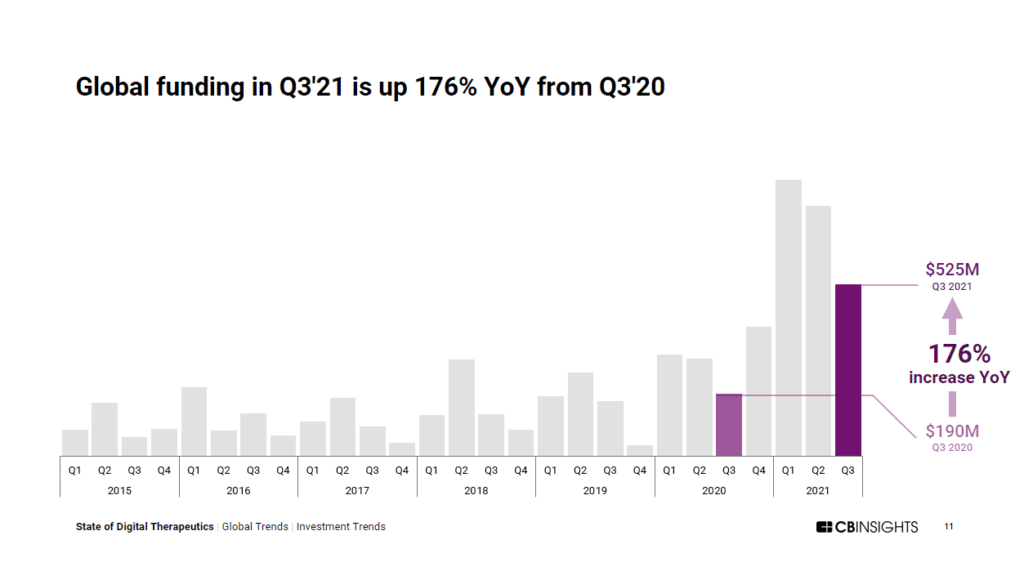 US MEDIAN DEAL SIZE EXPLODES IN 2021
Explore the record-breaking deals in greater detail, including deal size, investor type, breakdowns by region, deal share, and more.