Funding to the global digital health space declined for the second consecutive quarter, dropping 33% from Q1'22 and 58% from its all-time high in Q2'21.
Global digital health funding fell to $7.1B in Q2'22, its lowest point since Q2'20. The number of deals also declined by 21% QoQ to 554.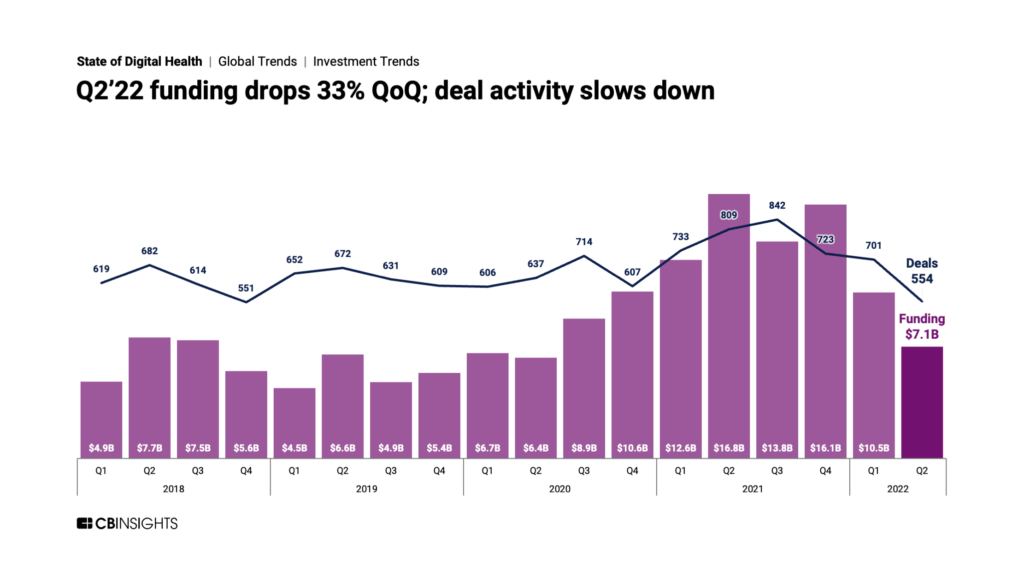 US-based companies accounted for more than half of total funding in the space, with some of the biggest deals going to companies like Biofourmis, BostonGene, and Reify Health.
Other Q2'22 highlights across the digital health landscape include:
Global digital health funding reached $7.1B across 554 deals in Q2'22, down 58% YoY.

 

 

The US raised the most in funding ($4.8B), followed by Asia ($1.1B), and Europe ($1B). While funding to Europe saw a modest increase from Q1'22, the US and Asia saw declines of 33% and 18%, respectively. 

Mega-rounds (deals worth $100M+) accounted for $1.9B of funding in Q2'22, which represents a 56% decline from Q1'22. 

M&A activity dropped for the fourth consecutive quarter in Q2'22 with 83 deals, down from 144 in Q1'22. The digital health space saw only 1 IPO in Q2'22: Heart Test Laboratories.
Eight new digital health unicorns were born in Q2'22, holding steady with last quarter's total. New entrants include Oura ($2.6B), Clarify Health ($1.4B), and Biofourmis ($1.3B)

Gaingels and Insight Partners were the top investors in Q2'22, backing 9 companies each. General Catalyst followed with 7 companies, and Eight Roads Ventures with 6.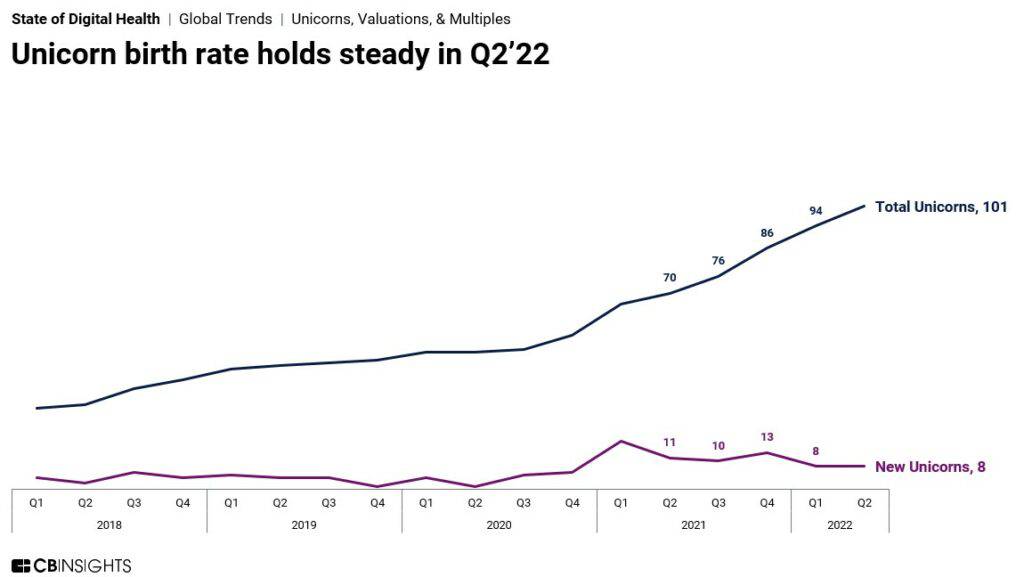 If you aren't already a client, sign up for a free trial to learn more about our platform.