Global digital health investment activity contracted in 2022, with funding falling by 57% year-over-year and deals reaching a 5-year low.
Global digital health funding reached $25.9B in 2022, marking a 57% drop from 2021's record numbers. Funding declined over 4 consecutive quarters to reach $3.4B in Q4'22, a 5-year low. Deals to the sector also hit a new low after falling 33% YoY. 
US-based companies accounted for 68% of total digital health funding in 2022. The top equity deals for Q4'22 went to US-based DispatchHealth, Komodo Health, and Neumora — all of which raised mega-rounds ($100M+).
Below, check out a handful of highlights from our 149-page, data-driven State of Digital Health 2022 Report. For deeper insights, all the record figures, and a ton of market data, download the full report.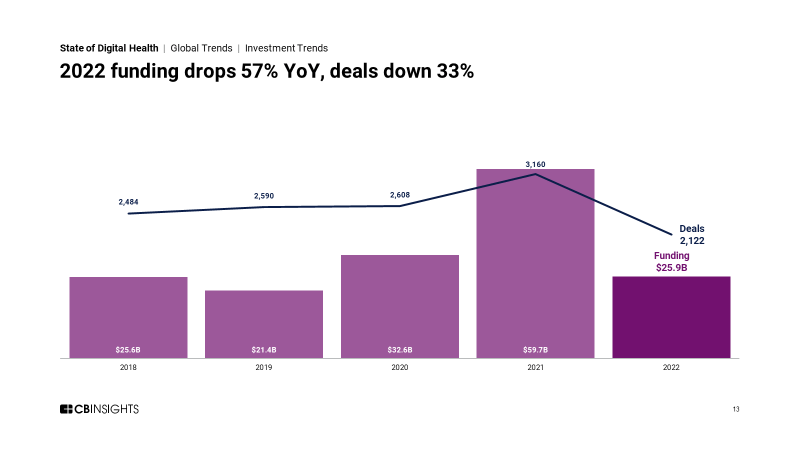 Other 2022 highlights across the the digital health landscape include:
Digital health funding in the US reached $17.7B in 2022 — down 56% YoY. Deals to US-based startups also dropped 26% from 2021, marking a new 5-year low for digital health deal activity.

Global exits declined 55% YoY in 2022 to 323. M&A deals declined by 50% YoY to a 5-year low of 305. IPOs dropped 83% while SPACs fell 78% YoY.

Q4'22 was the first quarter with no unicorn birth since 2018. Still, 2022 had the second-highest number of unicorn births (21) in the past 5 years.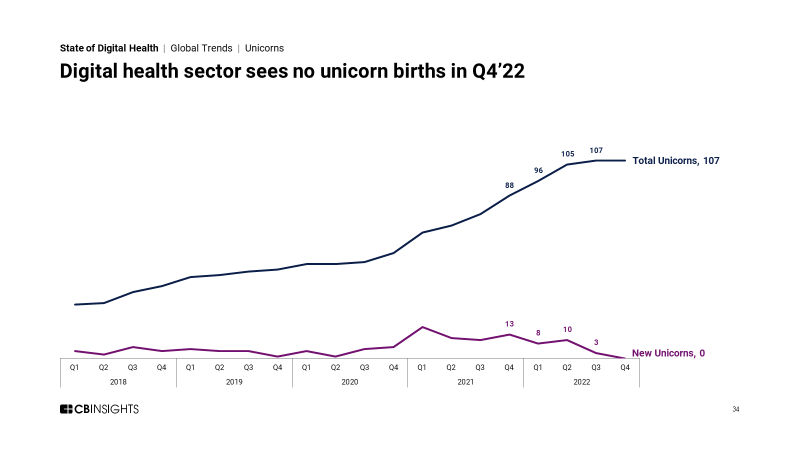 Mega-round ($100M+) funding plummeted by 75% in 2022, accounting for $8.1B of the total digital health funding. Mega-rounds decreased in each consecutive quarter, with only 3 in Q4'22. 

Funding to telehealth startups reached $7.5B in 2022, marking a 57% drop YoY. Deals to the space totaled 455, a 5-year low. Q4'22 saw a 30% decline in deals QoQ. 

Europe-based digital healthcare companies raised $3B in 2022. Despite a decline in annual deals, Q4'22 saw a 16% increase compared to Q3'22. 
Download the full State of Digital Health  2022 Report to dig into all these trends and more.
If you aren't already a client, sign up for a free trial to learn more about our platform.