The Digital Health 150 is CB Insights' annual ranking of the 150 most promising digital health startups in the world. This year's winning companies include startups working on interoperability and data integration, home care and monitoring, AR/VR in healthcare, hybrid care, and more.
CB Insights has unveiled the fourth annual Digital Health 150 — a list of 150 of the top private companies transforming healthcare with digital technology. 
The 2022 Digital Health 150 cohort has raised approximately $5.6B in aggregate funding across 378 deals since 2017 and includes startups at different investment stages of development, from early-stage companies to well-funded unicorns.
Winners are focusing on everything from reimagining clinical care, to making healthcare more accessible for underserved populations, to leveraging tech like AR/VR to improve surgical training.
These 150 winners were selected from a pool of over 13,000 companies, including applicants and nominees.
They were chosen based on several factors, including data submitted by the companies, proprietary Mosaic scores, company business models and momentum in the market, funding, business relationships, investor profiles, competitive positioning, tech novelty, and more. CB Insights' research team also reviewed over 3,000 Analyst Briefings submitted by applicants.
FREE DOWNLOAD: THE COMPLETE DIGITAL HEALTH 150 LIST
Get an Excel file with the entire 2022 Digital Health 150, CB Insights' annual ranking of the most promising digital health startups in the world.
Clients can access the entire Digital Health 150 list and interactive Collection here. (If you don't have a CB Insights login, create one here.)
Companies are categorized by their primary focus area and client base. Categories in the market map are not mutually exclusive. Please click to enlarge.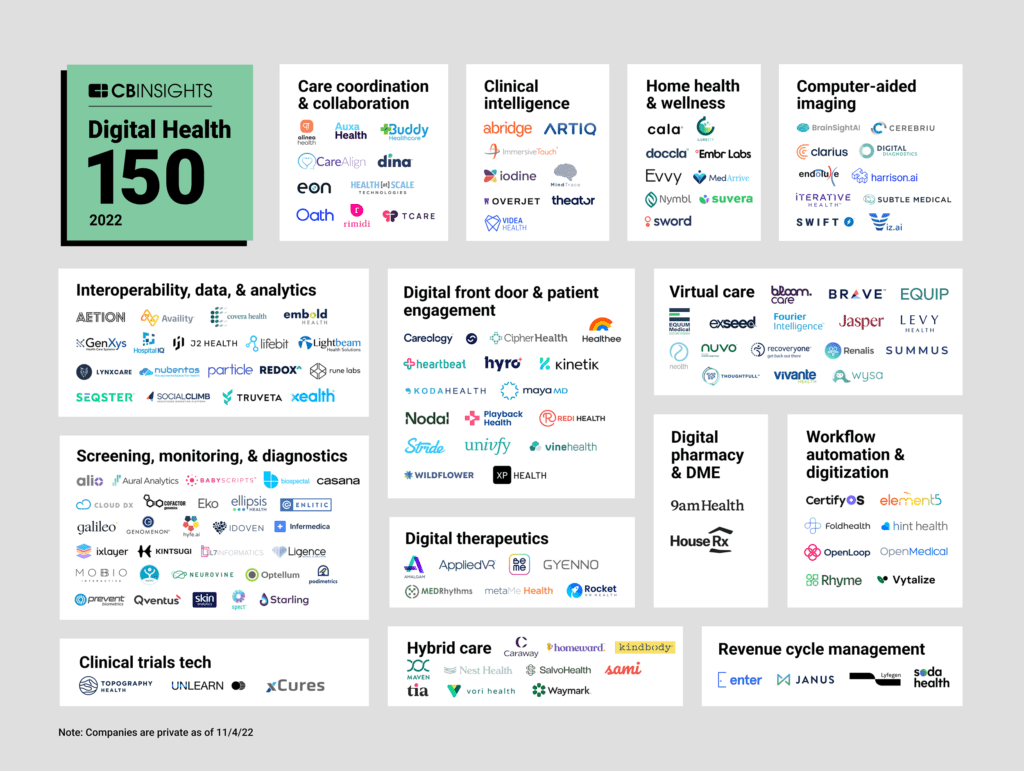 Want to be considered for future rankings? Fill out this initial application form (it'll take no more than a few minutes). If selected, you'll be asked to complete our Analyst Briefing Survey so that our analysts can better understand your products, customers, and market traction.
DIGITAL HEALTH 150 COHORT HIGHLIGHTS
Few repeat winners:

Around 90% of this year's winning cohort did not appear on last year's list. This high proportion of new winners partially stems from a flood of M&A and IPO activity

 in 2021, which saw record exits in the digital health space. Multi-year winners like Xealth, Redox, and Maven Clinic have contended with economic pressures to earn their place once again.
Global representation grows: Winners in this year's Digital Health 150 span 18 countries across 5 continents. A quarter (25%) are headquartered outside of the US — the most in the history of our list. While the US still leads, the UK comes in second with 9 winners, followed by Canada with 5 and Brazil with 3.
Focus on diagnostics: The screening, monitoring, & diagnostics category leads with 29 companies, accounting for nearly one-fifth of the Digital Health 150. Notable winners here

include mobile skin lesion analytics provider

Skin Analytics

, vocal biomarkers companies

Ellipsis Health

and

Kintsugi

, and concussion monitoring solution

Prevent Biometrics

. 

This category is followed by interoperability, data, & analytics (12% of the winners), virtual care (11%), and digital front door & patient engagement (11%).
Funding leaders: Since 2017, this year's Digital Health 150 winners have raised around $5.6B in equity funding across 378 deals (as of 11/16/22). This includes $1.6B raised across 85 deals in 2022 YTD alone. The top 3 companies by all-time total equity funding raised are SWORD Health, Maven Clinic, and Viz.ai.
Unicorn slowdown: This year's list includes only 5 unicorns with a $1B+ valuation, around 3% of the total list. For comparison, last year's list contained 17. This tracks with a broader drop in new unicorns across sectors in 2022.
Top investors: General Catalyst is the most active investor in this year's Digital Health 150 companies, having backed 13 of this year's winners since 2017, including Homeward, Equip, Casana, and SWORD Health. Insight Partners is next with 10, followed by 7wire Ventures and Plug and Play Ventures with 6 each.
Early-stage innovation: Nearly half of our winners are companies in earlier stages of development (incubator, angel/seed, or Series A). Players here include Vori Health, which provides hybrid (virtual and in-person) musculoskeletal care, and Janus Health, which provides process analysis, process improvement, and intelligent automation tools for revenue cycle management.
Track all the Digital Health 150 Startups in this report and many more on our platform
The 150 private digital health startups working to recreate how healthcare is delivered. Look for The Digital Health 150 in the Collections tab.
Track The Digital Health 150 Startups
THE DIGITAL HEALTH 150 CLASS OF 2021: WHERE ARE THEY NOW?
Since January 2022, the 2021 Digital Health 150 winners have posted a number of accomplishments, including:
More than $2.5B in new equity funding (as of 11/16/22).
9 new mega-rounds ($100M+), including a $325M round to home kidney care provider Somatus.
2 exits: 1 IPO and 1 acquisition.
4 new entrants to the $1B+ unicorn club, including Clarify Health and Transcarent.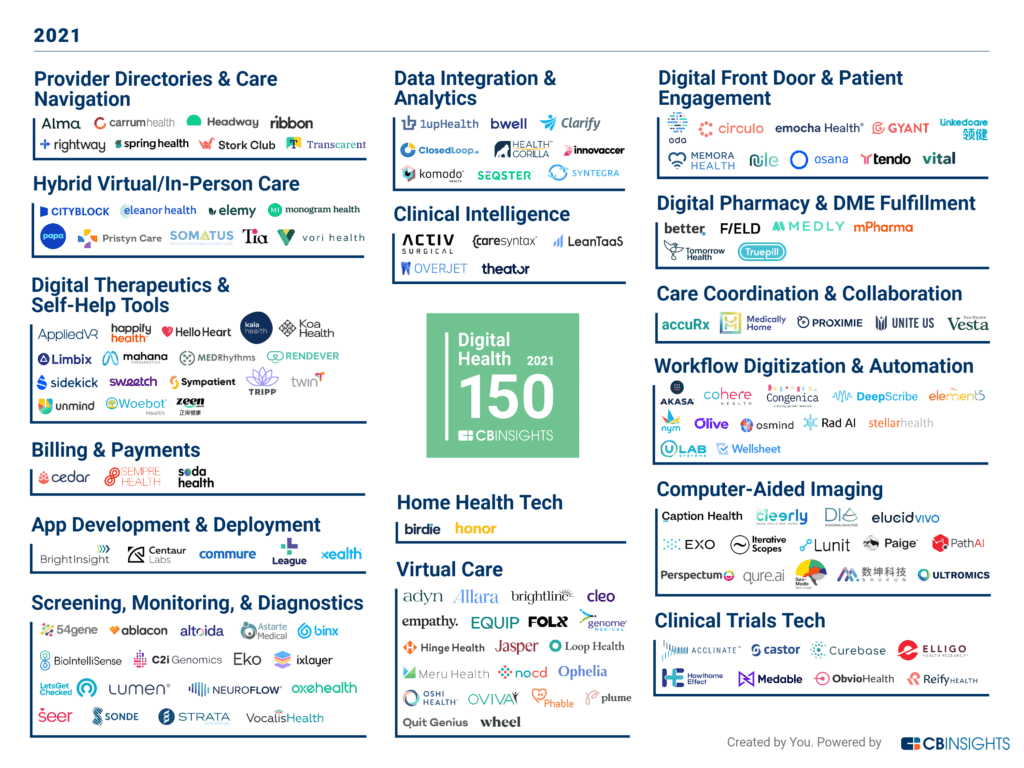 If you want to learn more about the Digital Health 150 Class of 2021, check out the full list of previous winners.
If you aren't already a client, sign up for a free trial to learn more about our platform.