From overproducing expensive bikes to spending millions on acquiring customers for a product only purchased once a decade, D2C brands have experienced countless growing pains in recent years. We identify the lessons to be learned from major D2C brands that dug themselves into a hole.
Direct-to-consumer (D2C) brands have pulled off some amazing feats.
Imagine getting shoppers excited about buying a plain white t-shirt — or convincing customers to cheerfully post videos of themselves unboxing a mattress.
These "digitally native" brands, typically made by and for millennials, promised to invigorate tired industries and disrupt giants by cutting out the middlemen: retailers. To achieve this, they relied on lavish VC funding, robust digital channels, and potent branding that included minimalist aesthetics, a friendly customer-facing voice, and an obsession with details like packaging to elevate the customer experience.
The D2C narrative has captivated investors and consumers over the past decade, resulting in billion-dollar valuations and record-setting exits. At just 5 years old, stylish yet affordable eyewear brand Warby Parker reached a $1.2B valuation to earn its unicorn horn. In 2017, urban menswear brand Bonobos successfully exited upon being acquired by retail giant Walmart for $310M.
But success is maintained, not achieved, and despite their early wins, many D2C brands have grappled with losing valuation, failing to turn a profit, or shutting down altogether.
In this report, we look at some of the underlying factors making D2C life more difficult. We also analyze the struggles of 5 major D2C brands to learn what can go wrong — and better understand how to avoid the same pitfalls.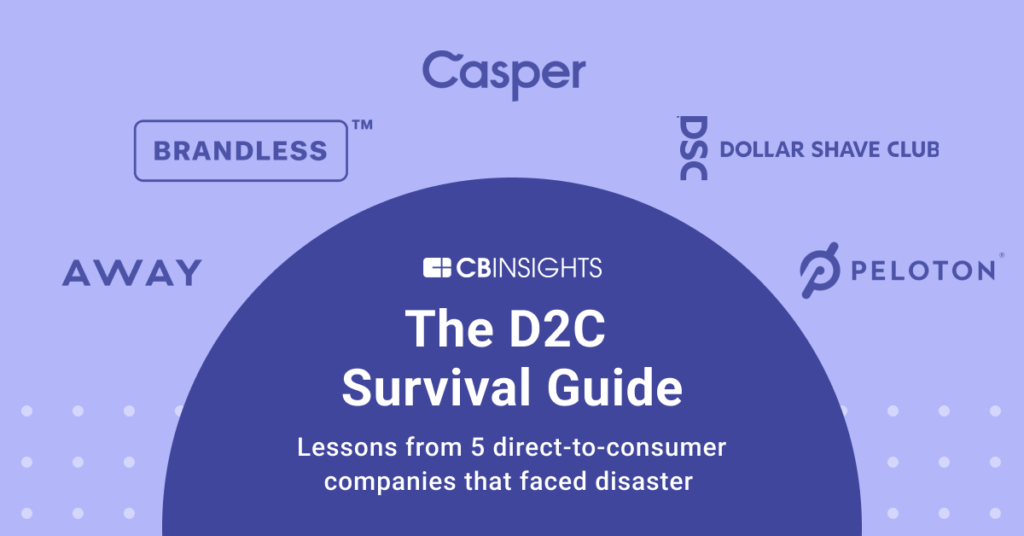 Table of contents
If you aren't already a client, sign up for a free trial to learn more about our platform.