From logistics to entertainment to insurance, drones are helping corporates cut costs, save time, and improve safety.
From the fearsome MQ-9 Reapers used by the US military to the nimble delivery octocopters Amazon is looking to deploy, organizations across a wide range of industries are finding uses for unmanned aerial vehicles (UAVs) — also known as drones.
For example, small, lightweight drones are helping engineers on industrial sites conduct safety inspections in spaces that would be too small or dangerous for a human to navigate.
They also have the potential to bring internet connectivity to remote areas, which was the goal of Facebook's Aquila project.
Drones are even being used for entertainment. During the opening ceremony of the 2018 Winter Olympics, Intel put on an air show featuring a synchronized flight of 1000+ drones.
Below, we look at 21 corporations leveraging drone technology to spur innovation, cut costs, boost efficiency, and sometimes even help save lives.
Table of Contents
1. Amazon: Prime Air readies for prime time
Amazon announced in 2013 that it had an R&D project in the works to use drones for home deliveries. Since then, the company has been developing its own drones to deliver packages weighing up to 5 pounds, in 30 minutes or less, to customers within a flying range of 15 miles.
The company also has plans to utilize other types of drones to deliver a broader range of goods.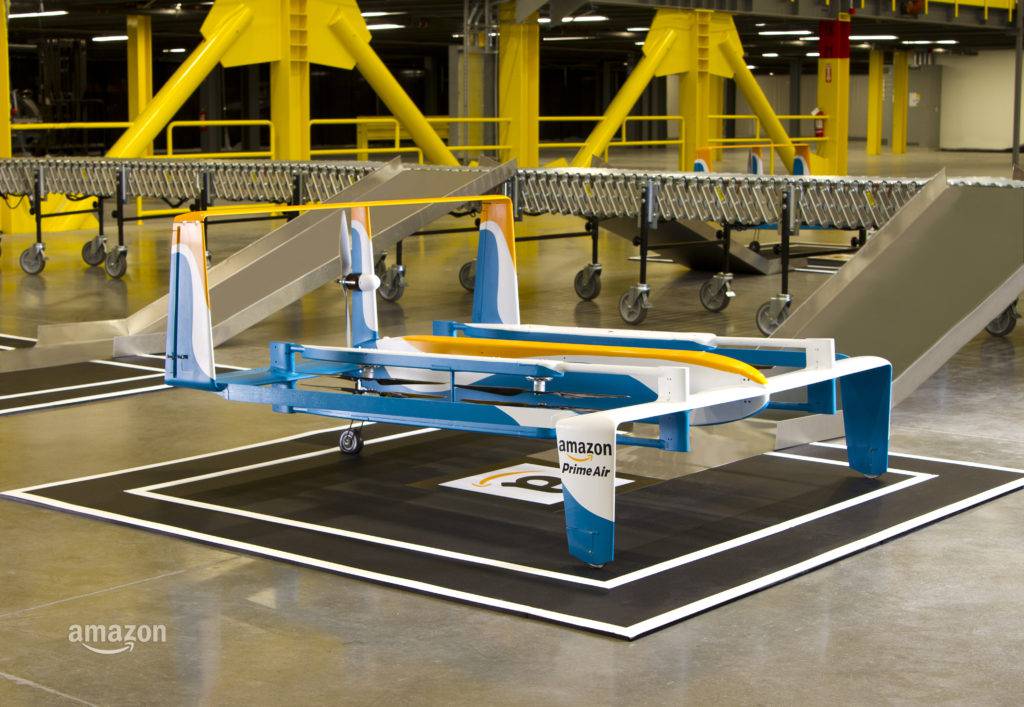 Source: Amazon
Amazon has developed its plans in communication with the Federal Aviation Administration (FAA), which oversees the operation of commercial aviation in US airspace. To avoid potentially dangerous interference with passenger aircraft, Amazon will aim to operate its drones at lower altitudes, typically around 400 feet.
The FAA is not the only government agency with which Amazon has been negotiating. The company entered into a contract with the UK government in 2016 to test its drone delivery services in British airspace:
"Using small drones for the delivery of parcels will improve customer experience, create new jobs in a rapidly growing industry, and pioneer new sustainable delivery methods to meet future demand. The UK is charting a path forward for drone technology that will benefit consumers, industry, and society." — Paul Misener, VP, Global Innovation, Policy and Communications, Amazon
Amazon's first successful drone delivery was completed in Cambridgeshire, England, on December 7, 2016. A year later, in March 2018, Amazon was awarded a patent by the US Patent and Trademark Office for a UAV capable of recognizing and responding to human gestures.
Most recently, in June 2019, Amazon's CEO of Global Consumer Jeff Wilke announced that the company expected to begin "delivering packages via drone to customers within months."
Amazon's UAVs rely on onboard navigation systems, which include fully autonomous obstacle recognition technology that detects hazards such as buildings and power lines. Small landing mats serve as "helipads" that tell the drones where they can safely deposit a customer's package.
These mats can be rolled up when not in use, but the space required for a drone landing could make deliveries challenging for people who live in apartments and condos. With approximately 43% of US households being in buildings with 5 or more units, according to the National Multifamily Housing Council, Amazon will likely continue developing its drone technology to be able to better reach these customers.
---
2. Alphabet: FAA gives Google the green light
Alphabet's delivery drone project, Project Wing, was announced in 2014 and became an independent Alphabet company in July 2018.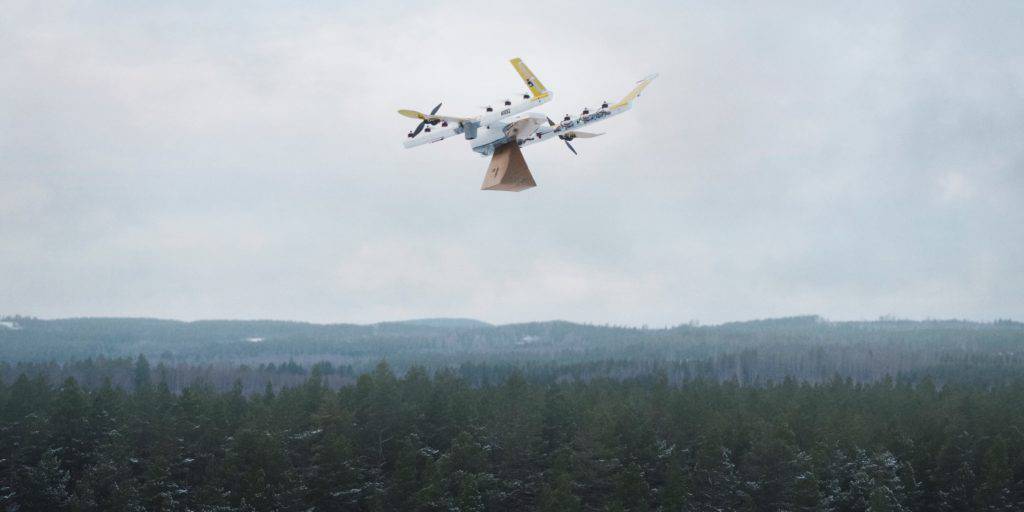 Source: Wing
The company first began test flights of its UAVs in Australia in 2014. Two years later, Wing conducted its first test flight in the US at an FAA-approved test site located at Virginia Polytechnic Institute in Blacksburg.
In April 2019, Wing became the first UAV operator to receive air-carrier certification from the FAA and the US Department of Transportation — a legal status that allows it to begin making deliveries to customers.
Standard FAA regulations make autonomous package delivery difficult. UAVs are forbidden from flying beyond the sight of their human operators. The FAA has permitted certain drone operators to operate autonomous flights over long distances, but the flights must be categorized as demonstrations to be compliant — and that stipulation prohibits drone companies from charging for them.
Now that Wing has secured its vital air-carrier certification status from the FAA, the company will no longer be subject to the same restrictions.
However, the certification also forces the company to comply with significantly more stringent safety and operational standards. To align with FAA regulations, Wing was required to create extensive safety manuals and internal documentation, develop comprehensive training programs, and implement a chain of command for evaluating and responding to emerging safety crises — all of which are required of commercial passenger airlines.
Wing plans to begin trialing commercial drone deliveries to homes in rural communities in Blacksburg and Christiansburg, Virginia, later in 2019.
Its drones weigh around 11 pounds, have a wingspan of just over 3 feet, and are capable of carrying packages that weigh up to 3.3 pounds. Like other commercial drones, Wing's UAVs will operate in low-altitude airspace, typically at heights of around 400 feet.
During deliveries, Wing's drones hover approximately 23 feet above the ground and lower packages with a suspension cable that is retracted after the package touches the ground.
---
3. FedEx: Drones for maintaining aircraft
Until recently, FedEx had mostly kept its interest in UAVs mostly under wraps.
Henry J. Maier, president and CEO of FedEx Ground, even said that while drones showed great promise in a range of applications, he didn't see a future in drone deliveries at FedEx:
"A year ago on Cyber Monday, the Monday after Thanksgiving, FedEx Ground handled about 22 million packages, that's a lot of drones in the air. I'm not sure that they're really practical because of that." — Henry J. Maier, President and CEO, FedEx Ground
But FedEx revealed more of its plan for UAVs when the FedEx Institute of Technology at the University of Memphis first announced its DRONES (Drones, Robotics, and Navigation-Enabled Systems) research initiative.
The following year, reports emerged that FedEx had applied to the US Patent and Trademark Office for several patents pertaining to UAV technology.
In a letter accompanying FedEx's 2018 Annual Report, Chairman and CEO Frederick W. Smith announced that the company would soon begin using UAVs at Memphis International Airport. Smith said that drones would deliver replacement aircraft parts to maintenance engineers on the ground in addition to inspecting aircraft and runway conditions.
Memphis International Airport is second only to Hong Kong International Airport in terms of cargo air traffic. It handled almost 5M tons of cargo in 2017, the vast majority of which was shipped via FedEx.
---
4. Uber: Envisioning the future of personal air travel
Uber made headlines around the world in 2016 when it utilized lightweight quadcopter UAVs to advertise to passengers stuck in traffic in Mexico City to promote UberPOOL as part of the company's broader push into the Latin American market.
The same year, the company's Uber Elevate initiative published a paper on the "future of on-demand urban air transportation." The paper compared traffic congestion to the limited development space in cities that skyscrapers once solved, and identified drones as the next frontier of personal transportation.
But in 2018, the company's interest in drone tech shifted from autonomous air travel to more practical applications when CEO Dara Khosrowshahi announced that Uber wanted to incorporate UAV delivery into its Uber Eats food-delivery business by 2021. The company says it plans to test the service in San Diego this summer.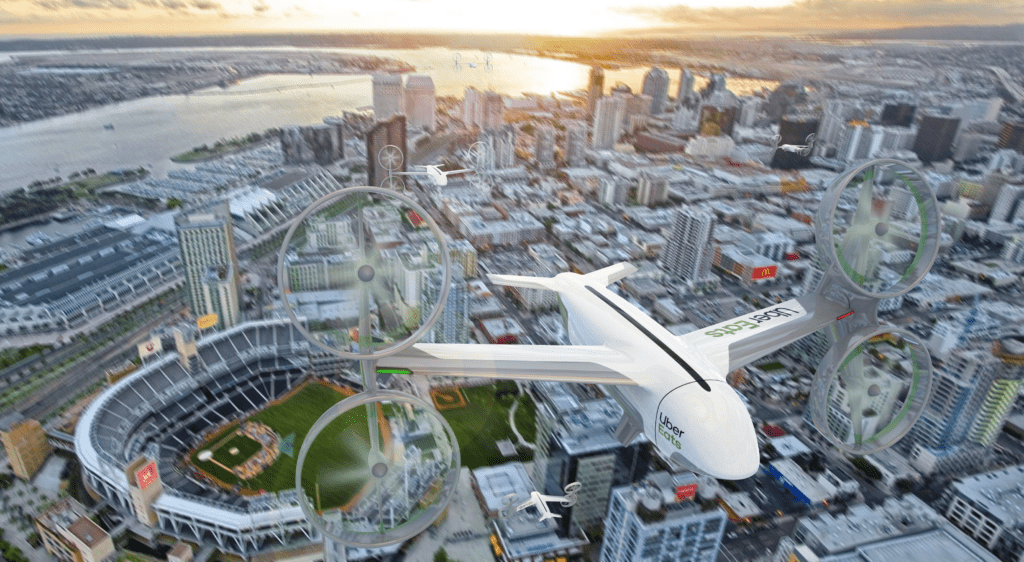 Source: Uber
Alongside Alphabet and FedEx, Uber has been conducting drone test flights in San Diego, California, as part of a federal program to determine the potential impact of commercial drone flights in low-altitude airspace.
Uber's plans to compete with Amazon and Google in the drone-delivery space may be worlds apart from its bold vision of autonomous flying taxis, but Uber Eats represents a strong business for the company.
And Uber hasn't abandoned its futuristic vision of autonomous flying taxis. In June 2019, it announced plans to launch flying taxis in Los Angeles and Dallas-Fort Worth by 2023, with testing starting as early as 2020.
---
5. Microsoft: Prioritizing enterprises
Since the appointment of Satya Nadella as CEO, Microsoft has embarked on a campaign to reinvigorate its public image as a forward-thinking tech company (read our Microsoft strategy teardown here). Part of that effort has involved the company's ambitious efforts to bring UAVs to the enterprise.
Microsoft announced in May 2018 that it had entered into an exclusive partnership with Chinese drone manufacturer DJI to introduce new tools for software developers hoping to use drones in their work:
"DJI's new SDK for Windows empowers developers to build native Windows applications that can remotely control DJI drones including autonomous flight and real-time data streaming. The SDK will also allow the Windows developer community to integrate and control third-party payloads like multispectral sensors, robotic components like custom actuators, and more, exponentially increasing the ways drones can be used in the enterprise." — Microsoft
Using Microsoft's SDK (software development kit), developers will be able to build native applications for Microsoft's Windows operating system to combine UAVs with AI and machine-learning capabilities for use in corporate environments.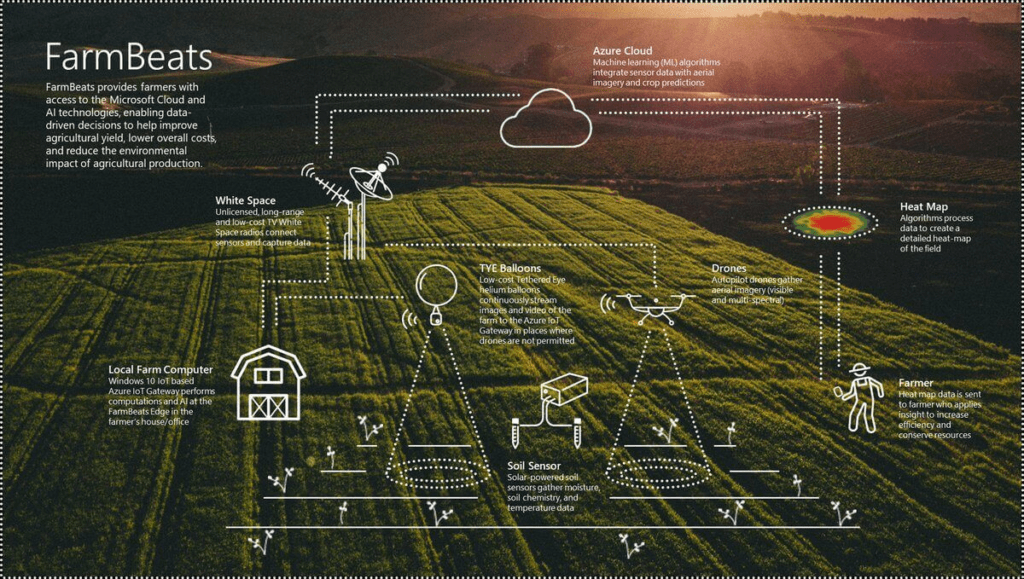 Source: Microsoft
Microsoft and DJI have been working on collaborative UAV initiatives since 2015, when they launched Microsoft's FarmBeats project, a data-driven agricultural initiative that aims to leverage data gathered via drones to optimize food production.
In addition to ground-based data-gathering devices, the FarmBeats initiative uses lightweight UAVs to monitor conditions such as soil moisture and temperature, sites of potential pest infestations, and other factors that could affect crop yields.
Among the drones used for the initiative are DJI's Matrice 200 quadcopters, which are fitted with multispectral sensors developed specifically for agricultural applications. Data gathered by the drones is uploaded to Microsoft's Azure IoT Edge servers via the unused spectrum of standard TV broadcast signals — a bandwidth that is more likely to be available in rural areas that are not always served by broadband internet connections.
---
6. Facebook: Grand plans for the future of internet connectivity
Facebook announced in 2014 that it was developing a radical new unmanned aircraft called Aquila — Latin for "eagle" — that could remain airborne for months at a time.
Aquila was made of a cured carbon fiber that was stronger than steel. It had a wingspan wider than that of a Boeing 737 passenger aircraft, but weighed about one-third of a typical car.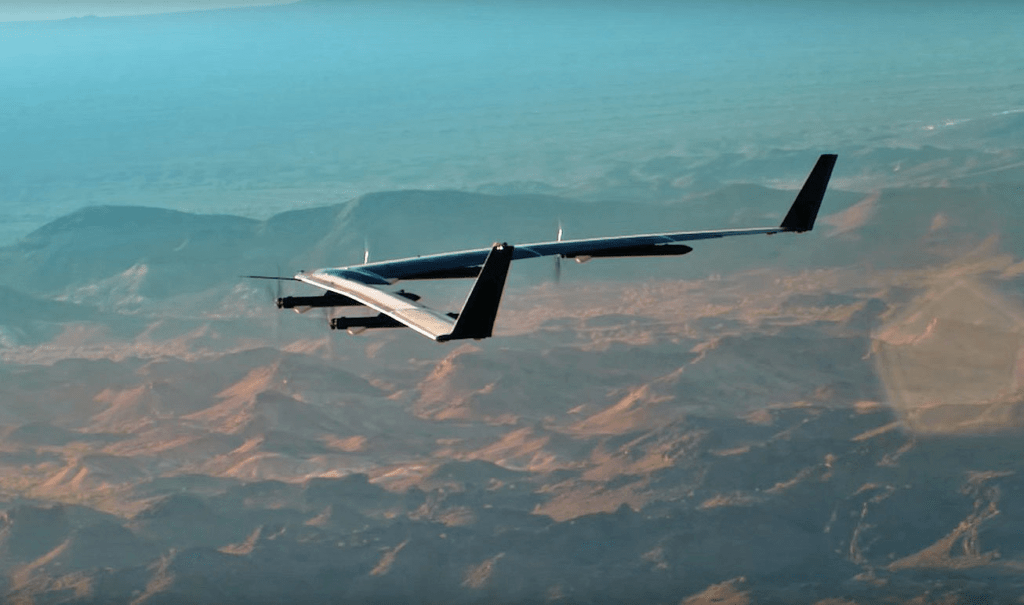 Source: Facebook
Facebook intended to use these lightweight unmanned planes as the backbone of its planned network of internet-connectivity aircraft. The global fleet of UAVs were envisioned as soaring high above commercial air traffic at altitudes of 60,000 feet, providing internet connectivity to the world below.
Facebook reasoned that developing an autonomous aircraft from scratch was more cost-effective than investing in costly subterranean fiber-optic cabling at scale — a process estimated to cost up to $22,000 per mile, according to telecommunications provider Otelco.
Its Aquila aircraft were fitted with lasers capable of data transfer rates up to 10x faster than ground-based technologies.
Facebook began test flights of the Aquila in 2016. The first flights were difficult — at least one test flight conducted at a facility in Yuma, Arizona ended in a crash while it was attempting to land, caused by a structural failure in its wing.
Facebook stated it had conducted a successful test flight of its Aquila drone in 2017, albeit at an altitude of 3,000 feet, significantly lower than its intended operational altitude.
Despite the test flight, the company announced the termination of the program in 2018, citing a change of strategy to working with aerospace partners:
"As we've worked on these efforts, it's been exciting to see leading companies in the aerospace industry start investing in this technology too — including the design and construction of new high-altitude aircraft. Given these developments, we've decided not to design or build our own aircraft any longer, and to close our facility in Bridgwater." — Yael Maguire, VP of Engineering for Connectivity, Facebook
But that doesn't mean that Facebook is done with drone technology. The company reportedly began a partnership in late 2018 with Airbus to test solar-powered internet drones in Australia.
---
7. Apple: Better imagery, better maps
Apple's debut of Maps back in 2012 didn't go exactly as planned. Many users were disappointed by inaccuracy and a lack of transit directions. Reported examples included public buildings such as hospitals being incorrectly marked as shops, bridges terminating in the middle of rivers, and airport runways mistakenly labeled as roads.
CEO Tim Cook eventually wrote an open letter apologizing for its limitations.
These errors weren't just embarrassing for Apple — they were potentially dangerous to users relying on Apple Maps to get them to their destinations.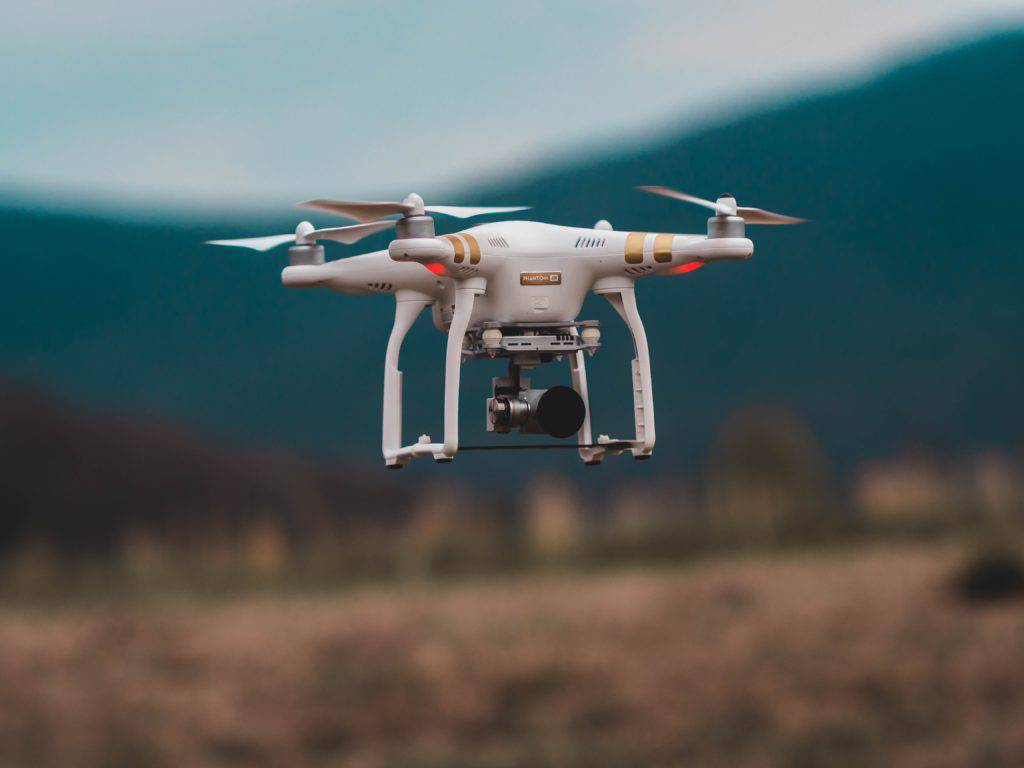 Source: Jared Brashier
But the accuracy of Apple Maps has improved significantly since its launch, thanks in part to drone technology.
Drones solved a challenge that had plagued Maps since launch: timely updates of geographical data. Like Google, Apple maintains a fleet of ground vehicles, each of which is equipped with multiple sensors and recording devices to collect imagery for use in Maps.
Shortly after Maps launched, Apple discovered that gathering and updating vast quantities of visual and geographic data in real time was more challenging than it expected. Using drones enabled Apple to collect more visual data faster, which in turn helped improve Maps' accuracy and reliability:
"There's a huge data-quality issue there, and I don't think we initially appreciated all the kinds of technology we would need to do that on an ongoing basis." — Craig Federighi, Senior VP, Software Engineering, Apple
In 2018, Apple was granted federal approval to participate in a test program in which UAVs were used to take high-resolution imagery of North Carolina.
As part of its test flights, Apple used UAVs developed by DJI, including the Leica Aibot, which is capable of generating three-dimensional models of an area's topography.
Like Google before it, Apple attempted to allay privacy fears surrounding its test flights in North Carolina by insisting that faces, license plates, and other unique elements that could be used to identify individuals in images taken by drone would be blurred.
---
8. IBM: Visualizing natural disasters in real-time
One of the many challenges of responding to a natural disaster is the difficulty in determining the extent of the damage for effectively mobilizing relief efforts.
That is one of the problems that IBM has been working to solve using drone technology.
In 2016, Andrew Trice, a technical product manager with IBM's Cloud division, created Skylink, a proof-of-concept application that combined drone, cloud, and cognitive computing technologies into a single unified interface.
Built using the DJI SDK that Microsoft is using in its enterprise drone projects, Skylink allows users to connect a DJI drone to IBM's cloud platform.
Using IBM Cloud as an intermediary, a UAV can relay captured images, live-video feeds, and telemetry data to an app running on an iPad.
Upon upload, the visual data captured by the drone is automatically analyzed using open-source cloud platform OpenWhisk and IBM's Watson visual recognition technology.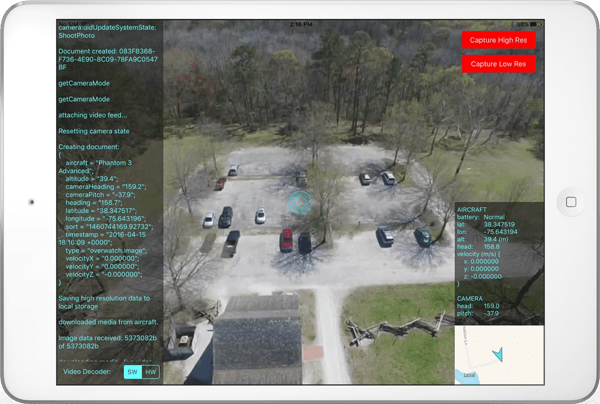 Source: IBM
The use of UAVs in disaster response has been an area of particular interest for IBM. The company's Call for Code challenge aims to empower developers to create new solutions for urgent problems, such as natural disasters.
Puerto Rican developer Pedro Cruz won the 2018 competition with DroneAID, a system of visual shorthand intended to provide UAVs with information on food, water, and medical shortages experienced by the survivors of natural disasters, such as Hurricane Maria, which devastated Puerto Rico in 2017.
DroneAID relies on computer-vision technology to identify survivors and uses pattern-recognition technologies to determine which type of emergency assistance to facilitate. Cruz was inspired to develop his idea after using a drone to locate his grandmother in the aftermath of Maria, during which he noticed messages scrawled in the dirt by survivors. Since winning the 2018 contest, Cruz has joined IBM full time to develop DroneAID further.
In 2019, IBM announced it was giving away 1,500 DJI drones to encourage developers to create drone-based solutions as part of future disaster-response hackathons.
---
9. Bechtel: Building the future of construction technology
Bechtel Corporation, one of the largest construction companies in the US by revenue, is turning to UAV technology to help with future construction projects.
Bechtel started working with drones in 2015, when it partnered with Skycatch to integrate Skycatch's UAV imaging technology across its construction operations.
Bechtel tested Skycatch's drones at its liquid natural gas (LNG) processing facility project on Curtis Island in Australia. The UAVs conducted real-time analyses of environmental conditions, including temperature and air quality, at the site.
Looking forward, Bechtel's Project 2020 initiative aims to further incorporate tech such as augmented reality, exoskeletons, autonomous vehicles, and UAVs into its construction sites.
According to Joshua Cotton, Bechtel's director of flight operations and chief UAV pilot, the company has been increasingly reliant upon UAVs. Cotton says Bechtel had just eight drones in its fleet as of 2017 — a reminder that, despite the general popularity of UAVs among hobbyists, commercial drone operation remains a highly specialized role:
"As much fun as the drone operation looks, the drone responsibility really belongs in aviation. Aviation experience is beneficial because you already know things about air space and the FAA has all the required infrastructure" — Joshua Cotton, Global Fleet Services Manager, Bechtel Corporation

---
10. DHL: 'Parcelcopters' and intelligent logistics
International logistics specialist DHL has been working on integrating UAVs into its global distribution network since 2013 — the same year Jeff Bezos announced Amazon's plans to use drones for deliveries.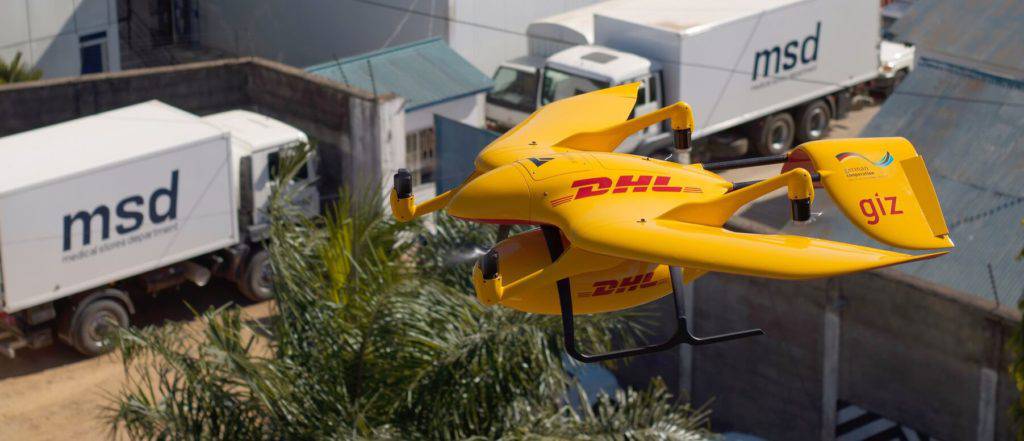 Source: DHL/Wingcopter
The first incarnation of DHL's "Parcelcopter" was a simple quadcopter capable of carrying small packages short distances. In addition to its four rotors, the first-generation Parcelcopter featured a teardrop-shaped, weather-resistant cargo hold for packages.
Developed in partnership with the Institute of Flight System Dynamics at RWTH Aachen University, the Parcelcopter 1.0 made its first successful test flight in December 2013. The craft ferried packages across the Rhine from a launchpad on the river's east bank to DHL's corporate headquarters in Bonn, on the west bank — a distance less than a mile.
DHL unveiled the second iteration of the Parcelcopter shortly after its maiden voyage.To test the new design, it began conducting regular autonomous flights between the German mainland and the island of Juist, an island about eight miles offshore. These were the first-ever unmanned commercial flights to be conducted in Europe beyond the sight of a UAV operator.
Parcelcopter 2.0 flew at a traveling altitude of 164 feet at an average speed of roughly 40 miles per hour and had a maximum flight duration of 45 minutes. DHL used Parcelcopter primarily to deliver pharmaceutical and medical supplies to the island:
"For the first time ever, an unmanned aircraft in the form of the DHL Paketkopter can handle a transport task out of sight of the pilot in the real world." — Jürgen Gerdes, DHL
Today, DHL uses the fourth iteration of its Parcelcopter for autonomous deliveries. Developed in partnership with German drone manufacturer Wingcopter, the latest incarnation of Parcelcopter combines the four-rotor design of a quadcopter with the aerodynamism of a small fixed-wing aircraft, giving it considerable range in addition to vertical takeoff and landing (VTOL) and short takeoff and landing (STOL) capabilities.
To test Parcelcopter 4.0's suitability for field operations, DHL conducted test flights of medical supplies from a warehouse in Mwanza, Tanzania to a district hospital located on Ukerewe Island. Parcelcopter 4.0 racked up more than 2,000 flight minutes during the project and flew a total distance of almost 1,400 miles.
DHL has offered drone delivery services using Parcelcopter since June 2018. At present, flights are restricted to certain types of cargo, such as medical supplies, and are limited to difficult-to-reach areas.
---
11. Walmart: Drone-powered inventory management
Amazon may have surpassed Walmart as America's largest retailer, according to Forbes, but Walmart remains focused on competing with Amazon across many areas — including delivering consumer goods via drones.
Walmart opened its own tech incubator, Walmart Tech ATX, in Austin, Texas in 2018. Data scientists, engineers, and software developers work alongside members of the company's Emerging Sciences division on the technologies Walmart hopes will give it an edge, including drones.
Shekar Natarajan, former VP of Walmart's Emerging Sciences division, confirmed in 2016 that the retailer plans to introduce UAV deliveries in the future, and announced that Walmart was developing an autonomous quadcopter UAV that would be rolled out at its distribution centers across the US.
Given the scale of Walmart's operations, UAV technology could have an immense impact on productivity. Measuring more than 1.2M square feet, Walmart's distribution center in Bentonville, Arkansas, contains so much merchandise that the average inventory inspection at the facility takes one month to complete. Automating and streamlining these checks with UAVs could reduce inventory monitoring to one day.
Natarajan claimed at the time that Walmart was 6-9 months away from deploying autonomous UAVs in its warehouses, though this estimate turned out to be optimistic. Walmart has continued to test the potential of drone technology in its operations.
For example, Walmart is exploring how UAV technologies can complement and work with other emerging developments in retail and e-commerce, including blockchain technology. In September 2018, reports emerged that Walmart had filed a patent for a blockchain-based communication system that could help UAVs operating in proximity to one another in the company's distribution centers to exchange information autonomously.
Using this system, Walmart's drones could use blockchain authentication to verify that a drone belongs to its fleet, allowing the UAVs to hand off packages to one another. This system could potentially be used to streamline operations at Walmart's distribution centers.
Another patent Walmart filed described using drones to serve as in-store shopping assistants for consumers.
---
12. Balfour Beatty: Using drones for inspection
Like Bechtel Corporation, multinational infrastructure construction giant Balfour Beatty has been exploring how drones can improve safety at its many work sites around the world for several years.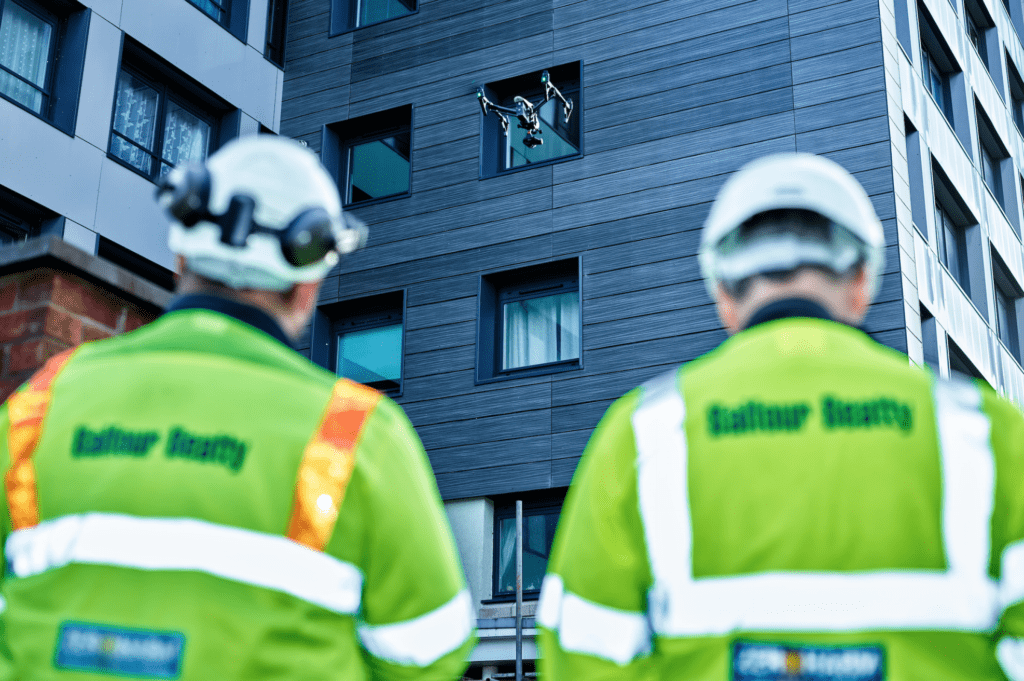 Source: Balfour Beatty
In 2017, the company partnered with West Sussex County Council in England to conduct routine inspections of two bridges in the county using drones. The company says that the approach saved the council approximately $10,000 and caused significantly less disruption to traffic in the area:
"Using drones in our highways inspection work allows us to safely assess the work required while dramatically reducing any potential hazards faced by our workforce who would traditionally carry out work such as bridge inspections at height. It's a great example of how modern technology can be successfully used by industry." — Steve Phillips, Contract Director, Balfour Beatty Living Places
In 2018, Balfour Beatty partnered with DJM Aerial Solutions to take aerial photography of a 69-week-long construction project in the Middlehaven Dock area of Middlesbrough. The company used drones to monitor safety and conditions at the site.
Balfour Beatty turned to drones again in 2019 when it used UAVs to monitor conditions at a major construction project on a 19-mile stretch of highway in the English Midlands.
Balfour Beatty gathered aerial imagery of the site to conduct a comprehensive evaluation in a little over two hours — a task that could take a human inspector a full day to complete.
---
13. easyJet: Using UAVs for safety checks
British budget airline easyJet has been evaluating the potential for UAVs to streamline operations and reduce costs.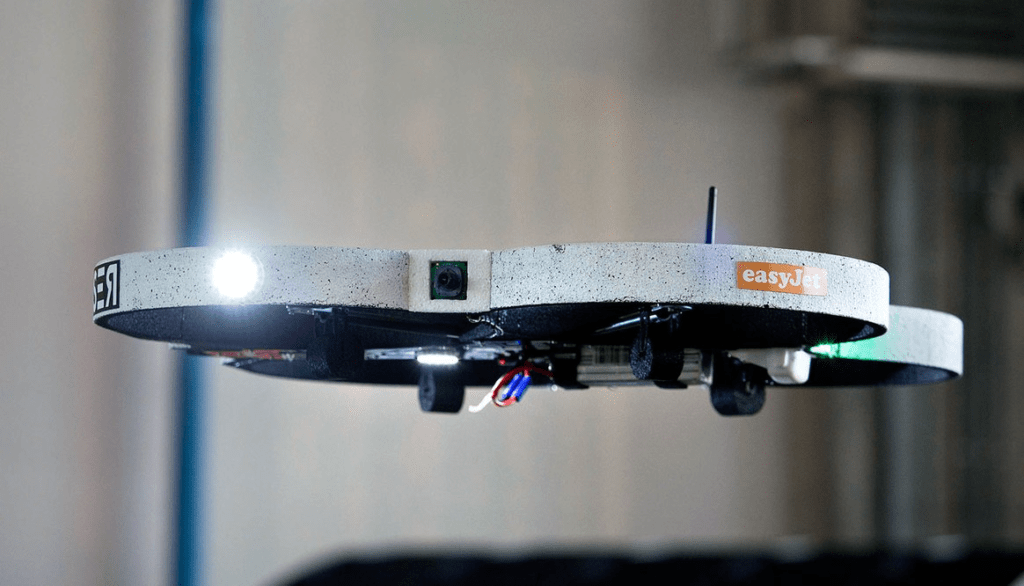 Source: easyJet
The airline began using UAVs in 2015 to help inspect aircraft for certain types of damage. Ordinarily, a full inspection of a passenger aircraft takes around one day to complete. Using drones reduced this time to just a few hours:
"Drone technology could be used extremely effectively to help us perform aircraft checks. Checks that would usually take more than a day could be performed in a couple of hours and potentially with greater accuracy." — easyJet
However, easyJet has not yet deployed UAVs in maintenance-inspection roles across its entire fleet.
Like FedEx, easyJet is considering using drones in other areas of its operations, such as delivering spare parts to ground-based engineering crews at the airline's aviation hubs.
---
14. UPS: Delivering vaccines via drone
UPS has been exploring drone technology for several years to expand its services, as well as offering logistical support to nonprofits working in developing nations.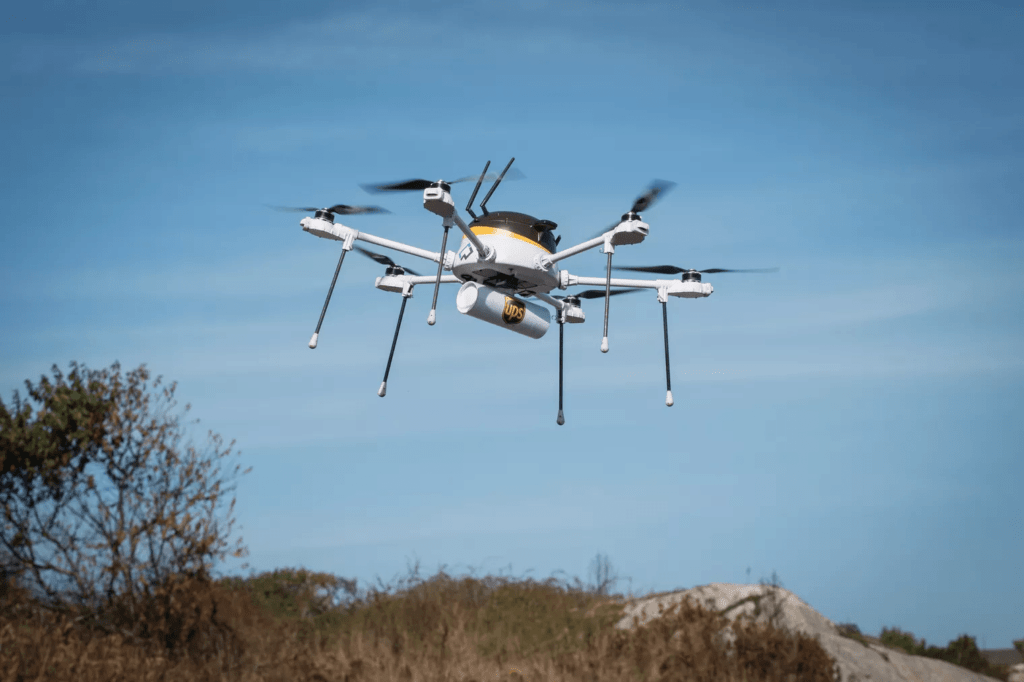 Source: UPS
In 2016, UPS announced it planned to work with now-defunct UAV company CyPhy to provide drone support to organizations delivering humanitarian aid to survivors of natural disasters:
"Our focus is on real-world applications that benefit our customers. We think drones offer a great solution to deliver to hard-to-reach locations in urgent situations where other modes of transportation are not readily available." — Mark Wallace, former Senior VP, Global Engineering and Sustainability, UPS
To test its drone-delivery capabilities, UPS conducted a mock delivery of a child's asthma inhaler from Beverly, Massachusetts, to Children's Island approximately three miles offshore, a flight that lasted about eight minutes.
UPS used a modified version of CyPhy's Persistent Aerial Reconnaissance and Communications (PARC) drone, which was used by the US military as a reconnaissance and intelligence-gathering UAV. The PARC also featured numerous fail-safe measures, including two independent GPS units and multiple communication antennas to ensure consistent communication between the UAV and ground team.
Building upon the success of its initial test flights, the UPS Foundation partnered with the American Red Cross and CyPhy to launch a pilot program designed to utilize UAVs for post-disaster crisis response work, such as evaluating flood damage.
In March 2019, UPS announced it was launching "a groundbreaking new logistics service" to deliver medical supplies and samples via autonomous drone flights in Raleigh, North Carolina. UPS partnered with Californian drone manufacturer Matternet to launch the service, which relies on Matternet drone designed specifically for medical applications.
---
15. JD.com: Expanding its customer base using drone delivery
JD.com has taken several steps with he goal of maintaining its position as one of China's largest e-commerce retailers, with the company seeking to use drones as a competitive advantage.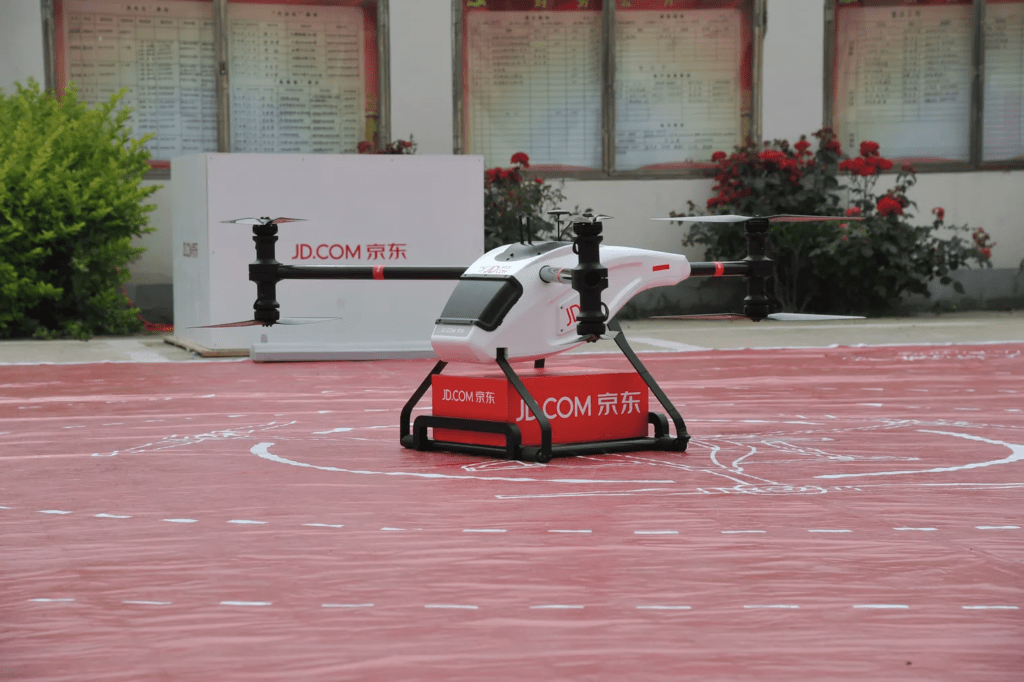 Source: JD.com
Rather than contracting out the manufacturing of its UAVs to a third party, JD developed its own drones through its JD-X logistics innovation laboratory.
In June 2016, the company began testing product deliveries to real customers via drone. JD currently utilizes seven different types of UAV to provide autonomous deliveries, each designed for different payloads and conditions, across almost 100 individual automated delivery routes.
JD has prioritized drone delivery in rural communities across China, many of which lack reliable ground-based infrastructure for deliveries. Some estimates state that, as of 2017, as many as 590M people live in isolated rural communities across China, representing an enormous potential market.
In an attempt to solve this challenging logistical problem, JD intends to build the largest low-altitude UAV logistics network in China — with the envisioned network set to encompass more than 10,000 skyports across the region.
In addition to its domestic projects in China, JD has partnered with other major retailers across southeast Asia to further develop its UAV programs. The company completed its first drone delivery in Indonesia in January 2019, and it partnered with Japanese e-commerce giant Rakuten in February 2019 to provide UAV delivery services to the Japanese market:
"We have been using drones and autonomous delivery robots for real deliveries in China for over two years. This is one way we are innovating to make logistics more accessible, reliable and cost-effective. In Japan there are many opportunities for drones to make deliveries in mountainous areas, remote islands, and in emergency situations." — Jun Xiao, President, JD-X

---
16. GE: Automating industrial inspections
GE's interest in drones dates back to at least 2014, when the company invested in enterprise drone analytics company Airware, which ceased operations in 2018.
In 2015, GE became Airware's first enterprise customer when it began using Airware's Aerial Information Platform (AIP), which allowed drone operators to consolidate fleet management, drone piloting, data analytics, and ground-based UAV management into a single dashboard.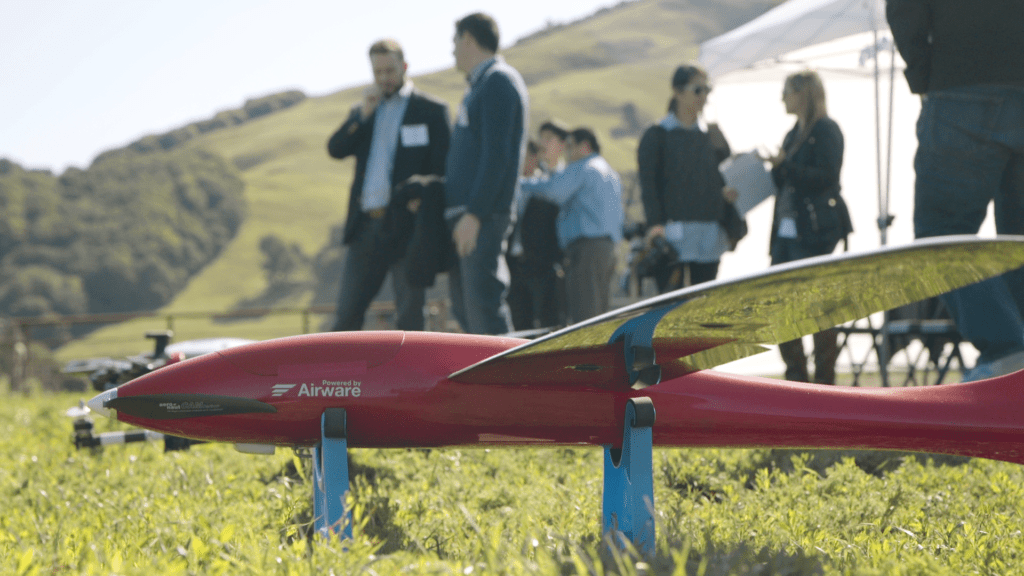 Source: Airware
In 2017, GE began providing autonomous inspection services to clients in the energy and manufacturing sectors.
GE's drones performed tasks ordinarily handled by human inspectors, including monitoring industrial facilities for methane emissions and gathering data for use in predictive modeling to calculate chemical corrosion hidden under insulation.
To help solve the unique challenges of using UAVs for industrial inspections, GE formed Avitas Systems, a company that handles GE's industrial drone programs.
GE launched another drone business in 2017, when the company announced its AiRXOS subsidiary. An ecosystem of products and services, AiRXOS aims to simplify air-traffic-control systems for drone operators.
Under FAA regulations, drone operators are forbidden from piloting UAVs in controlled airspace, which can create legal tensions for pilots seeking to fly drones near aviation centers. AiRXOS was awarded Low Altitude Authorization and Notification Capability (LAANC) accreditation by the FAA in October 2018, making it easier for GE to gain permission to operate its UAVs at prescribed altitudes near airports.
---
17. Shell: Aiming to improve energy sector safety
Shell has used UAVs to increase operational efficiency and reduce the likelihood of accidents at its facilities.
At most oil and gas production facilities across the United States, safety inspections are conducted every few months. Parts of facilities often have to shut down for the duration of the inspection, which can cause costly delays. Using drones, these inspections can be conducted without ceasing as many operations, and can be completed more regularly.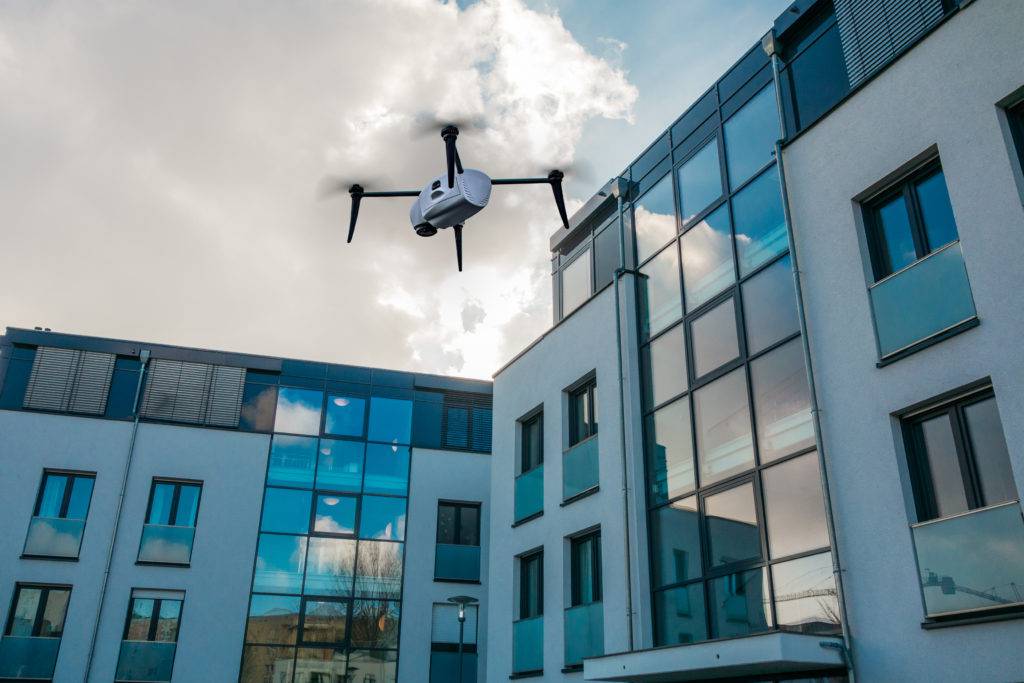 Source: Kespry
To test its fleet of drones, Shell has deployed UAVs as part of a proof-of-concept pilot at the Shell Technology Center, in Houston, Texas, where they are used to monitor conditions across the 1.2M square-foot facility.
The drones rely on high-resolution cameras and infrared sensors. Footage and data captured by the UAVs are then examined algorithmically to identify potential structural problems. Should Shell's experiment in Texas prove successful, the company could deploy UAVs to conduct similar inspections at its other sites.
Shell has also invested in the development of sophisticated machine-learning algorithms that work with data provided by the drones to detect potential anomalies in plant equipment — potentially more effectively than even the most experienced human safety inspector.
---
18. Allstate: Using UAVs to evaluate claims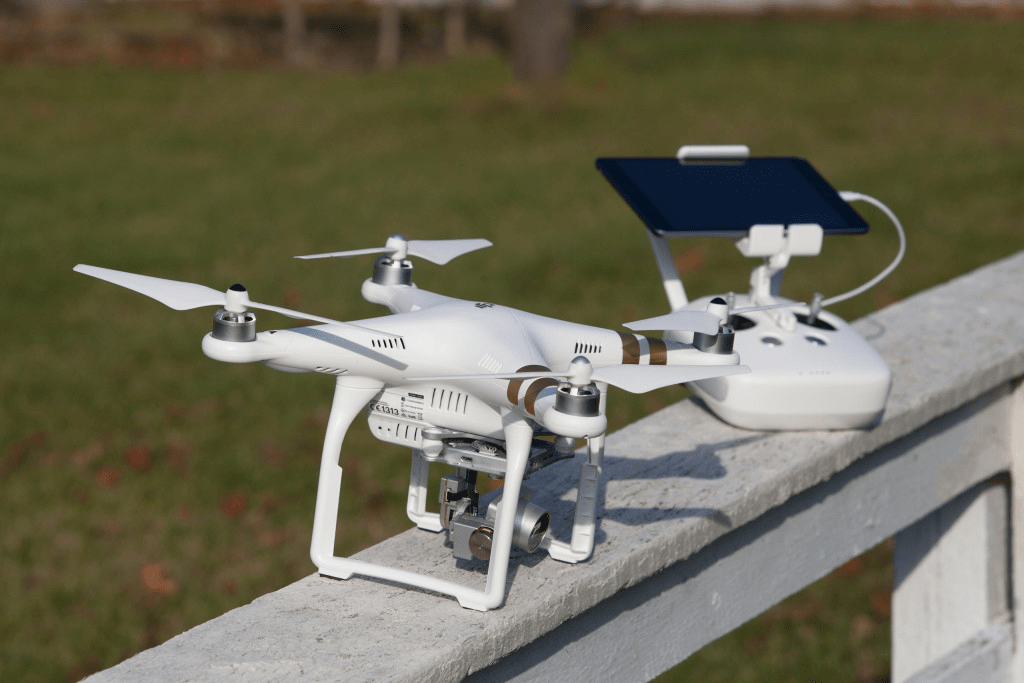 Source: Allstate
Allstate Insurance has shown interest in using drones to evaluate insurance claims.
The company first began testing UAV technology in 2015, when it partnered with aerial imaging company EagleView Technologies to conduct property claim evaluations using UAVs. For insurance companies, the accessibility of a site is just one hurdle its adjusters must overcome.
When assessing insurance claims related to extreme weather events, gaining access to properties in a timely manner can be challenging:
"Drone flights are seen as possible improvements to claims efficiency for Allstate, especially after a catastrophe. Often times, physical access to a neighborhood is restricted by local authorities or by debris after disasters. In this situation, a drone could potentially help claims professionals serve customers in spite of those conditions by offering a complete picture of the situation quickly." — Allstate
Allstate tested the suitability of UAVs in the claims-adjustment process in 2016, when the company deployed drones to San Antonio, Texas, to assess damage to homes in the area caused by a hailstorm. The storm was among the costliest storms in the state's history,  reportedly causing about $1.4B in estimated losses.
Although the test was intended to determine the viability of the technology and customer perceptions of the service, the UAVs also helped identify damage to property experienced by Allstate policyholders.
---
19. BBC: A bird's eye view of breaking news
Drones have been used extensively by the broadcast TV and film production industries to capture aerial photography. One of the first broadcasters to embrace UAVs as a production tool was the UK-based BBC, which has been using drones since 2013.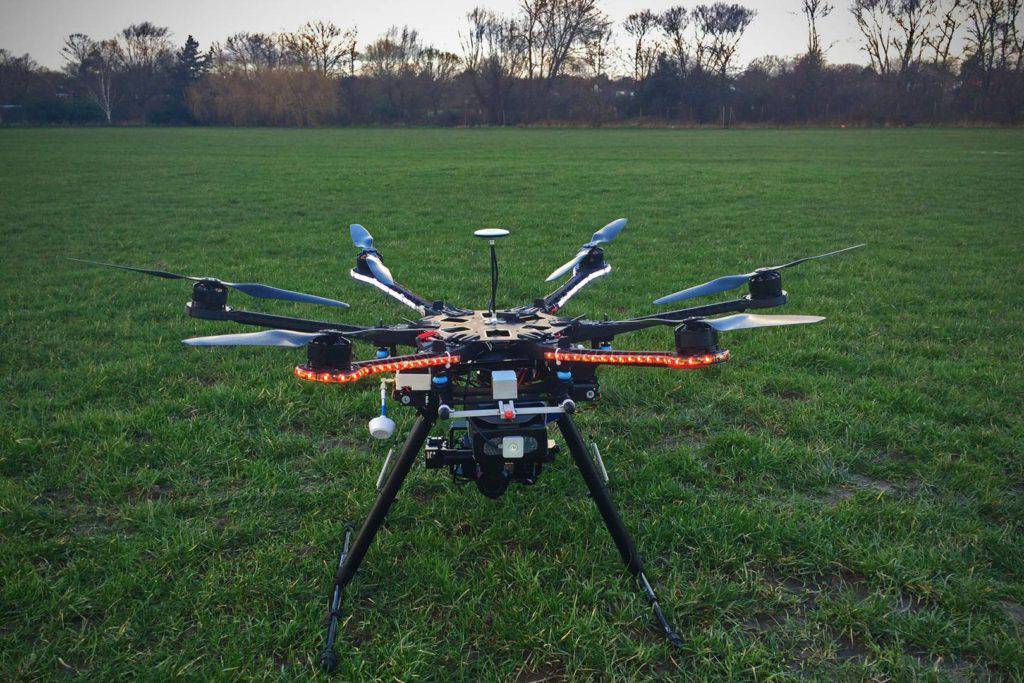 Source: BBC
The BBC first used drones to provide visual context for a news story focused on the proposed "HS2" high-speed rail network linking London to a number of other major cities in England. As one of the largest and most expensive transportation projects in Europe, the HS2 project has attracted a lot of attention in the British media.
To give its audience greater insight into the circumstances surrounding HS2, the BBC used a hexacopter drone to capture aerial footage which would have otherwise not been feasible for a short news story:
"We see it as like an extension of a film-making tool like a jib or a steadicam, much more than an automated system that would go around collecting footage or doing anything like that, and I sometimes think it's a bit of a misconception." — Owain Rich, filmmaker, BBC World Service Global Video Unit
The BBC is one of just a handful of media organizations worldwide with its own in-house drone journalism team. Since its first outing using UAVs in the Old Oak Common rail yard in 2013, the BBC has used drones in many of its highest-profile productions, including Sir Richard Attenborough's Blue Planet II.
In 2015, the BBC's aerial photography drew attention when one of the broadcaster's drone videos went viral. The footage, which showed previously unseen views of the Auschwitz concentration camp, was shot to commemorate the 70th anniversary of the camp's liberation by Allied forces.
---
20. Intel: Fleets of UAVs working in concert
In winter 2016, Intel and Disney put on a drone show at Walt Disney World in Orlando, Florida — using 300 individual UAVs flying in concert to create a spectacle over the resort.
The following year, Intel orchestrated an ambitious drone performance as part of Lady Gaga's Super Bowl halftime show. The dancing drones were also used as part of the opening ceremony for the 2018 Winter Olympics in Pyeongchang.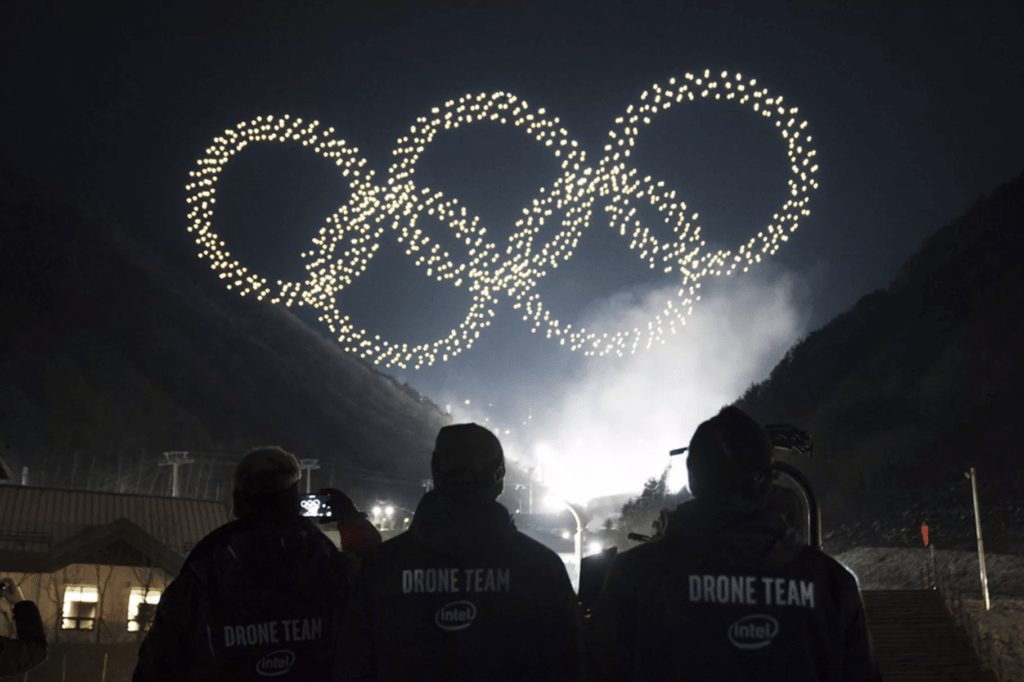 Source: Intel
Each of the drones used in Intel's public performances weigh a less than a pound and measure a bit over one foot in length and width. Unlike typical UAVs, Intel's performance drones are constructed from soft plastics and foam to minimize damage to the unit and injury to people in the event of a malfunction.
The drones feature rows of multiple LEDs, which the Intel says can create four billion unique color combinations. Each UAV can safely navigate within five feet of another in midair and is capable of remaining airborne for around 20 minutes.
The drones are assigned a position in the array algorithmically, making the performances largely autonomous. If a UAV malfunctions during a performance, a reserve unit is dispatched to replace it:
"They way that they work is that they wirelessly talk with the computer. The drones don't actually communicate with each other. You program them upfront for the light show itself, and then the drones essentially are independent." — Josh Walden, General Manager, New Technology Group, Intel
Intel's UAV light shows pose unique legal and logistical challenges for the company — namely the FAA's regulations on line-of-sight operation and safety guidelines surrounding drone use in populated areas.
To circumvent these restrictions for the Super Bowl in Houston and the Winter Olympics in PyeongChang, Intel opted to prerecord the performances.
Intel's interest in UAVs extends far beyond entertainment, however. The company has entered into a number of partnerships to provide analytic services via its Insight Platform for drone data management. Companies currently using the platform include Honeywell, Japanese optical-equipment manufacturer Topcon, and French aerial intelligence firm Delair.
The company has also committed significant resources to developing proprietary UAVs. Its Falcon 8+ drone is a carbon-fiber octocopter designed for difficult navigational tasks, such as maneuvering beneath bridges, and is targeted for industrial use-cases like inspection.
---
21. USAA: Evaluating property damage quickly and safely
Like other insurance providers, USAA is primarily interested in drones for examining property damage claims. Natural disasters such as hurricanes and earthquakes can make accessing property sites difficult and dangerous; drones could help insurance providers evaluate damage to homes and businesses quickly and safely.
In 2014, USAA became the first major insurance provider in the US to request federal permission to test how drones could speed up claim processing in areas affected by disasters.
However, the company began exploring the concept as far back as 2010 when it partnered with PrecisionHawk to bring drones into the field. PrecisionHawk utilizes drones manufactured by DJI, including variants of the 210 and 600 Pro models of the DJI Matrice UAV.
These lightweight drones are well suited to evaluating structural damage due to their robust frames and sophisticated sensor arrays. Additionally, the Matrice series can be used for thermal imaging, multi- and hyperspectral photography, and Light Detection and Ranging (lidar) imagery.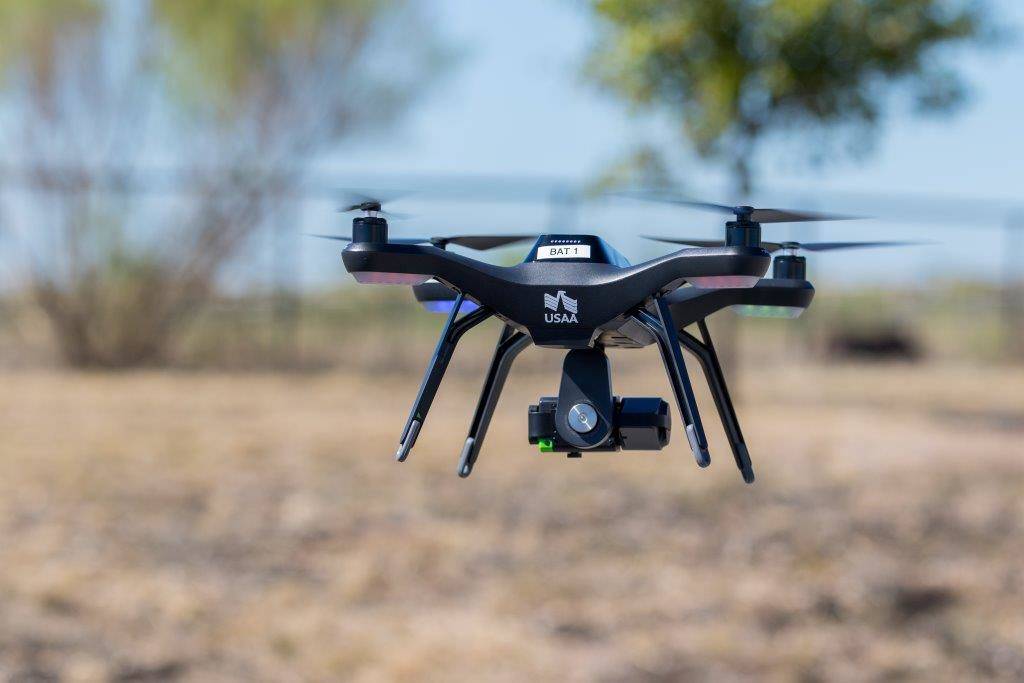 Source: USAA
In 2017, USAA was presented with a unique opportunity to put its drones through their paces when Hurricane Harvey made landfall in Texas. However, while the company had been granted approval for testing by the FAA in 2015, it had not yet been issued with the appropriate exemption when the storm hit, forcing its drone operators to wait on federal approval for permission to fly over the region.
"We have a number of adjusters ready and on standby for primarily Corpus Christi and Houston, and we have them positioned in San Antonio to be a little away from the storm, but to be close enough to easily head out. Once they lift the restrictions, we will be able to utilize the drones to aid in evaluating and assessing damage, and we'll do that house by house, claim by claim." — Rebekah Nelson, spokesperson, USAA
By the time Hurricane Florence made landfall in the Carolinas in 2018, USAA and its drones were ready to take to the skies and help evaluate the extent of the damage. Approximately 1M USAA customers lived within the anticipated path of Hurricane Florence, and the company dispatched around 100 claims adjusters to the region in the aftermath of the storm.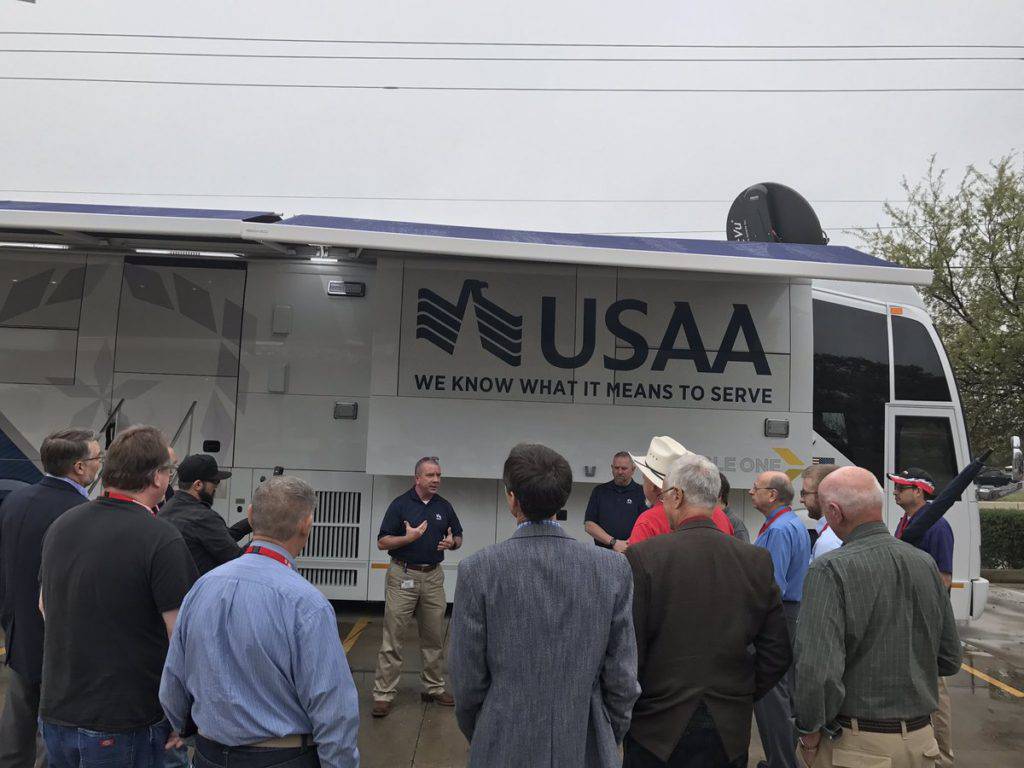 Source: USAA/Rich Johnson
During field operations in the wake of natural disasters, USAA's drone teams are often deployed in Eagle One, the catastrophe response vehicle that serves as a mobile command center.
The mobile base allows constant communication between UAV and pilot regardless of operational conditions, and lets the team monitor ongoing weather patterns and other risk factors in real time. It also enables USAA to closely coordinate with local and regional disaster response agencies and share information more effectively, which can mean the difference between life and death in the aftermath of natural disasters.
If you aren't already a client, sign up for a free trial to learn more about our platform.