Global corporate venture capital activity slowed throughout 2022, with CVC-backed funding ultimately falling 43% from 2021's record high.
Despite being the second-strongest year on record, global CVC-backed funding fell 43% year-over-year — from $173.8B in 2021 to $98.9B in 2022. Quarterly funding declined steadily throughout 2022 as CVCs scaled back the size of funding rounds, eventually reaching an 11-quarter low of $14.3B in Q4'22.
The count of deals with CVC participation remained nearly flat YoY, driven in part by a record-high 1,494 CVC deals in Q1'22.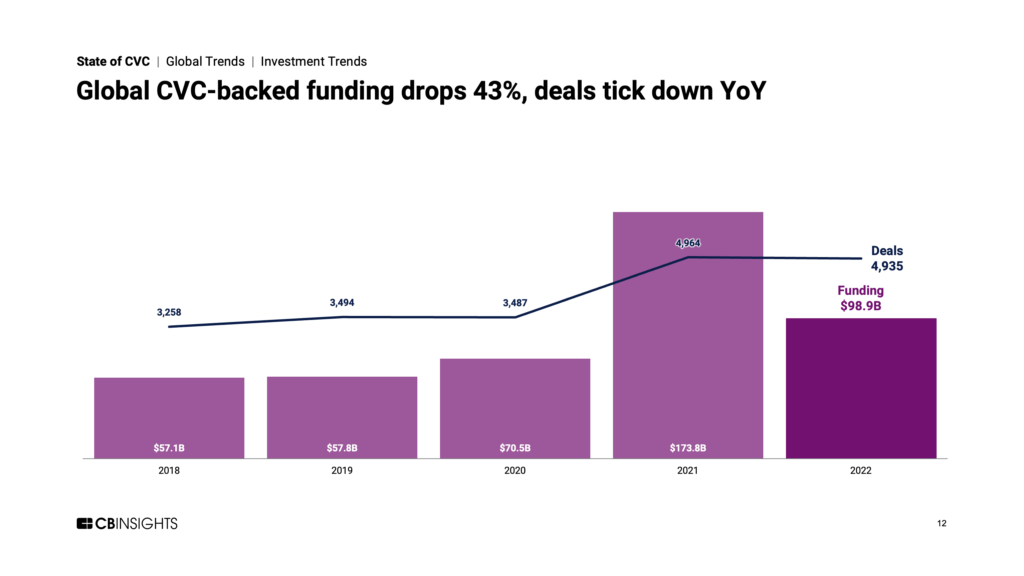 Other 2022 highlights across the global CVC ecosystem include:
With investors focusing more on smaller deals, early-stage CVC deal share jumped 7 percentage points YoY to 62%, a 5-year high.
$100M+ mega-round funding with participation from CVCs plummeted YoY, from $108.7B in 2021 to $43.3B in 2022. This drop made up 87% of the total decline across all CVC-backed funding in 2022.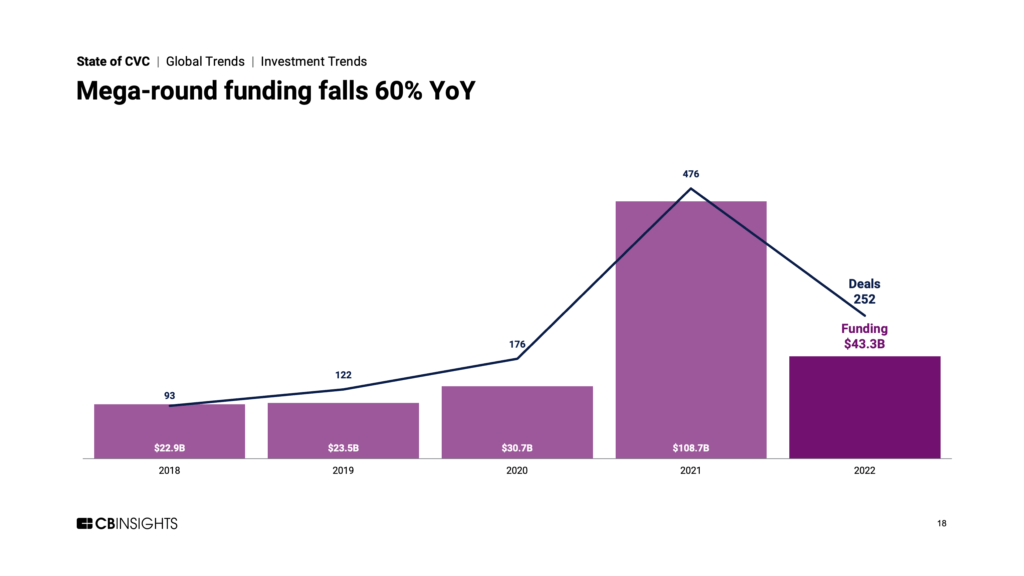 The US saw a 46% YoY drop in CVC-backed funding, from $94.3B in 2021 to $51.3B in 2022. However, the country remained the global leader in CVC-backed funding.
Europe saw 903 deals with CVC participation in 2022 — a 5-year high for the continent.
CVC-backed fintech deal count declined just 2% YoY, the smallest drop among all sectors analyzed.
Download the full State of CVC 2022 Report to dig into all these trends and more.
If you aren't already a client, sign up for a free trial to learn more about our platform.