Using data and features of the CB Insights emerging tech insights platform, we looked at aggregate corporate venture capital (CVC) activity in 2020, as well as CVC deals across regions and industry verticals.
CVC-backed funding hit a new high in 2020, despite a slight decline in deals and active CVC firms.
Please click to enlarge.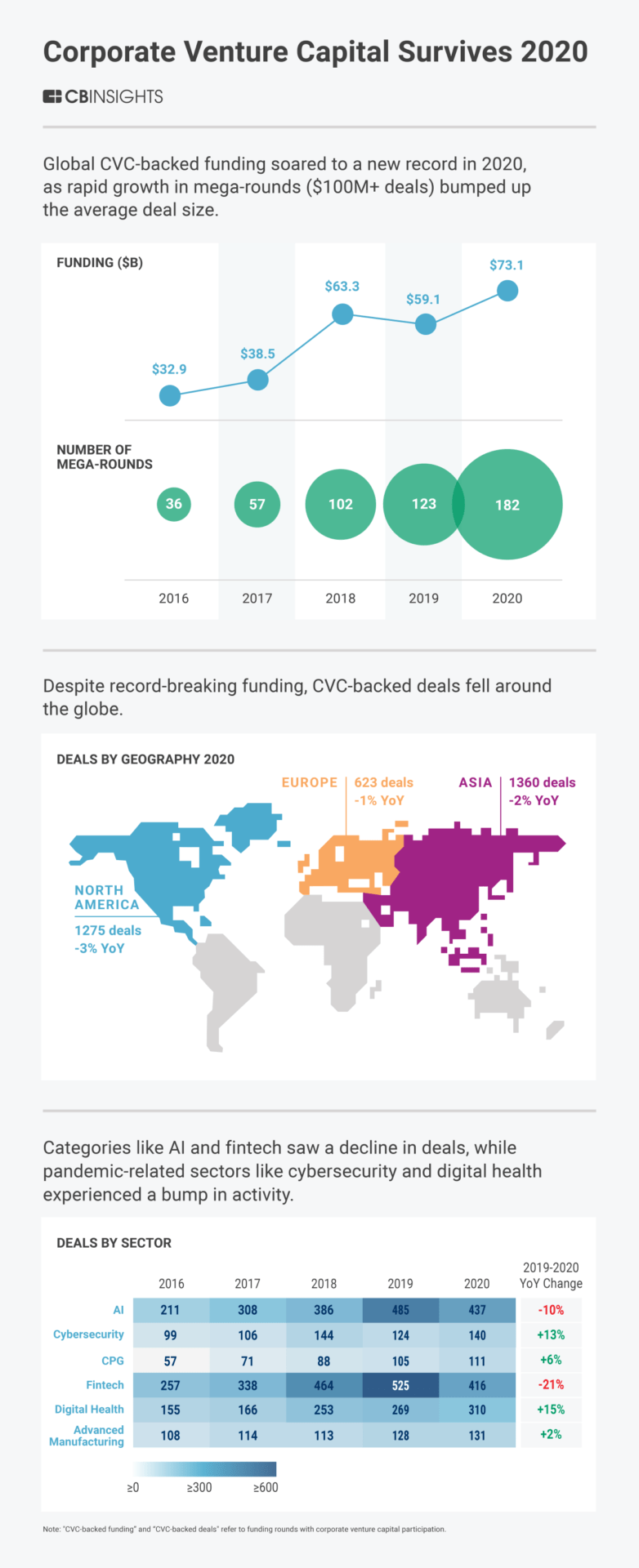 Our year-end report breaks down CVC activity across regions, sectors, and more.
For more on CVC activity, read our report on global corporate VC trends in 2019.
Corporate VC report highlights:
Global CVC-backed deals fall for the first time in more than 5 years:

CVC-backed deals declined from a record high of 3,416 in 2019 to 3,359 in 2020. The modest 1.7% year-over-year (YoY) decline is attributable to a slowdown in the first half of 2020.

Global CVC-backed funding reaches record high:

CVC-backed funding soared to an all-time high of $73.1B in 2020, increasing 24% from 2019, despite the overall decline in CVC-backed deals. 

Mega-rounds gain CVC attention:

Mega-rounds (deals worth $100M+) with CVC participation reached an all-time high of 182 in 2020 — a 48% increase compared to the previous year. 

Asia sees a recovery in CVC-backed funding:

Rising to $22.1B in 2020, a 33% annual increase, CVC-backed funding to Asia-based companies recovered from a dip in 2019. 

Digital health takes center stage among CVC priorities: CVC-backed funding to digital health companies jumped 68% YoY to an all-time high of $8.8B in 2020, while deals also soared to a new record of 310.
Read about how Covid-19 impacted CVC investment here.
If you aren't already a client, sign up for a free trial to learn more about our platform.