Communications platform-as-a-service (CPaaS) solutions have seen notable market momentum and widespread industry leader activity in the customer service space — making it a technology worth prioritizing.
Clients can download the full Customer Service for Consumer & Retail Leaders report at the top left sidebar. 
Brands and retailers are increasingly investing in tech-enabled customer service solutions that can help support and convert customers — either online or in stores — in a timely and cost-efficient manner.
Using CB Insights data, we examined tech markets across customer service for consumer & retail leaders and ranked them across two metrics — market momentum and industry leader activity — to help companies decide whether to monitor, vet, or prioritize these technologies.
The STATE OF RETAIL q1 2022
Retail tech funding declined 11% QoQ to hit just under $24B in Q1'22. Download our free report to get all the trends.
CPaaS solutions earned a recommendation to prioritize based on the market's high market momentum and industry leader activity.

CPaaS companies provide API solutions to facilitate omnichannel communication, enabling brands and retailers to incorporate live chat, messaging, video chat, or voice call features directly into their website or mobile app.
These solutions make it easy and less costly to develop and deploy communication channels on websites and apps. Through customizing communication channels, brands can meet different customer needs — and potentially increase online conversion rates and customer satisfaction.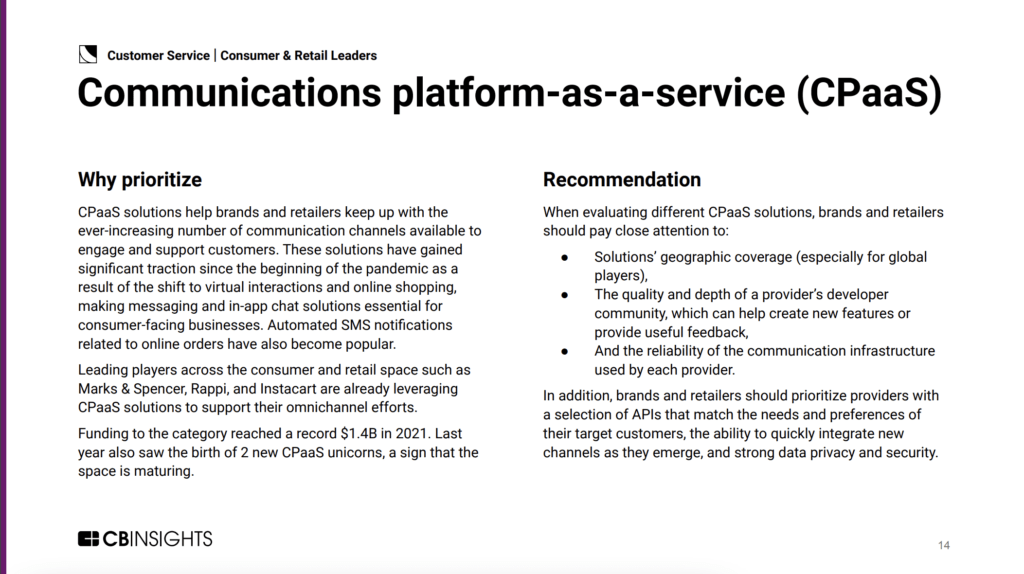 CPaaS solutions help brands and retailers keep up with the ever-increasing number of communication channels available to engage and support customers. These solutions have gained significant traction since the beginning of the pandemic as a result of the shift to virtual interactions and online shopping, making messaging and in-app chat solutions essential for consumer-facing businesses.
When evaluating different CPaaS solutions, brands and retailers should pay close attention to: solutions' geographic coverage (especially for global players); the quality and depth of a provider's developer community, which can help create new features or provide useful feedback; and the reliability of the communication infrastructure used by each provider.
FACTS & FIGURES: Communications platform-as-a-service
Funding: Funding to the category reached a record $1.4B in 2021 across 14 deals.
Unicorns: Last year also saw the birth of 2 new CPaaS unicorns — Sendbird and GupShup — a sign that the space is maturing.
Top-funded companies: Top-funded companies in the space include Sendbird ($860M in disclosed equity funding), GupShup ($387M), and Vonage ($380M).
Clients can dive into CPaaS and more in our complete MVP Technology Framework: Customer Service for Consumer & Retail Leaders report.