Business messaging solutions have seen strong market momentum and widespread industry leader activity in the customer service space — making them a technology worth prioritizing.
Clients can download the full Customer Service for Consumer & Retail Leaders report at the top left sidebar. 
Brands and retailers are increasingly investing in tech-enabled customer service solutions that can help support and convert customers — either online or in stores — in a timely and cost-efficient manner.
Using CB Insights data, we examined tech markets across customer service for consumer & retail leaders and ranked them across two metrics — market momentum and industry leader activity — to help companies decide whether to monitor, vet, or prioritize these technologies.
The STATE OF RETAIL q1 2022
Retail tech funding declined 11% QoQ to hit just under $24B in Q1'22. Download our free report to get all the trends.
Business messaging solutions earned a recommendation to prioritize based on the market's strong market momentum and industry leader activity.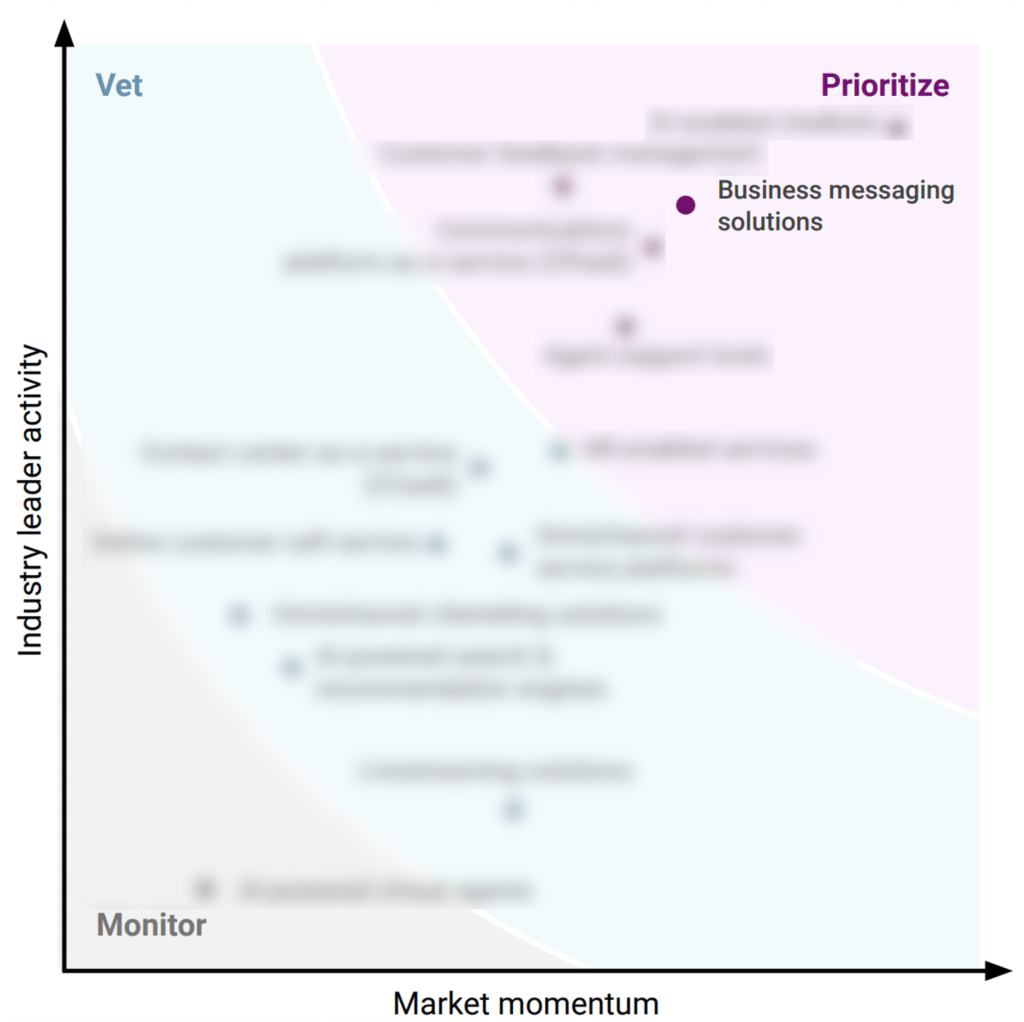 Business messaging solutions enable brands and retailers to communicate and engage with customers via messaging apps, live chat, and SMS. These solutions can also be used to send out mass personalized and targeted messages at a low cost and with very high open rates, especially via SMS.
Typical functions offered within business messaging solutions include conversational AI capabilities and pre-built integrations with omnichannel customer service platforms.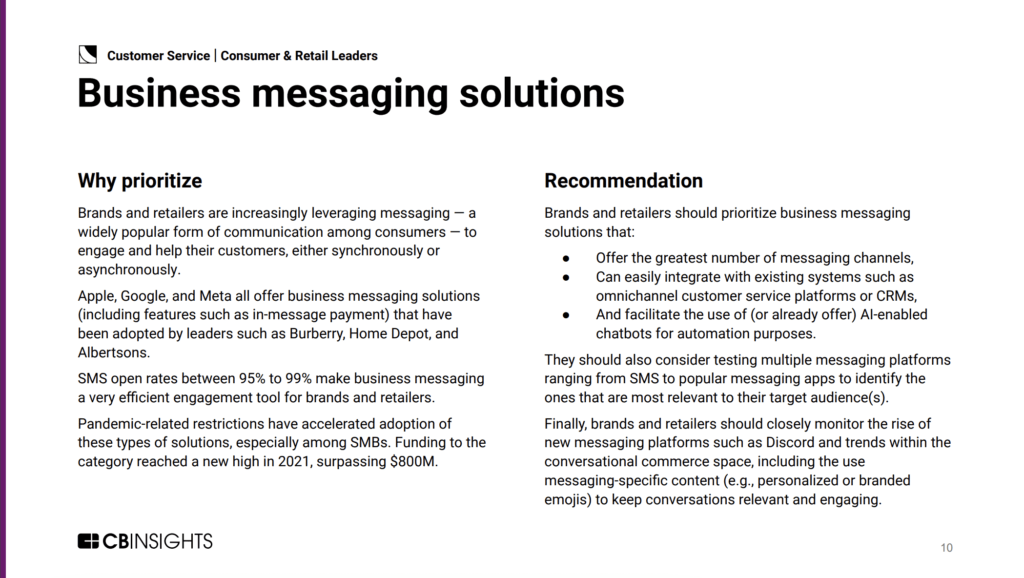 Brands and retailers are increasingly leveraging messaging — a widely popular form of communication among consumers — to engage and help their customers, either synchronously or asynchronously.
SMS open rates between 95% to 99% make business messaging a very efficient engagement tool for brands and retailers. Pandemic-related restrictions have accelerated adoption of these types of solutions, especially among SMBs.
FACTS & FIGURES: Business messaging solutions
Funding: Funding to the category reached a new high in 2021, surpassing $800M.
Deal size: Average deal size for business messaging solutions surged in 2021, nearly doubling to reach $158M, driven by two mega-rounds (Attentive's $470M Series E and Podium's $201M Series D). However, median deal size declined by 29% YoY to hit $50M.
Top-funded companies: Top-funded companies in the space include Attentive ($865M in disclosed equity funding), Podium ($422M), and Intercom ($240M).
Clients can dive into business messaging solutions and more in our complete MVP Technology Framework: Customer Service for Consumer & Retail Leaders report.