Agent support tools have seen strong market momentum and notable industry leader activity in the customer service space — making it a technology worth prioritizing.
Clients can download the full Customer Service for Consumer & Retail Leaders report at the top left sidebar. 
Brands and retailers are increasingly investing in tech-enabled customer service solutions that can help support and convert customers — either online or in stores — in a timely and cost-efficient manner.
Using CB Insights data, we examined tech markets across customer service for consumer & retail leaders and ranked them across two metrics — market momentum and industry leader activity — to help companies decide whether to monitor, vet, or prioritize these technologies.
The STATE OF RETAIL q1 2022
Retail tech funding declined 11% QoQ to hit just under $24B in Q1'22. Download our free report to get all the trends.
Agent support tools earned a recommendation to prioritize based on the market's high market momentum and industry leader activity.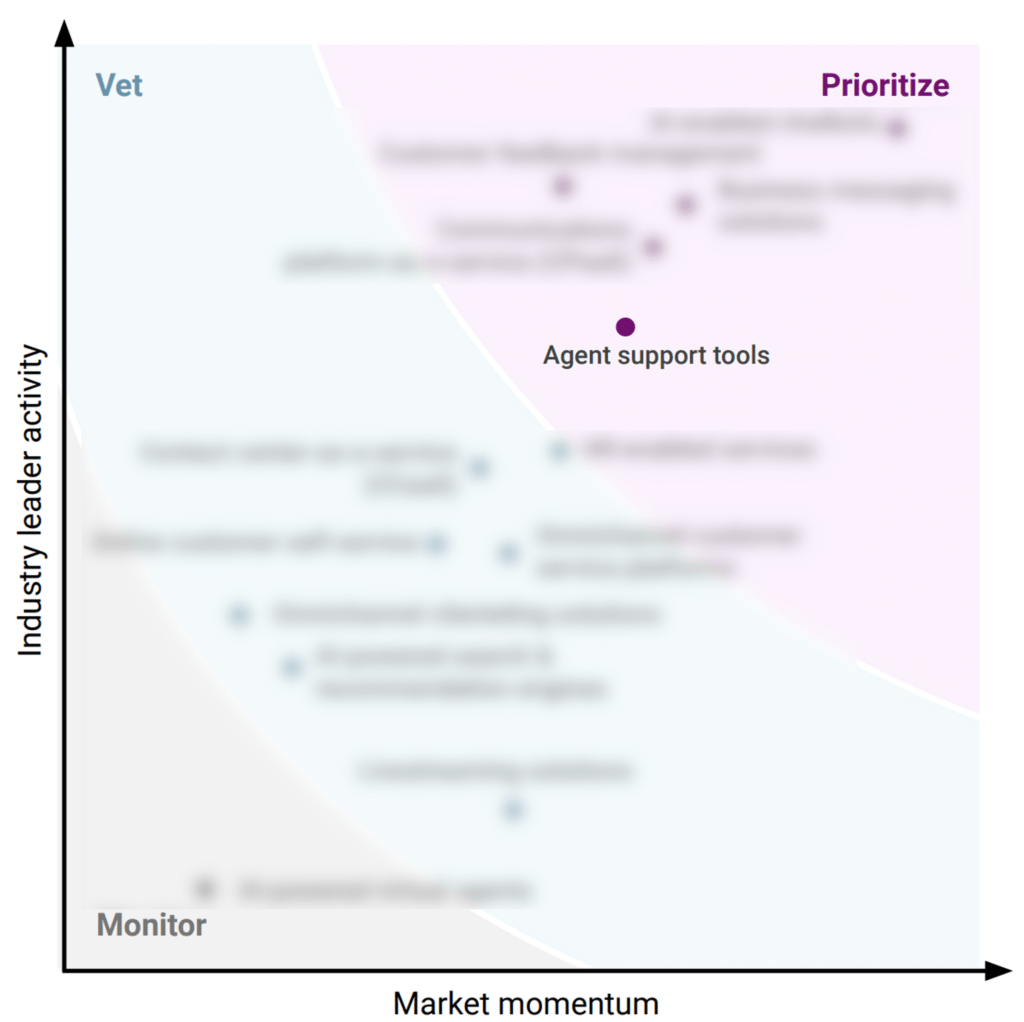 Agent support tools facilitate and augment existing workflows for customer service agents, quickly providing context to a customer's request or automatically suggesting answers to the agent. They help create a better and more consistent experience for customers while facilitating agents' work. These tools often integrate directly with contact center-as-a-service (CCaaS) systems.
Typical features offered within agent support tools include AI-powered quality assurance, conversation review tools, smart live suggestions, live translation, and online session replays.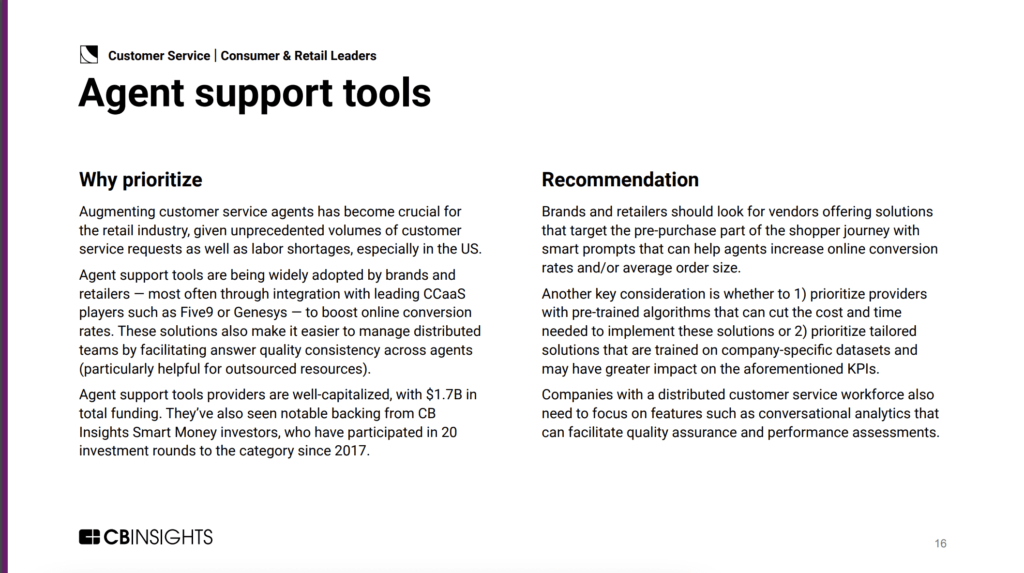 Augmenting customer service agents has become crucial for the retail industry, given unprecedented volumes of customer service requests as well as labor shortages, especially in the US.
Brands and retailers should look for vendors offering solutions that target the pre-purchase part of the shopper journey with smart prompts that can help agents increase online conversion rates and/or average order size.
FACTS & FIGURES: Agent Support Tools
Funding: Agent support tools providers are well-capitalized, with $1.6B in total funding since 2017. Funding has already reached a record-high $555M in 2022 so far across 3 deals.
Unicorns: Two agent support unicorns — ASAPP and Cresta — were born in the last year, a sign that the space is maturing. Both are valued at $1.6B.
Top-funded companies: Top-funded companies in the space include Cyara ($375M in disclosed equity funding), ASAPP ($313M), and Observe.ai ($213M).
Clients can dive into agent support tools and more in our complete MVP Technology Framework: Customer Service for Consumer & Retail Leaders report.