Challenger banks. What are they? Who's who? And why have they raised hundreds of millions in venture capital to take on bank incumbents? We break down how these companies are reaching, converting, and engaging millions of customers.
Challenger banks have gained traction over the past few years by developing streamlined, digital-first retail banking services.
Europe saw the first cohort of challenger banks break out, with challengers Atom Bank, Tandem, Monzo, Starling Bank, Revolut, and N26 collectively attracting $4.2B in funding and over 30M customers since 2014.
The UK, in particular, has seen the most challenger bank activity compared to other regions, as a result of progressive regulations enacted to promote competition and break up monopolies. However, more recently, challenger banks have started to appear in other regions around the world, from Australia to Asia to the US.
In this report, we explain what challenger banks are, dive into the playbooks of notable challenger banks, assess how different regulatory approaches have impacted growth, and highlight trends to watch in 2021 and beyond.
What is a challenger bank?
Challenger banks are tech companies that leverage software to digitize and streamline retail banking. Challengers use digital distribution channels, typically mobile, to offer competitive retail banking services such as checking and savings accounts, loans, insurance, and credit cards.
Challenger banks vs. traditional banks
Unlike traditional retail banks, which offer physical branches for in-person banking, challenger banks take a digital-first approach, often relying solely on mobile and desktop platforms. Challengers prioritize an improved user experience, appealing to those who want to be able to bank from their phones instead of visiting a retail location.
Challenger banks first made inroads with consumers who lost faith in institutional firms following the global financial crisis. These companies "challenge" the traditional incumbent business model by charging customers transparent low fees, providing faster services, and delivering a better user experience through always-available digital interfaces.
Further, many challenger banks target demographics that may be underserved by traditional banks, like consumers in lower income brackets or those lacking credit history.
The shift from in-person to digital banking
In 2009, there were 240K bank branches across Europe. At the time, customers still relied heavily on bank branches and were just starting to embrace online banking. But challenger banks bet that online — particularly, mobile — would be the next channel for retail banking distribution. That has proven prescient.
Since then, the rise of digital banking has mirrored declines in branch banking. The number of European bank branches has been slashed to 165K. And it's expected that a quarter of these will shut down over the next 3 years, according to consulting firm Kearney.
Juniper Research predicts that, by 2024, 3.6B people — nearly 1 in 2 adults — will be using digital banking services, which include both mobile and desktop channels. Among specific markets, the UK has seen some of the most widespread adoption of digital banking services.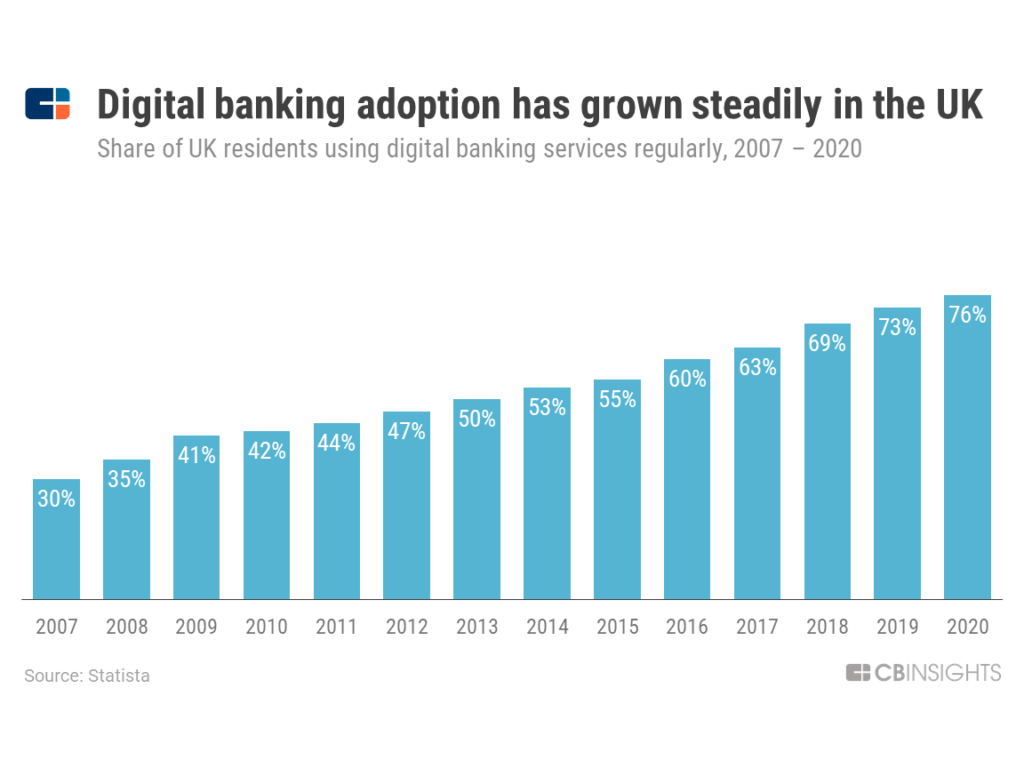 During the Covid-19 pandemic, global shutdowns and branch closures further accelerated digital banking adoption — a boon for many challengers. For example, global mobile banking and payment app usage grew 26% in the first half of 2020 compared to the same period in 2019 according to an Adjust and Apptopia survey.
Challenger banks have benefited greatly from the transition to digital, as incumbents still maintain a branch-centric business model. Nevertheless, traditional banks have also developed their own digital offerings, investing significantly in digital transformation to keep up with shifting consumer demand.
For more, download the full report, where we dive into:
How challenger banks leveraged regulation

Regulatory strategies
New regulations help challenger banks expand services
Challenger banks in the Australian market

What we're watching in 2021

Products & partnerships
New markets for challenger banks
If you aren't already a client, sign up for a free trial to learn more about our platform.