ByteDance, the China-based unicorn behind the video-sharing app TikTok, was recently valued at up to $140B. Now, the company is leveraging its recommendation algorithms to expand its portfolio in a bid to join the ranks of Big Tech.
At the end of 2018, Chinese tech startup ByteDance completed a $3B investment round led by SoftBank at a valuation of about $75B — catapulting it to be the most valuable startup in the world. In 2020, investments made in the company reportedly valued it at up to $140B, cementing its high-flying status.
Those who are unfamiliar with the name ByteDance have most likely heard of its flagship product, TikTok. As of May 2020, the viral video app has been downloaded approximately 2B times.
The onset of the global coronavirus pandemic and the associated lockdowns have further accelerated TikTok's trajectory. In Q1'20 alone, TikTok accumulated 315M new downloads worldwide — a record-breaking quarter for an individual app, according to Sensor Tower.
As of spring 2020, ByteDance operates more than 20 apps in spaces ranging from news and video to music and mobile gaming. Some, like TikTok, are international in scope. Others, like the news aggregator product Toutiao, have so far only been made available in China.
With each new product it launches, ByteDance leverages the same 3 key advantages it has cultivated in its core business areas like news curation and short-form video:
A young and highly engaged user base. Like Facebook before it, ByteDance is leveraging an audience of actively engaged young people to facilitate its growth. In the US, 60% of TikTok users reportedly fall between the ages of 16 and 24. Worldwide, two-thirds are under the age of 30.
Products engineered for virality. With TikTok, ByteDance appears to have tapped into something powerful in the way that users currently want to engage with content. The top 50 content creators on TikTok have more followers than the populations of Mexico, Canada, the UK, and Australia combined.
Personalization and recommendation algorithms. One way to think of ByteDance is not so much as a creator of content platforms, but as an artificial intelligence laboratory that specializes in developing algorithms that can match users with content, from video and music to news and e-commerce.
ByteDance is jockeying for a spot alongside global tech leaders like Google, Facebook, Amazon, as well as their China-based counterparts Baidu, Tencent, and Alibaba. But a permanent place in Big Tech is far from guaranteed.
Concerns about ByteDance's approach to user privacy are mounting and established tech companies and startups alike are singling ByteDance out as a threat, launching products to compete with it directly.
ByteDance will have to prove its viral products are more than a craze.
In this report, we look at ByteDance's expanding product portfolio, highlighting how its core advantages play out in each product. We'll also examine how the company is expanding its geographic reach, focusing on its expansion in 3 critical markets: China, India, and the US.
Table of contents
The rise of ByteDance
ByteDance was founded in 2012 and was originally based in a small apartment. It launched Toutiao, which remains one of its core products, later that year. The app caught on quickly, reaching 1M daily active users just 4 months after its launch.
One factor that helped set the stage for ByteDance's growth was China-based Alibaba's massive IPO in 2014. When Alibaba debuted on the NYSE at a record-setting $25B valuation, more international investors started to look for similar success stories to emerge from the Chinese market.
The result: a significant spike in capital flowing into Chinese tech companies — including ByteDance.
Since 2014, the company has raised billions in disclosed venture funding.
This enormous chest of capital has helped ByteDance to go head-to-head with one or more of the China-based BAT companies (Baidu, Alibaba, Tencent) in every vertical it targets, from Tencent in mobile gaming to Alibaba in e-commerce.
ByteDance's products
The viral video app TikTok is ByteDance's most well-known property, particularly on the international stage. But the company is working on a large and rapidly expanding portfolio of products that span the major sectors of the modern internet economy, from news aggregation and search to music and mobile gaming.
Each ByteDance product is built on the company's edge in personalization and recommendation. ByteDance's recommendation algorithms are the secret sauce that has fueled the company's success since Toutiao.
Similar to the algorithms employed by the likes of Facebook and YouTube, ByteDance's algorithms analyze a user's viewing behavior and use that data to recommend additional content that will keep the viewer engaged. Further, the user-generated content incentivizes individuals to create more content, and therefore spend more time on the app.
The result is an addictive user experience that keeps users in the app for long spans of time — 52 minutes per day on average, in the case of TikTok. That metric puts TikTok on par with Instagram (53 minutes) and Snapchat (50 minutes), and substantially ahead of YouTube (40 minutes).
So far, ByteDance has generated revenue mostly through advertising and in-app purchases. The effectiveness of ByteDance's personalization algorithm for advertising is such that the company more than quadrupled its share of the advertising market against BAT in 2 years, rising from 5% in 2017 to an estimated 22% in 2019, according to Totem Media.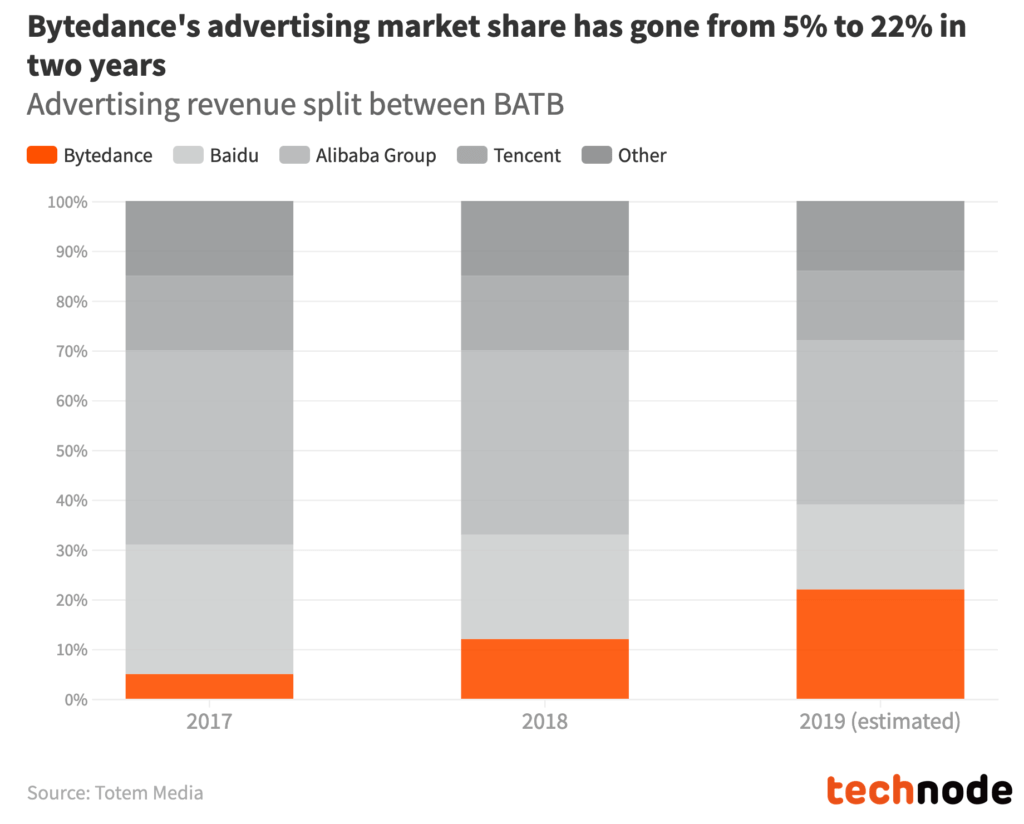 Source: Technode
Broadly, ByteDance's products can be divided into 3 categories: media and entertainment, internet, and a long tail of miscellaneous ventures.
Media and entertainment
On the media and entertainment front, ByteDance's efforts hinge on user-generated content and virality — facilitated via the company's highly sophisticated algorithmic recommendation engines.
With many spending more time at home, the Covid-19 outbreak could act as an accelerant to ByteDance's efforts in the media and entertainment space. TikTok alone reportedly saw an 18% weekly increase in US downloads between March 16 and March 22, the period when many lockdown orders started to take effect across the country.
Video
TikTok — and its equivalent for the Chinese market, Douyin — is ByteDance's audience-growing engine, and its clearest bid to compete head-to-head with global tech powers like Facebook.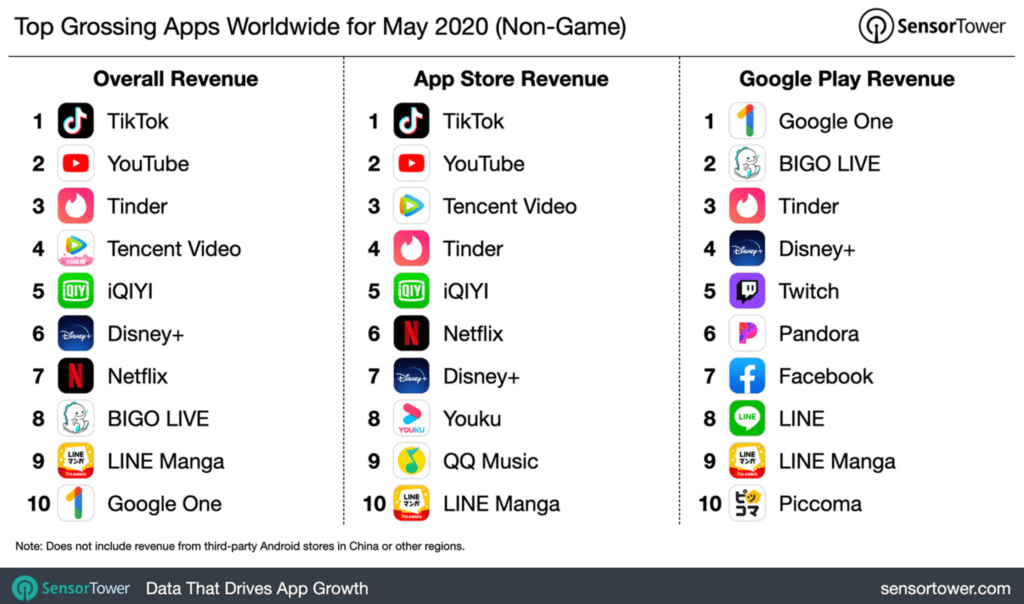 Source: Sensor Tower
On the surface, TikTok bears a strong resemblance to its many social media forebears. The app is built around short, 15- to 60-second video clips created by users — similar to the now-defunct Vine. The app makes use of hashtags and filters, similar to platforms like Snapchat, Twitter, and Instagram. But a closer look reveals how TikTok deploys its sophisticated algorithms to ramp up the social media experience.
Unlike social media predecessors like Facebook, Instagram, and Twitter, where users' feeds are made up primarily of their own social network or people they choose to follow, TikTok's user experience is primarily driven by algorithms. The app's "For You" page is continually populated with new videos based on the videos they've watched and engaged with in the past. The brevity of the videos means that content comes fast, and each subsequent video a user engages with becomes another data point in their profile, which the algorithm then uses to serve up more personalized content to keep the user engaged.
TikTok's algorithm doesn't just recommend content for users to watch — it also recommends content for users to create, supplying a running catalog of viral hashtags, challenges, and memes for users to imitate.
In June 2020, TikTok US published a blog post that went into more detail about its recommendation — part of a broader initiative by the company to increase transparency in response to concerns raised by critics and legislators about the app's security.
Perhaps most notably, the post specifies that while videos posted by users with large followings are likely to get more views, "neither follower count nor whether the account has had previous high-performing videos are direct factors in the recommendation system." This follower-agnostic approach to recommendations has been crucial to TikTok's appeal, since it creates the possibility that a user's video can be plucked out of relative obscurity and achieve virality seemingly out of nowhere — essentially the social media equivalent of hitting the jackpot on a slot machine.
The post further explains how the algorithm weighs different inputs "based on their value to a user." Some factors, such as a user watching a long video all the way through, are considered "strong indicators," while others, such as the video creator and viewer being located in the same country, are "weak indicators."
The algorithmic curation and incentives drive a sticky, addictive user experience with engagement metrics that handily outperform those of many other social media platforms. The average session duration on TikTok was 294 seconds as of October 2018, compared with Facebook's 208 seconds, Instagram's 144 seconds, and Snapchat's 80 seconds, according to App Annie.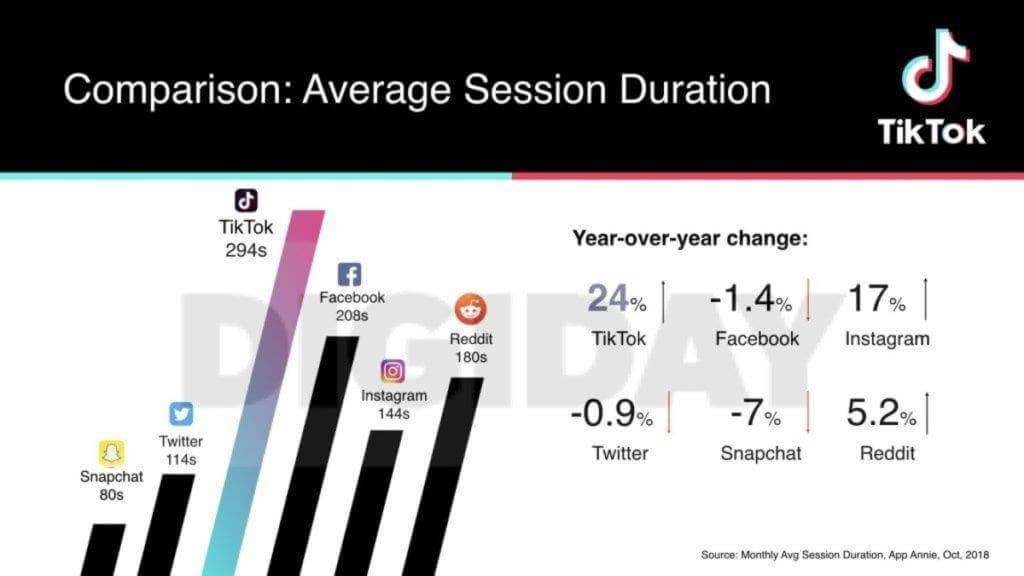 Source: Digiday
In addition to the advertising model typical of other social media apps, TikTok generates revenue from in-app purchases. Users purchase coins which they can give to their favorite creators, who can then exchange the coins for digital gifts. User spending on TikTok is increasing even faster than user acquisition: as of April 2020, lifetime user spending totaled $456M — more than 2.5x the $175M the app generated when it reached 1.5B downloads, according to Sensor Tower.
While TikTok's growth is unquestionably impressive, the app is not without its critics.
TikTok's algorithmic, engagement-driven business model places it squarely within the "attention economy," which has drawn concerns about the associated psychological effects and the prevalence of user surveillance. For example, Reddit CEO and co-founder Steve Huffman recently said that TikTok's technology for monitoring users was "truly terrifying."
There are also concerns about the app's approach to user privacy. US senators called for investigations into the app's privacy policies in response to reports that the company had not followed through on promises to delete content created by users under the age of 13. Some US lawmakers have called for a national security probe into the app, citing concerns about how user data is utilized and whether the app censors content.
TikTok has pushed back against the criticisms. "TikTok has made clear that we have no higher priority than earning the trust of users and regulators in the US," a company spokesperson said.
Music
ByteDance has already proven its ability to launch new music via TikTok. American rapper Lil Nas X achieved viral success on the platform with his independently produced single "Old Town Road" in early 2019. By the end of the year, the single was certified diamond and had sat atop the Billboard Hot 100 for a record-setting 19 weeks. Other hits that have benefited from the "TikTok effect" include "Uno" by Ambjaay and "Good as Hell" by Lizzo.
Now, the company is moving to solidify its presence in the music space with the introduction of a dedicated app. In March 2020, ByteDance launched Resso — a "social music streaming app" — in India and Indonesia.
The Southeast Asia launch could lay the groundwork for expansion to the US and elsewhere. Music streaming in India is a relatively modest $314M market, compared with the $4.5B US market, according to CB Insights' Industry Analyst Consensus market sizing tool.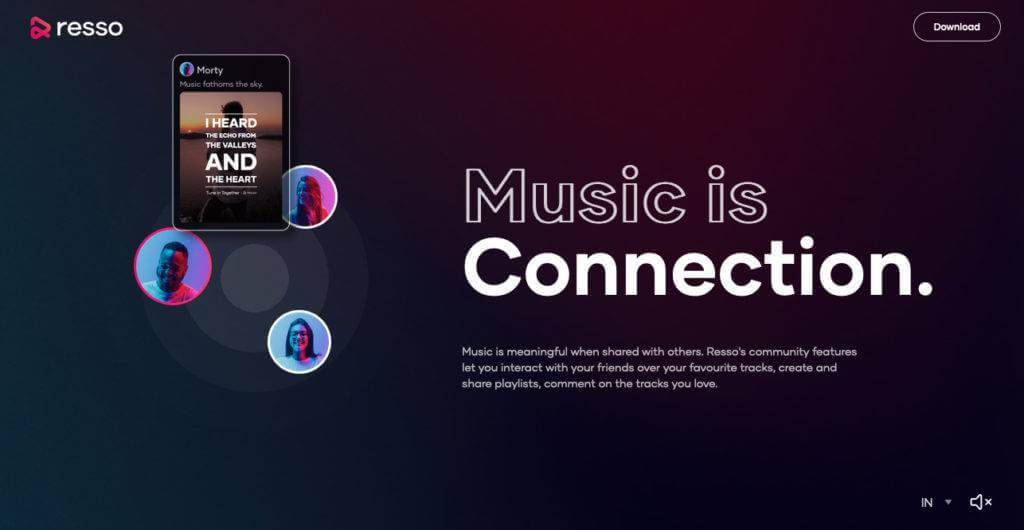 Source: Resso
With Resso, it appears that ByteDance is looking to repeat a similar formula to the one that has made TikTok successful, leveraging user-generated content combined with recommendation algorithms to engineer viral success. Users can upload lyrics and post comments, as well as create and share their own full-length audio tracks. The company is in talks with Universal Music, Sony Music, and Warner Music for global licensing deals for their songs. Though the app generates revenue via subscriptions and advertising, the company is reportedly focusing on "social product features" rather than monetization.
In China's music space, ByteDance's largest competitor is Tencent, which has 800M users on its music service. On the international stage, ByteDance's biggest rivals in the music space are likely to be Spotify (286M users) and Apple Music (60M users).
Mobile gaming
Mobile gaming is a key revenue driver for many internet companies, with 72% of all consumer mobile spending happening in the space, according to App Annie. If ByteDance wants a seat at the Big Tech table alongside the likes of Baidu, Tencent, Google, and Facebook, gaming will be an important piece of the puzzle.
ByteDance has had a few wins in the video game space already. On the first day of the Lunar New Year in China in 2020, 3 of the top 5 free mobile games in China were ByteDance-owned.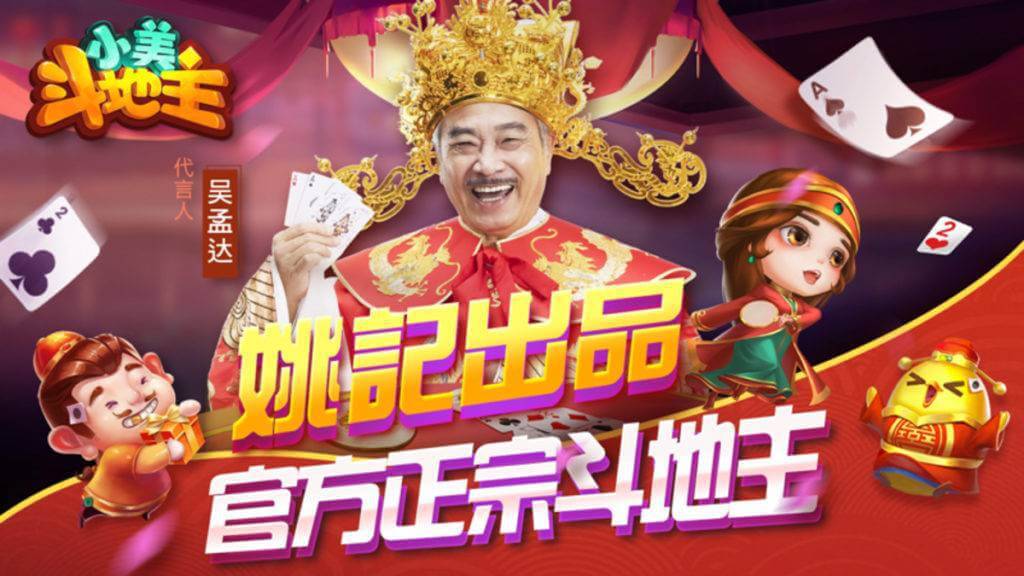 The poker game Xiaomei Fights the Landlord was a mobile gaming success for ByteDance. 
So far, monetization of ByteDance's gaming properties has been primarily ad-driven, and the company is leveraging behavioral learning techniques, similar to those deployed for TikTok, to drive advertising engagement up.
ByteDance's advantage in the mobile gaming space is likely to be the huge teenage audience that it has cultivated through TikTok. In that way, it closely mirrors its biggest domestic rival in the gaming space, Tencent, which leveraged an audience of highly engaged young users to launch itself into gaming a decade ago.
As ByteDance adds mobile gaming products to its lineup, it will be able to put those apps directly in front of millions of users. To promote one of its first games, Xiaomei Fights the Landlord, the company reportedly released 1,388 unique videos through Douyin, resulting in 160M views.
Internet
As in the media space, ByteDance is leveraging its addictive recommendation algorithms and highly engaged audience to expand its reach in the internet space — whether it's serving up personalized headlines via the news aggregation app Toutiao, or influencing people's purchasing decisions through e-commerce.
News
ByteDance may be most well-known for TikTok, but it wasn't the company's first area of focus. News aggregation app Jinri Toutiao (translation: "Today's Headlines") launched in August 2012.
Toutiao employs no editors or writers of its own, but instead leverages ByteDance's recommendation algorithms to curate externally-provided content that it thinks users will be interested in. The result is a hyper-personalized service that offers users stories based on how compelling they're likely to find them based on past behavior.
Within its first 5 years of operation, Toutiao grew into one of the most-viewed news services globally with over 120M daily users.
ByteDance has released or invested in similar news aggregator apps in other countries as part of its bid to expand globally — TopBuzz in the US, Dailyhunt in India, BaBe in Indonesia, News Republic in Europe — but none have grown to the same scale as Toutiao.
Search
Of all of the verticals that ByteDance is expanding into, search stands out for the market domination of the giants already in the space. In China, there's Baidu, which controls over 75% of China's market share. And everywhere else, there's Google, which accounts for 87% of search traffic worldwide, according to Statista.
But given how power dynamics in the digital world have shifted, it's not as clear as it once was that the company that controls search controls everything else.
This new reality is already being proven out among ByteDance users, who often default to ByteDance products as a matter of habit. As Zhang Xueru of Shanghai-based 86 Research notes, "ByteDance has gained so much traffic through its news feed and short-video apps, many users already started to search for content within its systems; that's why they are taking search to the next level and commercializing it."
This dynamic is likely to inform how ByteDance looks to expand into the search space. Rather than launching a dedicated search engine product, the company is instead opting to incorporate search into its existing platforms. In August 2019, ByteDance launched Toutiao Search, a search engine that sits within the Toutiao news aggregation app. The search engine shows users a combination of results from Toutiao and other sources around the web.
E-commerce
E-commerce presents ByteDance with the formidable task of going head-to-head with Alibaba and Amazon. To carve out its own space, the company is leaning hard into its existing advantages by seeking to blur the line between content and commerce.
ByteDance's relationship with existing e-commerce forces has not been strictly antagonistic. In fact, the company has partnered with Alibaba on e-commerce initiatives, suggesting there may be room for the dueling companies to share the space — at least for a time.
As with other verticals like music and search, ByteDance is leveraging its already-popular platforms as a springboard for expanding into e-commerce. The company is already testing in-app e-commerce on TikTok with initiatives like "shop now" ads that allow users to access a shopping site inside the app. Douyin, the version of TikTok for the Chinese market, has also partnered with Alibaba to add a shopping cart button. According to the company, the feature facilitated "nearly $30M in sales on a single day in December 2018."
But questions linger about how sustainable this approach will prove be in the long-run, and ByteDance is already laying the groundwork for alternatives. For example, Toutiao introduced its own e-commerce platform Zhidian in 2018. ByteDance also recently launched another e-commerce platform, Xincao, that focuses on younger consumers.
Other
While the majority of ByteDance's efforts have been focused primarily on media and internet, the scope of the company's ambition is not limited to those spheres. Like its China-based competitors Tencent and Alibaba, as well as US-based tech giants like Google and Facebook, ByteDance aims to keep users engaged by providing them with a wide variety of services.
There's a "long tail" of ByteDance apps and initiatives spanning everything from live streaming to enterprise messaging to education.
Messaging
ByteDance has launched messaging products, including an app called Duoshan that focuses on video chat. However, in a likely sign of a mounting rivalry, Duoshan's growth was throttled by competitor Tencent, which blocked the app in its WeChat and Android stores.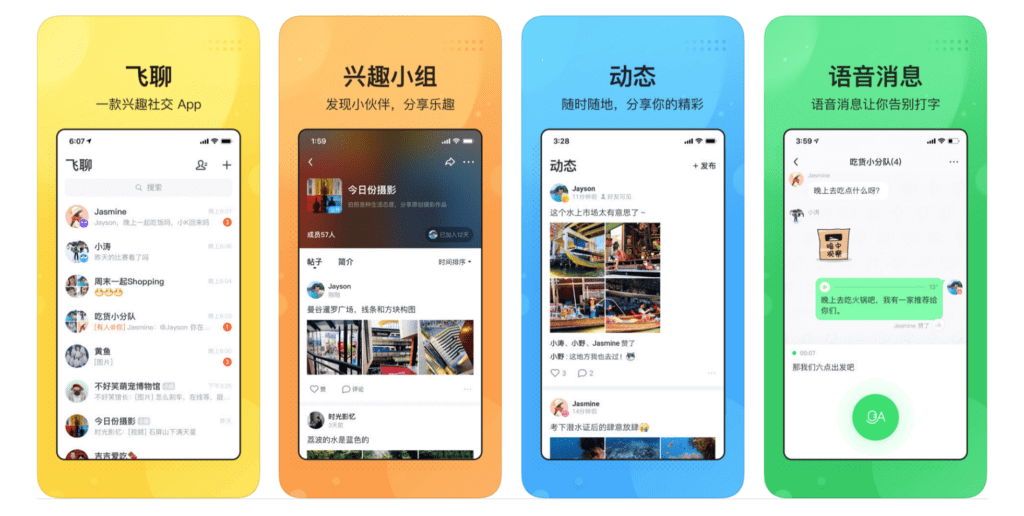 Source: Flipchat/Feiliao
ByteDance launched another chat product called Flipchat (known as Feiliao in China), released a few months after Duoshan, which offers a combination of instant messaging and interest-based forums.
Enterprise productivity
The global market for enterprise collaboration is estimated to be worth over $40B and is set to grow quickly in the coming years, according to CB Insights' Industry Analyst Consensus market sizing tool. Demand for productivity tools has seen strong growth in China, particularly with the Covid-19 pandemic causing a broader adoption of remote work in the country.
ByteDance had already begun its expansion into enterprise productivity prior to the outbreak. In April 2019, the company launched Lark (known as Feishu in China), a productivity app similar in design to many B2B software apps from US-based companies.
Lark combines functions like calendar, documents, and chat. In the wake of Covid-19, ByteDance reportedly made the decision to retool the app with a greater focus on cloud-based file management and document & spreadsheet editing.
Lark is not the only work-oriented product ByteDance is developing. The company offers a full range of office tools that resembles services like Google's G Suite.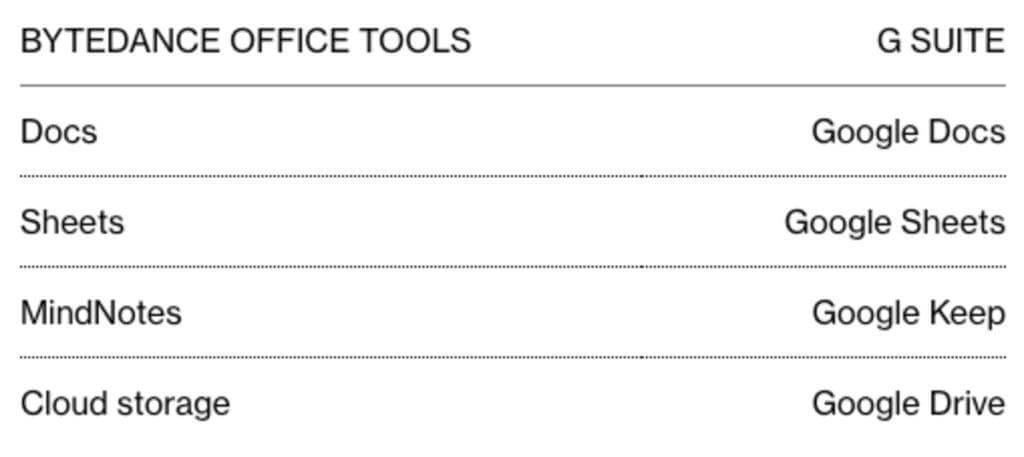 Source: Bloomberg
In February, the company offered free access to Feishu's premium features to enterprise users, a move that propelled the app to a peak of 22,000 downloads per day, according to Sensor Tower. Even if they're not directly generating much revenue at the moment, the enterprise apps will work to keep users inside ByteDance's ecosystem.
Education
As in the enterprise productivity space, the Covid-19 pandemic is presenting ByteDance with an opportunity to boost its presence in an industry where it was just beginning to make moves: edtech.
In early 2019, ByteDance acquired a number of education patents from smartphone maker Smartisan. The company has also launched several education-based initiatives in recent years. GoGoKid is a tutoring platform for Chinese children to learn English online from foreign teachers. Haohao Xuexi (translation: "study hard") is an online learning platform that covers career advice, parenting, culture, wealth management, and audiobooks. ByteDance is also a large shareholder of Hope and Rising, a Chinese company that provides educational products and content.
Virtual learning is an area where ByteDance's algorithmic sophistication could come into play for helping to match learners with relevant content — a potentially strong selling point.
Cloud infrastructure 
While most of ByteDance's product initiatives are consumer-facing, there are signs that the company could look to expand into digital infrastructure in the near future.
In 2019, ByteDance began opening data centers in two key international markets, the United States and India. Also in 2019, the company acquired data storage and searching startup Terark, which specializes in boosting the performance of big data applications.
While it's possible that the new infrastructure is purely intended for internal purposes, the moves may signal a play for the cloud hosting space. If the company does indeed go in that direction, it could again bring it into direct competition with incumbent Big Tech players, including Amazon (Amazon Web Services), Microsoft (Microsoft Azure), Google (Google Cloud), and Alibaba (Alibaba Cloud).
Hardware
The company initially brushed off reports that it was developing a proprietary hardware device. But in late 2019, the company released the Jianguo Pro 3 smartphone in China in partnership with consumer electronics maker Smartisan.
The device is likely aimed more at solidifying the adoption of the ByteDance app ecosystem than being a key revenue driver itself. The phone comes preloaded with ByteDance apps, including Douyin and Toutiao.
Though there remains a lot of speculation about Bytedance's future smartphone ambitions, some experts question whether there is a compelling pathway for the company to fully enter the hardware space, citing the company's lack of experience, supply chain, and associated channels.
ByteDance's markets
ByteDance has achieved a massive geographic reach, thanks in large part to the international success of TikTok.
The company made a number of moves in early 2020 that signal its intention to shift focus away from the domestic Chinese market and toward further international expansion.
First, it announced the appointment of a new leadership team to direct the company's domestic initiatives — freeing up founder and CEO Zhang Yiming to focus on international developments.
Next, it began a wave of hiring worldwide that could bring the company's total headcount to 100,000 by the end of 2020. The new hires span ByteDance's properties, including tent poles ByteDance, Douyin, and Jinri Toutiao, as well as more nascent verticals like e-commerce and mobile gaming.
A number of key international hires — including poaching Disney executive Kevin Mayer to be TikTok's CEO — have supported speculation that ByteDance is shifting its center of power away from its home country amid rising economic and diplomatic tensions.
For now, ByteDance appears to be focusing its efforts on 3 major markets — China, India, and the US — each with its own complexities and strategic objectives for the company.
China
ByteDance's fiercest competition may be at home. So far, the company has mostly held its own against the incumbents — but BAT is increasingly mobilizing its resources against the younger company.
The company is focusing its energy on entertainment, news, and content, driving primarily advertising-based revenue from each.
ByteDance has drawn controversy in its home country for its aggressive approach to hiring. The company operates by a philosophy of "unlimited salary for unlimited talent," poaching top players from other Chinese tech outfits like Baidu and Tencent with compensation that can reportedly exceed $3M.
ByteDance's extensive product catalog plays a major role in its ability to poach talent since it allows them to offer more senior product managers the opportunity to take product-specific leadership roles in a way that could be difficult at a comparable company. At ByteDance, ambitious talent could feasibly become CEO of their product, with all the prestige and career advancement that implies.
ByteDance's competitors in China are making moves to defend themselves against the younger company's insurgency. Tencent invested $1.5B in short video app Kuaishou, a Douyin rival, in August 2019. Tencent has also gone to court to block ByteDance apps from live streaming videos of some of its most popular games, citing copyright violations.
India
India has emerged as an important international market for ByteDance. The company reportedly has around 300M monthly active users in India across 3 products: TikTok, Vigo Video, and Helo. The company says that it plans to spend $1B in the country across the next few years.
ByteDance's rapid expansion in the Indian market has been enabled by the recent surge in smartphone usage in the country. The total number of smartphone users in India will approach 900M by 2022, according to projections by Cisco.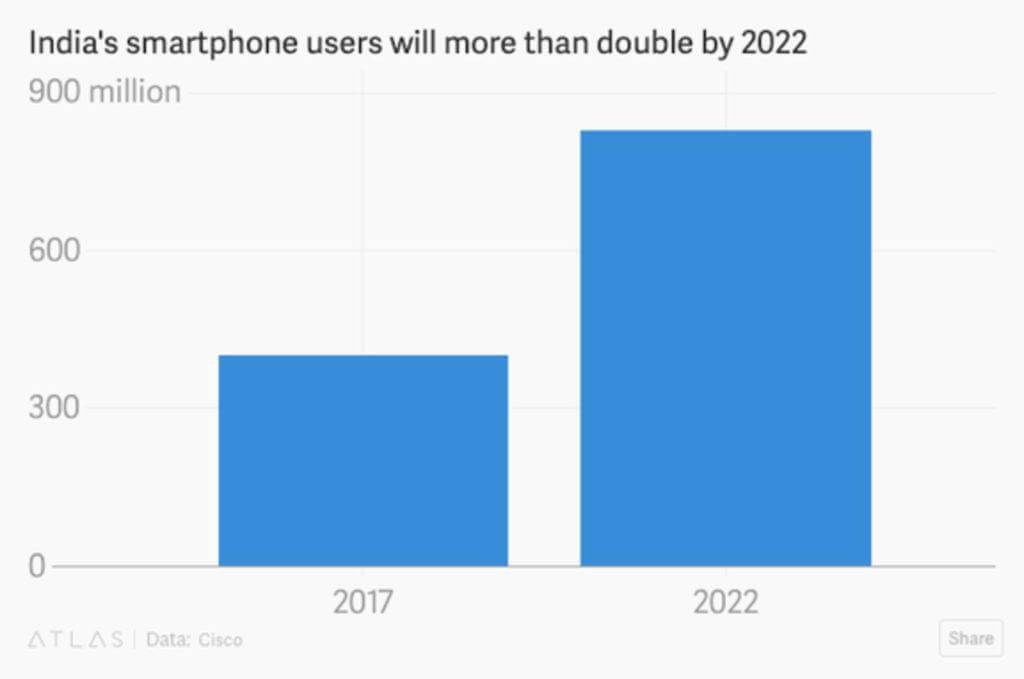 Source: Quartz India
The recent surge in smartphone usage in the country means that many of these new adopters could be less locked-in to tech incumbents' products, creating an opportunity for relative newcomers like ByteDance. TikTok alone is estimated to have over 200M users in India. By comparison, Facebook is thought to have about 300M users in India — not a big lead given the company's relative longevity.
It's not just the nascency of India's technological infrastructure that makes the country an attractive proposition for ByteDance. As Resso India's head of music content Hari Nair explained to TechCrunch, India also has the largest population of the company's primary target audience — Gen Z — of any country worldwide.
In March, ByteDance launched the music-streaming app Resso in India. The app quickly tallied up over 600,000 downloads in the country, according to Sensor Tower. "With the core of Resso's target audience being Gen Z, it is only logical for Resso to make its debut in India," Nair told TechCrunch.
The United States
With TikTok, ByteDance has achieved massive penetration in the US market. But amid mounting US-China trade tensions, growing privacy concerns, and fierce competitors, future inroads in the US are far from a sure thing.
ByteDance is likely to face stiff competition in the US market from tech giants including Google, Amazon, and, perhaps most notably, Facebook.
Facebook has a well-documented history of moving aggressively to head off outside competition. The company paid billions to acquire rivals like photo-sharing app Instagram and messenger app WhatsApp. It also mirrored key Snapchat features in its products in a bid to avoid losing market share to the smaller social media platform after founder Evan Spiegel reportedly declined a similar acquisition offer.
News reports indicate that Facebook founder Mark Zuckerberg has been similarly aggressive in efforts to curb TikTok's expansion — including publicly raising concerns about the app regarding free speech and censorship.
American politicians have also expressed fears about TikTok's rise. The US government launched an investigation into the app amid reports that TikTok instructs content moderators to censor politically sensitive videos.
TikTok US has recently begun to take proactive measures to head off these concerns, including publishing updated Community Guidelines and a Transparency Report as well as high-level security-focused hires including a global General Counsel and a Chief Information Security Officer. In March 2020, the company announced the opening of a "Transparency Center" in Los Angeles where outside experts will be able review the company's content moderation systems, policies and procedures.
These concerns aren't the only political factor that could undermine ByteDance's further expansion in the US.
Trade relations between China and the US remain volatile, and the ongoing coronavirus pandemic may further escalate tensions between the 2 countries. If ByteDance is drawn further into the geopolitical rivalry then future US expansion may become much more challenging.
What's next for ByteDance?
ByteDance's growth to date is impressive, but its ability to sustain this trajectory is far from guaranteed — especially as Covid-19 continues to inject uncertainty into the global economy.
The company faces a number of obstacles, including censorship concerns, escalating US-China trade tensions, and fears about data privacy. And with VC investment to China-based companies slowing, ByteDance is under more pressure to drive up revenues.
In support of this effort, some measures that ByteDance may take to boost its position include:
Expansion into new geographic markets. TikTok may be "China's first global app," but ByteDance will need to continue to expand its geographic reach if it hopes to continue taking on the likes of Facebook and Google.
Continued investment in viral products. ByteDance's most distinct advantage is its ability to engineer virality, and it will need to continue to cultivate that edge if it wants to sustain the moat it has built and fend off encroachment by rival tech companies.
Accelerated horizontal expansion. ByteDance's product portfolio is already sizeable, but it will need to continue to expand its scope if it hopes to keep pace with Big Tech competitors. Some areas that rivals are already exploring that may tempt ByteDance includes virtual and augmented reality, fintech, and healthcare.
---
This report was created with data from CB Insights' emerging technology insights platform, which offers clarity into emerging tech and new business strategies through tools like:
If you aren't already a client, sign up for a free trial to learn more about our platform.