Today, "buy now, pay later" accounts for only a small portion of overall card spending. But amid the pandemic-fueled e-commerce boom, this alternative model may be poised to disrupt the $8T US payment card industry.
As online shopping surges amid the pandemic, "buy now, pay later" (BNPL) companies have dominated headlines — attracting online, money-conscious shoppers with seamless delayed payment alternatives that bypass the usual fees.
With e-commerce volumes jumping forward an estimated 4-6 years due to worldwide lockdowns, consumers and merchants have increasingly looked to buy now, pay later solutions to alleviate financial pressure and to meet online shopping demand, respectively. BNPL players like Klarna, Afterpay, and Affirm are well on their way to becoming household names, with new user growth and transaction volume exploding.
Today, BNPL reflects a small portion of the overall spending on payment cards (including credit, debit, and prepaid cards), an industry that sees roughly $8T in annual spend volume in the US. However, there is growing evidence that BNPL is at an inflection point.
By 2025, the global BNPL industry is expected to grow 10-15x its current volume, topping $1T in annual gross merchandise volume by some estimates. This growth trajectory has incumbents paying close attention and increasing their efforts to improve the digital user experience.
While the BNPL industry is still in the early innings, competition is quickly mounting. Several key questions remain — especially around how incumbents will respond to the emerging threat, and whether BNPL players really can offer a better alternative to credit cards without harming consumers.
Table of Contents
What is buy now, pay later? 
Buy now, pay later payment models have a dual mandate.
The first is to provide consumers with a seamless purchasing experience, characterized by convenience, transparency, and flexibility.
The second is to help merchants increase online sales conversions and order values, while lowering user acquisition costs.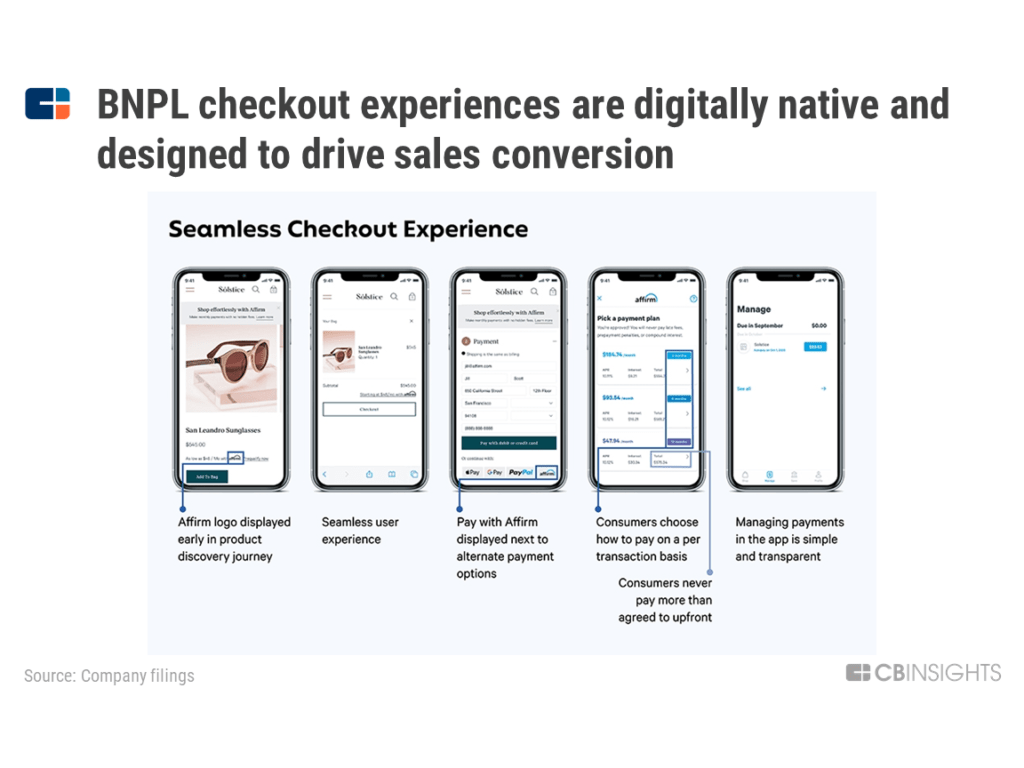 Flexible payment options for online consumers 
BNPL providers allow consumers to purchase items online through flexible installments (typically in 4 payments) with no interest or penalties if paid on time, or through fixed-rate interest-bearing loans at the point-of-sale where fees are known upfront.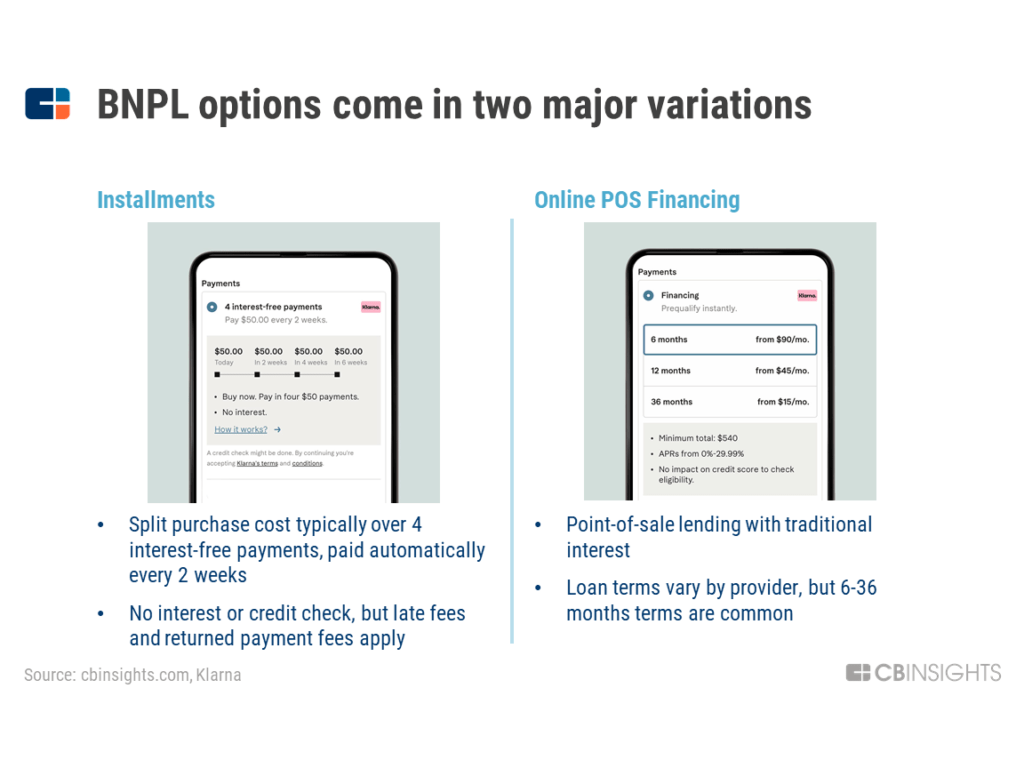 BNPL can be used for smaller purchases — for instance, Klarna offers the service for purchases as low as $10 — without requiring hard credit checks or traditional underwriting. Additionally, these transactions typically don't get reported to credit bureaus, which can appeal to some subprime users.
Typically, the first payment is made at checkout, and subsequent payments are deducted automatically to avoid late fees. Some examples of leading pure-play installment providers include Australia-based Afterpay and US-based Quadpay and Sezzle. Sweden-based Klarna, another major BNPL player, offers other payment variations, including 3-36 month financing and a Pay in 30 option, but its revenues are predominantly driven by merchant fees as opposed to interest income.
Point-of-sale (POS) financing is also increasingly common among BNPL players as a way to diversify revenue streams. US-based Affirm and Klarna both offer POS financing, where users are subject to soft credit inquiries and risk-adjusted interest rates. But unlike the 0% APR installments, missing payments on POS loans has the potential to impact credit scores.
Users often opt in for credit products from BNPL providers because they may have a better chance of getting approved. For example, Affirm's proprietary credit underwriting model approves 20% more customers on average than comparable competitor products.
Affirm's unsecured loans are typically originated through partnerships with chartered industrial banks like Cross River Bank and Celtic Bank.