The Blockchain 50 is our first-ever ranking of the 50 most promising companies within the blockchain ecosystem. This year's winners are tackling consumer and enterprise use cases across payments, remittances, asset provenance, compliance, and more. This list was created in collaboration with Blockdata.
We have unveiled our first annual Blockchain 50 — a list of the top private companies applying or analyzing blockchain technology to solve business or consumer problems across various industries. These companies are pushing blockchain toward greater adoption and product maturity.
The 2020 Blockchain 50 cohort has raised over $3B in aggregate equity funding across 113 deals since 2017, and includes companies across varying investment stages of development, from early-stage startups to well-funded unicorns.
We selected winners from a pool of 2,700 companies, including applicants and nominees, based on factors including business models, market potential and momentum, competitive landscape, team strength, investor profiles, data submitted by the companies, and Mosaic scores — CB Insights' proprietary algorithm that measures the overall health and growth potential of private companies.
Our analysis focused exclusively on private companies that have raised equity funding. In particular, we looked at companies such as R3, BitGo, Chainalysis, and Coin Metrics, which have displayed success in achieving or building a path to commercial adoption.
We did not include the many open-source projects — such as Bitcoin and Ethereum — that serve as critical infrastructure for many of this year's selections and the blockchain ecosystem as a whole.
Didn't make the Blockchain 50? You can still submit your company or project's information to be considered for upcoming Blockdata and CB Insights research. Learn more here.
Clients can access the entire Blockchain 50 list and interactive Collection here. (If you don't have a CB Insights login, create one here.)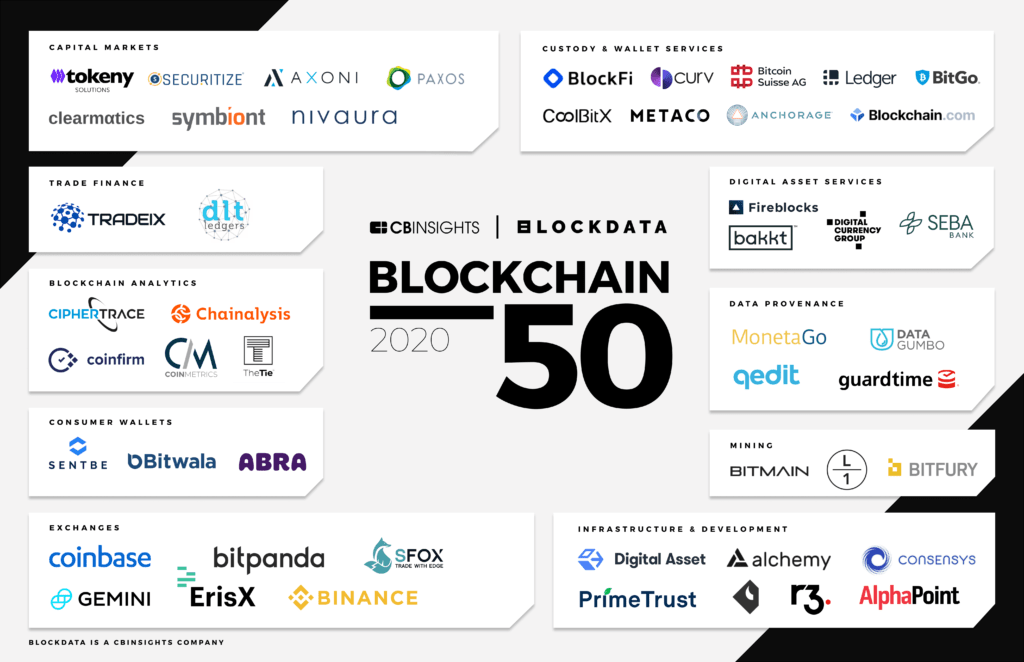 The market map above categorizes the Blockchain 50 companies based on core area of focus. Categories are not mutually exclusive.
2020 Blockchain 50 highlights
Unicorns: Five of the 50 winners (10%) are valued at or above $1B as of their latest funding round: mining hardware & software providers Bitmain and Bitfury, cryptocurrency exchange Coinbase, blockchain analytics software Chainalysis, and blockchain conglomerate Digital Currency Group.
Funding trends: Since 2019, this cohort has raised $1.1B in equity funding across 44 deals (as of 12/7/20). Thirty-four of these companies raised funds during this period.
Global representation: 40% of the 2020 Blockchain 50 winners are based outside the US. After the US, the UK and Switzerland are home to the most Blockchain 50 companies, with 4 each.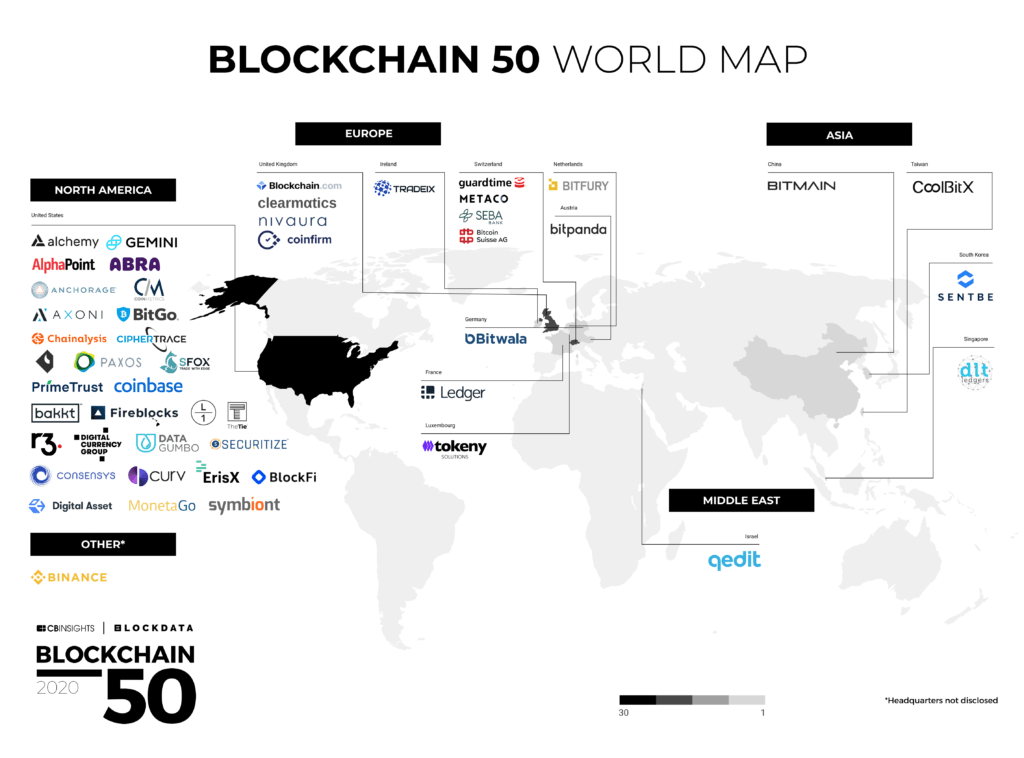 Top VC investors: Blockchain Capital, Castle Island Ventures, Kenetic Capital, Pantera Capital, and Valar Ventures are the most active venture investors in the Blockchain 50 with 5 investments each since 2017.
Top corporate VCs: The Blockchain 50 winners have attracted even more investments from corporate venture capital investors than from traditional investors. Since 2017, corporate VCs Digital Currency Group, Galaxy Digital, and ConsenSys Ventures have struck 13, 12, and 7 deals with the cohort, respectively.
Top deal of 2020: Digital asset management platform Bakkt raised a $300M Series B in March 2020 with participation from investors including The Boston Consulting Group, Intercontinental Exchange, Microsoft's M12, and Pantera Capital.
Most well-funded company: Coinbase is the most well-funded company on the Blockchain 50 list, having raised $539M in disclosed equity funding across 12 rounds since 2012.
Clients can access all 50 companies on the CB Insights platform here.
Blockchain 50 (2020)
Track the 50 most promising companies applying or analyzing blockchain technology. Look for Blockchain 50 (2020) in the Collections tab.
Track The 2020 Blockchain 50 Winners
Methodology and datasets
The Blockchain 50 selections are the result of a rigorous, data-informed process, combining CB Insights datasets with the industry expertise of our research team in collaboration with Blockdata.
The datasets and insights from CB Insights' tech market intelligence platform that were leveraged to pick finalists include:
Licensing and reuse of content: Contact our official partner, Wright's Media, about available usages, license fees, and award seal artwork at cbinsights@wrightsmedia.com. Please note that Wright's Media is the only authorized company that we've partnered with for CB Insights materials.
Are you researching blockchain? Take a look at our partner Blockdata's blockchain-focused data here.
---
This report was created with data from CB Insights' emerging technology insights platform, which offers clarity into emerging tech and new business strategies through tools like:
If you aren't already a client, sign up for a free trial to learn more about our platform.