Consumers and investors are increasingly scrutinizing how corporations are mitigating their carbon footprint, from transitioning to renewable energy to decreasing carbon emissions. We look at how big tech is developing software, investing in climate tech, and partnering with startups to create a more sustainable future.
Sustainability is an increasingly crucial part of a company's strategy. From switching to cleaner energy sources to purchasing carbon offsets, companies are looking for ways to track and reduce their carbon footprint. So far in 2022, startups focused on decarbonization tech have raised over $2B in funding — a new record high.
In this hot climate tech environment, big tech companies Microsoft, Amazon, and Google have stepped up their efforts in climate tech product development, investment, and partnerships.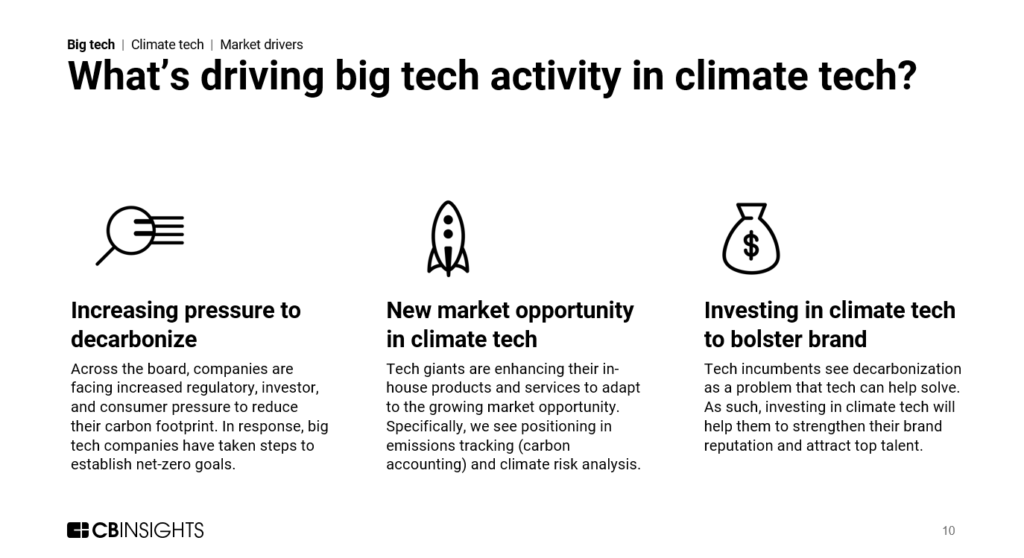 Download the report to find out:
How each giant intends to tackle their ambitious net-zero carbon emissions goals
How big tech companies are adding new carbon accounting and climate risk analysis features to their platforms
The areas of climate tech where big tech is investing
Where each big tech company is headed in the climate tech space
Report Highlights:
Big tech has set ambitious net-zero goals and players are working toward reducing their carbon footprint. While all 3 giants have made net-zero commitments, Microsoft is the most aggressive, with the goal to be carbon negative by 2030.
Big tech is vying for a piece of the climate tech software market. In particular, Microsoft and Google have launched carbon accounting software offerings for subsets of their existing users.
Climate tech investment is heating up. For all 3 incumbents, climate tech is an investment area of growing importance. Amazon and Microsoft have launched funds focused exclusively on climate tech, while Google has created an accelerator focused on climate tech startups.
If you aren't already a client, sign up for a free trial to learn more about our platform.